---
Kinshasa-born MC Alec Lomami's neo-African & electro-pop sensibilities get a fresh visual interpretation from director Thlonepo "Toni" Tlobajane in the video for "CLV (C'est La Vie) ft. Sammus and Badi Banx," off Mélancolie Joyeuse. Along with cameos from Cape Town rapper Kuthula Magubane aka NGOLA and model/actress Phoenix Mabote of the controversial South African film Of Good Report, the extremely well-tailored video sports fantastic use of video game and arcade culture — boasting Space Invaders, Mortal Kombat/Street Fighter, and even Snake references. We touched base with Alec and Toni to find out more about their thoughts on the track, teaching the world how to treat you as an African entertainer and never giving in to the negativity that surrounds.
Shiba for OKA: First of all Alec, besides "a human being making heartfelt music" tell us about yourself, for those who have not been paying attention.
Alec Lomami: That's pretty much it [laughs]. I'm not a fan of elaborate biographies, so If you want to know more check out the music and hopefully you dig it!
S: How did you come to collaborate with Sammus and Badi Banx on this track, and what is the single is about?
A: The song pretty much is my version of Mike Jones' "Back Then." How can I explain "Back Then"? Here's a few bars: "Before I came up in the game these girls didn't show no love/ They see me in the club and used to treat me like a scrub/ They wouldn't holla 'cause my dollars wasn't swell enough/ I bet they change they mind when them 80."
Not that I have Mike Jones status but with the little recognition I've been getting... it's funny to see the people who once shit on you, want to be a part of what you are doing. I wanted different perspective of the subject so I asked two friends Sammus and Badi to be apart of the song. They gracefully accepted.
S: Give us the grit on your visions for this video and how the theme came together for you guys. Toni, how did you go about casting, choosing your locations, all of those details that brought the whole idea together?
A: I wanted to have a video that captures the idea of the song without having to narrate the song verbatim. Plus, I'm not a big fan of performance videos. I shared a few ideas with Toni and she came with a treatment far better than anything I could have came up with. So all props to her!
Toni: When I first heard the production of the song immediately knew I wanted to set the music video in a video game world.. We wanted to create a futuristic, afrocentric video game world that could be set anywhere — be it Kinshasa, Cape Town or New York. The cast is a medley of friends and the stories in the video have a lot to do with what Alec is bringing across in his song, which is that people may bring you down and doubt you but keep your head up and keep pushing. The key crew was myself, Christian Denslow, Lisle Collins and a group of very helpful assistants. The whole point really was to make something entertaining, something that breaks the norm of what music videos are these days and give people something to smile about.
S: Alec, you clearly have travelled often, having lived in the US, South Africa, Kinshasa and Zimbabwe. How does your music, production and clothing style become influenced by all of these places?
A: It taught me how to feel at home and comfortable in different settings and environments, so it made me open to new experiences. I feel like I simultaneously belong everywhere and nowhere. So the music production style is kinda of a mélange of all these different experiences.
S: What are your thoughts on the debate going on about the appropriation of "blackness" let alone hip-hop culture that seems to be happening all over the world, firstly as a rapper Alec, and secondly as a video director Toni?
A: Appropriation is one of those loaded terms that people often throw around too lightly for my taste. I try not to get caught up in the maze of over-intellectualizing that kind of thing. Everybody borrows from everybody — cultures aren't static. So even that "blackness" has influence from other spaces. I think there's a right way to do it and I supposed there's a wrong way but I don't make it my business to be the authority on who can, who can't or how it should be done.
T: I would have to research this topic a little more to be able to answer it properly. I am part of a generation who was raised on American media as are most South Africans, my challenge now is finding my voice within that, the challenges on our side are different and I think being too entranced in what the Miley's of the world are doing doesn't serve our cause. African creatives should push the boundaries from a technical point, and tell their stories to the best of their ability. We are in the spotlight so we should educate the ones watching us about who we are — you teach people how to treat you.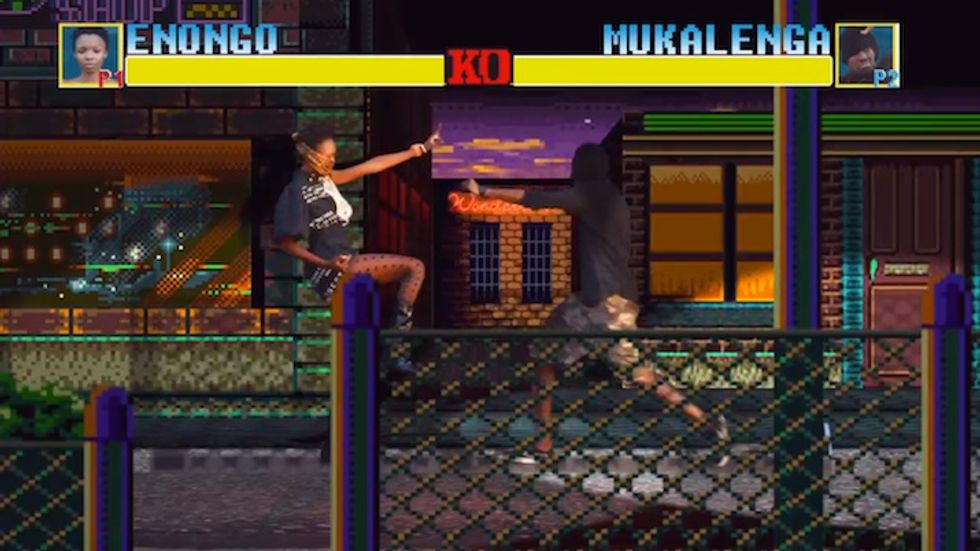 S: We hear the next EP is going to be a little darker and less upbeat. Is there anything you'd like us to know about that, and what do you both plan to be working on in the future? Will we see another video collaboration?
A: The follow up EP is entitled A La Recherche Du Temps Perdu (In Search of Lost Time). We're looking to release it by November. I just wanted to go in a different direction sonically, though the EP still has a strong electronic music influence. As far as working with Toni, we definitely are planning to crank out a few more visuals!
I'm also really excited about executive producing my young Cousin Well$'s second EP titled MTSYD: Revenge of the African Booty Scratcher. I can't wait for people to hear it when it comes out in October. And I'm working on a side project with my good friend, super talented multi-instrumentalist Federico Mejia of the Band Youth Sounds and Well$ — it's kind of a group called The Black Heart Club. Hopefully we will get to drop the first single in a month or two.