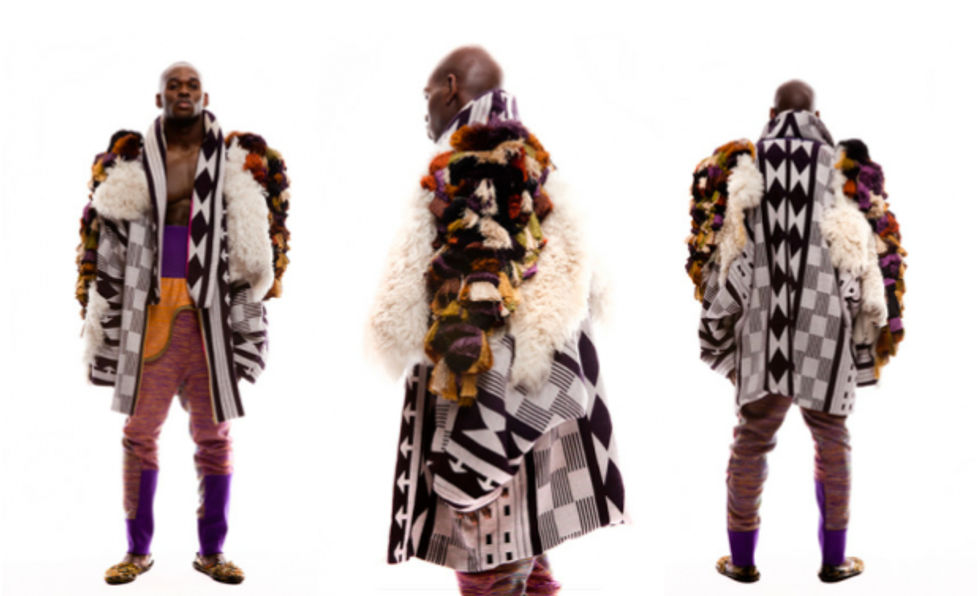 ---
A storyteller with unique sartorial elements, OKA spends an African Minute with the incomparable Buki Akib. A look at her "Fela" & "Homecoming" collections takes us on a journey of colorful imagery, sharp yet gentle contrasts, and knitwear! Nigerian fashion has never been so compelling. 
1. Nigerian Patterns plus Knitwear, Bukia is already telling such a compellingly unique story, tell us the inspiration behind the fashion line?
Well the whole ethos behind the label is to act as a story teller. I tell the story of Africa's past, present and future. I am inspired by anything textile, after specialising in Knitwear at Central Saint Martins I knew I wanted to implement my skills as a knitter into African textile.
2. You describe the imagery of Fela as a fashion icon in his virile trousers and colorful knits against the backdrop of the hot and sweaty Nigerian music scene, can you see this becoming everyday fashion in Nigeria?
I can honestly see BUKI AKIB becoming an everyday fashion anywhere in the world. With hard work and vision.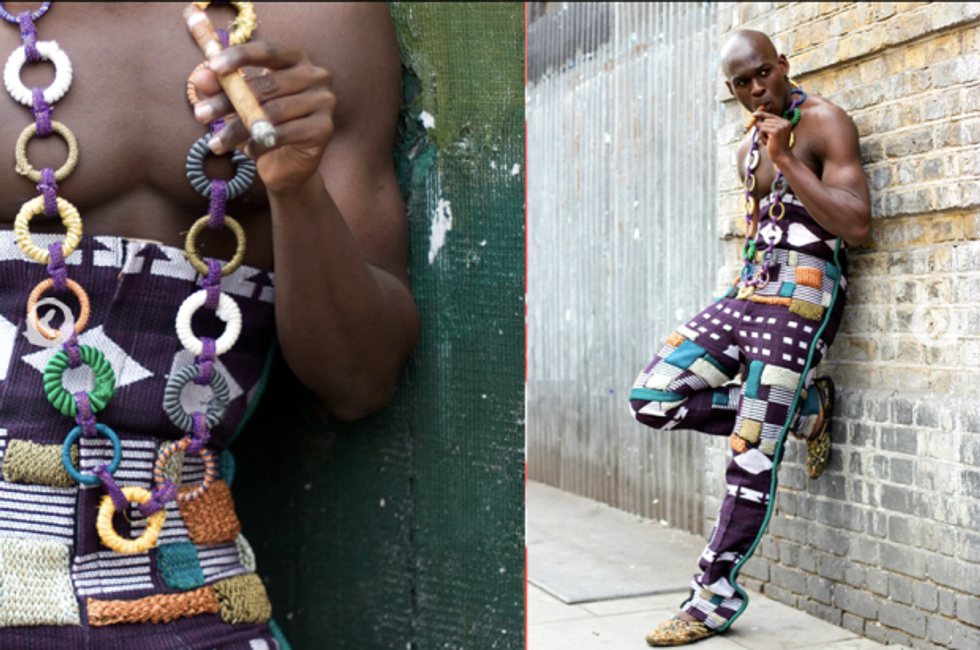 3. What kind of man do you envision wearing Bukia?
I think the guy that will be drawn to BUKI AKIB is someone who is sensitive to his surroundings and confident within himself.
4. Any celebrities you'd like to see in your designs?
Well. Shabazz Palaces.
5. Are you exploring a women's clothing line with the same style of storytelling?
Not at the moment, I am concentrating on Menswear and accessories for Men/Women.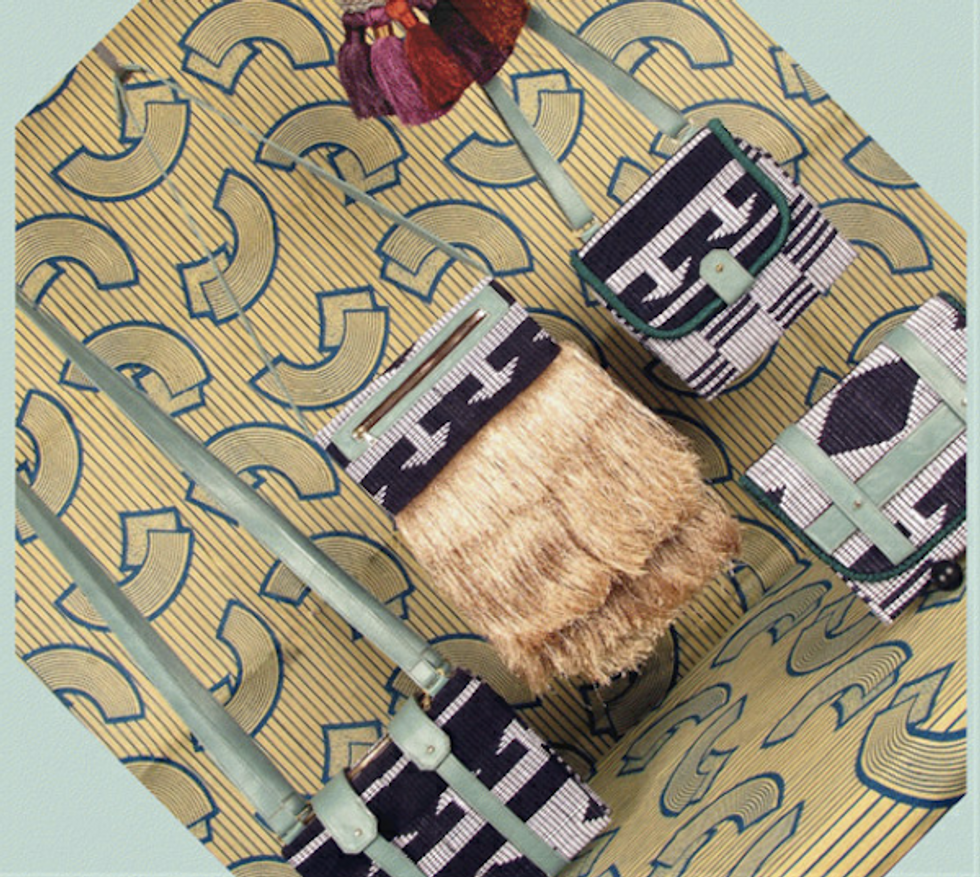 6. The Wives Collection is so beautiful, can you tell us about the inspiration behind each bag?
I was fascinated on why Fela Kuti married 27 wives and wanted to explore the reasons. I felt Fela gave these women, 'Queens,' a sense of identity in a society that rejected them for being associated to the shrine. Each bag is named after his wives and his Mother. I tried to imagine each wives' nature and implement it into the bags. Each bag has a different characteristic to suit any personality. The queens were so beautiful.
7. What other fashion designers and styles influence Bukia (aside from Fela)?
I come from an art background so many artists such as Jenny Saville to Yinka Shonibare, Martin Maison Margiela and Anish Kapoor. I have a long list.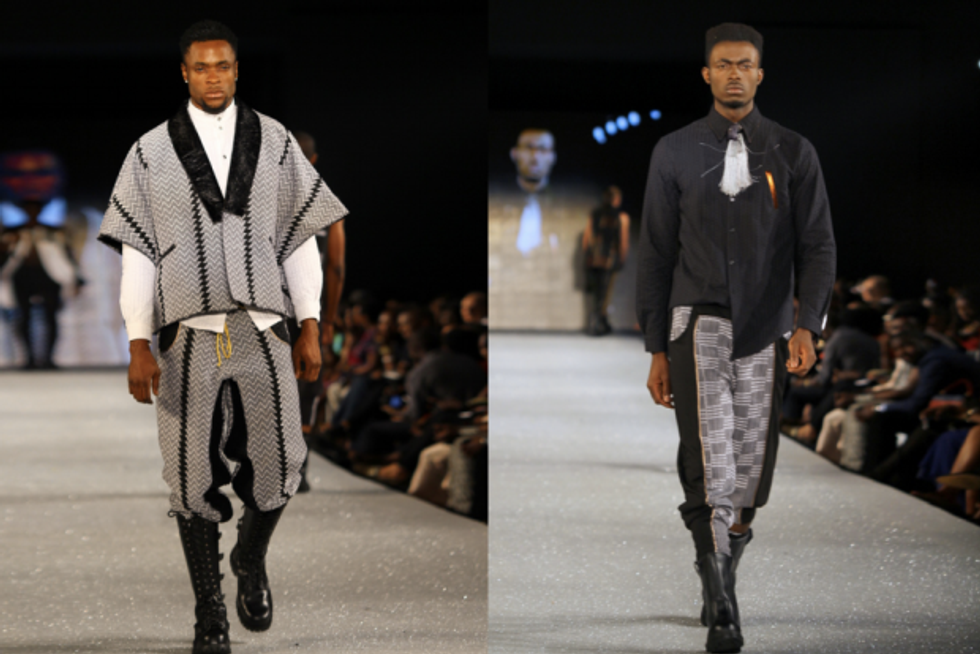 8. You say "Homecoming" was imagined as a film, this well traveled man coming to reclaim Lagos. What are your thoughts on those of the African diaspora coming back home? Do you think we're in the midst of a movement, or a revolution? Do your designs reflect a major transition?
Yes, I do think we are in the midst of a revolution, spiritually and mentally. The collection was inspired by countries like Egypt, Syria and Nigeria (during the fuel subsidy) protesting and showing solidarity against injustice. Africans are now aware of their importance in the world. I think it is great to see Africans moving back home and adding more value to the continent. I myself moved back to Lagos, it wasn't easy but I truly get inspired by our resistance and pride. The wealth of talents is immense.
9. Your storytelling is so intriguing. Tell us about your process of creating. How do you go from vision to design?
It differs with each collection, I usually get on the Knitting machine and start sampling with texture and colour. I play with silhouettes and always question, what if? For more on Buki Akib, check out her website.
Check out more OKA's African Minute interviewees- folks whose work reflects a new perspective of Africa:
Congolese superstar rapper Hugo Million
South African fashion designer Gareth Cowden
Nigerian songstress Zara Gretti
Zimbabwean celebrity hair and make up stylist Jackie Mgido
Kenyan comic artist Chief Nyamweya
Rwanda's fashion designer House of Tayo
Oli Benet and Senegalese skaters
Zimbabwean self-taught illustrator/activist Sindiso Nyoni
Papa Ghana is "An African"
Meghan Sebold on sustainable fashion from Ghana.