To date, the court testimony of José Antonio Aponte, a free black man thought to be of Yoruba origin and eponym of the doomed 1812 anti-slavery rebellion in Cuba that bears his name, is the only evidence of an unusual historical artifact, a so-called libro de pinturas or "book of paintings," found hidden in his home by colonial authorities.

---
Though the book remains lost, the 72 images that Aponte describes, many of which depict an evocative vision of black history, continue to exist in the imagination of scholars and artists alike. Now, more than two centuries later, a group of artists have attempted to recreate Aponte's revolutionary "book of paintings," as part of a new exhibition entitled, "Visionary Aponte: Art and Black Freedom."
15 artists were invited to participate to "pay homage to the singularity of Jose Antonio Aponte's world vision," explains Édouard Duval-Carrié. The Haitian-born artist and Miami resident is one of several curators of the exhibit, as well as one of its featured artists. In fact, it was Duval-Carrié that approached fellow curator Ada Ferrer with the idea to do an exhibit after coming across her book, Freedom's Mirror: Cuba and Haiti in the Age of Revolution.
Édouard Duval-Carrié, Prester John's Emissaries, 2017, mixed media on paper in artist's frame Courtesy of the artist
"Édouard's idea, I think, also intersected with scholarly interest in broadening our understanding of Aponte as the artist behind this lost work of art," says Linda Rodriguez, an Aponte scholar and another of the exhibit's curators. She and Ferrer also helped to organize a symposium in 2015 which in turn led to a project entitled Digital Aponte, a recently launched website dedicated to the life and work of Aponte.
In a way, "Visionary Aponte: Art and Black Freedom" expands upon at least one of the aims of the symposium, which Rodriguez describes as "thinking deeply about Aponte as a creator, in addition to his role as an organizer of slave rebellions." The result is a wide-ranging exhibit of artwork by mostly Caribbean artists, as well as the more general African diaspora of the Americas, in which Aponte's book becomes what Rodriguez hopes viewers will recognize as a "living object."
"Some like Marielle Plaisir (Martinique) and myself went to great lengths to reconstruct the images (laminas) as they were interpreted in the trial's transcripts," Duval-Carrié explains. "Others such as Jose Bedia (Cuba) and Renée Stout (USA) were more interested in conveying the general spirit behind the the book itself particularly their understanding of Kongo cultures as they expressed themselves in the New World and as they understood it. While many others just had gut reactions to the story itself."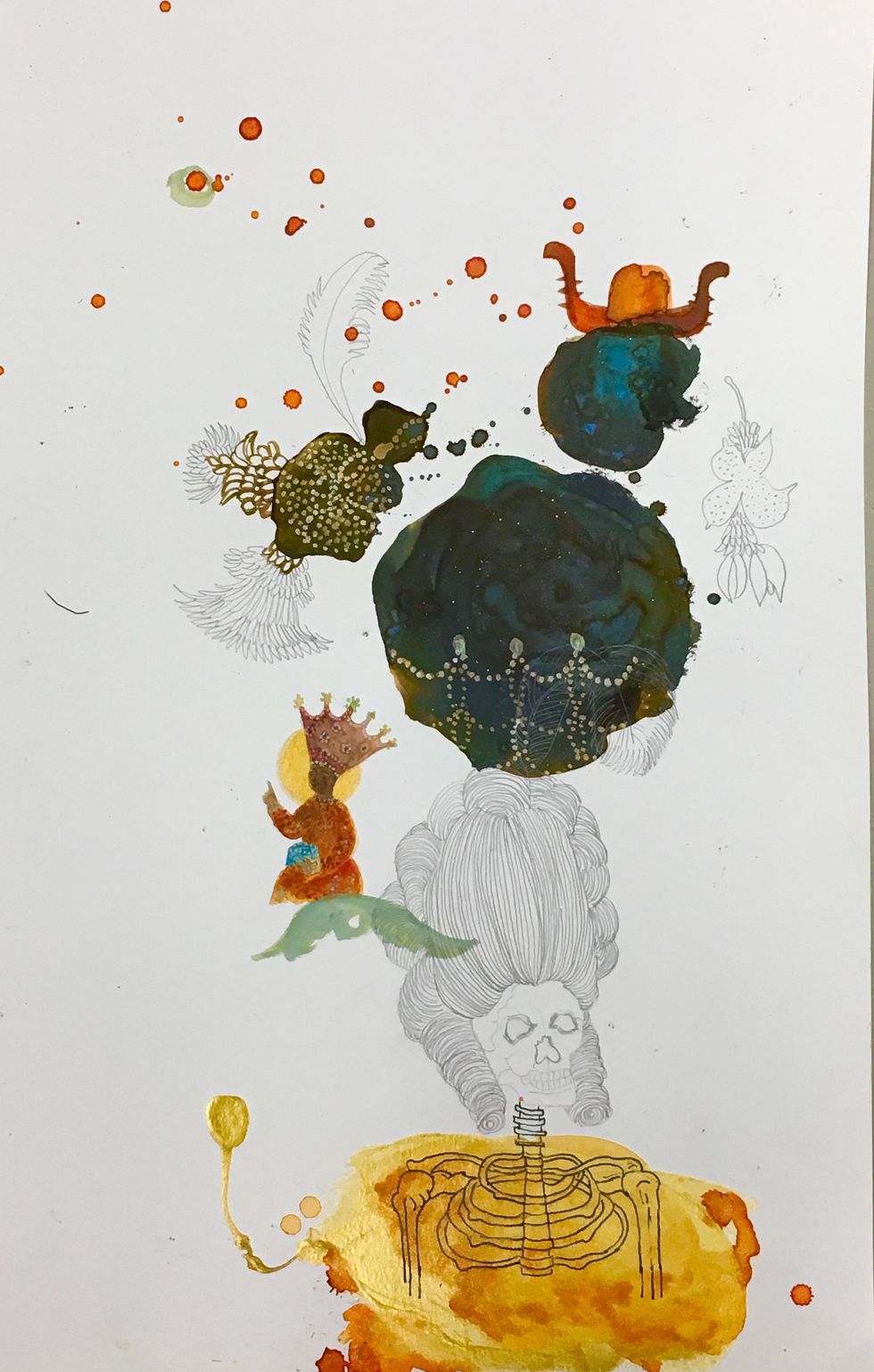 Marielle Plaisir, Lámina 23, 2017, inks, gold pigment, pencils on paper Courtesy of the artist
It certainly helps that the "book of paintings" is itself a rich source of imagery. "Aponte represented figures and scenes that spanned centuries and continents, including Greco-Roman mythological figures, scenes from Bible, personages from Ethiopian history, buildings and locations in Havana, depictions of Europe and Asia, and members of his own family," says Rodriguez. (For a full list of the book's subject matter, go here.)
Still, there is an almost inscrutable quality to Aponte's book. "Likely, colonial authorities used the word "painting" as they had no other way to succinctly describe what they were seeing," says Rodriguez. Moreover, the book was perceived to be a subversive threat. "Colonial officials believed Aponte's book to be central to his organizing and they focused a lot of their energy on trying to understand it," according to Rodríguez.
In Ferrer's opinion, "The exhibit provides a tangible example of the ways art and politics can each inform the other." "Aponte used his art to imagine other worlds, and that process of imagining other worlds was also part of his revolutionary politics," she continues.
"It resonates in a lot of ways with our contemporary debates on the politics of representation," adds Rodriguez. She cites the #OscarsSoWhite campaign by April Reign as one such example: "She [Reign] has talked about how she wanted her campaign to question the structural reasons behind the lack of inclusive storytelling. In similar ways, Aponte recognized the importance of the visual to write known and new histories at the service of an imagined and more equal future."
Among other things, Ferrer hopes that those who see the exhibit will develop "a knowledge and appreciation of Aponte as both an antislavery revolutionary and as an artist and creator." Yet it is a much broader perspective on display, as Rodriguez notes: "Aponte's vision of the African diaspora, and black history provided his viewers with a vision of belonging."
"Visionary Aponte: Art and Black Freedom" opens on December 8th at the Little Haiti Cultural Complex in Miami, FL. Afterwards, the exhibit will be on display at the NYU King Juan Carlos of Spain Center in New York from February to May 2018, before making its way to Duke University in the Fall of 2018.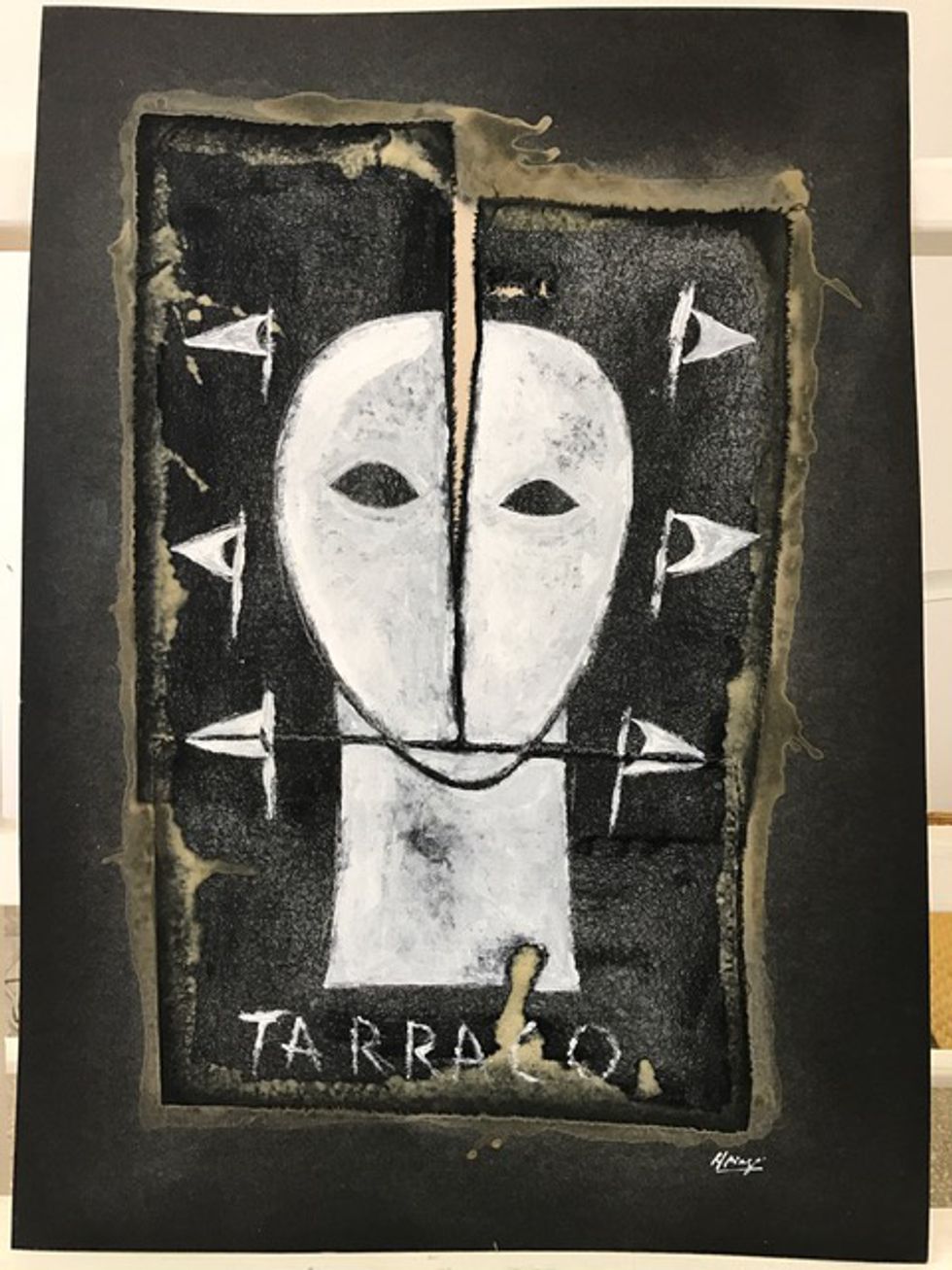 Juan Roberto Diago, Tarraco, 2017 Courtesy of the artist