This profile is part of OkayAfrica's ongoing series, THE WAV 2019, following the young artists shaping the future of the South Africa's music scene. You can read more profiles and interviews here.
ASAP Shembe's name has nothing to do with A$AP Mobb. The "ASAP" is an acronym for "Aba Sindisiwe Aba Pheli", which means "those that have been saved will never perish." "Cue the message," says ASAP Shembe after giving the breakdown. "And the message is "what you leave in the world," and the mechanism that I'm using to relay my message is music, and it's really just like a constant reminder, mfethu, ukuthi you are your own savior in this chaotic world. You need to find your truth with, and I found my truth through this name."
ASAP Shembe's lyrical content is just as loaded. While he doesn't consider himself a rapper, his hip-hop roots run deep. "I do take elements of rap into my music," he says. "But I don't consider myself a rapper, because I do so much more than just rapping."
---
ASAP Shembe does indeed do more than just rap. He also chants and croons over sinister trap production consisting of pulverizing bass lines and creepy pads and synths. His vocals can be high-pitched and dilated like those of maskandi artists, but at times he will drone with a baritone like the kwaito legend M'du. The influences in ASAP Shembe's music are many—extending as far as gospel—and they aren't a secret. He pays homage to the artists—Jabu Khanyile, M'du, Shwi Nomntekhala,etc.—who inspire him by appropriating some of their lines.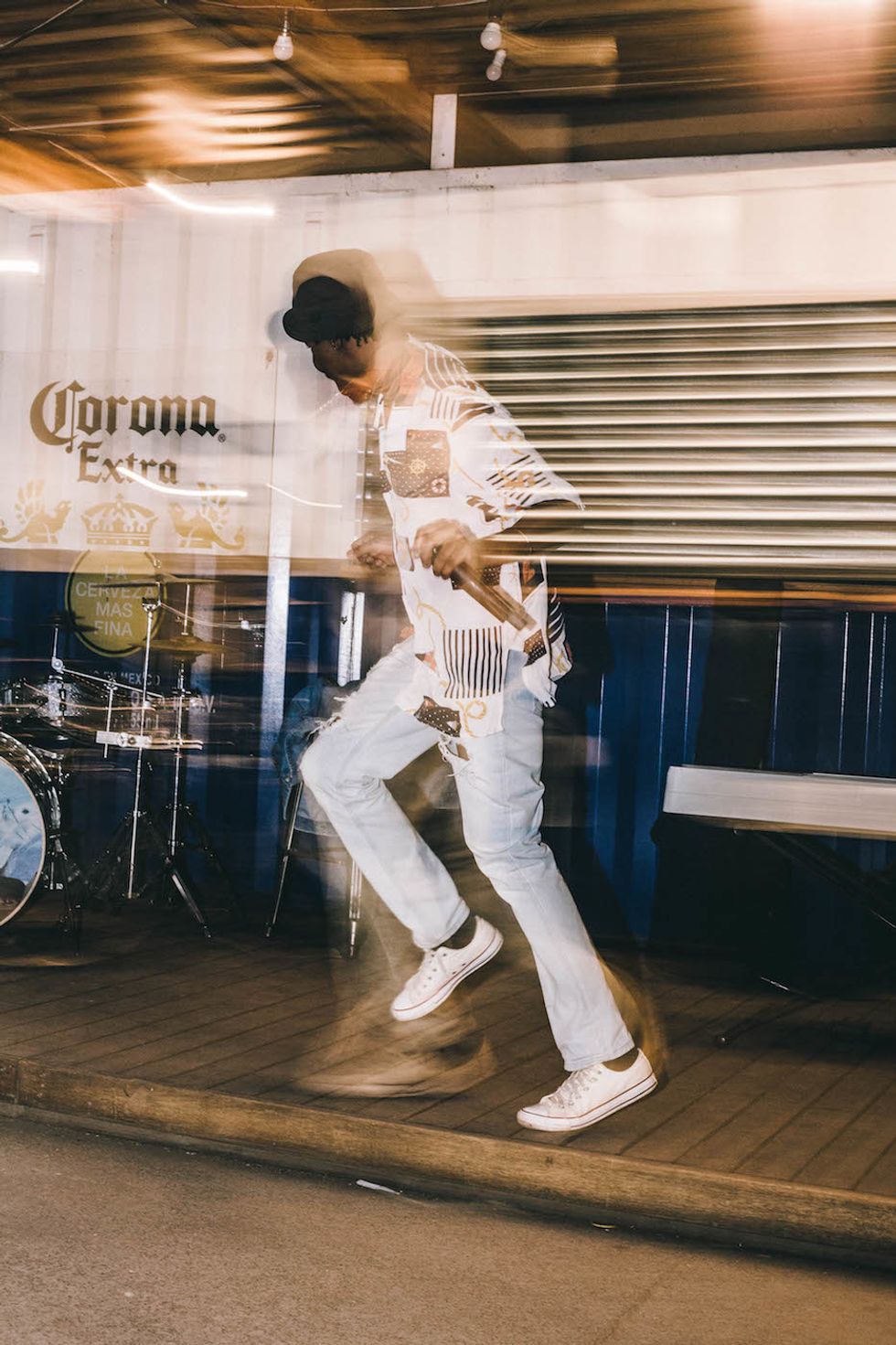 ASAP Shembe. Photo by Sabelo Mkhabela.
All these influences form a part of the artist's story.

Shembe grew up in Vosloorus in the East Rand outside of Joburg. Voslorus, just like the rest of The East Rand, is one of the most respected areas in South African hip-hop; it is home to some of the country's most gifted lyricists, some of which the rest of the country doesn't know of. So, naturally, Shembe started out as a rappity rap rapper who would later become a producer. But, your past will always follow you.
Shembe remembers his father running an illegal alcohol business when the artist was growing up. "All the mothers and fathers who worked in the kitchens and gardens would come to our house, Friday to Monday base mzini bayab' shaya, trying to numb themselves or trying to just escape. So, that's where that connection to African music came from with me because that's what would be playing a lot in the house, and the older I got, the more I got to see the messaging, what are they saying in this music, what's the purpose of all that."
ASAP Shembe - STAPLER (Official Music Video)www.youtube.com
When artists such as Mashayabhuqe KaMamba and OkMalumKoolKat came into prominence in the mid-2010s, it germinated the seed planted by the music he grew up being surrounded by as a child.

"When that era, the Mashaya and KoolKat breakthrough happened, I think that had a really really big influence in South African music in general because it was reclaiming us," he says. "As South Africans we don't necessarily have a specific sound, but we have a feeling. And they reclaimed South African-ness, and that inspired me to be like, 'Whoa, these guys are really taking this global."
The aforementioned artists incorporating that South African feeling in their music, he says, "gave me the courage and the belief of like, 'Yo man, I can really also figure out what music means to me, and let you know as the listener.'"
If the listener is educated enough to understand IsiZulu, then ASAP Shembe's music plays out like a sermon. One that doesn't sugar coat anything. The artist muses on spirituality, crime, promiscuity and many other familiar topics. Some of the songs will force you to acquiesce, while others will inspire a mosh pit.
ASAP Shembe & Fireman_R5 - Zwezwe (Official Video)www.youtube.com
"More than anything," says the artist, "I'm just a human, man, I do believe in spirituality. Whatever works for you to cope kulomhlaba lo (on this earth), you have to do it to the fullest. And our rich culture and our rich history, I do believe that's the way for us to go forward from this. We have to see how those before us maneuvered in order for us to figure out how we're going to maneuver going forward, and spirituality is a very very important part of my music. It's the foundation, man, because it's the foundation of life. Without i-spirit sakho, mfethu, you're just this physical entity, and there's so much to it beyond this physical entity."

His 2017 EP Butter plays out like a miniseries chronicling the lives of young people who run out of choices and turn to a life of crime for survival—a story that's all so familiar to most townships where black people live in South Africa.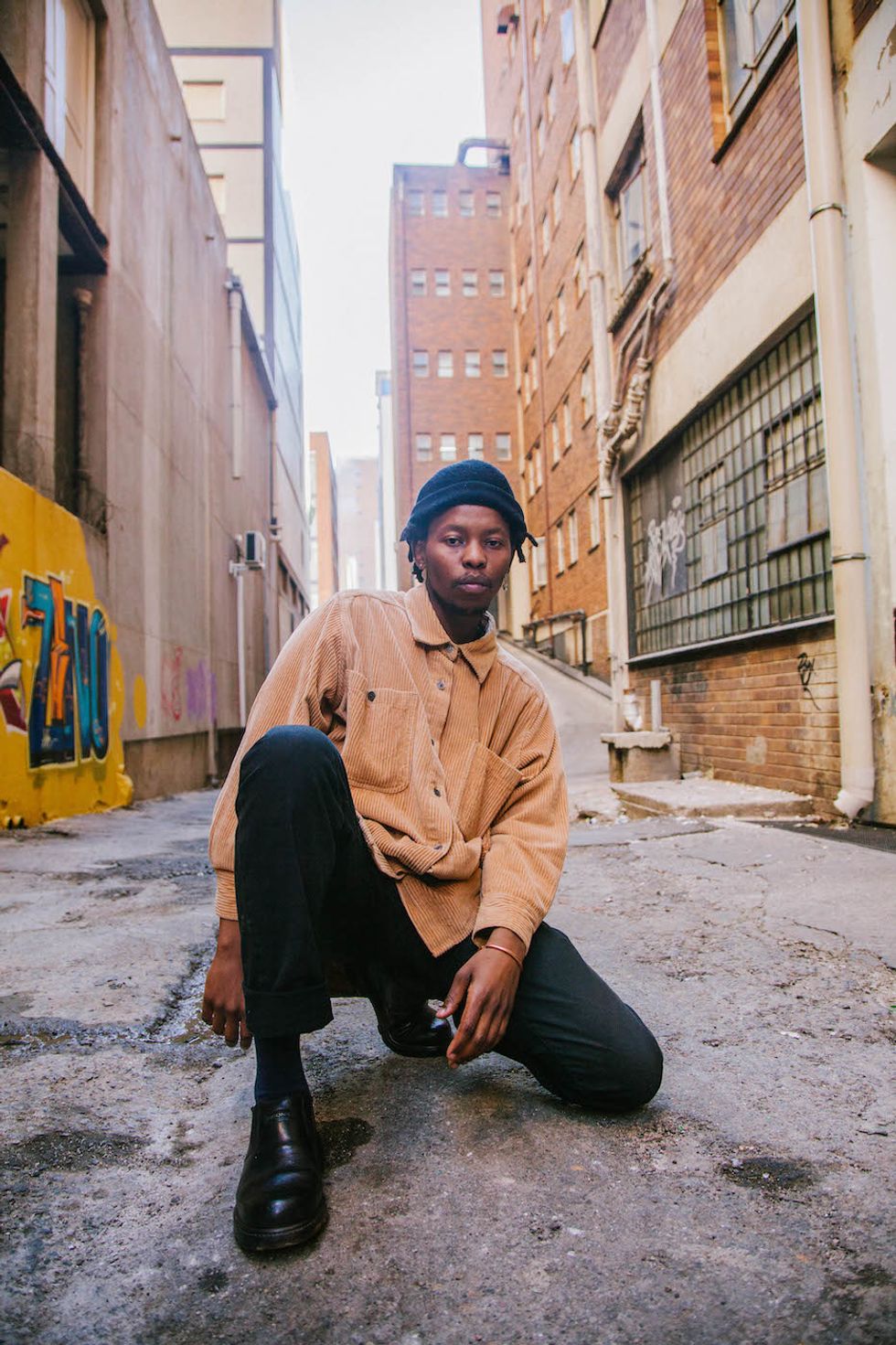 Photo by Sabelo Mkhabela.
"That was the unemployment year, after dropping out of varsity," he says about Butter. "So, I was really getting to ngiblome namajita asekasi, amajita asekhoneni, amajita aphandayo (dudes in the hood, in the corner, who hustle). Like, really seeing that so and so do get up to these kinds of activities at these times, but why though? That was me just really exploring all those ideas that a person's stomach will make them do the most extreme things to get fed."

ASAP Shembe's slowly growing a fanbase, he recalls a packed show he once threw in Braamfontein not so long ago, and his face brightens at the memory. He's aware that at this stage in his career, the most important thing is to, as they say in Braamfontein, build. Which is why he believes in being independent. "When you're indie, you have to work three times harder than a person who signs to a label," he says, and adds that the most important thing for an indie artist is to equip themselves with knowledge about the music industry." He encourages up-and-coming and independent artists to read and inform themselves.
Stream ASAP Shembe's EPs below:
Follow ASAP Shembe on Twitter, Instagram and Facebook.
This profile is part of OkayAfrica's ongoing series, THE WAV 2019, following the young artists shaping the future of the South Africa's music scene. You can read more profiles and interviews here.