Ayanda Jiya's voice was made for R&B. It fills up every space it occupies—be it your headphones or a performance venue.
The South African singer spent most of 2018 and the few years prior lending her polished vocals to tracks with artists including Lady Zamar, Stogie T, Ginger Trill, A-Reece, Ralf Gum, among several others, but her 2017 EP To Whom It May Concern is one of the country's best kept secrets. It hints at the future while paying homage to the past of '90s R&B.
---
This year, Ayanda will release her debut album, Ayandastand (pronounced "I understand"). On Valentine's Day, she released the project's first single "Falling For You," which featured rapper A-Reece.
While hip-hop is flourishing in South Africa, its cousin R&B still remains niche. Ayanda, along with artists such as KLY, Tellaman, Jay Claude, Lucille Slade, among others, are looking to make that shift by releasing world class R&B music with a South African touch.
We caught up with Ayanda Jiya on set of the recently release "Falling For You" music video, which was directed by Motion Billy.
Ayanda Jiya - Falling For You ft A-Reece (Official Music Video)www.youtube.com
*This interview has been edited for clarity and length.
Please tell us about the album you're working on, Ayandastand.
Well, basically the whole album is about my life experiences; the hurt I've been through, the love I've shared, the love I've received. Everything about love. I'm a huge, huge lover of love. I believe in it. I love everything about it, and how it makes you feel as a human being. How you love another person. I feel like that's one thing that's really lacking within the world, and that's what I want to do. I waited so many years to make an album because I wanted to actually get more experience, in terms of content and also what I really wanted to focus on because the whole concept for Ayandastand, is I understand me; understanding myself as uAyanda. So all my life experiences, I had to sit down and make peace with a lot of things that happened to me so that I would be brave enough to talk about them on album. So that's why it took so long. I'm finally done. I worked with [producer] Zeph. So we're finally done. I'm very excited about it. We haven't really decided when we want to drop it.
How did you meet Zeph?
I was going through a period of time when I felt like I needed a break. I met Zeph through Ginger Trill. Ginger kept on going on and on about this Zeph guy who wanted to meet me, who wanted to work with me. And I was just like, "I don't know. I'm still taking a break because of what I've been going through personal things." So I was like, "You know what? Let's just wait with the music for a while." But he was very persistent about it, and I'm very glad that he was. Eventually he took me to where Zeph stays, and he introduced us to each other. And just his spirit, man, from the word go, he was just such an amazing person. So I was just like, "Okay, let me try this out," and I've never looked back ever since. He's great to work with. I love a working relationship where you guys can be clear about the things that you're about to do. So everything is transparent and that's the kind of working relationship I have with him. And it's been great.
When and how did you meet Ginger Trill?
Ginger and I go back. He's from Potchefstroom, I'm from Klerksdorp. We're actually almost an hour apart. So he's basically my brother from back home. We're from the same hood, basically. That's how I choose to see it. We were signed under the same label, so that's how we met and we got closer then.
In general, you work with a lot of rappers, especially A-Reece. You've worked with him on his project and now on this joint. Tell us about your relationship, your working relationship.
The relationship started through Zeph because Zeph is very familiar with the hip-hop scene. He's worked with a lot of artists in the hip-hop industry. And with the kind of music I make, he just felt that it would be nice to collaborate with some of them.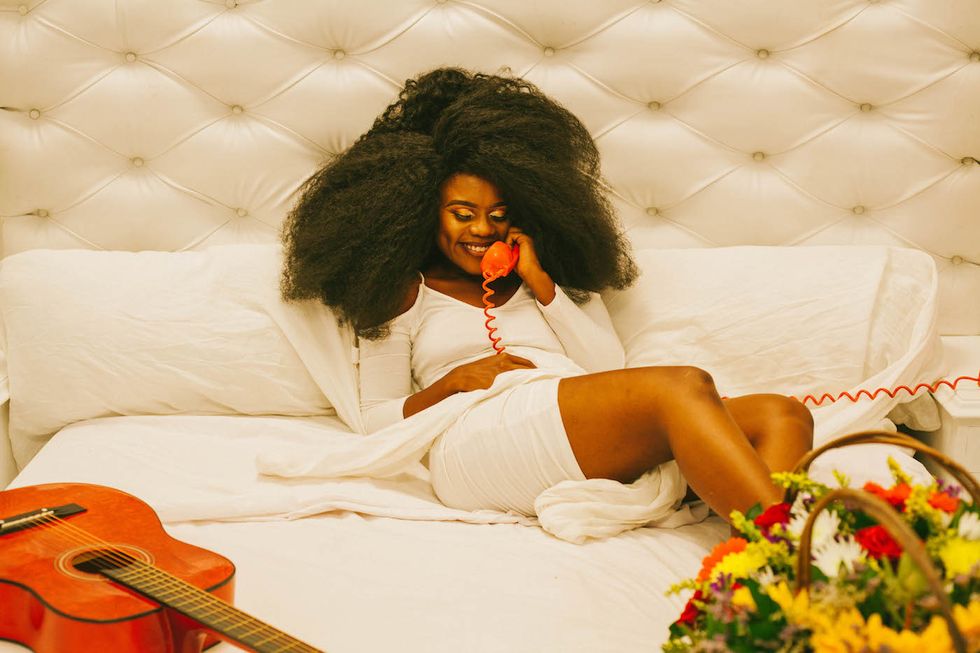 Photo by Sabelo Mkhabela.
What do you think about how R&B's doing in South Africa?
It's still kind of a slow genre to grow in the country and I know the reason probably could be because everyone wants to make music that's familiar to the people. I just wanted to be a bit different, also because I grew up in a household where R&B and soul were a very huge influence. My mother's such a lover of that kind of music, so that's the kind of music that she'd play a lot within my environment growing up. So that's where my love for it came from. And honestly, I never looked back. TK did R&B in our country. She did amazingly and a lot of people actually thought she was not from here because R&B was never really formed within South Africa. As much as that is big shoes to fill, because she was one of the legendary R&B artists we have in the country, it's also been a great dream for me to actually pursue R&B. And I'm actually happy. And I feel that in South Africa, eventually they will warm up to it because they're very versatile now and they're very open minded when it comes to music. So I'm looking forward to that.
I like that you mentioned TK. She was shining as an R&B artist at a time when kwaito was the genre of choice in South Africa. But if you listen to her music, especially the beats, it sounded like she knew what she was up against, so she fused it with some kwaito. In your own music, have you ever felt like meeting the people halfway?
I've always felt that I needed to just do me. So I never really had any worry about what the next person is doing or what's hot right now in the industry. And I feel that that's what makes us feel insecure about our artistry as artists, because now everything has to be done accordingly to what's hot now and then when it's not anymore, then it's like, okay, what's next? So I feel that that inconsistency kind of taints you as an artist as to what you really are. What is your purpose within your art? What are you supposed to contribute? So whether it's different and whether it's unusual for the next person, there is always someone willing to listen. There's always someone who's willing to adjust or maybe be open minded enough to hear your story or the way you want to interpret your artistry within the industry. So that's where I come from and, in terms of mentality, that's where my head is at. I've always been told in order for you to pop, I have to do Afro-pop or throw something vernac in my music in order for you to pop in the country.
For me, that wasn't really the intention. If you look at Beyoncé, not everyone has to be a her. Be you in your own lane. So she's an international artist, South Africans listen to her. I'm an R&B artist in the country, so what's the difference? So it's not really about the pressure of the country or the industry. I'm just doing me and whoever's willing to listen will be listening.
Earlier, you mentioned your project being very personal. Is "Falling For You" a personal song?
No. So this wasn't really a personal thing. Sometimes I write from past experiences or experiences that are happening within people who are close to, like if someone's going through something, and they want to share that with me. Sometimes I find that as an inspiration and I put it onto myself. Like, okay, if I had a crush on someone, how would I want to interpret that within my music? Because sometimes I feel that the reason why we are artists is that we are given music to tell a story that another person might not really know how to. You become the voice for that other person. So that's how I choose to see my music. So I always think of, in case someone can't really say how they feel to the person they want to tell, here's a song for them to. Like, oh, I underwrote a song which fits in exactly in what it is I'm going through. Let me play this song to this person so they have a clear understanding of how I feel about them. That's how I see it.
How did you feel about how your previous EPs were received?
With my very first EP (To Whom It May Concern), it was still an experiment because R&B was like literally dead in the country when I dropped it. So I really wanted to know how people were going to feel, how that was going to make them feel, and the response was really great, judging from how well it did. So yeah. It wasn't really much of a bad thing. I was actually very happy. And then when it came to the next one, "To whom it may concern," that was ... There was more of a bad around it. Yeah. So which kind of made me feel that it was one step closer to where, in terms of R&B, needs to be in the country. So yeah, man, it's still all a work in progress rather, yeah. So, so far so good.
You are heavy collaborator. Is that what we should expect from the album?
There were so many artists I really wanted to collaborate with and I really wanted to just share that platform with them. The reason I do a lot of collaborations is because I want to see how versatile I can be, because all of us, as artists, we're very different in our own kind, so collaborating with someone else with a different flavor, you're building something new altogether. So that's basically why I did collaborations. And even in the album, you get to see that even the music that accommodates the collaboration, very different, very ... out of your head. It's out of the box kind of a feel. So that's what I wanted to do. I'm doing a lot of house as well. That's another genre I've actually tapped into, in terms of just learning how versatile I could get. I still want to go ... Well, I did a bit of jazz. I still want to go into jazz again, but that will be something I'll do a bit later. So you see, I just don't want to be called this particular artist, you are an R&B or you're a soul artist. Boom. I just wanted to see how far I can go.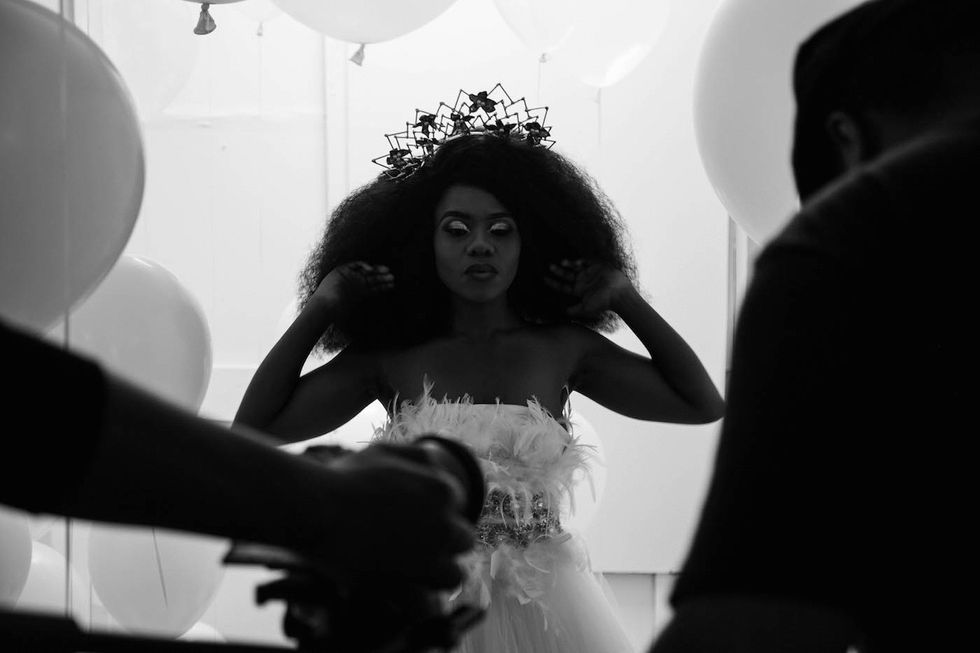 Photo by Sabelo Mkhabela.
The rollout of the "Falling For You" single was really impressive. Was it something that you planned?

Always intentional. Always intentional. Everything I do is always intentional because there's always a result that you're hoping to achieve at the end of the road. So yeah, everything was intentional—How it was set up, how we played it out, from the cover, why the color red… everything was intentional. So yes. I'm very ... I plan. And yes, I have a team that I work with also. I have a vision. So it was very hard to work with people. Sometimes you want to work with people that actually understand your vision because, at the end of the day, it is your vision and they're helping you reach it. They're helping you get to it. So I'm blessed with people like that around me who are willing to hear my voice as to what it is I wanted out of my artistry. And so yeah. I have.
We had already spoken about it like probably about a year or a year and a half ago before we dropped that. Okay, on Valentine's Day, we're dropping and this is why we're going to drop it on Valentine's Day. It's a love song. It's like, it's the beginning of love. When you finally realize within yourself that you feel some way about a person. Why not tell them on Valentine's Day? So yeah.
***
Ayandastand is due for release this year. Stream "Falling For You" below: