In the last year, stories about the global migration crisis have been at the forefront of our news feeds and especially in the work of Cameroonian artist, Barthélémy Toguo.
In his exhibition, showing at the Parrish Art Museum until October 14, Toguo addresses the migrant and refugee crisis; specifically, the desire of young Africans to escape in hopes of a better life. The centerpiece of Toguo's exhibition, Road to Exile, is a life sized boat filled to the brim with bags representing the material things people who migrate bring along with them on their journey. Toguo notes that the bed of glass bottles, which surround the boat, simultaneously show the danger and the fragility of the migrants' journey.
---
"The water is an element that can transport people from one point to another but at the same time it can kill," says Toguo in an email to OkayAfrica. "It is a trial of difficulties and the cause of many misfortunes, [like] in the Mediterranean Sea, for example."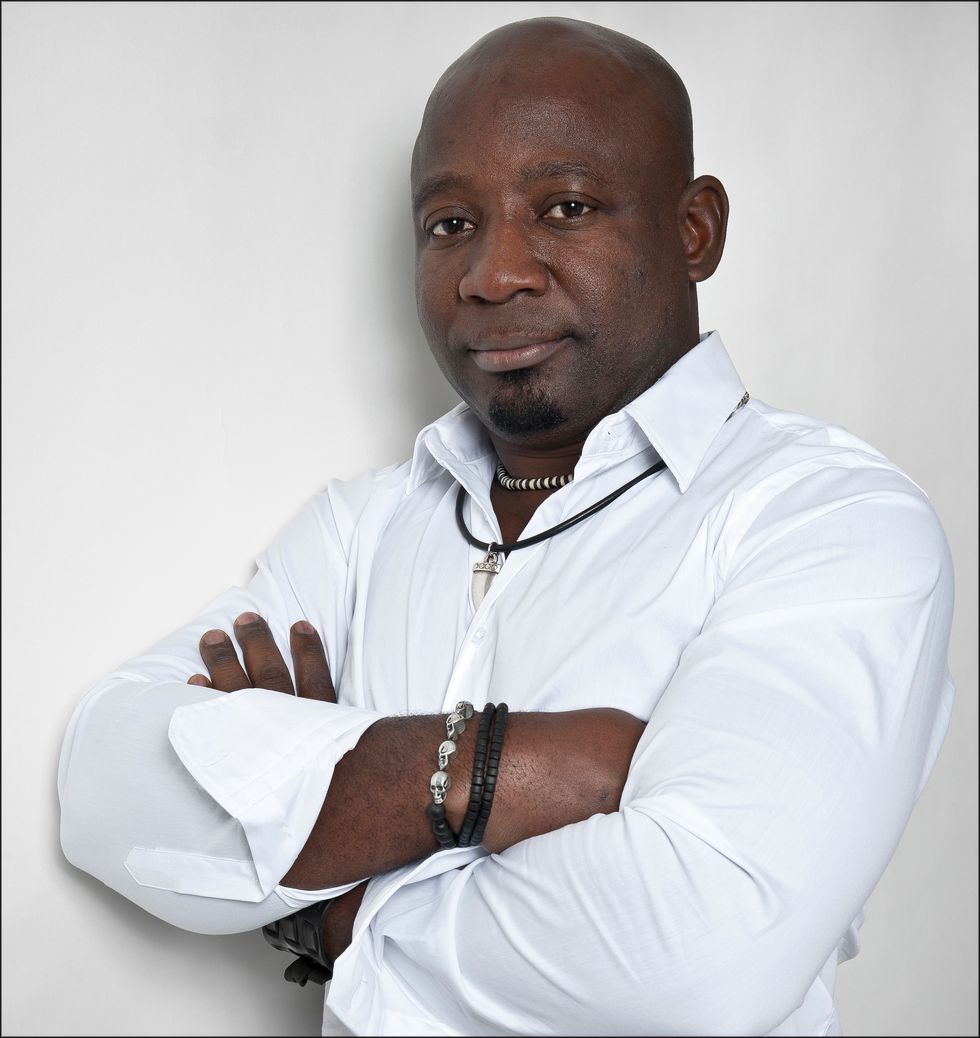 Barthélémy Toguo. Photo courtesy of Parrish Art Museum.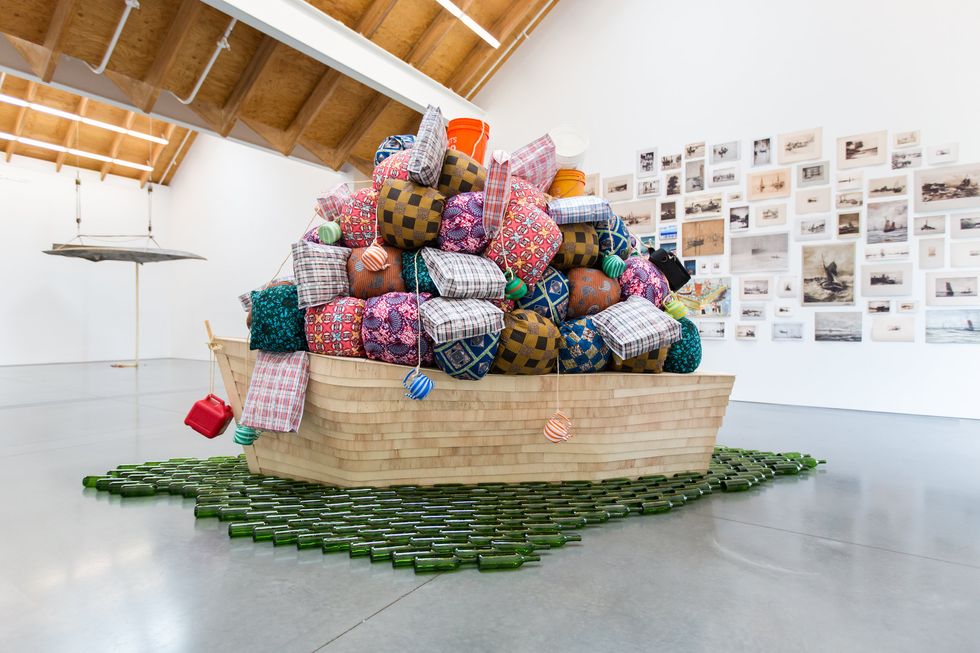 Barthélémy Toguo's 'Road to Exile.' Photo courtesy of Parrish Art Museum.
Mapped along the walls of the museum are postcards from Toguo's interdisciplinary project titled Head Above Water. The postcards serve as a map of Kosovo, Lagos, Johannesburg, Cuba, Tunisia, Hiroshima, Auschwitz and Birkenau, Mexico, Rwanda, London, Cairo and most recently, The Hamptons, through the eyes of everyday citizens. The premise of the project involves Toguo asking people living in challenging socio-political situations to write something about their lives, dreams, and hopes on a postcard addressed to him.
"I chose the title, Head Above Water, for this project to show the seriousness of the situation in which many of the people I talked to find themselves [in]; they often suffer so much that they are fed up and are close to suicide—hence barely holding their head above water," Toguo says.
"The project has evolved, and essentially, it gives voice to everyone to talk about their experiences and their lives. It's a generous project."
In The Hamptons, Toguo received postcards from many groups, including Native Americans hailing from Southampton's Shinnecock Reservation. By exploring questions about belonging in the United States and who is allowed to call this country a home, Toguo learned that members of the Shinnecock Nation are considered foreigners in Southampton.
"They do not own the land in the Hamptons, and they live in difficult social conditions, with very low monthly incomes," Toguo adds.
Barthélémy Toguo's 'Head Above Water.' Photo courtesy of Parrish Art Museum.
Barthélémy Toguo's 'Head Above Water.' Photo courtesy of Parrish Art Museum.
In one postcard a person writes "The American society is broken. Many of us are separate, not together. It is the rich, the poor and somewhere in between. I am somewhere in between, but I am lost too."

Other pieces in Toguo's exhibition speak to questions of police brutality, political corruption in African countries, sustainability, capitalism, trade and community. The exhibition is an amalgamation of Toguo's understanding of his role as an artist, which is to chronicle injustice as a way to remedy it.
Corinne Erni, senior curator of ArtsReach and special projects at The Parrish Museum of Art considers Toguo's work as "an invitation to a conversation rather than a message."
"I see it as strong, exuberant artwork with a commanding presence that draws us into the complex and unjust world that we all inhabit and contribute to," she says.
"It's through Barthélémy's aesthetics and mastery of the various artforms that he, as an artist, is able to lure us beyond the surface and into his world where he awaits as the multi-faceted African and global citizen who cares deeply about his people and his continent. He shows us hard truths—racism, post-colonial oppression, forced migration and exile, and the unfair trade conditions that for centuries have impoverished the global South. We want to see more, because the work is so beautiful and celebrates our—though hugely flawed—humanity which allows us get a little bit closer to the "other."