In his debut album, Me & Mines, South African rapper BigStar Johnson pays homage to the music he grew up with—kwaito, R&B and jazz. "There's music that we had back in the days that I feel like we can't just give up on," he tells a room full of journalists during the album's listening party a few days before its release. "There's sounds that we created as a people, as a country. I feel like we can't give up on those sounds."
---
Me & Mines is a '90s and early 2000s music fan's inside joke. From the quotes he references to the samples he uses and the album's overall mood.
The opening song, "Understand Pt. II," samples jazz legend Letta Mbulu's "There's Music In The Air." On the track "Two Cups," which is a serious gem, he quotes a line from Biggie's "Mo Money, Mo Problems," and his collaborator, the rapper Rouge, references "Cold Rock a Party" by MC Lyte and Missy Elliott. The song smells like the '90s with those "yeah! Oh!" adlibs heard on classics from the likes of TLC and Naughty By Nature. Tracks like "Closer" and "Calling" (featuring the singer Jay Claude), also carry that '90s R&B influence. BigStar quotes Jabba's monumental line, "I'm the type of brother who can drink in any bar now," on the song "Righteous."
"The rappers of today are trying to be the west too much," continues the rapper. "There's a little bit of a thing that we do, I'm guilty of it. Also, it could be because we don't own hip-hop, you know what I'm saying? So, with this album I did the best I could to embrace who we are."
Me & Mines chronicles a weekend in the artist's life. BigStar does a lot of singing as he tells the story of him meeting, in his own words, a woman, who he falls in love with. "I wrote [the song "Closer"] for my girlfriend. But in the line of the story, this is the infatuation phase. We met, we vibed, now we're in love with this bad bad."

In "The Garden Interlude," he makes the realization that he fell for, in his own words, a bad bad, and that this fairytale might not have a happy ending. "I really wanted to bring the ambiance of the garden," he says. "It's a pun between… y'all know what the garden means." Over a minimalist beat consisting of only an acoustic guitar, and airy pads, he sings:

"I met this shawty last night/ I think around, like, midnight/ she gave me the look, I gave her the look/ we ended up side by side/ I had dreams with me/ so we went to the garden/ She said she wanna kick it with a star, so I took her to Mars, then/ Another fairytale without a happy ending."
"The Garden Interlude," "Time of My Life" and the closing song, "Me & Mines" have jazz sensibilities. "We went back to Tembisa where I grew up," says Bigstar. "I needed to record this album in the environment I grew up in so I can stay as original as possible. We recorded the whole project there. I had the boys; we had pianos, a sax player, a guitarist, and [producer] SP Dubb. We started with "Time of my Life." That joint is pure inspiration on a joint. We didn't plan it, like, 'you play this chord…' Nah, it was just vibes. It was always just this is a vibe. This is the music I love making."
"Time of my Life" is one of the standout songs on Me & Mines. It boasts a healthy bassline, mellow keys and a subtly screaming saxophone standing over 808 snares. In the song, the artist raps about having a great time with his peeps, rolling doobies, chilling with his crew… "just living life, man."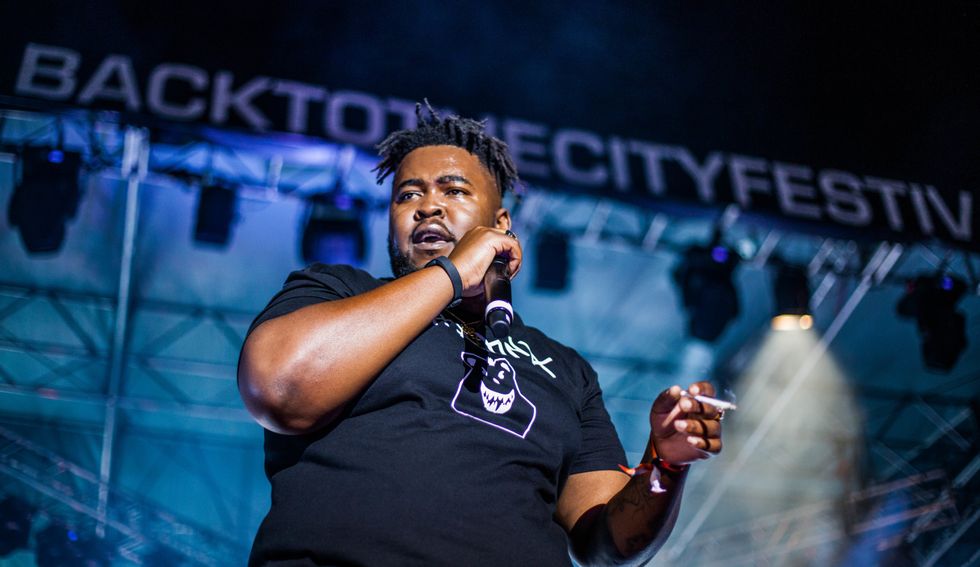 BigStar Johnson at this year's Back To The City festival. Photo by Sabelo Mkhabela.
"Sgubu," another standout song, and the album's video single, teleports you to the days of TKZee. It's almost impossible to hear that song and not move a part of your body. The song appropriates the hook from TKZee's hit "Mambotjie" off their 1998 classic album Halloween. On the same song, he quotes the kwaito group Skeem and makes reference to the popular '90s SABC 1 music show Jam Alley.

"Kwesta is the realest nigga in the game. Kwesta ain't change by the money," says BigStar before explaining why he featured his fellow East Rander on the song. "I knew that if I didn't have Kwesta on the song, you'd say I copied his sound, so I had to get him on the song."
"Paradise," which features BigStar's Vth Season label mate Zoocci Coke Dope, is the only straight rap jam on Me & Mines. On the second verse, he raps:
"I try to focus on the content/ and never did it for the profit/ I tried to get them into conscious/ But… now I'm over that/ Now I see it as an artist/ See it all in my conscience/ niggas sippin' on that Haterade on the weekend, switch to Carling."
He raps with a natural conviction, reminding you why he won the rap competition The Hustle on Vuzu TV two years ago. It was after this competition that BigStar's profile grew. He released the single "My Year," which featured Durban's Aewon Wolf, in 2016, the Reason and Zoocci Coke Dope-assisted "Flavors" last year. Both songs would appear on his 2017 EP Tellascope, which also featured the single "Pablo."
Me & Mines officially announces Bigstar's arrival as a versatile artist who prefers to make music that comes naturally to him. "I really believe we can't all sound the same," he says. "We can't. Be as different as possible. Fitting is not always the best thing."
‎