---
*Chantell Walters (photography by Childeye)
"We have a responsibility to create opportunities for these designers through educating the media, celebrating their creativity, and ultimately have the media be a driving force," says Harlem's Fashion RowCEO and founder BrandiceHenderson,"My hope is that we will all share in this responsibility by exposing them in editorials, purchasing their collections, investing in them, and featuring them in videos, movies and commercials." Have you heard of this event, which many consider a movement?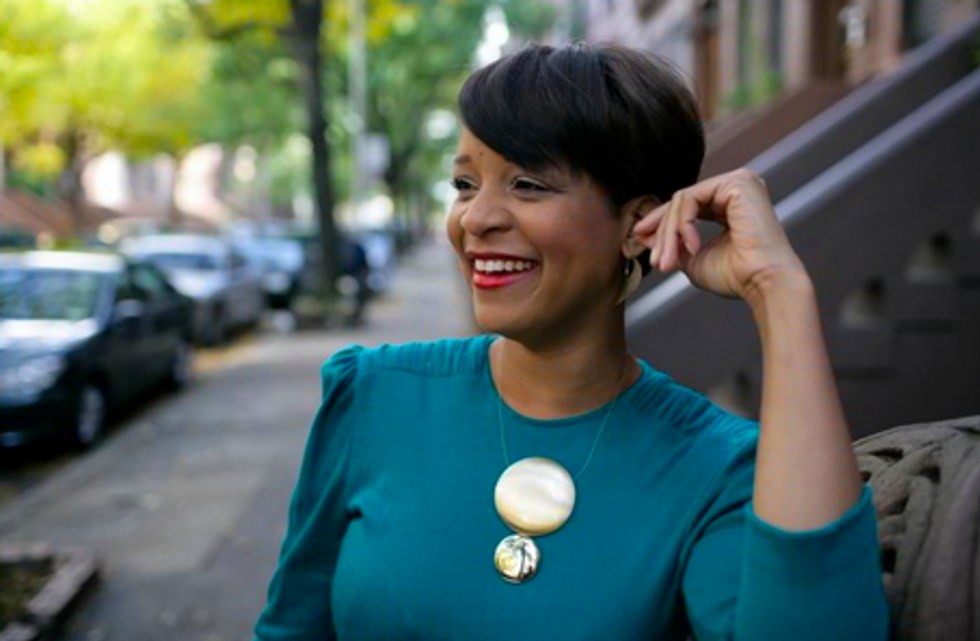 *Brandice Henderson
The fact that after five annual editions this year's Fall Collection edition of Harlem Fashion Row took place at the legendary Apollo Theater was a beautiful accomplishment. One which reveals the community's faith in Henderson's vision of the fashion industry; something which has lead this event to the top. Viewing the show, it's obvious that these designers who suffer a lack of exposure, are as talented and creative as their more popular peers.
Harlem's Fashion Row views itself as a celebratory platform for emerging designers of color. While it took place at the same time as New York Fashion Week, the show distinguished itself with its ethos and international designer selection. The fashion designers were:
Deidre Jefferies (Espion), Shauntelé, Evelyn Lambert, Sandro Romans, Chantell Walters, Kahindo Mateene (Modahnik) and Kimberly Goldson.
*designers in the order above (from top left to bottom right)
On top of the crop of designers, HFR assembled an impressive, broad and balanced base of judges: Editor-in-Chief of Bullett MagazineIdil Tabanca, Macy's Group VP of Fashion Forecasting & Operations Shawn Outler, Celebrity/Stylist/Model Tyson Beckford, International Supermodel Bethann Hardison and Editor-in-Chief of As If MagazineTatijana Shoan. The audience also voted for 25 per cent of each designer's rank. The winner's prize was a feature spot in Harlem Fashion Row Spring 2014.
*Idil Tabanca - Bethann Hardison, Tyson Beckford and Brandice Henderson - Tyson Beckford
The designers showcased their unique styles and demonstrated that 'black' fashion is as rich, diverse, colorful and imaginative as anything out there. They all had a strong vision on fashion and clearly excelled in creative quality. The majority of the collections featured a fusion of a modern, feminine, innovative image with premium workmanship, optimum material choices, and perfect fits. An amazing combination of fabrics, accesory-play, minimalism of forms, bold makeup and magnificence of colors made these new collections of original and exquisite. Sandro Romans was the only designer to present a menswear collection. His pieces were architectural — they were a half-way between futuristic, sportive and tribal, and put the personality of the wearer up-front. See pictures of the show on the following pages.