Florence Kasumba on the Impact of Black Panther: 'We're Telling a Story That Hasn't Been Told Before'
Uganda's Florence Kasumba had us at "Move"—now we chat about her experience shooting "Black Panther" and the film's impact on the world.
The energy surrounding the release of Black Panther is as unparalleled as it is unbelievable. From pre-sale tickets breaking box office records, to overflowing viral fandom, there's almost no doubt that we'll all be proud Wakandans come Feb. 16.
The energy, though, is definitely not just with the fans. In speaking with cast member and Ugandan-German actress, Florence Kasumba, she notes the contagious hype behind the movie was shared both on set and among the whole cast. Kasumba's role as Ayo, a fierce member of the all-women's special forces Dora Milaje, made a brief yet ground-shattering entrance in Captain America: Civil War with the powerful one-liner, "Move or you will be moved." The scene is just an introduction of the attitude and force we'll be seeing from the warrior troop, as we've already begun to see in recent trailer releases.
Black Panther will be Kasumba's third U.S. movie debut in two years. Outside of Civil War, she made an appearance in DC's Wonder Woman, a contrast of sorts to her roles on the small screen, like NBC's Emerald City (as East), and internationally, where her resume has given her all the juice she needed to fit perfectly into Ryan Coogler's Wakandan cast.
---
The film is projected to make a $150 million box office impact opening weekend. With initial reviews from the January Purple Carpet premiere pouring in, and a finalized 97 percent Rotten Tomato score, there is no doubt we will be talking about Black Panther for a long while. But more importantly, Kasumba can now become a new face that we can follow in her growing U.S. film career. She is slated to star in the upcoming live-action Lion King film alongside Beyoncé, Donald Glover, and J.D. McCrary in 2019.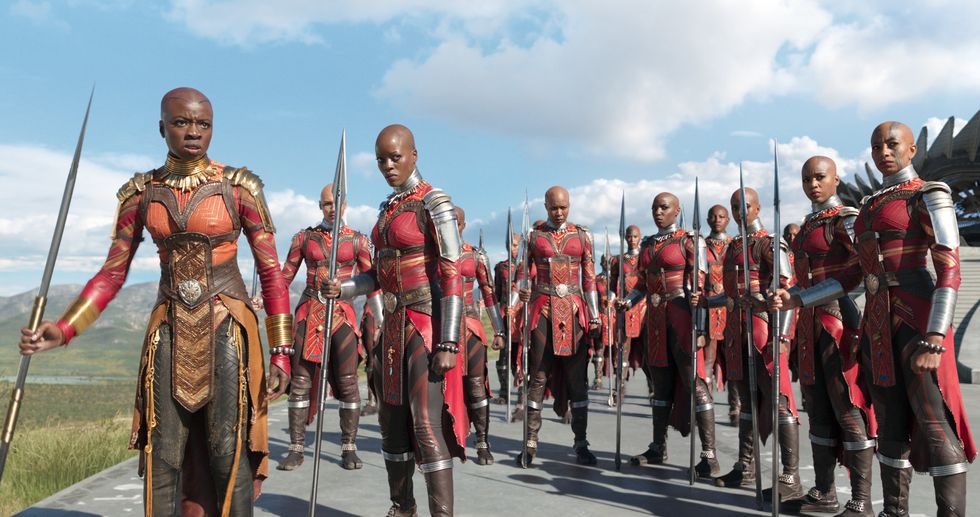 Florence Kasumba stands beside Danai Gurira in 'Black Panther.' Photo courtesy of Marvel Studios.
We caught up with Kasumba before the Schomburg's 6th Annual Black Comic Book Festival, where she gives some good insight to what this movie may mean for Marvel fans and new fans across the world. From discussing the level of physical training and exertion for the film, to working with Coogler, it was great pleasure that we got background insight to what makes this film so special. And as with any and all Marvel Studios films, I remained about five minutes after the interview was done. I just had to make sure there were no surprises. There were none.
Alex D. Auguste for OkayAfrica: Tell us a little about what working on the set was like. Does the energy the public is giving reflect what you all felt on set?
Florence Kasumba: You talked about what was going to happen when you get ready for the scene, then you actually walk on set and you have the feeling you're at that place. I would end up, after weeks, writing 'Greetings from Wakanda' because I spent a lot of time on set. I was happy that I was able to see it first. You have to watch the movie to understand what I'm talking about.
Tell us a little bit about the character and what this role in particular required of you to become Ayo.
We all had to be physically very, very strong because there's one thing to look the part and get into the costumes, but we fought sometimes for the whole day so you had to be able to run around the whole day and to be mentally conditioned—to know that you'll have to do this move a hundred times. But we were prepared. What people don't know is that they didn't just choose random people, they chose athletes. I have a dance background, for example, and I also do martial arts. When I came in to work, it wasn't like [a surprise], I knew I'd have to move around. That's what I was trained to do, to sing and dance and act at the same time. My challenge was that I was going to be in a movie where you're not going to tell a story for three hours. You, worst case, have to be running around for five months every day—you were basically training all the time.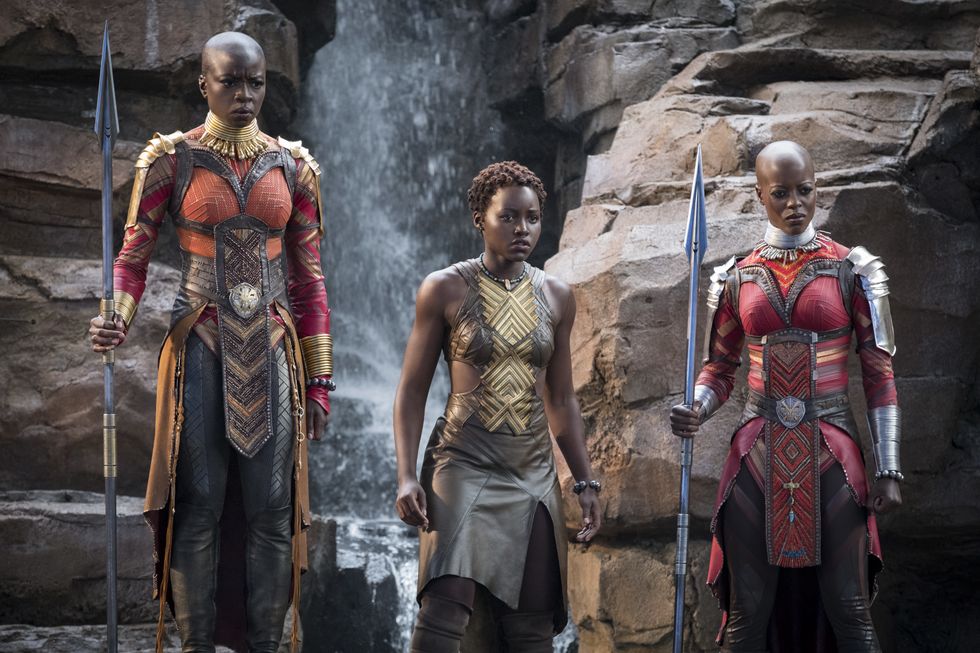 Danai Gurira, Lupita Nyong'o and Florence Kasumba in 'Black Panther.' Photo courtesy of Marvel Studios.
What was it like being brought in by and working with Ryan Coogler?
Personally, it was amazing working with him as an actress. You'd have to imagine he's under so much pressure making this movie. But he is so calm. For example, when you do something wrong, normally people would be like 'don't do this' or 'try this' or 'change that'. He would always come to you, and he's very quiet. He would ask you a question where no one could hear it. 'Why are you doing this' or 'What is your point of view on this' or sometimes it would be like 'Ah, OK. I understand.' He's very respectful and very calm. There were other times when while we were filming, we were all very cold. He would never walk around with a jacket. We would ask why isn't he cold, and then you find out he doesn't wear his jacket because he knows we're all freezing. So that's the kind of person he is.
This film is a great example of what representation looks like when portraying superheroes of color. What does that mean to you?
I hope everybody can say they have the feeling that they're being represented out there. In my case, I waited for Luke Cage and I waited for this movie because I felt like I could be part of something like that. Most of the time, and I wouldn't say my appearance is difficult, but a lot of the times, they say 'If we cast her, is it going to be a problem?' Now times are changing, and I want to see Asian superheroes. I want to see heroes who represent where they come from so people can say 'That could be me.' There's was an understanding—an understanding of what it means to be from somewhere else. We had to look the way we looked to be in this movie, and that is overwhelming when you go somewhere and you think 'wow this is OK. My look is OK', having no hair. Which, by the way, is a choice. It's not like I don't have hair, I just don't like wearing long hair. But then all of the sudden, I'm in movies where they require you to shave your hair, and it's difficult for some women.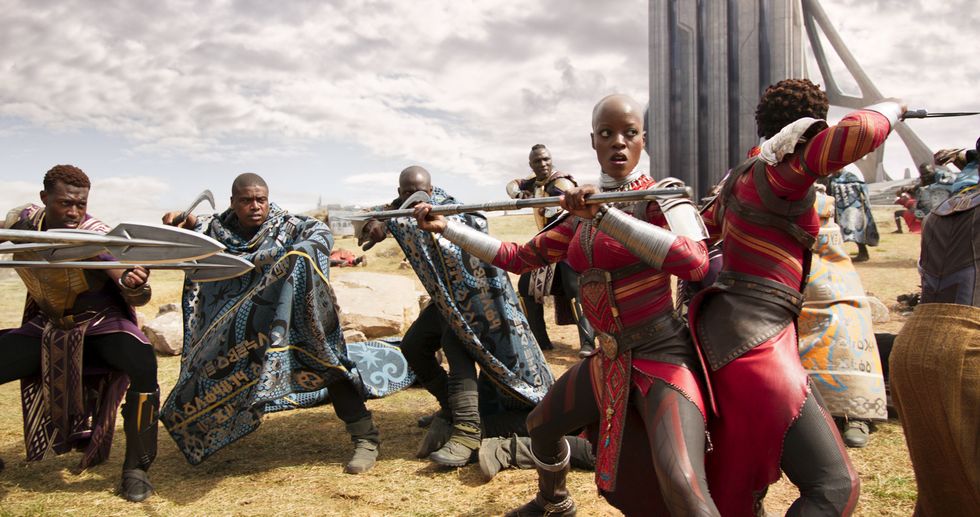 Florence Kasumba in 'Black Panther.' Photo courtesy of Marvel Studios.
What will we enjoy most about the movie?
There is no aspect [you will not enjoy]. You will laugh the whole way. I was never a fan or interested in these movies, but this story—this is for everyone. This is a movie for young people, for old people, for people who are interested in comics, for fans of the Marvel Universe. And I can just say you will cry, laugh, you will have a lot of moments where you will say 'Oh my gosh! they did not just do that.' It's such a major event—going to these movies.
For new fans and comic lovers alike, what can you say about expectations and consistency to the source material?
Go into the movie with an open mind. Again, it's a movie for everyone. A lot of things are different in this movie, and that's why I'm saying you have to just go out and experience it for yourself. We're telling a story that hasn't been told before. You will not be disappointed.