South African veteran actor John Kani was highly responsible for IsiXhosa becoming the official language of the fictional country of Wakanda in the Black Panther movie.
---
It all started on the set for Captain America: Civil War (2016). Kani was playing King T'Chaka, father of King T'Challa, the same way it is on Black Panther.
"We had this scene where I had to do a conversation with my son," said the actor during a press junket for Black Panther on Friday. "I was supposed to say to him, 'I miss you, my son, I haven't seen you in a very long time.' So I asked the directors, 'Why am I speaking English? He's my son we're from Wakanda.' And the directors asked, 'What would you say?' I said 'Unqabile nyana, ndikugqibele kudala.' My biggest surprise was that Chadwick responded [in IsiXhosa], 'Ndiyaxolisa baba.' I asked, 'Where did you learn that?' He said, 'When I was in Cape Town, I worked with a South African crew.'"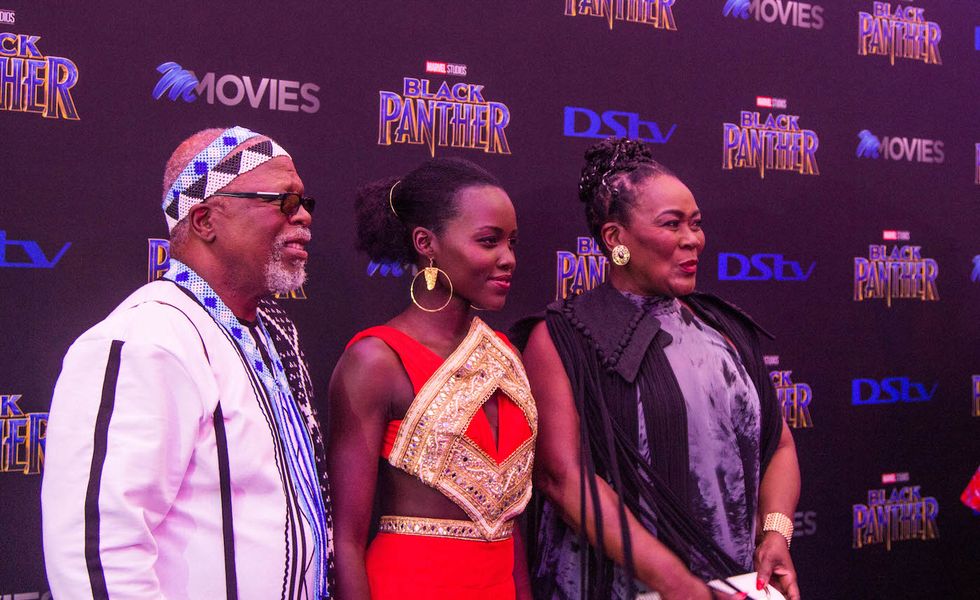 John Kani, Lupita Nyong'o and Connie Chiume at the South African premiere of Black Panther. Photo by Sabelo Mkhabela.
That is how that scene on Captain America: Civil War ended up being what it is today. The language was then adopted as the official language of Wakanda, as heard on Black Panther.

Actresses Lupita Nyong'o and Danai Gurira, speaking at the press junket, mentioned how Kani and his son Athandwa Kani played a huge role in teaching them the language for the film.
Michael B Jordan murdered his role on #BlackPanther. The dude w/ apartheid accent too. The Xhosa though damn, I understand why Lupita said it's the most difficult language.
— ™🇿🇦 (@Thapstarr) 18 February 2018
"We had Athandwa and John," said Nyong'o. "Athandwa was our go-to-guy—the songs, the dialogues, Athandwa was the dude. All the translations and pronunciations and all that, Athandwa was our dude. The clicks were no joke."

Gurira had an advantage because she had been to South Africa for a semester in the past.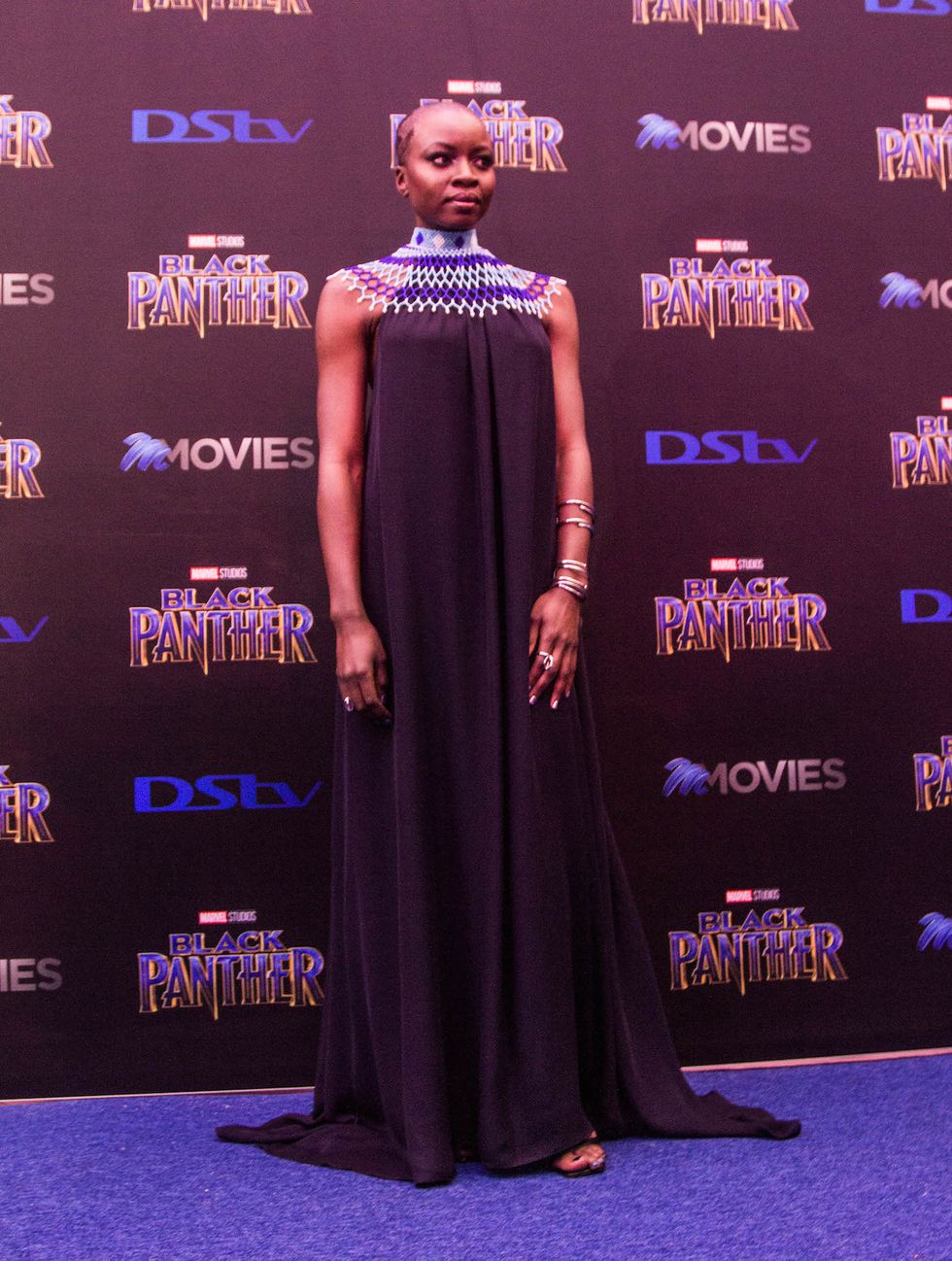 Danai Gurira at the South African premiere of Black Panther. Photo by Sabelo Mkhabela.
"It was quite a challenge because the Xhosa language is one of the hardest languages on the planet," says Nyong'o.

"But I love it for that," said Gurira. "I love how specific and unique it is. That's what we've always wanted to do—delve on African specificity, as artists. The idea of getting to do this for something like this was so so cool.
"There was a lot of watching stuff from here, listening for accents and pronunciations. I love that there was work to do. I didn't just have to bleed everything I knew about being an African. But there was joy in that; because you finally get to celebrate the fact that we are a very diverse continent, and don't ever put us into one clump and say, 'This is how we all talk and look.' And we tried to put in as much Xhosa as we could like, 'I want to say that in Xhosa, I learned it.' We did that on every scene."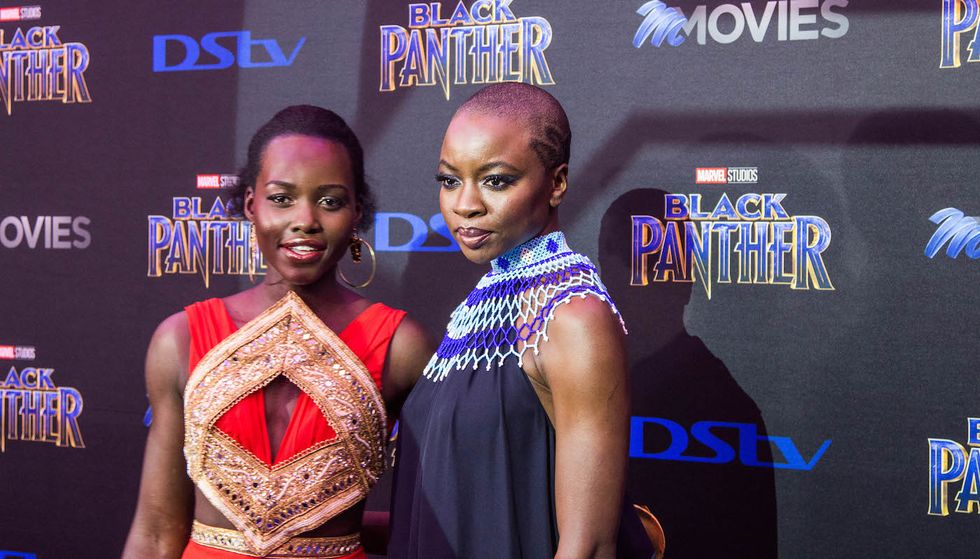 Lupita Nyong'o and Danai Gurira at the South African premiere of Black Panther. Photo by Sabelo Mkhabela.
Nyong'o added why she thinks using an African language in a Hollywood blockbuster is important.

"So often we watch American movies that have Russian, German and French and all that," she said. "But so rarely are people asked to listen to an African language and read the subtitles for it. And the fact that this movie is resonating is proof that our languages resonate just as much as everything else. And that gives Wakanda a very special flavor within the marvel cinematic universe."