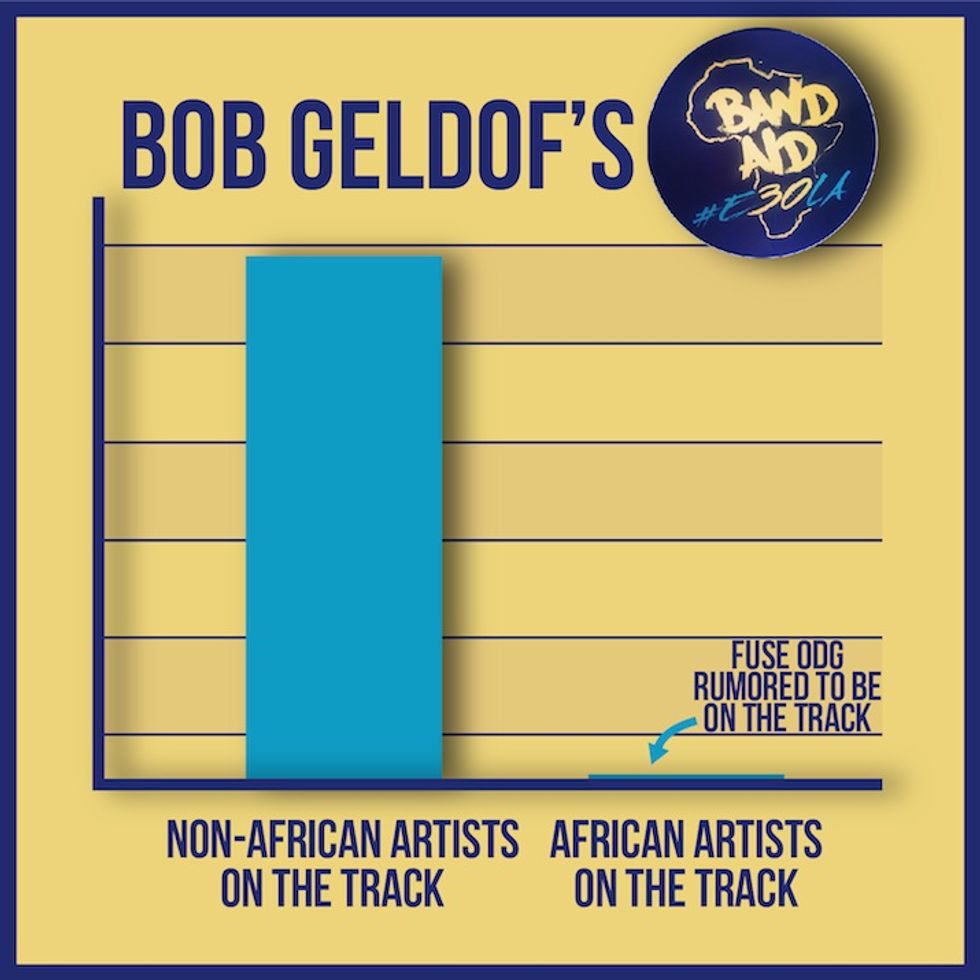 ---
Thirty years after "Do They Know It's Christmas" first reared its well-intentioned but horribly patronizing head, notorious "humanitarian" Bob Geldof has announced the return of Band Aid. This Saturday Geldof and his team of UK celebrity musician do-gooders will record a new version of the charity single with updated lyrics to raise money for the West African countries affected by Ebola. Since the announcement there have been plenty of articles enumerating the ways in which the project is ill conceived–it perpetuates reductive and damaging stereotypes of the continent (which in turn hampers actual development and economic progress); the project ignores the complex political and economic systems that have helped create the crisis in the first place; it acts as a feel-good band-aid for Westerners while covering up our own governments' complicity in widening the divides between the global have's and have-nots; it revitalizes the white savior complex–to just name a few. And then there's the distasteful pun-ification of the word Ebola in their new 30th anniversary logo (see graphic above).
What also starkly stands out is that there are literally no African artists on the bill (note: NME reports "This Is New Africa" musician Fuse ODG will feature on the track). If we didn't know better, one might wonder if the entire continent of Africa has ever produced any worthy musicians. Or we might be led to believe that artists from the afflicted region had nothing to say on the crisis, and no interest in raising money for its relief. This is patently false. Nationally renowned Sierra Leonean rap superstars Bajah + The Dry Eye Crew have done a sensitization song that's played all over their country's airwaves. More recently, a group of West African artists (including Amadou & Mariam and Salif Keita) came together to record "Africa Stop Ebola," which has since been played nearly 100,000 times.
If Geldof is to go forward with the new version, the least he could do is use his influence in the music industry to help promote some of the best talent emerging from Africa–an effort that really could have lasting impact on how people perceive and interact with the Continent. Is that really so much to ask from a man who sells himself as someone who has Africa's best interest at heart? Granted, associating himself with relatively unknown African acts would hardly be as impactful in refurbishing his own image and reviving a sense of life purpose than hanging with the likes of Bono, One Direction and Coldplay. Since Geldof seems to be woefully uninformed about the West African region's musical talent (hell, we'll throw in the whole Continent just to make it easier for him), feel free to send suggestions our way. We're happy to compile a list and send it.