Interview
Interview: Boity Takes Her Jump Shot
With the release of her first EP 4436, Boity cements her place as a rapper and aims to inspire her listeners. "I hope everyone takes away from this moment the fact that when you chase your dreams, honestly, the universe will reward you," she says.
Boity moves with grace. Her newly-released debut EP 4436 is the culmination of her new rap career which officially started in 2018 when she released the Nasty C-assisted single "Wuz Dat," which would go on to be streamed more than 3 million times. The song's music video reached a million views within four months of its release. In 2020, Boity became the first female rapper in South Africa to achieve platinum status, thanks to the certification of "Wuz Dat" towards the end of 2019.
"To get the chance to start again, without having to start again, I think it's a privilege," says Boity during an interview shortly after the listening session of 4436, a few hours before its release in early December 2020. "It's like, being able to go back to high school and to listen to the math teacher again, but with a different mind, and to say, 'Okay, how am I going to fix this sum now, with this mind?' as opposed to how I did it when I was actually in grade 10. So, it gave me a chance to redefine Boity." The difference between Boity and any new rapper is that she already had millions of eyes and ears waiting to hear her raps on her first single which was released by Universal Music Group and Def Jam Africa.
---
In the last decade, Boity became one of the country's A-list celebrities as a TV presenter, actress and businesswoman. It was in 2017, on her last day as co-host of the popular music showClub 808 on eTV that Boity's foray into rap started.
She joined Nasty C as he performed his song "Juice Back" on the show, rapping the lyrics word-for-word. A few months later, she was brought out by Nasty C to perform an original song at Migos' 2017 concert at The TicketPro Dome in Joburg. The song, which was said to be titled "Half" was, however, never released.
"It was really after our fun rap on Club 808 that I decided to try it and just have fun in studio. Nasty C invited me to do a song with him and it was the perfect opportunity. I jumped at the chance," Boity was quoted by TimesLIVE as saying at the time.
Skills
However, her star power isn't all Boity has going for her. After "Wuz Dat" and the few singles and guest verses that followed, one thing became clear—Boity can rap. Though not necessarily publicised, it wasn't a secret, and any educated ear could pick up that she got "guided" (Slikour's words) by Nasty C on "Wuz Dat." Later, she was guided by Reason on the song "Bakae." Nonetheless, she delivered her raps sure-footedly and made a strong case for being considered a serious rapper. Slikour put it well: "I've heard people who still don't sound good even when they've got guidance. I know you were guided, but you're a student and you did it well."
Boity, Nasty C - Wuz Datwww.youtube.com
With her new EP, Boity officially takes her jump shot. "You guys have been fucking harassing me to do this EP and now I've done it, so just listen and enjoy it," she says when asked what she hopes fans take from 4436. "Just enjoy it. That's all I want people to take from it."

4436 started taking shape in 2018. But it was during the 2020 lockdown that she got to focus on the project. "There were a few little distractions here and there, but I think everything happened as it should, because the timing is just right, right now," she says. Boity was holed up in the studio with producer pH Raw X and her manager Bash Vision and, of course, Reason whose involvement in the making of the EP is easy to pick up.
Apart from the adlibs on "Six Plus Four," one can pick up Reason's cadences and flows in her raps. It's impossible to listen to Boity chant "4436, 4436" on the opening song's hook and not be reminded of Reason chanting "we all here for the metres" on the hook for the lyricist's 2018 single "The Metres."
"It's a job"

Asked to break down each personnel's function during the making of 4436, Boity doesn't give a clear answer, but rather focuses on the comfortable space that pH Raw x, Reason and Bash created during studio sessions.
"We don't do the whole chill, get some drinks, see how it goes," she adds. "No, it's a job. It's a nine-to-five. So, we treat it that way. We get in and we know what we're there to do. We already know what the beat is, so we're not getting in, having pizza and chilling first. Bash will send me beats while I'm home and I'll listen and choose which one we are working on."
Boity takes centre stage on 4436.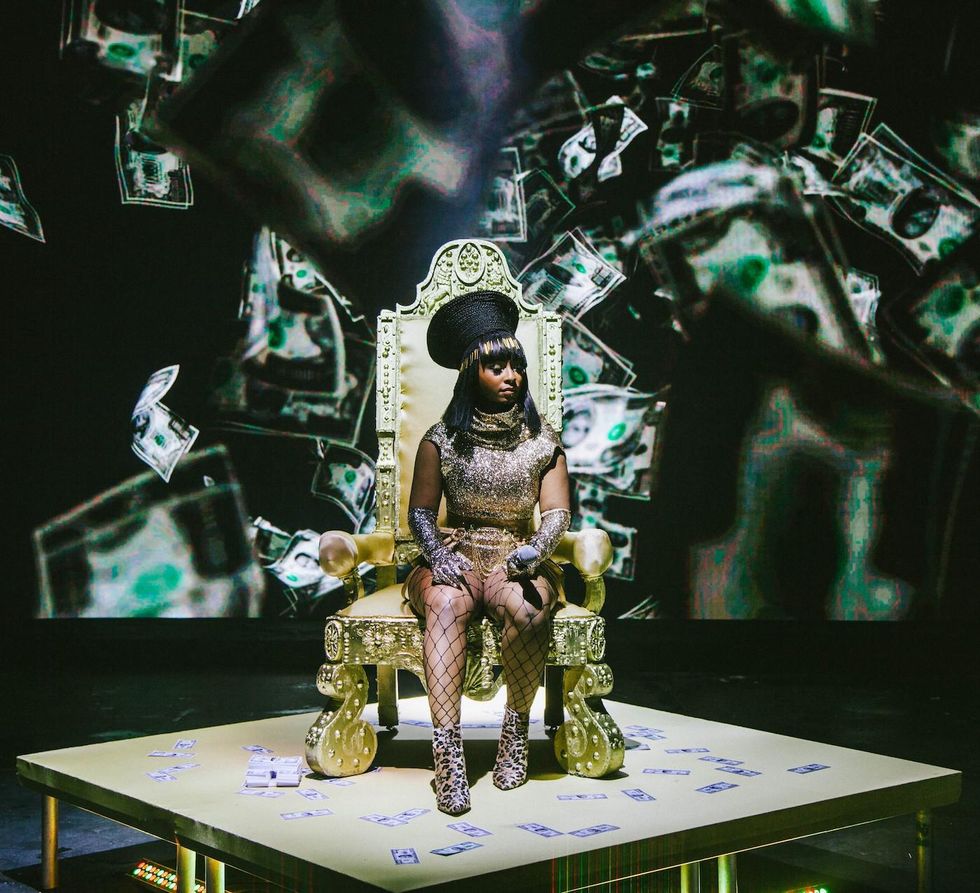 Boity on set during the filming of a Yo! MTV Raps South Africa episode. Photo by Sabelo Mkhabela.
Boity has long been a fan of hip-hop. It explains how, with the influence she has, she didn't just go for the top dawgs, but rather picked artists who are key to different corners of SA hip-hop even though they aren't all household names. "It wouldn't make sense to make a song about my hometown Potchefstroom and not include them," she says explaining the significance of featuring Maglera Doe Boy and Ginger Trill on "018's Finest". "And all of them were a matter of, 'you're my homie, I dig you, thank you, get in.' Because hip-hop is a space of favours. It's all about favours."

On each of 4436's seven songs, Boity spits lofty rhymes, delivering them with a brazen assurance—since her first song, one of Boity's main strengths has always been sounding believable and convincing. On "Ndak'betha," she raps:
"I'm Queen B when I walk out the bed/ I'm Queen B when I walk to the fridge/ Rose petals when I walk out the crib/ Red carpet when I walk out the whip"
The theme of self-assurance defines 4436, and by the end of the project, the listener should know how much Boity believes in herself, how proud she is of her achievements and that she's far from being done.
New motswakolista
What's prevalent on 4436 is Boity's proclivity for rapping in her language Setswana. She calls herself "the new motswakolista" (a motswako rapper) in the song "018's Finest." Motswako, a subgenre of South African hip-hop that originated in the North West, is defined by the use of predominantly Setswana lyrics and diverse production styles (hip-hop, kwaito, house, jazz etc.).
BOITY - Bakae (Official Music Video)www.youtube.com
"I've always been obsessed with motswako," Boity says during a Q&A with music journalist Helen Herimbi during the project's listening session. "If you were to play anything by HHP, by Khuli [Chana], by Morafe, most of them I would be able to rap them word-for-word. I just want to be a part of it, and I felt like there's no other way to take that ownership than to call myself, 'the new motswakolista.' So, I was like, 'You know what? I feel like to a certain extent, I could do justice to motswako, so I might as well take a leap of faith and be a motswakolista, the new motswakolista, and we'll grow into it.'"

Though her English raps are just as sharp, she adds that she's most comfortable rapping in her language. "Everything slips off the tongue so much easier when rapping ka Setswana, so I would like to take that position head-on and actually embrace it more."
After its golden era in the 2000s (Baphixile, Morafe, HHP, JR, etc.) and early 2010s (Cassper Nyovest, Khuli Chana, Notshi, Hash One, FiFi Cooper), motswako as a movement dipped. Alongside Maglera Doe Boy, Boity is one artist in a position to redefine the subgenre in the 2020s. And with motswakolistas' reputation of being hard workers who break boundaries, she is automatically tasked with continuing the genre's lineage.
But, that's just my imposition.
As for Boity, she hopes anyone observing her gets inspired by her moves. "If anything," she says, "I hope everyone takes away from this moment, the fact that when you chase your dreams, honestly the universe will reward you. It will reward you with more. And when you jump into your purpose, it's almost like the universe will always give you what it is that you yearn for in return when you do for it what it has placed for you on this earth. So, I'm just grateful that I'm in this fantastic collaboration with the universe, where it just keeps giving me. The more I do for me, the more it does for me."
Stream Boity's 4436 on Spotify and Apple Music.