Only the first steps in a movement to the decolonisation of kullid identities, Cape Town-based Creative directors Nazlee Arbee and Haneem Christian have theorised pain and displacement in this Ancestral collaboration, using words and images as the canvas. "This piece is about remembering who we were, who we are, before we were robbed of our legacy. It is about reclaiming, redefining and nurturing that which was taken from us- our perception of self, or narrative," Haneem tells Okayafrica. Active in student protests in the past two years, Nazlee explains that the project has been timed for Youth Day as a radical reclamation of South African history, in radical opposition to the rainbow nation rhetoric sound blasted every June 16th.
---
We live in an era masqueraded by the 'Rainbow Nation', a surface levelled diversity that rubs salt into open wounds, claiming to remedy and reconcile. Despite the neoliberal propaganda force-fed to the masses, historical and ancestral exploitation is far from forgotten. Tracing lineage to a Dop sum wages, Kullid kids of the 'born free' generation have awoken with a neo-colonial hangover. With a slave memory, cell memory and muscle memory made ever more vivid through a state of perpetual violence in the neocolony, ancestral conversations are evoked by the very act of speaking aloud.
South African history has been erased and rewritten by the bloodstained hands of the colonizer. Through torture techniques such as twisting the ears of slave children that communicated in mother tongue, over 33 Khoi and San languages have been dusted under the rug and supposedly forgotten in the establishment of the 'diverse 11 official languages.' Having been robbed of language, history and land, the 'cultureless Coloureds' live in a perpetual state of displacement within the white supremacist capitalist patriarchal system that prevails the modern day.
Through the radical subversion and reclamation of kullid identity we, creative directors, Nazlee Arbee and Haneem Christian have played on the stereotypical generalisations of 'violent and cultureless coloureds' by conversing with the ancestral and ethereal parts of ourselves in this eerie photo series. Evoked through conversation about displacement and dislocation, this two-part project aims to explore the untold history of enslaved ancestors through drawing parallels to contemporary South Africa. The spiritual process of rediscovery, beginning with knowledge of self invites the 'born free' generation of the 'post Apartheid' Apartheid South Africa to explore the journey, pain and resilience of enslaved ancestors. It is the undeniable fire that brews internally. It guides our vision, our expression, and our collective consciousness. It is our essence. Using the pain and violence that stems from displacement as fuel to the fire, this project is not simply a photo series. Instead, these images offer a mere glimpse into the moments of emancipation through the remembering and reimagining of self. It is an act of release and resistance using art as self liberatory practice. This glimpse into history and the future is a calling for a mass mobilization of the great grandchildren of the slaves buried and forgotten: To those who have died a thousand deaths, spirits wandering the earth, lurking and searching for self, this is a movement, a riot.
––Haneem Christian & Nazlee Arbee
Photo: Imraan Christian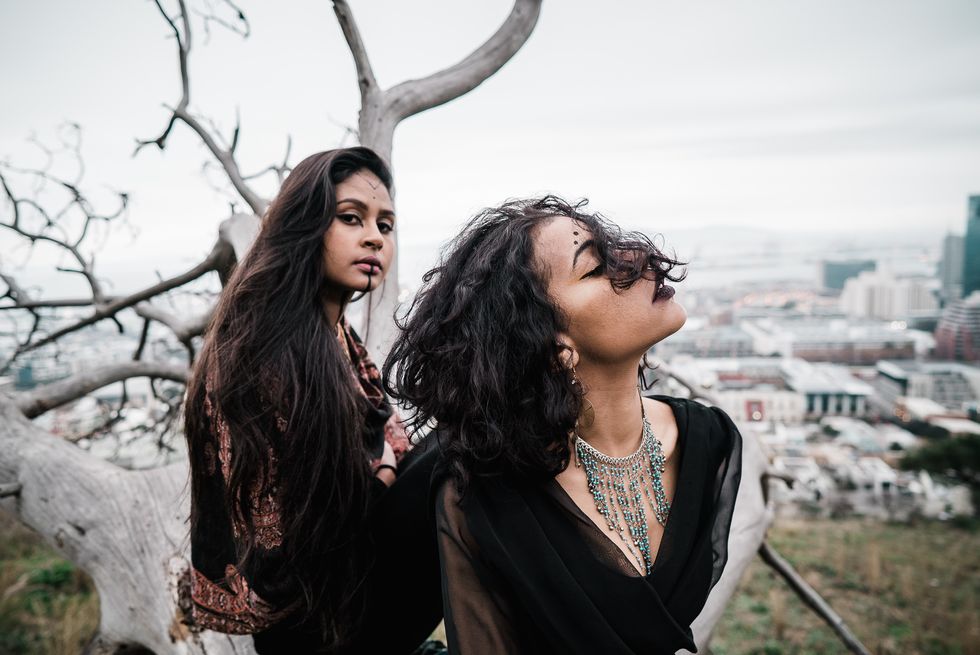 Photo: Imraan Christian
Photo: Imraan Christian
Photo: Imraan Christian
Photo: Imraan Christian
Photo: Imraan Christian
Photo: Imraan Christian
CREDITS:
Creative Direction: Haneem Christian (@haneemchristian) and Nazlee Arbee (@nazleecpt)
Photographer: Imraan Christian (@imraanchristian)
Chakra Alignment: Neema Githere (@findingneema), Seth Banda (@sethbanda)