When chasing a dream from Nigeria, one needs a surplus of that secret sauce called belief. Young Nigerians in the music space have always forced the issue of their recognition as new viral sensations coming out with fresh, innovative styles are delimiting the shine of the limelight.

Late last year, "Spiritual," was the new record on everybody's lips. While hip-hop sensation Zlatan served as the poster boy for the single, the voice of a new melody twister carried most of the track. 22-year-old Daniel Benson, popularly known as Buju or BujuToyourEars in full, piqued the interest of industry giants and has been on an upward trajectory since then.
Around four million streams later, a handful of major performances, Headies nominations, and a remix of his hit single "L'Enu" featuring his idol Burna Boyon the way, the stars don't seem to be the limit for Buju.
Meet Buju, the latest addition to the list of young Nigerian stars pushing the new generation into the conversation.
---
Buju ft Zlatan - Spiritual(Official video)youtu.be
Tell me about your experience growing up?

I grew up here in Gbagada but we moved to Mowe, somewhere in Ogun state. Growing up for me was really normal. I was just a regular kid, [it's] not like I had an expensive life or something. It helped shape my Yoruba, I'm not Yoruba. I'm from Akwa Ibom but I was staying in Gbagada, and everyone was speaking Yoruba and I really didn't want to be confused.
My mom, before she passed from cancer, used to speak a lot of Yoruba to me, even though she was from Akwa Ibom, she understood it. I used to sing back in the days in school, songs from artists like D'Banj, P-Square, Olu Maintain, 9ice. Back then, The Punch newspaper used to put out lyrics every Saturday... so yeah man, the love of music just kinda grew.
So you've been singing for a minute?
Yeah I started writing music in junior secondary school (JSS1), that was like 2011. At the time I was bearing the name Drizzle, it was sort of a corny name because at the time I used to bed-wet and I used to rap, and niggas were feeling me. I wanted to call myself Drizzy but that's Drake's name, so I stuck with Drizzle. I was just rapping, then I joined the choir and started doing solo performances at valedictory services and all that, and it just practically went on and on into university.
Getting into university, I just felt like there were a ton of dudes rapping and they were better than me, So I stopped doing music for a while, before I picked it up again. All that time I was growing and grooming myself, listening majorly to Burna Boy,reggae influences like Buju Banton, Damian Marley, rappers like J Hus, a lot of influences like that.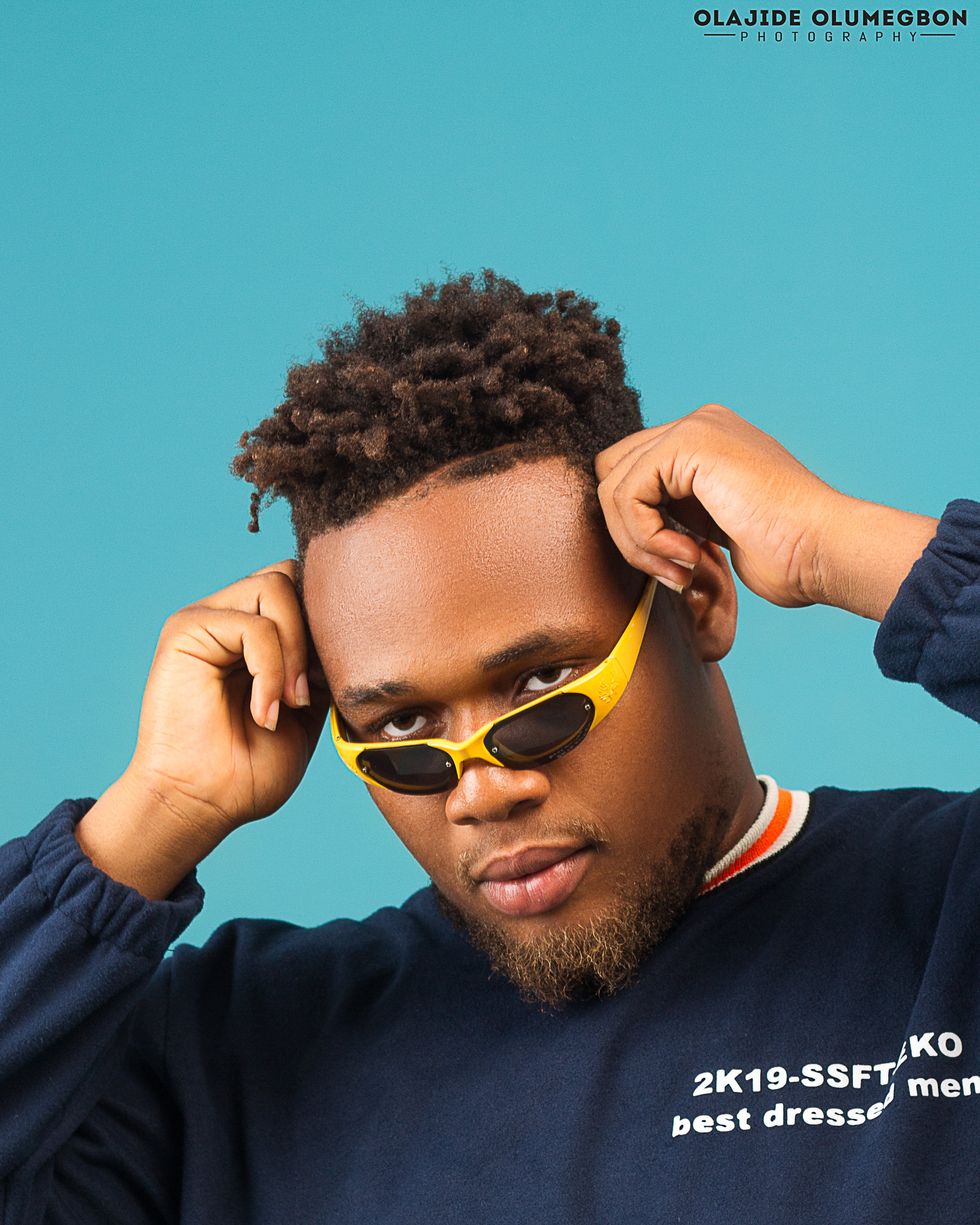 Buju.Photo: Olajide Olumegbon.
When did you start music again and why?

I was still in university in 2017, doing IT, and I hated my job because they were giving me demeaning tasks like taking a file from here to there, all that kind of business and it was all bullshit for me. I used to write lyrics a lot, I was really writing because all the music I was listening to, learning from, made me want to create my own songs that I wanted to listen to, I wanted my own sound. I started to own my sound through freestyling and rhyming. I got sacked from IT because I used to come late and most of my free time during IT, I'd just go to shrine, smoke up, and write some more. Music was just my life.
The day I got my suspension letter, I was listening to Buju Banton. Buju meant bread, like a Jamaican bread, it's also a native name that mothers gave their chubby kids, and it related so much to me but I needed to give it more meaning, more than just the regular Buju. So I coined the acronym; Beauty Underneath Just Understood. As in all the talent, all the singing that people felt was really good and beautiful, I finally understood it, that I could really change my life with this music shit. What I couldn't really describe before, I finally got it.
So I finally decided to chase music and my first record I put out in February 2018, it was called "Catch a Vibe." Umm, it was really like a 6/10 to people but to me it was like a 3/10. Then I dropped the second record which gave me a little recognition on the Soundcloud level and Twitter, it was called "A Day in Lagos." That song is special because it kinda sparked a lot for me.
Why is "A Day In Lagos" special?

The main reason people recognise me was from a video of me singing on a boat. That day we were looking for scenery to shoot the "A Day In Lagos" video, and it was so unplanned. We went to Makoko, Yaba, we went on a canoe and we just took a trip and lit one. I had recorded a song ("Commander") earlier and my friend asked me to give him a snippet, so I was singing the record. They sent me the video, I liked it and posted it on Twitter and it went viral, people kept asking for the record, so I put it out and it did very well. It gave me that recognition.
What would you say your sound represents?
Afro-fusion. I was listening to a lot of Burna Boy very judiciously. Burna Boy's sound is not regular, he gives me afrobeat, reggae, hardcore, soft & smooth, all on different vibes. He has a dynamic with it 'cause he knows how to blend so much. He's the most diverse artist I've ever worked with or listened to, and his lifestyle... he's a real rockstar. In 2013, I listened to his L.I.F.E album and it changed my life because I could understand the story. That's the only album where the intro and outro are jams. It meant something, he painted a picture I could see, it was a light for me and I followed. I wanted to sound like Burna Boy clearly, but I needed more melody to it. I wanted a feel like you're listening to Burna Boy but a singing nigga. Like Drake to Lil' Wayne.
BUJU - Commanderwww.youtube.com
Tell us about the incredible success of "Spiritual"?

So Steph is my producer who I've been working with since University, he's made most of my records. He sent me a beat that was titled "End of 2018" and I tried to record on it right away [but nothing happened], then later on in the year he played the beat again and I recorded "Spiritual." After I'm done, my friends keep hyping me saying "Zlatan would be perfect for the record" and I'm like, how do I even get Zlatan money and we don't even have the same kind of sound, but they keep pushing me. So I record a video of them adding Zlatan-like adlibs to the song, and I put out the video on Twitter which goes viral and people start tagging Zlatan like crazy on twitter and Instagram.
Mind you this is very organic cause I don't like forcing my music on people, and I was an internet sensation the first time with "Commander" so I wasn't expecting another stroke of luck. After a month of consistent tagging, Zlatan reposts the video and says he wants to jump on it. I text him and say thanks, he replies saying "My fans are hard and I should never lose them." That's how the song was born, he didn't collect a dime for me, it just happened.
The song just went on and on, that song opened up my year. Zlatan was the most supportive artist I've worked with cause he'll come for shows I'm doing, even though they didn't pay him to be there. He will always come and it was always crazy.
BUJU - Lenuwww.youtube.com
What happened next with "L'Enu'?

Steph and I linked again because we were trying to make a song to feature Mayorkun. Thatsong was "L' Enu." I played the song for Zlatan at our video shoot (which he completely paid for himself) and he says, "this is your next single." So instead of giving Mayorkun the song I finish it up and drop it. It was crazy, I'll say that's the song that changed my life. It got me really big opportunities. Then I dropped a little EP called To Your Ears, and the songs were rising. I was doing a lot of shows, I did Starboy Fest, Davido's concert, and many others which I wasn't expecting at all and the crowd showed me so much love. It's all been incredible so far.
How was it meeting Burna Boy?
Sometime earlier this year, Burna reached out and we linked up. It was a big highlight in my life meeting my idol. He jumped on the remix of "L'Enu," and we shot the video which he funded, it'll be coming out very soon. He told me he heard "L'Enu" in the club and told the DJ to play it like more three times because it made him feel like he was floating. It's still one of my most surreal experiences.