When she was at school, in the small town of Davis, California, Busayo Olupona used to get teased by other kids for the bright-patterned clothing she'd wear, made out of material from Ife in Nigeria, where she spent her early years growing up. Today, the same kind of clothing she used to be mocked for is the very reason Olupona's become a sought-after name in fashion, with designs from her eponymous label worn by celebs from Madonna to Lupita Nyong'o.
---
"From my clothes to my hair, to the way I spoke, I was bullied for it all," she recalls to OkayAfrica. "Around that time the film, The Gods Must Be Crazy had just come out, so they tormented me with that film too." Born in the US, Olupona's parents moved back to Nigeria when she was three, and returned to the US when she was 12 years old.
"It's fascinating that so much of the success, and, really, my life's work, is now deeply influenced by, and is a deep cultivation of, these things – the very things that kids were mocking me for," she says. Olupona built her fashion label, which she started in 2011, on the side of her career as a lawyer, and she still practices today. "As someone [for whom] the journey of entrepreneurship was not the easiest, it feels like you have to have all your ducks in a row before you make a leap," she says.
Olupona may not feel ready to leap, but there's no denying her label has taken off in the best way, with collections available at
Saks 5th Avenue
and online platforms like
Shopbop
, and more recently, at Neiman Marcus, Bergdorfs, Intermix and Moda Operandi as well. And the best part? Her clothing remains crafted in Nigeria, using the Adire technique to come up with the colorful tie-dye signature look of Busayo NYC. Olupona spoke to
OkayAfrica
about making it from a small town in Nigeria to the big streets of New York City.
Interview has been edited for length and clarity.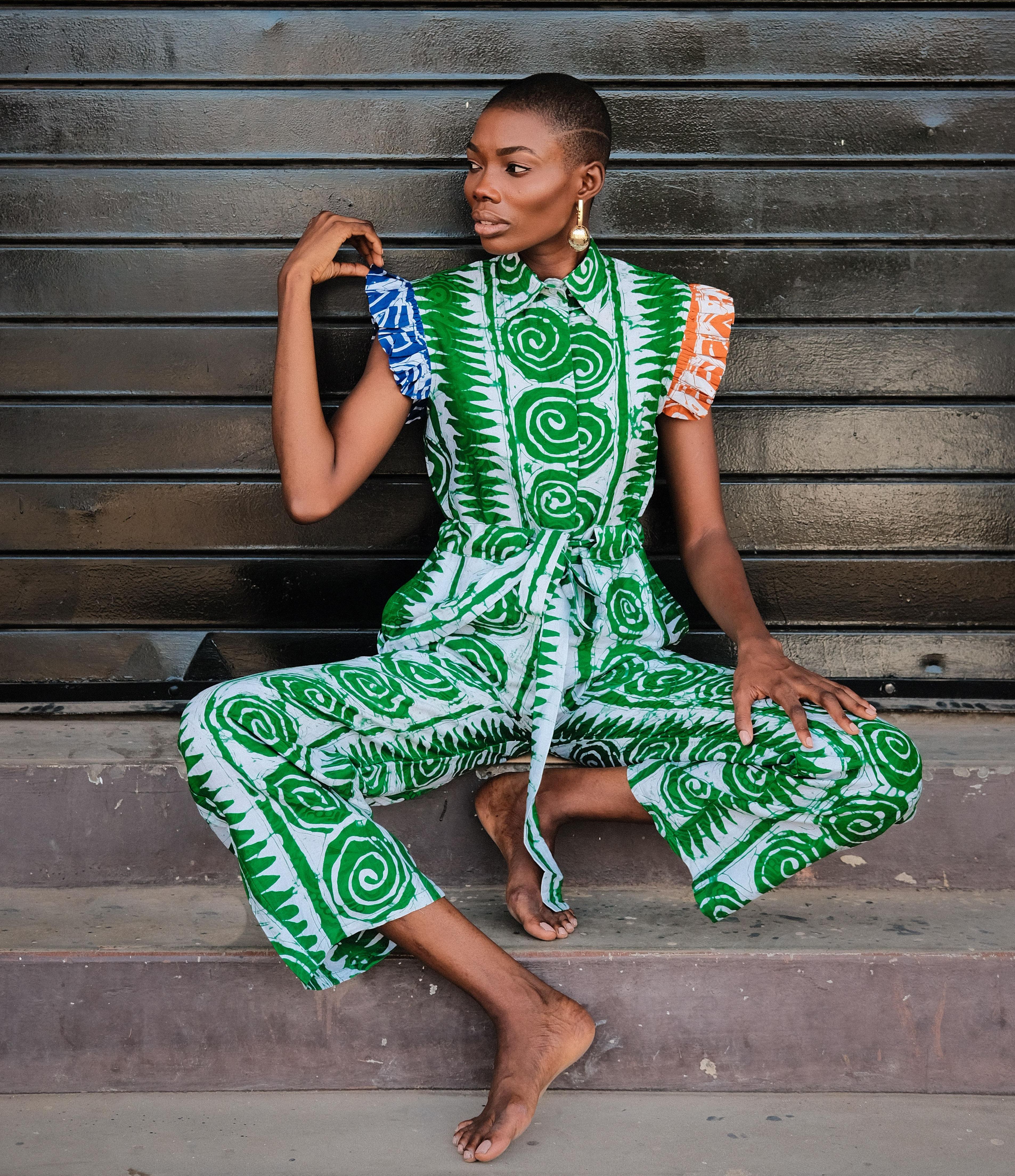 Busayo Olupona says much of her success today is influenced by the things she was teased at school for wearing.
Photo: Busayo Olupona
Would you say clothing has helped you straddle your two lives – in Nigeria and in the US – and it's the way you found to exist in both of these spaces?
Yeah. I don't think there's actually a better way to put it, and it's not something that you could have planned for in the beginning. I always thought about coming back to Nigeria. I just had a calling. When we came here I was 12 years old, and in 2002, I was in my early 20s, and I just knew that I wanted to go back to Nigeria. I wanted to reconnect to Nigeria in a deeper, richer way. But the how of that wasn't clear. So for a few years, I would just go back and stay at my aunt's house, and not really do much. Then I started making clothes for myself. At that time, I worked at a law firm and I knew that I wanted clothes that were a little bit brighter, a little bit more African in their presentation, a little bit more kind of funky. And we have such a rich textile tradition that really allowed me to do that, so the beginning and the genesis of the business was to just make clothes for myself.
Now, what came from it – and I think what's been the most powerful part of the experience for me thus far – is that when you immigrate there's a huge loss that we don't really think about; relationships, culture, connections that you don't have. So for a very long time when I would go back to Nigeria, it was like I didn't really belong, and so doing the work in clothes and commerce has given me deep connections with all levels of society really, not just in terms of people, but in feeling comfortable moving around in the country, feeling like it belongs to me as much as it belongs to everybody. Because oftentimes, when you immigrate you kind of don't belong there, you don't belong here, and so you kind of often wonder where you fit. So I think the biggest gift it has given me is a sense that I belonged in Nigeria, because the work I'm doing has allowed me to really build connections with people and places that have kind of repaired some of the fissures and repaired some of the alienation that comes from immigration.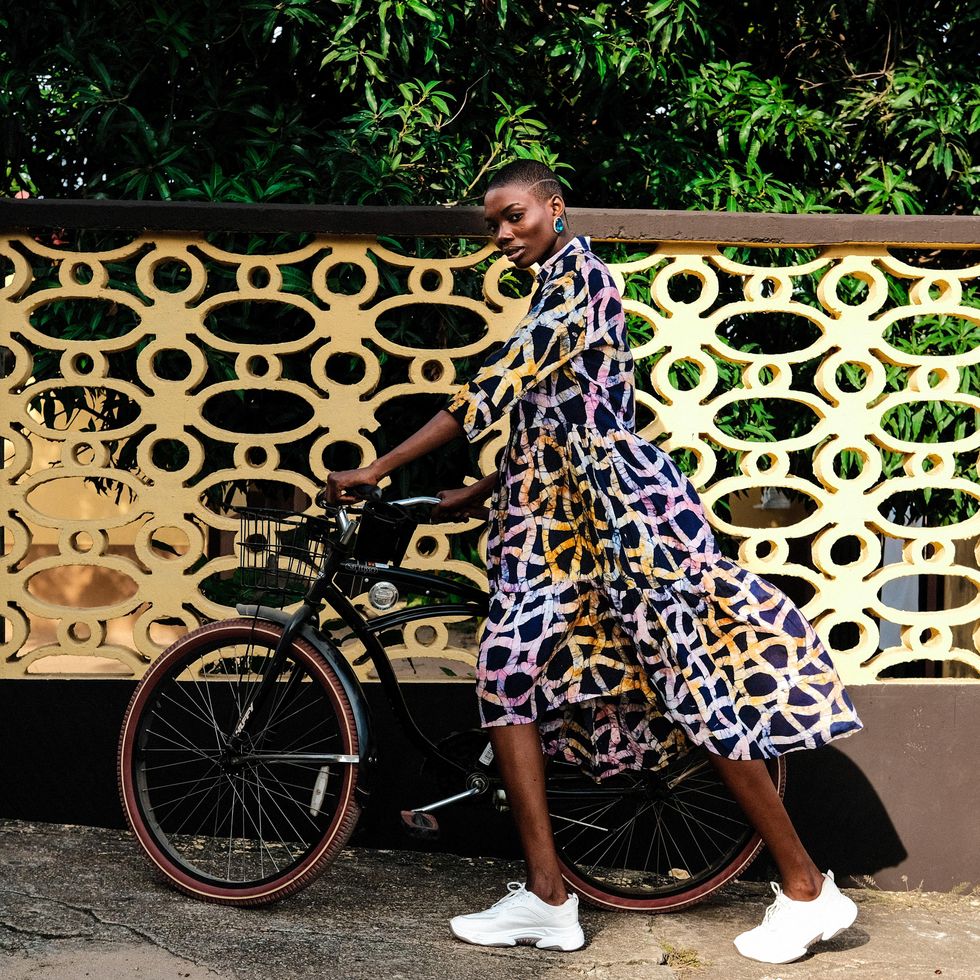 Storytelling is a central part of Busayo Olupona's eponymous fashion label.
Photo: Busayo Olupona
Through your clothing, you share the customs and traditions of your Yoruba culture - has that changed over the years since you started the company?
That was really important to me. The videos and the storytelling [part of Busayo] is a critical piece of the brand because I really want people to understand that these clothes come from a lineage and a tradition. It's not to make it less accessible to them. That's so often the argument: if you know where this comes from that means that you don't get to wear it because all clothes are imbued with culture and tradition. That's just not true. Some clothes are imbued with culture and tradition, and some clothes are just cute and they're just beautiful, even for the people that live in that culture. For me, it's very important for our customers to discern, to know, the source of this work, to know how hard the work is that goes into it is, to participate.
I recently posted [on Instagram] about a visit I had with a potter, which was profound for me. Because this is somebody who decided, 'I want to see this exist in Nigeria, who was trying to find it, didn't find it, and then went and created it. And so many of these artisan traditions that we talk about, many of them are dying and fleeting, can be a huge source of wealth for economic development, for economic mobility. It's one of the things that we as Africans have to offer the world. So why not offer it? In so many other parts of the world, commerce is inherently tied to cultural and artistic production. So why should we be any different?
We have so much to offer, and I feel like we're not offering nearly 1% of what we can offer to the entire world, in terms of artisanship, artistic production, intellectual production. We have so much to give, but think, 'Well, I don't know if these people can wear these clothes…' Come on, no. But I want to teach the folks that I sell my clothes to, so that they know where it comes from. That's a critical piece of the work.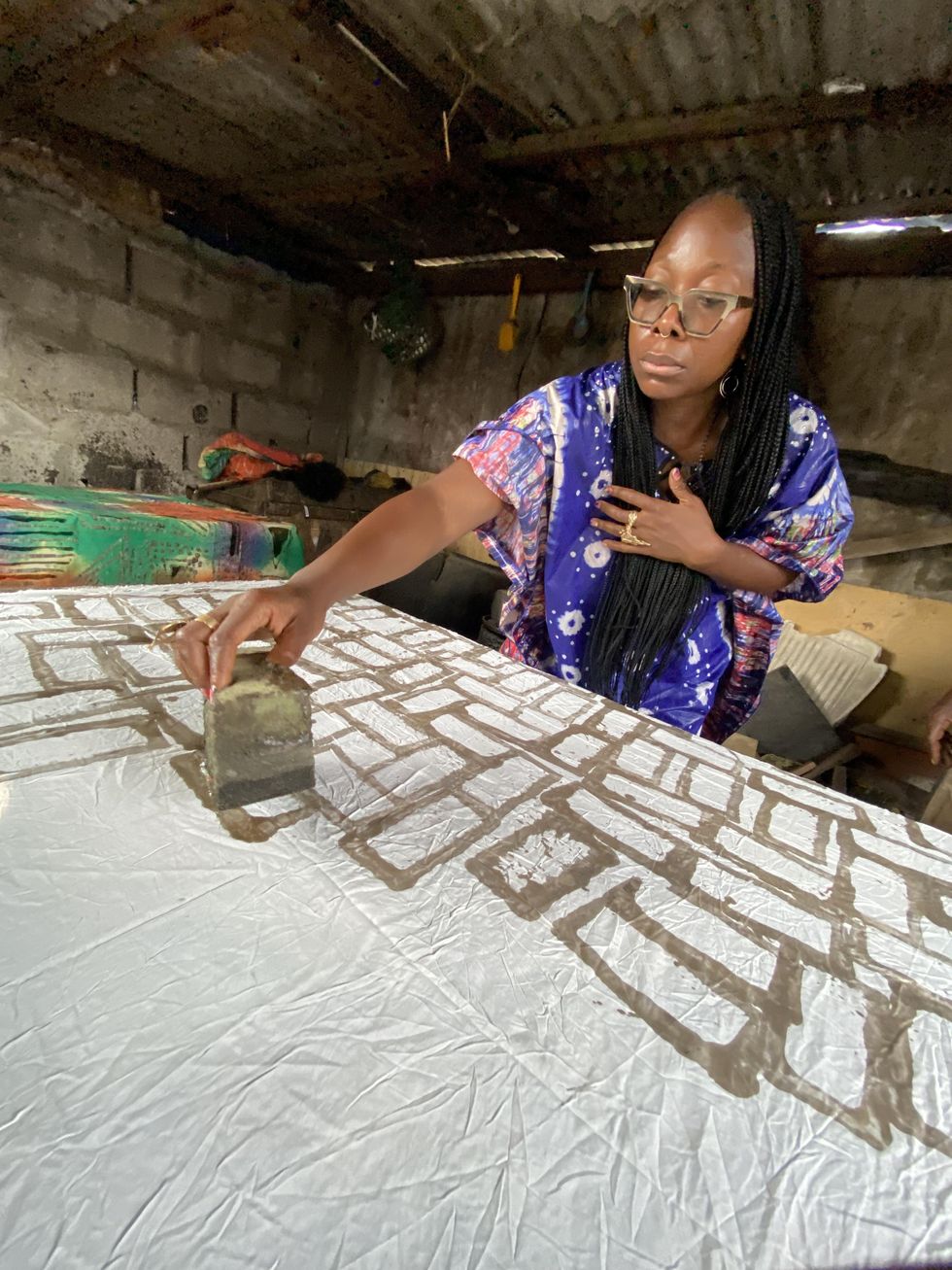 Busayo NYC's bright tie-dye signature look is created using the Adire technique.
Photo: Busayo Olupona
We often hear that a big challenge is infrastructure. What have the challenges been for you that you've had to overcome?
I'm very lucky because I grew up literally in both cultures. So I speak the language and I feel very comfortable in Nigeria, and I live here, so I have an understanding of this culture. And I'm not afraid of moving, and going home and putting my feet on the ground. Every day I'm out working, I'm meeting people, I'm connecting with people, creating those relationships. In order to do this work, and do it successfully, you need to be able to connect with people in a deep way. You need to have people who you can trust and have a strong relationship with, and people who show up for you like your work is their own. If you can achieve that it becomes so much easier. It doesn't mean that there are no problems. We know Nigeria doesn't have 24-hour electricity; right now there's scarcity of water, there's scarcity of gas, there are so many things that are a problem. But I've also been extremely lucky because I work directly with artisans, there's nobody in the middle. These are people that I have a personal relationship with. I speak to them almost every day. So these are the things that make it all possible. It's really critical that you are hands on, and I think when you have direct relationships with people, they show up for you and they move mountains for you. My team, they do that for me, on pretty much a daily basis. But I've been doing this for almost 10 years. Many of these relationships are 8-9-year relationships that have been cultivated over time. So that makes a huge difference.
And how has your own understanding of your culture been enhanced by the work that you've done through Busayo?
This is the gift that I didn't expect. First of all, I think immediately because my curiosity in textile creation was sparked by this work, so that forced me to be more curious to start doing research into other artists and traditions, to start exploring other spaces, to start thinking about someone like the potter. Because you are so immersed in the creation of textiles and art, you also end up running into people who have similar interests, who have similar imaginations, who have similar belief in the transformation of the present through artistic creation. So once you begin to immerse yourself in those types of spaces, the people that you meet automatically are more inclined to kind of be of similar mind.
Yoruba culture, specifically, is so rooted in its art; it's so rooted in its aesthetic presentation. So when you have an opportunity to go to a show at [New Afrika] Shrine, for example, you inevitably will also go to Nike's Art Gallery. You will also meet other artists, so then you begin to see we have a culture that is over 500 years of history and culture and tradition, that unfortunately, Christianity really dealt a terrible hand, right? But you can still begin to see remnants of it. I'm also just really curious about who we are and where we come from, and why we are the way we are. So all of those things have come together to spark a deeper connection with culture and tradition.
Related Articles Around the Web