SPIJØNGET Chapter One is ByLwansta's first project in three years. The South African rapper hasn't released a full body of work since 2016 when he dropped the EP Your Absolutely Right. But that's not to say he was out of sight. He's been performing with his band, appearing as a guest on a few songs, dropping a few singles, and most notably, he appeared on the COLORS SHOW in 2017.
SPIJØNGET Chapter One is the first of an ongoing series that will culminate in a 12-track album in coming months. But you'll get it in bits and pieces.
---
SPIJØNGET Chapter One, as is the case with most of the man's work, is sincere and teeming with personality—humor in the form of tongue-in-cheek lines, first-person storytelling and animated delivery are all used to give an update on what's been happening in the rapper's life. The EP details his relationship with his girlfriend, from them spending time together, to how they are each other's support structures and the strength of their bond.
Storytelling is still the MC's main focus, and he sounds sharper than ever. His pen game shines throughout the EP's four songs. For instance, on the song "Kickstand" he uses clever imagery to maximum effect. A great example is the excerpt below in which he uses wordplay centered around Titanic. Note his word choice:
"I think it's good that we bond over pain/ It's better to cope when you not alone on the boat/ So, pick up a paddle, let's row, wherever we wanna go/ We drowning our sorrows, by keeping each other afloat/ I'm super dramatic, remember Titanic, what happened to Rose/ I'd do that for you, but there's room for the both of us/ Plus, I'll never drown, despite how you holding me down."
In the song "It's Late," the MC muses about his terrible sleeping pattern while his bae is asleep. He raps:
"I think I slept for two or three hours/ I must have lost count/ These thoughts are so loud/ It's almost 4 now, my eyes opened up at 3/ Ironically, the longer I sleep, the further from the dream I seem to be/ So, this anxiety always crawling inside of me/ Sweet, 'cause it reminds me/ It's always fucking reminding me/ That I'm not even close to being this person I'm trying to be"
All these emotional stories are accompanied by fitting production that bears ByLwansta's signature sound as a producer—the beats are rooted in boom bap and neo soul, but he sprinkles a synthesizer every now and then when necessary. A great example is towards the end of "Kickstand." In the song's last minute, the drums die down, and buzzing synths harmonize with the piano keys to create what might just be SPIJØNGET Chapter One's greatest moments sonically.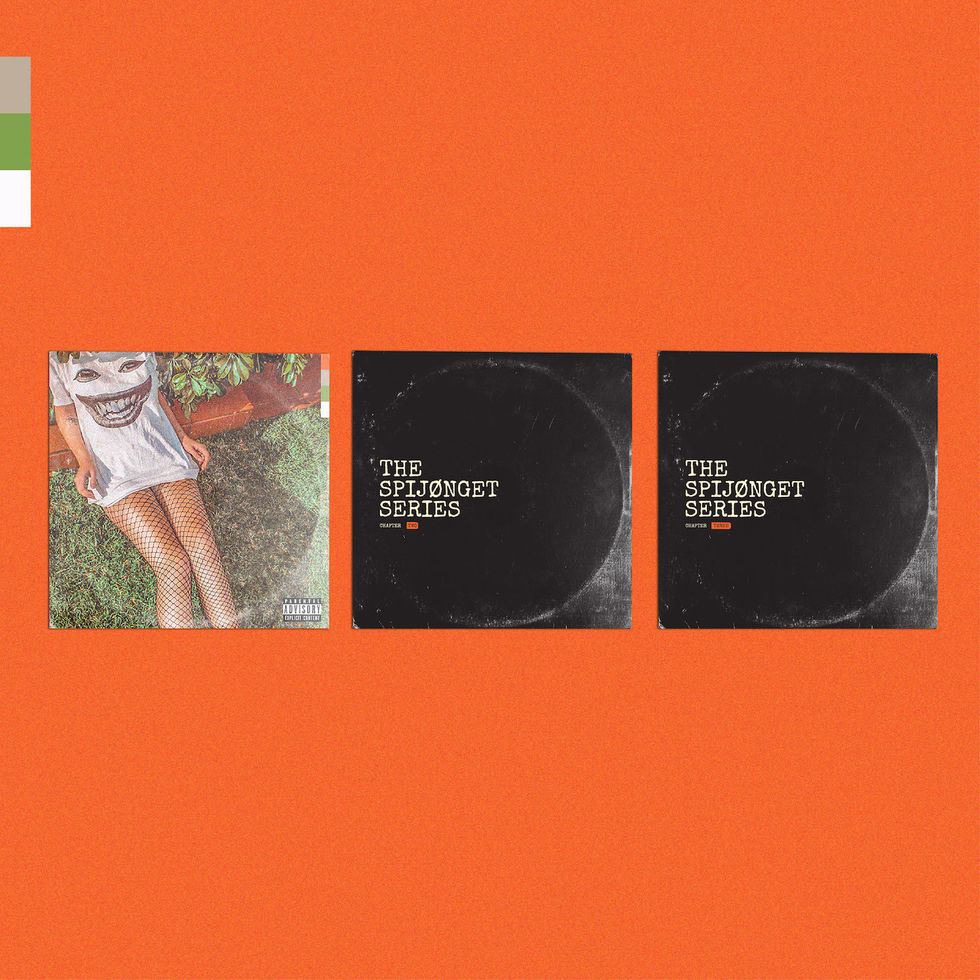 The most notable aspect of SPIJØNGET Chapter One is how ByLwansta deals with his issues differently to how he used to. While in his previous projects, he sounded like he was throwing a tantrum, on SPIJØNGET Chapter One, he reveals himself as a calm young man who has learned that to be a human being means living with your struggles and appreciating those who give you happiness, which in his case is his girlfriend. She has been a subject of ByLwansta's songs for a long time—think earlier songs like "Indian Ocean" and "Oh Well."

According to the artist, during the gap he took, he learned to overthink less and go with his gut feeling. Which brings up the question of the album's title. "The name of the project," he says, "it came to me. It was like a gut feeling. Because throughout 2018, I didn't release any music because I was in a difficult place. I had just graduated. Me having to fight for music time in college motivated me. I graduated, I had all the time, and opinions started mattering."
The title came to him as he was watching the series The Legend of Korra with his bae. "They are harnessing a spirit vibe for something wanna do," he says. "And then my girlfriend asks, 'what's that?' And I was like, 'SPIJØNGET.' As I said that word, she said it back to me, whispering. It was just a word, I kept on saying it, and then we got to a point where she was like she's going to remind me to say that word every day. I was like, what does it mean? And then I was like, fuck it, I'm not gonna question what it means. That was my gut basically saying, let's reconcile. And then she recommended I make it an album title, and I was like, 'fuck yeah.' But as time went by, I was able to articulate a definition. So, it's just like, 'ah fuck it, SPIJØNGET.' Like, 'don't second guess, don't overthink… fuck it, SPIJØNGET.
"In the music itself, before I get to the idea of second-guessing, I'm just like 'export, save.' Because if I hold onto it, I'm gonna hate it."
Download SPIJØNGEThere and stream it underneath.