Sweet and Short, Cassper Nyovest's fourth album in as many years, sees the South African hip-hop superstar facing an existential crisis of sorts. He dubs his album a game changer, one that's revolutionizing South African hip-hop. Whether he does so or not is part of a larger question around his music, as an artist perpetually in between genres.
Whatever our evaluation of his musical output or the extent to which we measure his impact, what Sweet and Short highlights is how imperative music descriptors have become in Cassper's quest to stand out. This ironically devalues the very descriptors he employs in his attempt to do so. The problematizing that Cassper Nyovest (unintentionally) represents is not a new circumstance for two genres with a long love-hate relationship.
---
On "Welcome Welcome," the album's intro, Nyovest makes the claim that he's "rapping over kwaito beats." Such a simple yet jarring statement has been repeated in numerous tweets; leaving more questions than answers.

One main question is the confluence of these two proud genres. What were kwaito artists doing over kwaito beats? It seems plausible to state that they were rapping on beats that moulded faster house music into more manageable BPMs to suit the somewhat repetitive style of the genre. It's a difficult conundrum to resolve, inspiring a probe of where kwaito ends and where hip-hop begins. More importantly, determining whether the split between hip-hop and kwaito is the vocal technique or just differing instrumentation is essential. They are distinct genres, but share far more traits than the Maftown rapper lets on.
At the heart of Cassper's claim lies the failed distinction between "rap" as a verb and "rap" as a noun. In as far as performing the activity itself, South African artists of distinct genres have all proven to be adept at it: Sjava, Sho Madjozi, Busiswa and the late R Mashesa (of the Durban kwaito group Big Nuz) have all rapped over the years. And they've rapped as well as their hip-hop peers, too. It would seem blasphemous if they ever claimed to be "pushing hip-hop forward" by employing a singular technique housed under one of its four tenants.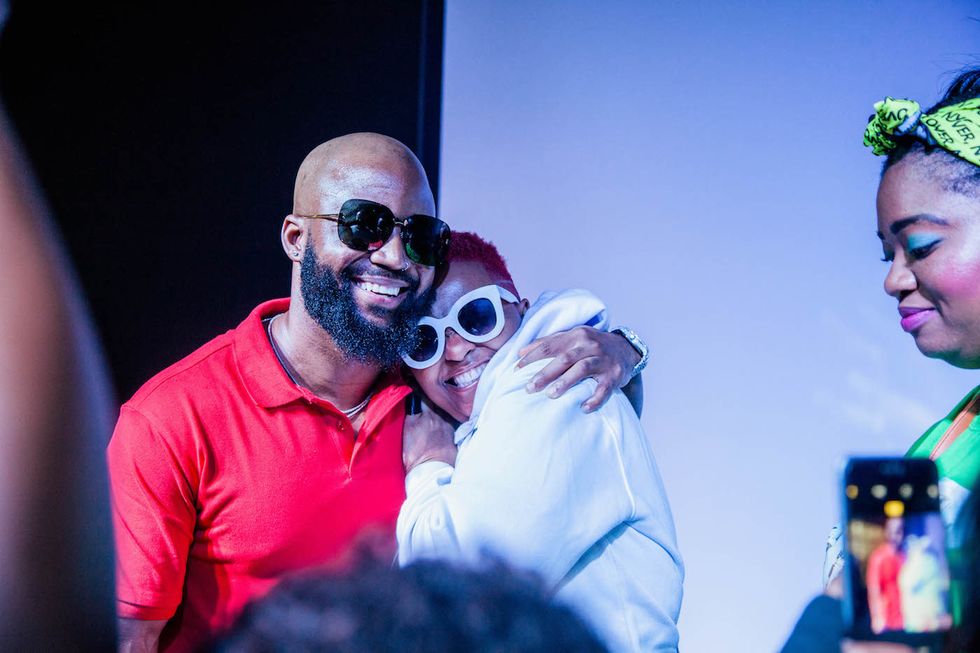 Cassper Nyovest poses with a fan during the Sweet and Short listening session. Photo by Sabelo Mkhabela.
Pushing anything forward requires impact on a holistic level and most importantly, a sense of originality. And speaking of originality: Moozlie, Kwesta, Kid X, K.O, Major League and The Fraternity have all incorporated kwaito into their music before Sweet and Short's arrival. So even among his own hip-hop peers, Cassper Nyovest is far from breaking any new ground sonically or culturally.

Perhaps this is where the crisis occurs for Sweet And Short as an album. It's one, which, despite being billed as another iteration of kwaito, dabbles in amapiano, dancehall, Afropop and maskandi. Although Cassper Nyovest's music is a great departure point for discussing the evolution of genre in a South African context, it also highlights the arbitrary nature of the distinctions we've come to make between these sounds. Laying claim to transforming an entire genre is thus a form of either sly marketing or myth-making.
Sponono Sam - Cassper Nyovest Ft Shwi Nomtekhalawww.youtube.com
In recent years, we've seen the descendants of kwaito attempt to relaunch the sound under different guises. Between new age kwaito, skhanda rap and Durban kwaito, we've seen just how influential the genre remains. Incorporating its sounds is proof of its lasting impact and should be considered homage rather than innovation.

So while Sweet and Short is a great moment for South African hip-hop in that it will at the very least encourage discussion around rappers laying claim to kwaito, it's not groundbreaking in any sense. Seeing that the purest kwaito tracks on the album are rehashes of the original songs they reference—"Gets Getsa," "Who Got The Block Hot," "Ayoba" and "Skeptedata"—it begs the question of where the line between paying respect and actually innovating occurs. The answer to that is far from sweet and short, but definitely confirms that any revolution in South African music will not be backward looking.
Download Sweet and Shorthere.