Sports
Meet the 23-Year-Old Nigerian-American Rower Making History at the Olympics
Chierika Ukogu put her medical school dreams on hold to become Nigeria's first Olympic rower.
When Chierika Ukogu pulls up to the starting line in green and white this Saturday in Rio, she'll go down in history as the first Nigerian to row on Olympic waters. The 23-year-old Stanford grad and soon-to-be medical student is about to become Nigeria's very first Olympic rower.
---
The daughter of Nigerian immigrants, Ukogu, known as Coco to many, says she feels a strong connection to Nigeria, where many of her relatives live and where she spent many summers. She and her siblings were immersed in the culture. "We watch Nollywood movies, we love dancing 'Alingo,' we eat the food. All of it," Ukogu tells Okayafrica by email. Writing from Rio, she says she's proud of her Nigerian-American heritage.
Ukogu's rowing career dates back to 2006 while attending Mount Saint Joseph Academy, a powerhouse of a rowing school on the outskirts of America's crew capital, Philadelphia, PA. She graduated in 2010. The next stop for the Pennsylvania native was Palo Alto, where Ukogu studied pre-med and rowed for Stanford's women's crew team.
In rowing, the Olympics are really the ultimate goal. It's every rower's dream to compete. Ukogu's Olympic dreams were awoken while watching Nigerien athlete Hamadou Djibo Issaka compete at the London 2012 Summer Games. Issaka was the ultimate wild card. A swimmer by trade, he started rowing three months before the games. According to Ukogu, Issaka faced a lot of flack. He finished last, and despite his underdog appeal, he was dubbed the "sculling sloth" due to his less-than-impressive performance. The young Nigerian-American rower was pissed off. "At that time I had been rowing for about six years, and I wanted to continue his legacy and shake things up," says Ukogu. "I wanted to show people more African rowers and just what we can accomplish."
Ukogu representing Team Nigeria in Rio. Courtesy of Chierika Ukogu.
Of course, Nigeria's rowing community is still small. The sport was only recently recognised by the sports ministry, says Ukogu. Their plan was to develop Nigerian rowers to compete in the 2020 games in Tokyo. But then Ukogu came along. "Almost out of nowhere four years early," she says. "It just goes to show that anything is possible."
Indeed.
Ukogu spent years emailing the Nigerian Rowing and Canoeing Federation to no avail. At that point, she hadn't started sculling, the style of rowing she'd need to master if she were to compete at the Olympics for Nigeria. She was ambitious but without a plan. Without experience in a single, she didn't have much to show for herself.
Looking back, Ukogu says she's glad they ignored her. "Their silence pushed me to make bigger commitments to rowing after graduating university. I put my dreams of medical school on hold and I dove headfirst into rowing," she says.
Image via Chierika Ukogu's Instagram, @cukogu.
And so after graduating from Stanford in 2014, Okogu found herself back on Philly's historic Schuylkill River. She worked as a women's-health research coordinator at the University of Pennsylvania while training in a single at the prestigious Vesper Boat Club on Boathouse Row.
But the road to Rio was a bumpy one.
Transitioning from sweep rowing to sculling was a challenge. In addition to the technical adjustment of rowing with two skinny oars by her lonesome, she'd need to get used to rowing without eight women and a coxswain by her side.
When she first joined Vesper, the club's head coach told her she wasn't good enough to row in the Olympics. But according to Vesper coach John Parker, the novice sculler responded fast.
Okogu says that once she had something to show, Nigeria listened.
But if she was going to compete for Team Nigeria, she wouldn't just need to "make" the team, she'd need to actually create it. Before Okogu came along, there was no Team Nigeria to speak of. And with zero financial support from Nigeria's rowing federation, her path to Rio would need to be self-funded. She started a GoFundMe campaign a little over a year ago to raise money for costs like travel expenses, entry fees, uniforms and boats.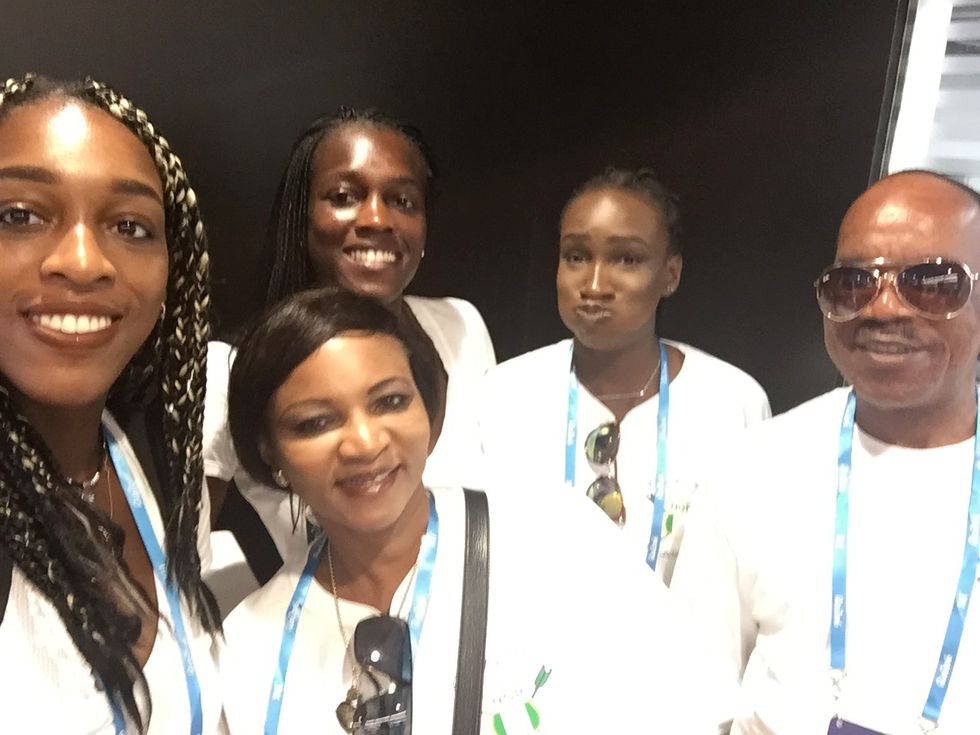 Ukogu and her family in Rio. Courtesy of Chierika Ukogu.
The campaign was a success. Tomorrow, Ukogu will make history as the first Nigerian rower in Olympic history. But she won't be the only rower representing the continent in Saturday's women's single scull event. Competing in the same heat are Algeria's Amina Rouba and Togo's Akossiwa Ayivon.
Heading into the starting line at Rio, Ukogu says she's been listening to a lot of Kanye's TLOP, but Michael Jackson's "Can you Feel it" and Nicki Minaj's "Moment 4 Life" are pre-race standards.
After competing, she won't have much time to bask in Olympic glory. Ukogu is slated to fly out New York just a couple of days after racing to begin medical school at the Icahn School of Medicine at Mount Sinai.
Okogu's first race is scheduled for Saturday, 10:10 Rio time. The top three in her heat advance directly to the quarterfinals. Head to NBC Sports for more on rowing schedules and streaming times. Keep up with Okogu and her Olympic journey on Snapchat at cukogu.