Crayon's humble beginnings are a big motivation for him and he's always strived to use his gifts to create a better life for his family. To the public, he came on the radar after signing to Mavin Records in 2019, and made a lasting impression with his unforgettable mellifluous single "So Fine" the same year. While it didn't become the hit it had the potential to be, so Crayon soldiered on in search of that elusive number one song.

This year, Mavin Records label posse jam "Overloading" and Crayon's solo single "Ijo (Laba Laba)" have both hit the top of the charts, finally giving Crayon's journey a much-needed positive arc. His success has been a long time coming, especially to those who've seen the extent of his progression and regard him as a legend in his hometown, and a hero to his family.
Success is often seen from a miniature lens, the glamor of the current moment can cover up past times of deep uncertainty, giving the impression that triumph happens overnight. We sometimes overlook the hardships our favorite artists had to overcome to be the superstars we see today. But when you peep behind the curtain, the grass wasn't always green.
Considering the seemingly insurmountable hurdles the average Nigerian goes through daily, each grass-to-grace story is widely celebrated as a signal of hope for diamonds in the rubble. Crayon's "Ijo (Laba Laba)" butterfly dance has become one of Nigeria's wholesome viral moments of 2022, prompting playful motions and the notion that dreams can become reality.
We caught up with Crayon to talk about his early beginnings, deciding to pursue music over a football career, his growth, and how it feels to finally have a smash hit.
---
This interview has been lightly edited for length and clarity.
How was it growing up for you and how did you find your inspiration as a kid?
I was born in Orile, back in the day my Dad used to sell records, so at the time I had access to a lot of music. From Michael Jackson, P-Square, Faze, Wizkid to Wande Coal, 50 Cent, and different genres of music. I used to listen to them sub-consciously because my dad would just play these records, so eventually, I started falling in love with music. My mom too, she used to like all the Christian songs like Gozie Okeke, you know those gospel melodies, those things kind of shaped me to love music.
I joined the choir, then after some time I stopped going because I was so shy, I couldn't handle all the attention. But anytime I went to church, when the choir was singing, I was still doing that hum back up—if you sat close to me you could hear it.
Everybody thought I was going to be a footballer, cause I love football and I went to an academy. But after some time there was no money to take me to the academy, I had to go to secondary school. But still, I was still playing football, still going to training, doing some sessions, I remember there was one time they had a competition in which they wanted to take like 14 footballers to Manchester United. I went for that screening, Victor Ikpeba, I think was the head coach at the time, you know, but I missed out on that.
It got to a point I was like, 'God which one will I go for now, music or football?' Because I was really good at the two of them. But then, I had not started writing songs, I was really good at miming people's songs, you know, singing people's songs. I was the Spotify then among my friends. They used to call me a music library, cause I knew any song you were talking about.
I started writing songs in my exercise book, just trying to master my songwriting. In 2016, a friend of mine you know moved into the area where I was staying. At that time I had already decided that I wanted to make music. He had a studio in Ojoba Barracks called Much More Studios, so we linked up there. That was the first time I met Ozedikus Nwanne. He was still learning production. I walked into the booth and I recorded a song real fast, in like 30 mins I was done with the full song, although, for me, that song sounds wack at the time. And the song was "Orobo Love."
I used to have this stage name then called July, cause I was born in the month of July but at some point, I just felt like this name is not really catchy, nobody would understand what July really means. So, I wanted something that everybody could relate to. I was at home chilling, my sister used to make this bead bag then, it's really colorful. It was just hanging on the wall, I saw the bag and the first thing that came to my mind was "Crayon," I still remember that day. It was meant to be like a colorful boy, with colorful music.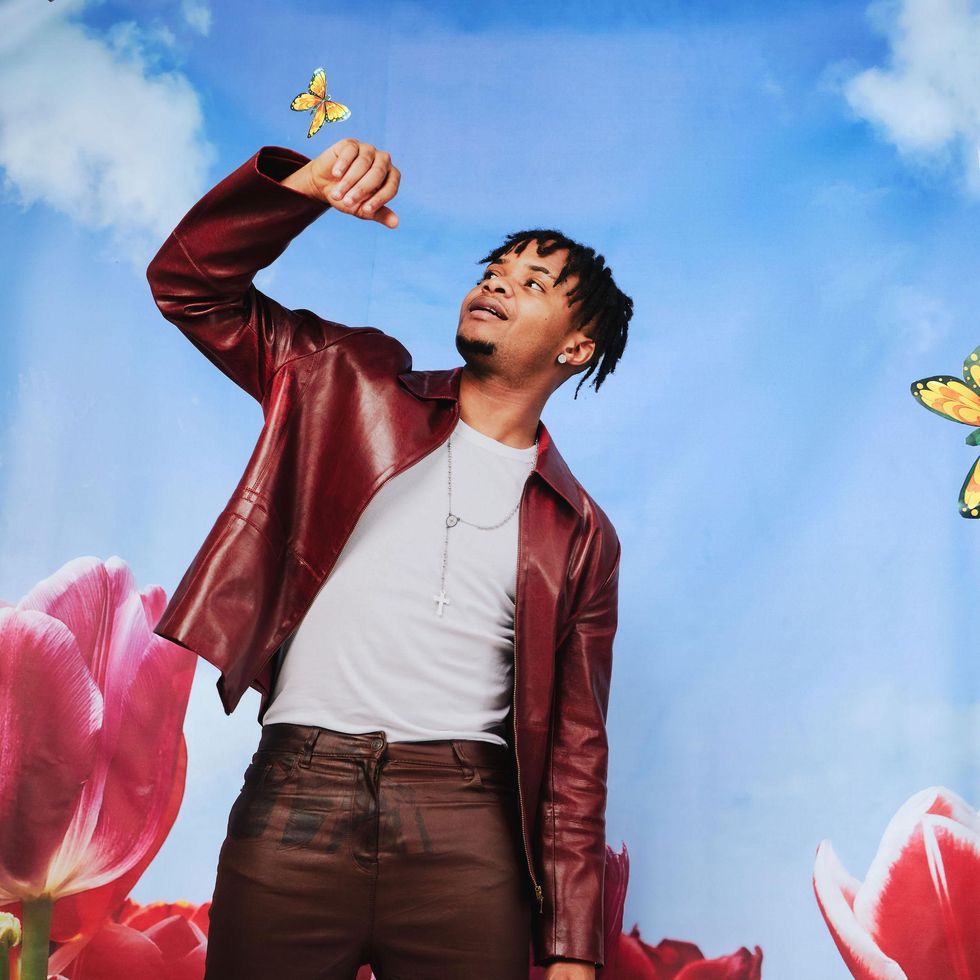 Crayon.
Image courtesy of Crayon/Mavin Records.
Why did you go with music over football?
I had a dream, it was music that I was doing. And at the time, I sat down to think about it, playing football in this country is going to take a while for you to like blow up unless I travel outside the country. Cause I know a lot of boys, all my guys in the hood, they are still playing football, they are so good, no sponsor, them still dey there.
So with music, it's easier. But it's a lot of hard work, cause if you don't have the talent, obviously there is nothing you can do about it. You know, but with music, you can easily get a sponsor, you can easily get signed, you can be on Instagram and do a freestyle and someone would see you and they want to work with you, go on to develop your talent, but with football, it's a way longer road, there is no platform for footballers.
How did growing up in humble beginnings affect your worldview and your approach?
You know, I appreciate where I come from but at the same time it made me want to work hard and not to go back to where I came from. When I make music, I'm conscious of that. I want to make music that everyone can relate to, music for everybody. So it just made me go harder as a person as an artist. I use that as my motivation, to make sure that in everything I'm doing, I'm putting my all on the line.
Where I come from it's not easy, nobody's really popping like me out from there like that. That's why I try to connect back to my roots and inspire the kids. Everybody watching me should know and believe that anybody can be a star, it doesn't matter where you come from, it doesn't matter how you started, you can be a star. If I can do it, you can do it too.
Crayon - So Fine ( Official Music Video )
You got signed with Mavin in 2019 releasing your debut project Cray Cray and hit single "So Fine" the same year. How did it feel finally getting your big break?
So, back in like 2017, I had recorded around seven songs already with Ozedikus Nwanne. I was just putting them out, you know, for fun because I wasn't in school. So I was like you know, I'm going to make sure I keep dropping songs, cause I was already getting popular with people that were going to birthday parties. I didn't have a smartphone then, so I just used my friend's phone to send WhatsApp broadcast messages. I had a Twitter account and an Instagram account but I wasn't really posting like that.
So, somebody from Mavin HQ was playing my song. I think he was still working with them at the time. His name is Seun and one other guy Ebuka was playing my song at the HQ, there are a lot of speakers there, so when they are playing your songs, it's playing everywhere in the office. Baby Fresh heard it one day and he was like who's this guy, so, he DM'ed me immediately. And he was like 'Yo, pull up with your producer tomorrow, and your material, 'cause I like your chemistry, I like how you guys work together, let's see what we can do.' One of my friends called me, he is dead now he was one of my biggest fans, his name is KOB, he's the one that told me. I called Ozedikus, like get ready we are going Mavins tommorow. He was like what? How? and then we linked up at the studio, and at the reception, we had to wait for like three hours. And Baby Fresh, was like do you guys want to go home or you are going into the studio? And I am like what am I going to do at home, let's go to the studio. And then, I opened the doors, I just saw Don Jazzy, immediately, I just fell on the floor straight up, I was like 'boss.' He was like no, sit down, at the time it was Don Jazzy, Baby Fresh, Tega, yeah.
So, he was like, 'I like your songs, play me your songs' and Baby Fresh started playing them. The one that he really liked was "Long Throat," when he heard that he said: 'We want to work with you. Let's see what we can do with your brand. And please, don't tell anyone, make sure that it's confidential. Just keep coming around' and stuff like that. So, I used to come from Mainland to the Island. I'd spend like two or three days there and sleep in Baby Fresh's room.
In 2018, I moved in fully. And you know that was the time I was there for like a year learning the whole music business, finding my sound, learning how to work with an A&R team, learning like the whole package. It was like a school. So, after everything, I recorded "So Fine" in 2018. I recorded all the songs on the EP that year. That's how I met Rema. London came as well. In 2019 the EP was ready and we picked the six songs that finally made it to the project.
You know, first of all, it was Mavins' "All Is In Order." I had to do the last verse, and it was amazing, to be honest. Like, it was crazy. The reaction from everybody was amazing. And then, I went on to do a feature with Ladipoe, then after that, I dropped my EP, then everything just took off from there.
2020 was a very difficult year for me because I wasn't expecting that pandemic. I dropped like seven songs in 2020 and none of them clicked. That made me feel a bit down, like yo what's happening. But my team just kept riding for me and my fans just kept riding for me as well. It was a really difficult time for me. I remember when I dropped "Kpano," it was blowing up crazy, it was going crazy. I dropped it in January, and then everything just shut down, I felt down, I couldn't take that.
I kept working. I kept dropping songs. But non one was clicking at the time. So, 2021 came. I wanted to give my fans something to hold on to and I felt like, it was a new dawn for me. It was a new era, a new beginning. That's why I called the next EP, Twelve A.M., you know cause 'when daybreak na when person dey go work' you understand. It was a new day. I had songs with Rema "Too Correct," and I had songs with Bella Shmurda, too. 2021 was really special to me, so I just had to make sure that I gave my fans something to hold on to. Because they've been riding for me in my difficult times.
I'm very happy with where I am at right now, you know the whole world is paying attention to my music. It makes me feel good. It makes me appreciate the fact that I didn't give up. It made me appreciate the fact that I had to work for three years for this. I'm happy about the growth, I'm happy about the steps I took, and I'm happy I had to face that storm to be here right now. I'm really really thankful for my fans, for supporting me, for standing by me, and also I really appreciate my team as well for believing in me.
My own career path is different, you know, it didn't just happen all at once, I had to work and grind. It is like a farmer that planted this year waiting for his seeds to germinate. I am really thankful, it made my story more beautiful, more inspiring, and more organic.
From "So Fine" to your latest single, how would you say your sound has morphed over the last few years?
I had to evolve. "So Fine" Crayon is still the same Crayon that is singing "Ijo (Laba Laba)," it's just growth, just like understanding myself and my sound and you know how I want to approach music, how I want to portray myself. You know when you are making music, you want to grow, you don't want to do the same thing over and over again, you are going to get tired. I am not going to put out a record that would sound like "Ijo (Laba Laba)" again. I am not going to put out a song that would sound like "So Fine" ever again. That's it. I am the kind of person that likes to experiment and try new things. I feel like that's how you stumble on great things. I have this crazy ideology in my head that you know when you get a pack of Crayons, you see different colors you don't know what to expect. You can pick two colors and you get secondary colors. You can mix up two secondary colors and you get tertiary colors, and it goes on and on like that, it's infinite. That's how I see myself, that's how I see my sound. I can tap into different things. "Overdosing," is a different sound from "Ijo (Laba Laba)."
How was making "Overloading (Overdose)" and "Ijo (Laba Laba)," how did those two songs come to life?
Crayon: Yeah, for "Overdose," I just came back from the hospital. My team called me about being on a single they wanted to put out for the label. I was going to do the hook and verse. I was excited. Jazzy sent me the beat and I heard it, so we went to the studio and started recording. Everybody was excited. Everybody was singing, that moment was special. I was willing to give my all, I was willing to make sure that the song was mad. So, I recorded my part and everybody started saying it was really good. Everybody you know jumped on it, it was amazing. Shout out to Ayra, Ayra's verse is amazing, Ladipoe's verse is amazing, Magixx's is crazy, Boy Spyce's verse is epic. "Overdose" was that breakthrough record for me. I feel like it kind of healed the blind, and healed the deaf.
Everything changed from there on. I started getting crazy bookings, co-signs from industry heads, you know from artists I never expected. So, and the crazy thing is I did a particular dance in the video that just stood out. The funny thing is that I created the dance like a day before Overdose video shoot. I hadn't been in video in a while, so I just had to get my groove and my swag back. I kept playing the song, I just started doing different things, vibing to the song. I told myself you know what, I am going to do this tomorrow on set. So I got to the set, took the first take and did that thing, that shoulder dance.
Everybody said, it feels mad. Ayra was like that shit is crazy, I kept doing it Magixx said the same thing too. Everybody was like I want to learn it too. So, Eventually when the video came out, like I was already teaching people how to do the dance already before I even dropped "Ijo (Laba Laba)," I think I went to the Mainland, I went to Ikeja, I went to my secondary school just to like go and show them the dance move and then, cause the dance was already a movement then, I had to come back and make a soundtrack for that movement. So, I linked up with Sarz, because me and Sarz have always wanted to work. He played me like five beats, I took the five beats and I was about to go home and he was like 'omo, e get one beat way just dey my laptop way I never finish, way just dey. Let me just play it,' and he played and I just loved it. It was the skeleton, it was the progression, just that bassline, there was no percussion, there was nothing. So, I took it back home and big shout-out to Embryo for co-writing the song with me. And, we made the song together "Ijo (Laba Laba)," Ijo is dance and Labalaba is a butterfly. The dance is named after the butterfly movement.
It's the butterfly dance. And, the song has a message, you know there are affirmations like blessing for your head too, bad things won't see us, helpers go locate us, you know. It's for the culture, you know it has African elements to it. For example, Wagu is a Ghanaian name. When I said Wekuzins, it's a South African name. You know when I said Uju, is Igbo, Nzobu is Igbo, Labalaba, Yoruba, pidgin, you know everything. It's a mixture of different elements to it. This song is a really special song. It is a movement. So now, for me, what amazes me is that when they are playing the song, people don't just dance, people do the exact dance for the song. That's crazy. I'm thankful and I'm grateful to God that he is doing what he is doing. I'm excited, happy. I feel blessed. So many butterflies in my stomach tight now you have no idea.
What's next for Crayon?
I'm focused on "Ijo (Laba Laba)" for now. When my team and I feel we need to put out something, we will. I'm a team player, so whenever my team says we putting out an album, single, or EP, I'm ready for that. But for now, we just want to keep pushing "Ijo (Laba Laba)", and promoting the song. We want it to be heard everywhere, around the world. It's a movement, you understand.