---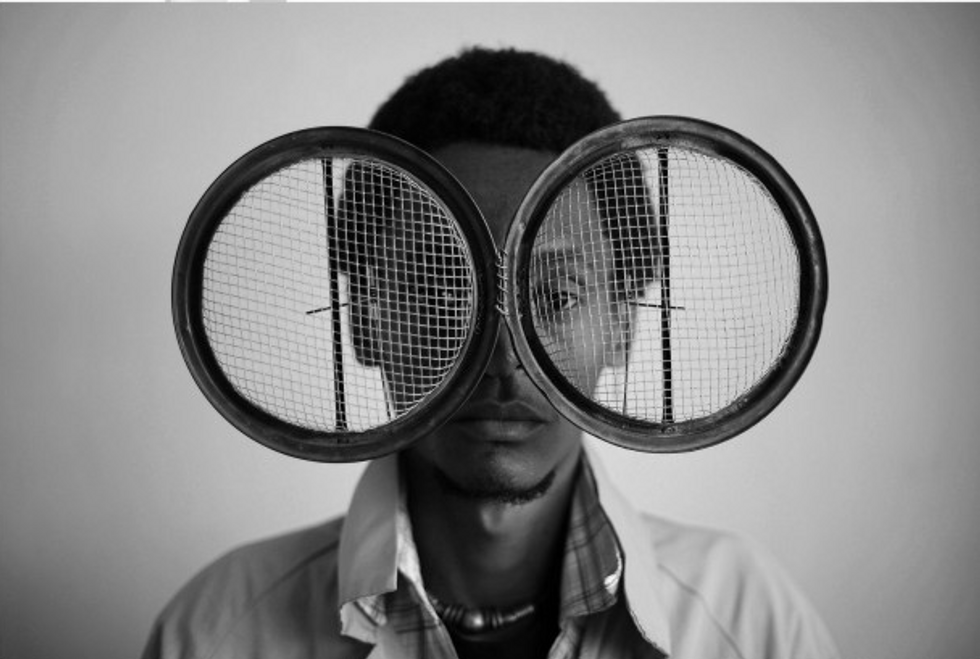 Cyrus Kabiru is an emerging Kenyan visual artist whose inventive bifocals caught my eye — his works are real pieces of art that could fit several environments and are part of the new innovative fashion movement.
Who is Cyrus Kabiru?
Cyrus is an artist from Kenya. I am working with found material. I sculpt, I paint and I design eyewear. My glasses are well known locally and are gradually gaining an international market.
What is your background? Where did you study?
I grew up in the capital city of Kenya, Nairobi. I studied up through high school and I'm a self-taught artist. Although my dad wanted me to be an electrician.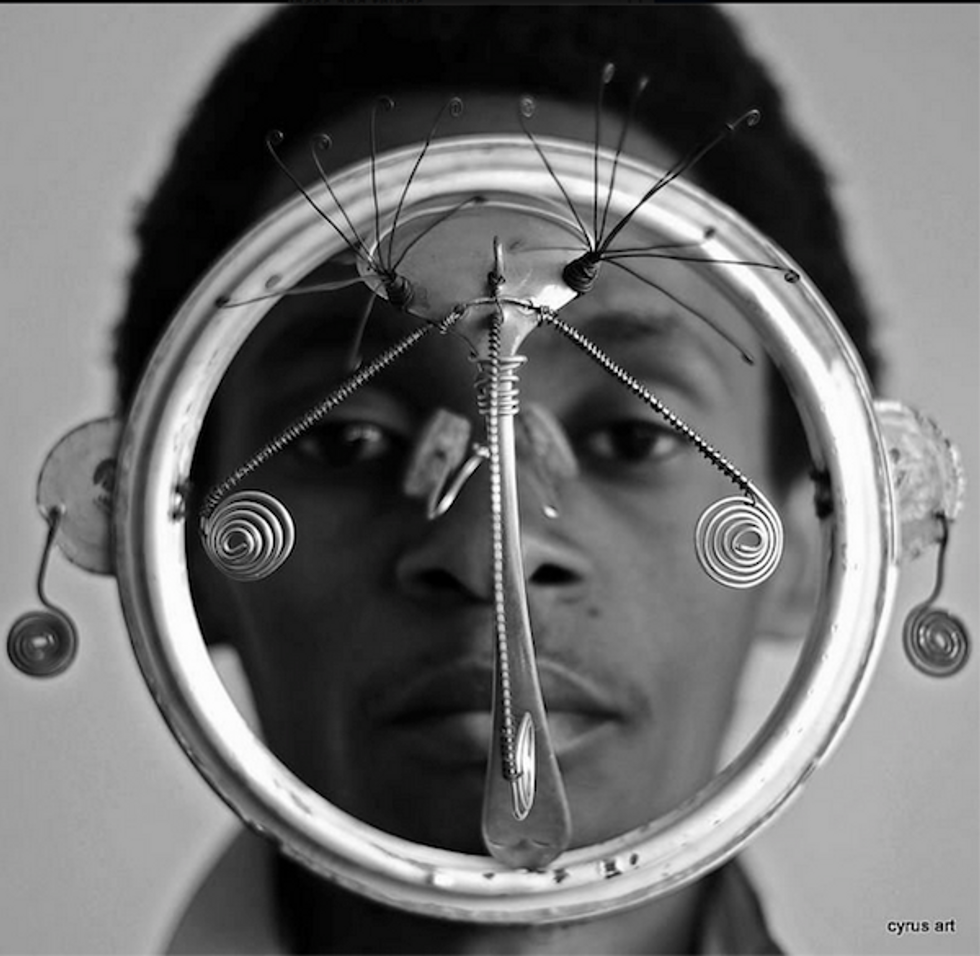 What are your inspirations/influences and what are you creating?
My dad is the one who inspired me to start making the glasses. My dad got his first pair of eye glasses when he was young. One day he was hanging out of a lorry and his glasses fell off. The lorry crushed them. He got beaten by my grandmother, his mum, and from that day he has hated wearing glasses. I then began admiring the wearing of eye glasses. My dad used to refuse letting me wear his glasses. He told me that if I wanted to stay in his house, maybe I should start making my own glasses (fake ones) and that's how I started making them.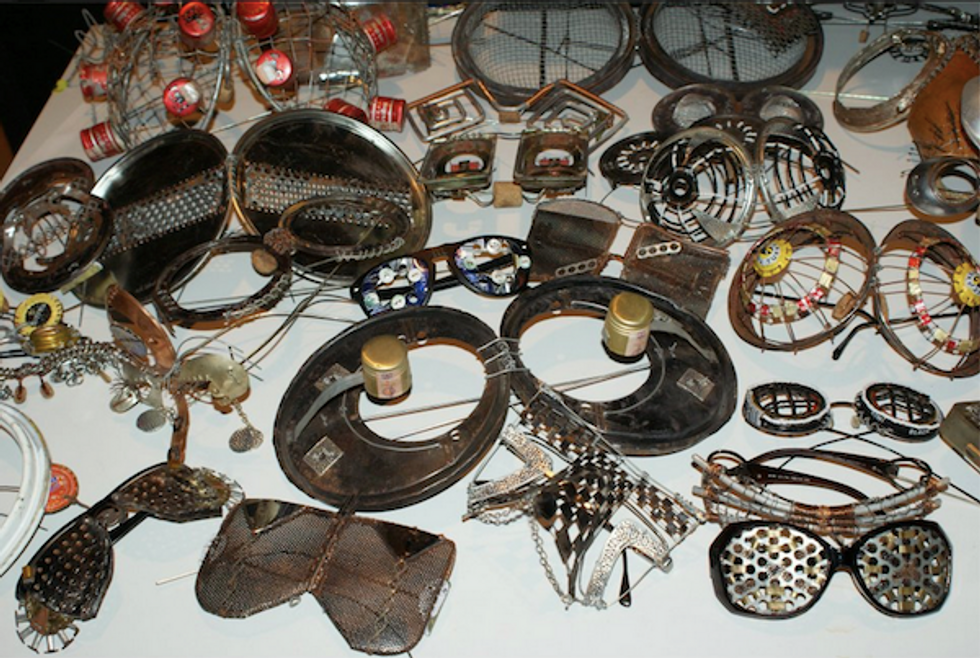 Were the eye glasses expensive at that time?
Yes they were and this is why he got beaten by my grandma after the lorry incident. So, I started making my own using things like wire, spoon, sieves. Now the fight moved from my dad to my mum because I was using her spoons and other supplies around the house.Then I began to make a lot of eye glasses and my dad told me that when I make a pair that I need to explain the reason behind the creation. This is why some of my glasses have a reason or story behind them. I used to barter in school and make deals with my schoolmates — you do my homework and then I will give you one of my art work.
Did your dad get new glasses after the ones he broke?
No, my dad refused to get another pair of glasses. He has always hated them even until today. By the way, my dad visited my studio like two weeks ago, in the past he has never loved what I do, this time he was happy to see my work. He is the one who inspires me. I grew up being a bad example to the community —  the adults would say to the other children "study hard, if you don't study hard, you will be like Cyrus." But now, I am a good example for everyone and people are working hard to be like me.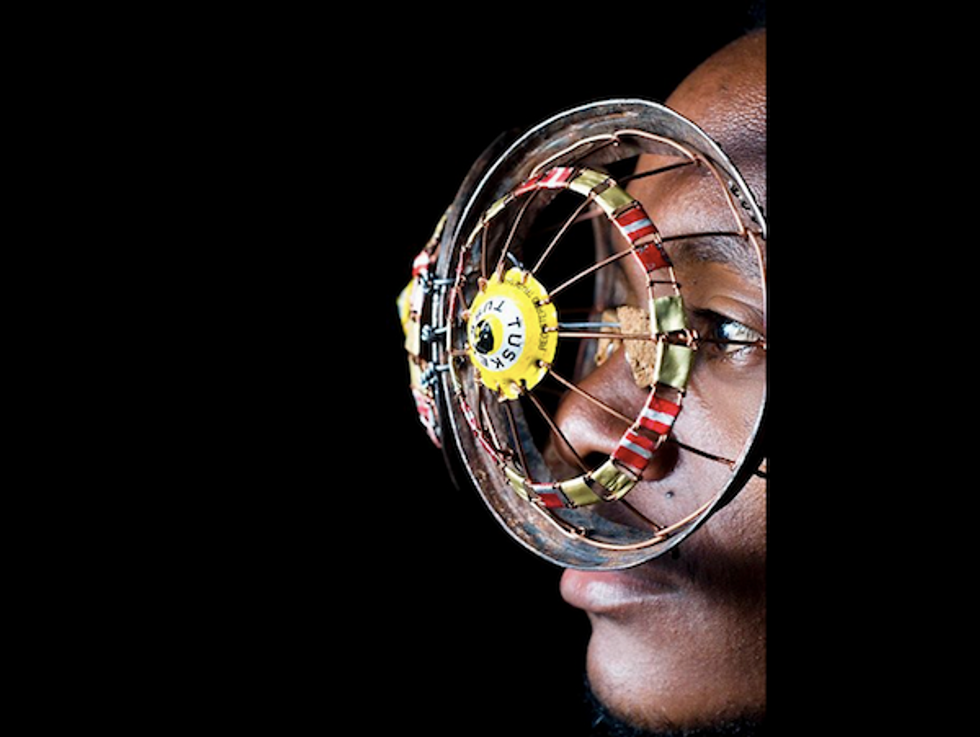 So you ended up becoming an example for the Kenyan youth. How was it growing in Nairobi?
Yes. Growing up in Nairobi was also good for me although I grew up also in the rural area where my grandmother lives. I have had diverse life experiences in Kenya.
 How was the country itself politically during the time you were growing up. How was growing up in that environment as a self-taught artist?
If you want to die poor, be an artist. No one bothers with the artists from parents to government but we're still doing good and we're changing everything. I believe that I'm young so I need to play my part and make people know the meaning of art. Now I am doing a project called "Out Reach," whereby I just visit the rural communities and show them how to work with materials surrounding them. The most recent workshop, I did it on a dry region (Kisumu) where all the trees had been cut down. I showed them how to work with the remaining material around them.
Did you get support from the government for this project?
No! I just got the funding from friends, art organizations and my own money to make it happen.
As a good example for the youth and also as an art teacher, you could have probably received government funding to support your project as cultural education.
No, our government is shit. They just believe in the people who are more educated, those who wear suits. (Laughs) Last month, I was with a Kenyan politician then I met a group of people who knew me, they began to shout "we know this guy!" The politician was upset with their reaction because he felt like they should know him rather than me. He should be the most popular one between us both. Politics in Kenya is bullshit. They always and only care for themselves as they drive around in big cars.
Are they supporting art at all?
We have the oldest politician, William Ole Ntimama, the Minister of Art and Culture and for him Kenyan art is only about the Maasai and traditional dances!
So, what are your designs made with? Where are you getting your materials from?
I just collect material from everywhere when I walk in the streets of Nairobi. First, I love nature and that's the reason I work with recycled material. I want people to know how to give trash a second chance.
The C stunners project caught my eye. I could clearly imagine it on a runway, in a movie or in a dance piece. Why C stunners?
(Laugh) C stands for my name or to see. The stunners is of course because they are stunning!