For his first solo show in the UK, Evans Mbugua has created what he's described as "the first visual contemporary dance exhibition," as he carefully puts it.
To achieve the high ambition, the Kenyan-born artist closely observed a pair of male and female dancers for 18 months, in different studios and venues around Paris, France, where he's based.
---
Mbugua, 38, currently has two exhibitions—"Dialogue" at Gallery of African Art in London and "Identities" at Out of Africa Gallery in the Spanish Pyrenees—both of which opened in December 2017.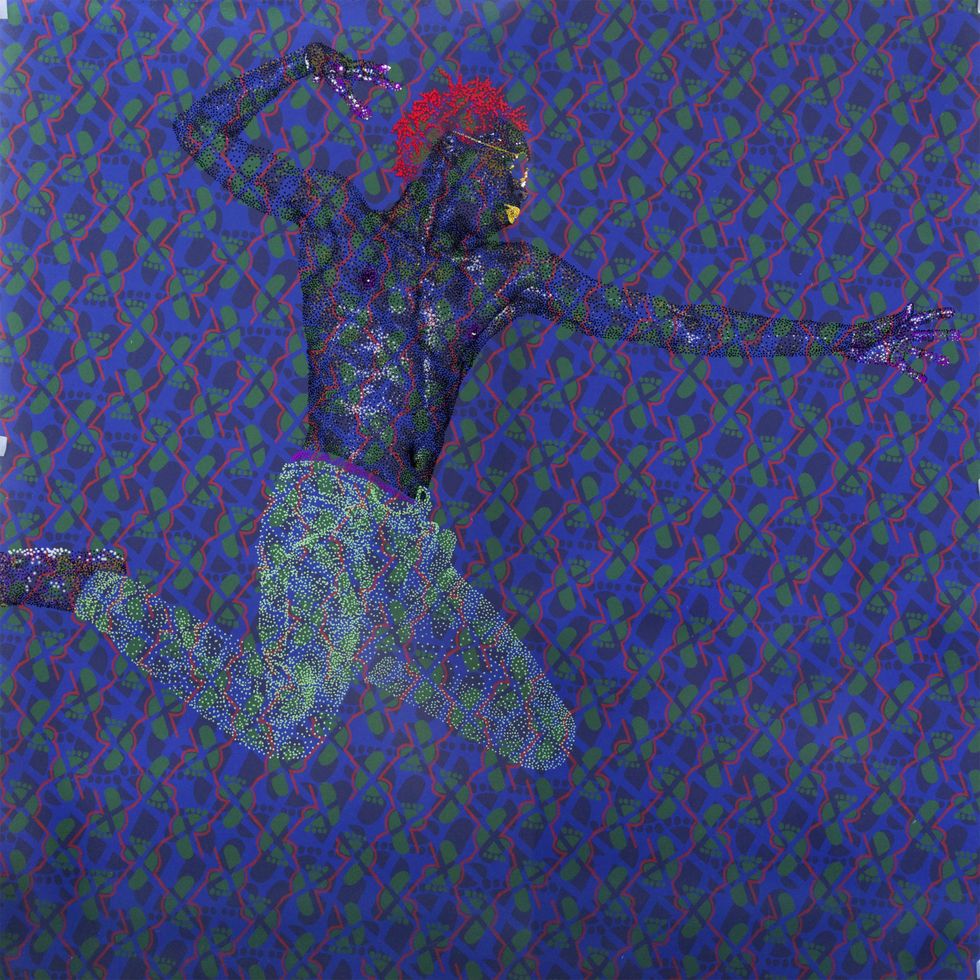 'Rise' by Evans Mbugua
2018 is proving to be an equally busy year for the graduate of print design, with a show planned for February at Cape Town Art Fair in South Africa and another in April at Art Paris Fair, where he will be represented by ArtCo Gallery from Germany.
The focus of "Identities" is on individuality while "Dialogue" is the singular story of a pair of dancers in commune. Both set of works are rendered in the most striking fashion using print, photo paper and acrylic glass, commonly used as a durable alternative to glass.
Glass does not typically inspire warmth or the fluidity of dance, even the most stodgy type. Did he not worry that the perceived lack would be an obstacle? "I'm painting humanity. I want to show the beautiful side of humanity," he says. "That's what my art is about. At the same time I agree with you to that glass normally should be cold."
He explains further: "I'm coming from the perspective of stained glass. The transparency and light you'll find on old buildings and churches creates a very interesting atmosphere in architecture. So glass for me is not cold, it's actually colour, it's actually atmosphere."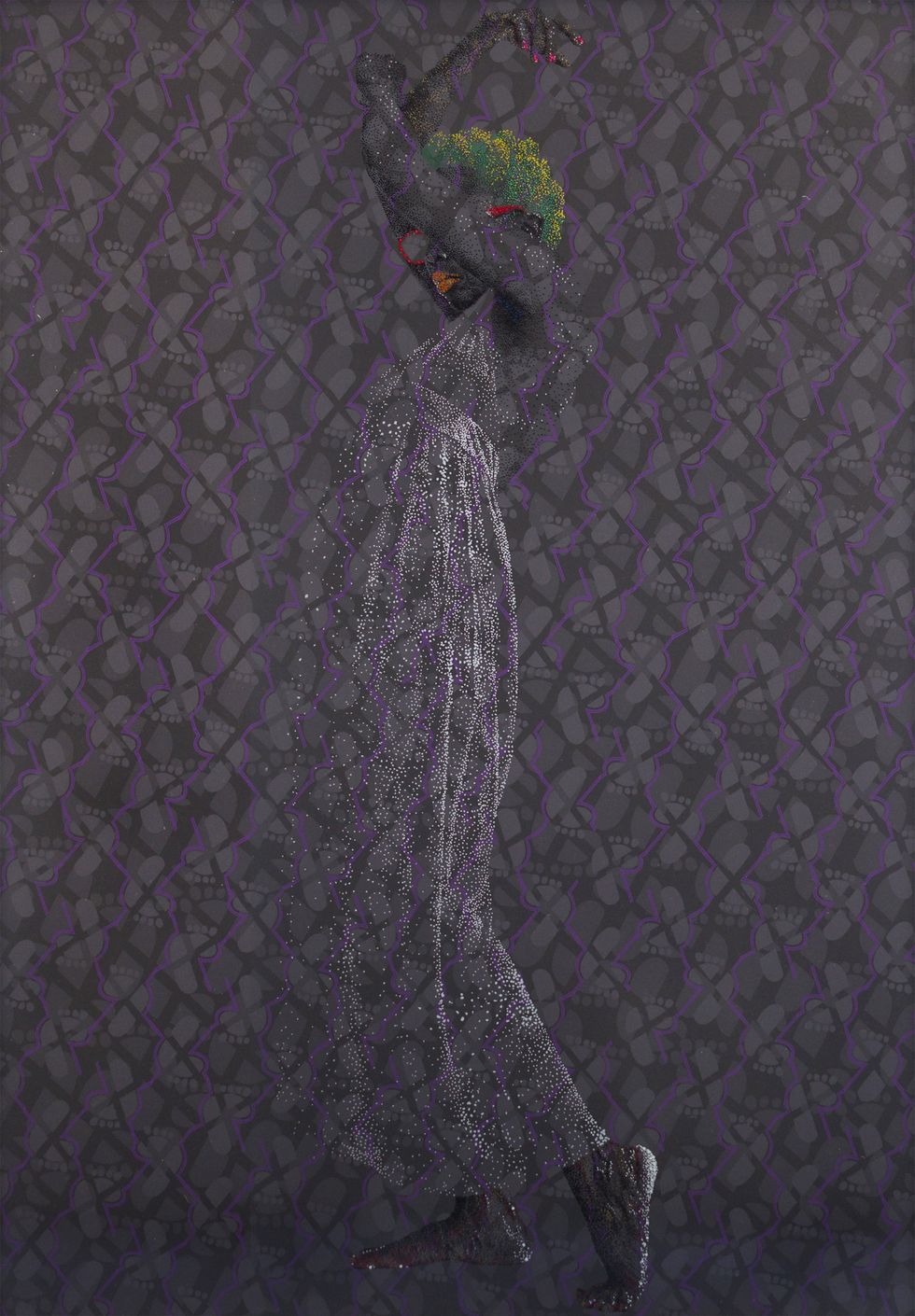 'Legato' by Evans Mbugua
Mbugua has given to glass the big image overhaul that it would need in my case to inspire warmth, but will not share the finer details of how he has achieved this, being trade secrets.
The works in "Dialogue" take up both floors at GAFRA where 12 life size paintings occupy the ground floor. Downstairs, an entire wall is covered with paper print before which visitors were encouraged to take photos while wearing sunglasses specially designed by the artist. On another wall is a screen showing a short video of one of the dancers, Wanjiru Kamuyu, doing elegant hand and feet work, as though warming up at practice but if over interrupted, would seem like poetic inspirations for the works on display.
On the wall opposite this screen are two sets of 10, small size works (15.5 by 15.5cm) which he's titled "Mouthpieces," and are just that—images of the mouth with the lips highlighted—and are made from, or perhaps cut from, other works combining perspex and photo paper, and imbued with new meaning. "In essence, it is a dialogue between my work and between my subjects," he tells me via Whatsapp messages after his return to Paris.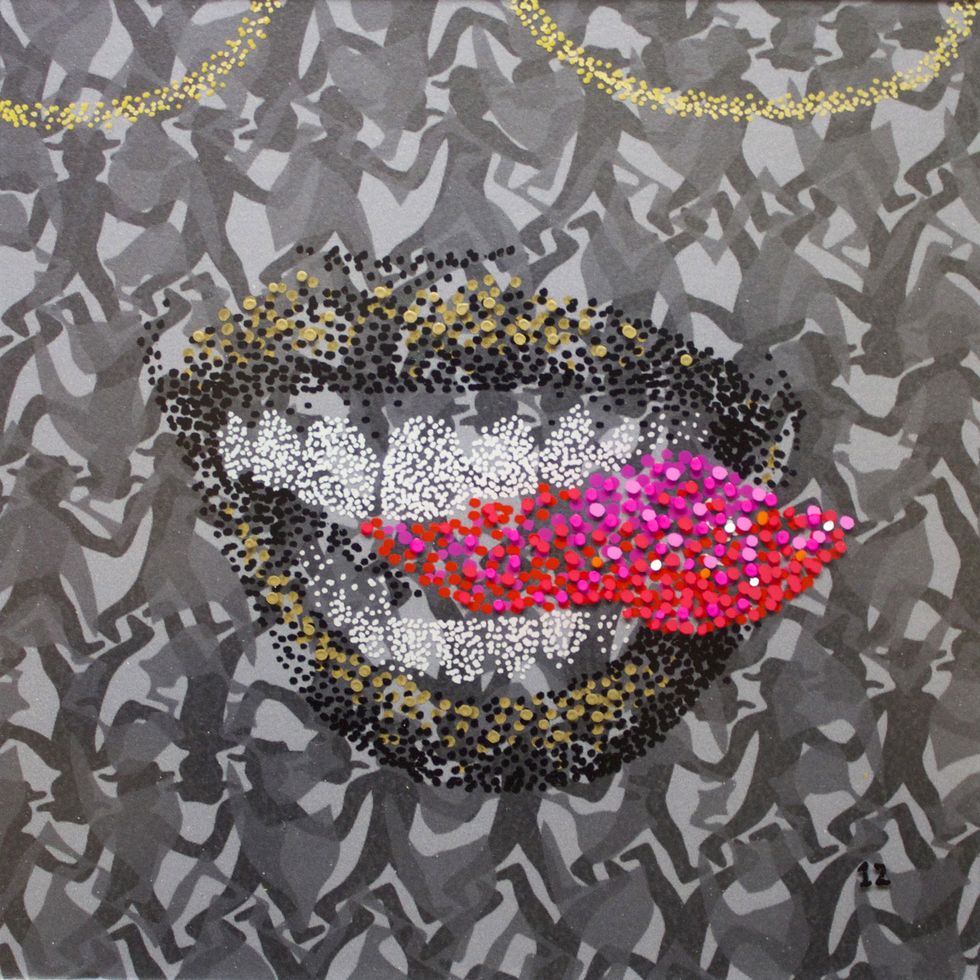 From the 'Dialogue' series by Evans Mbugua.
The most imposing work on the ground floor is a two-suite piece made from a single image of the male dancer, Smaïl Kanouté, in elegant poise. Both halves—"Beat" and "Rhythm"—could be sold separately are meant to be inspired by the fracture nature of his origins and life today because "part of me is still in Kenya, part of me is still in Paris, part of me today is in London, part of me was New York when I was there the other day, and I love Spain. I think it's a metaphor for just how we are. We could be everywhere."
This one is a hard sell considering the multiplicity he has described outnumbers the simple binary of "Beat" and "Rhythm." But this could be excused as it was well into the evening and after being barraged by questions from visitors about himself and his technique.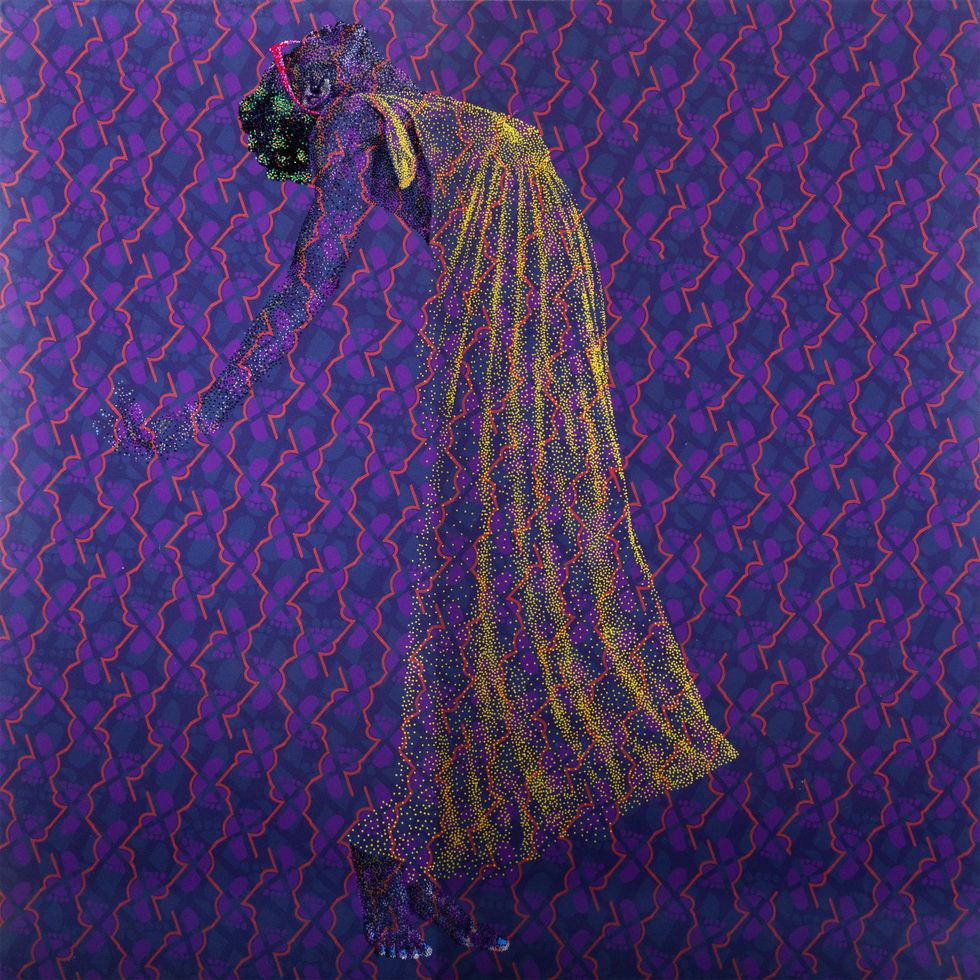 'Flow' by Evans Mbugua
Visitors perceptions of Mbugua's distinct works in past exhibitions continue to amuse the artist. It has been described as "Cosmic Pop Art," a coinage which pleases the artist while other assume they are the works of an American pop artist which doesn't bother him. But "when they see me they say you're making African prints but I'm not making African prints. In France it's 'you're doing the wax.' I am not doing the wax," he tells me, laughing at the lazy interpretations and perhaps his own frustration with them, before adding, "I'm sorry I'm creating a universal language using pictograms. It's a sign that everyone uses, just look a bit more."