South African DJ and events organizer Akio Kawahito aka DJ ID ruffled some feathers last week. He told his Twitter followers and Facebook friends that if he books an artist who owes child support, then that payment will be paid to the baby mama.
---
"If I book your baby daddy for a show and he owes you child support, hit me up and I'll pay you his fee directly," tweeted the DJ on Wednesday last week.
Akio is one of the members and founders of Kool Out Concepts, an events and music company that has consistently hosted a series of events in Joburg, Cape Town and Durban. Kool Out consists of DJ P Kuttah, Banesa Tseki, and formerly DJ Raiko and the rapper Reason.
Their series of rooftop parties, Koolin In The City, gathers lovers of music, mostly hip-hop, every month to watch a showcase of some of the country's finest acts, both established and up-and-coming.

They have brought down to South Africa, several US acts such as Talib Kweli, Blu and Exile, Rass Kass, Pac Div, Mobb Deep and BadBadNotGood.
Below, Akio elaborates on why he took the decision to pay an artist's performance fee to the mother of their kid(s) if they owe child support.
---
Please share what inspired the idea.
The idea didn't really come from one incident. I guess it's just been an accumulation of conversations I've had with women over a long period of time. The societal effects it has don't just rest on the mother and child, but the friends and family that also have to stretch themselves financially to loan money or help cover the costs of the father. One thing that used to piss me the fuck off was when a promoter or client was dodging a payment to me, but at the same time was flossin' on the gram. Now, imagine that your baby daddy is doing the same thing with school fees or nappy/formula money. That's a level of frustration that I can't even imagine. If you don't have the money, that's one thing. If you have the money and aren't paying, that's another. If you're broke and faking your lifestyle, then it's something else.
How do you plan on going about this?
At this point, it's still a concept so it's very simplified. We add a clause in the artist contract that allows for a claim to be made by a third party if child support is outstanding.
What legal steps are you taking to ensure this works properly?
A lawyer saw my tweet, and DMed me about helping to frame the legal language. We're gonna try and link to discuss. Things should be a bit more clear after that.
Have you had cases where a baby mama approached you guys for a share of an artist's payment?
This has never happened before, but over the years, I've had several conversations with baby mamas who are owed money by artists that we've booked. I don't think it's ever occurred to someone to ask us as promoters to pay them directly. Either way, we would have said, "No." In the past, we've even taken some artists off the board because we knew they weren't supporting their kid. Looking back now, that was more of an emotional decision and probably counterproductive.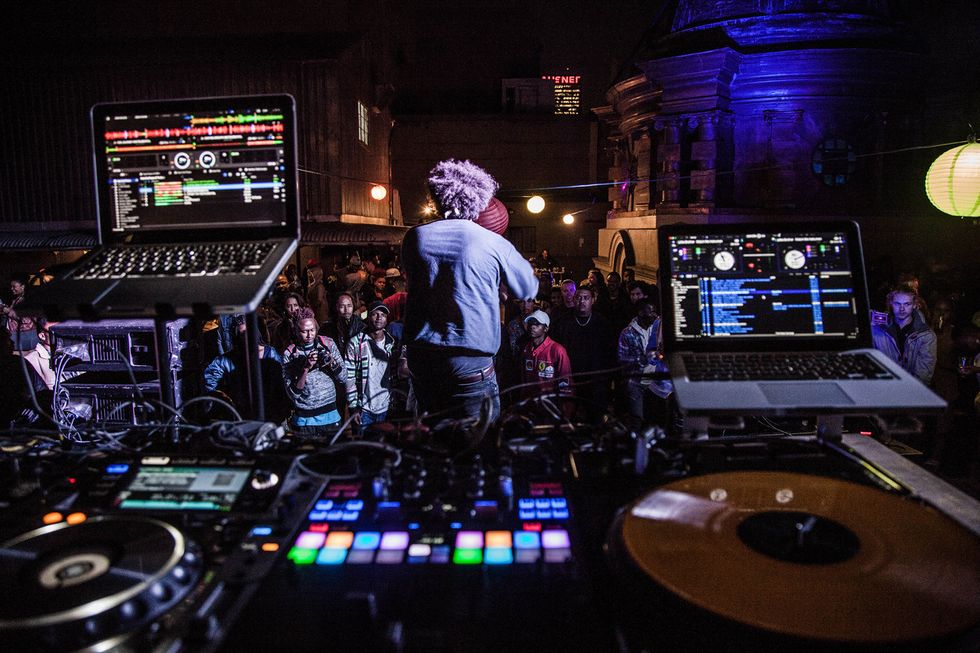 A typical night during Koolin In The City. Photo by Sabelo Mkhabela.
Are you prepared for the backlash that could come with this?

Which is what? Most artists with kids that I know are responsible parents, and this has no impact on them. I even had a few baby mamas message me on some, "Thank God, mine isn't one of those." No local artist is irreplaceable on a line-up. My approach in this industry has always been unorthodox and played as the outsider. You generally gain more respect than hate for doing something positive.
What is the end goal of carrying this out?

I wouldn't say there is a specific goal since it's tough to see the end results. From a basic level, it's an awareness campaign. Some artists with outstanding fees might refuse to sign the contract and perform. Some might embrace it and view it as a way to pay off some of their debt. We might not even have a single mom make a claim. Even if they do, we won't make it public. We're not gonna make a flyer and say under the artist, if this guy owes you money, holla. The point of this isn't to embarrass some dude, it's to help push child support payments or, at the very least, make people think about it.
Do you want other event organizers to also follow suit?
Once we figure out the legality and language for the contract, I'll post it publicly. It would be dope if other promoters engaged the conversation, but I'm not expecting it and I'm not judging anyone who's not trying to. It's similar to artists with physical or sexual abuse claims, some promoters won't book those artists while some will. There's never been a collective movement on that. It's just been up to the individuals or teams.
Follow Kool Out on Twitter, Instagram, Facebook and their website.