DJs play a huge role in South Africa's hip-hop scene. Through their single releases and projects, they always introduce fans to new talent. DJ Speedsta is one selector who seems to understand the current crop of rappers, popularly referred to as "the new wave," and he has introduced a handful to his extensive audience.
Speedsta hosts the popular radio show Absolute Hip-Hop on Metro FM alongside media personality LootLove. The show recently won the Best Radio Show award at the South African Hip Hop Awards.
---
Speedsta is also one of the most outspoken hip-hop figures in the country, usually voicing his opinions and concerns on the popular YouTube show Popcast, which he co-hosts alongside Ms Cosmo, Scoop Makhathini and DJ Vigilante.
Speedsta, who's been visible since the dawn of the 2010s, has been churning out bangers and hit singles that have defined the decade—think "Mayo," "Vicky," "I Don't Know" and "Live and Dance," among others. The 27-year-old DJ recently released a new EP titled Palm Trees and Pretty Girls, which is his second release this year, after the EP BottlebrushStr.
Palms Trees and Pretty Girls features mostly new and young artists throughout their six songs, which will come in handy this summer to soundtrack your downtime.
We caught up with Speedsta and asked him about the project, his fondness for the new wave, and how he crafts his collaborations among other things.
Note: This interview has been edited for length and clarity
Tell us about the title of your latest EP Palm Trees and Pretty Girls.
I went to California for the very first time earlier this year. And, I felt like a kid in a candy store. I've been skateboarding my whole life, and California is the capital of skateboarding. There was just these nice palm trees, skateboarding, beautiful people—not just beautiful women—everywhere. Everybody doing their own thing, minding their own business.
I felt really, really at peace. I was like, "Wow, this is what I would like my summers and holidays to be like." So, while I was there, I got really inspired and I was like, "I'd love to make a playlist for someone else who was in my current position. So, for someone else who's sitting at the beach and just having a cocktail or whatever, I'd love to, sort of, curate the music they're listening to while they're chilling." So Palm Trees and Pretty Girls is basically a summer playlist curated by me, for you.
DJ Speedsta, Oneida - Oneida ft. Una Rams, C Tea, Buffalo Souljawww.youtube.com
What's your process of making songs with the artists you work with?

There's different processes—selecting a beat and picking artists to jump on it or getting into the studio... we'll use "Oneida," the lead single, as an example, where it's me saying to [producer] C-Tea, "Yo C-Tea, this is the kind of vibe that I want to do. This is something I really, really want to work on in terms of the texture, in terms of what I want it to sound like." C-Tea then sits and he conceptualizes a couple of things and then we get into studio. Then we get into the studio and we listen to a couple of beats, we change a couple of things.
From there on is when we start working on the actual song now. So in this instance we've chosen the beats and C-Tea was humming something. I think it was something like "Anita" for the melody of the song. And immediately I was like, "Let's rather say, Oneida." Oneida is my partner's name. So I was like what we'll do actually, we'll name it Oneida and then let's write the song about her. That was the process with that song. And if you listen to the song, you hear that it's a love story to my girlfriend written by Una Rams, C-Tea, and Buffalo Souljah. Through me telling them the story.
But then you can take a song like "Honestly" with Nnashe for instance. Now with that track, that's just Nnashe, a 17-year-old kid. So that's just me trying to help him finesse his sound. So with him, it's different, because he's got the ear and he's got the sound but he just needs a bit of finesse. That's just me sitting in the studio saying, "Rather say this instead of saying that," to him. "Maybe go a little bit lower on this and go a bit higher on this," you know?
So, with him what we do is look at the title. The reason it's "DJ Speedsta featuring Nnashe," but "DJ Speedsta and Nnashe," is because now I'm introducing him. If anything, it's not even about me. You could literally say it's Nnashe's song, actually. It's just me sharing, sort of, introducing him to the industry.
Where do you find these young artists you always work with? And why do you always feel the need to go and find a kid that no one knows?
The younger generation, they want to work. They hungry. They're ready to work. If there's one thing you need to know about me as a person, as underrated or as an underdog as I may be or whatever, is that I'm always working. I don't like to speak much. I'd rather let the work speak for itself. And that's all that matters.
So, if you want to work, you're always knocking on that door and saying, "Yo man, I really want to work with you. Listen to my stuff," let's get into the studio, let's check how you're doing. Like with Nnashe, it's like, "Yo man, I want to help you. But you gotta finish school first, got to make sure you pass your matric first. Otherwise, I can't help you. You've got to pull your weight as well." We're going to work on a project dropping next year, we'll work during the school holidays.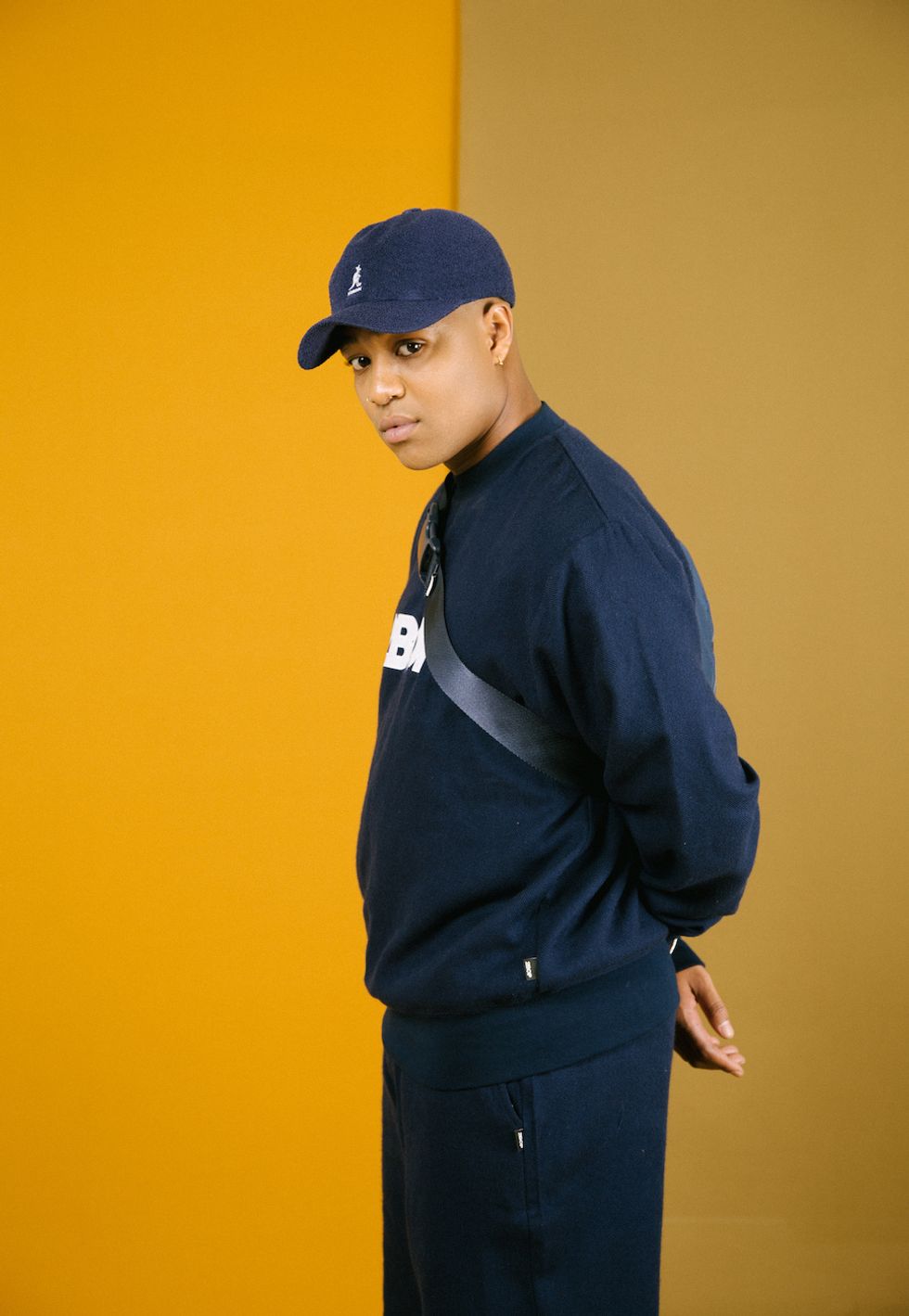 A few months ago, you started something when you revealed during an episode of Popcast that you approached Dee Koala and she wanted payment to work with you. How exactly do features work? I hear it's usually a favor for a favor.

It's a favor for a favor, indeed. It's a formula that's been running for over a hundred years. Purely because our music industry isn't at that point. Of course, there are session artists who get paid for features or whatever. I personally have never believed in that, because I always, like I said [on the podcast], I make the music off the energy. And I'll stick to that.
Dee said, "I charge for features," but had she said, "Sure, I'd love to do the feature, however, I live in Cape Town, how are we going to do this?" I would have been like, "Of course that's standard. We'll fly you down, you'll be fine. We're not going to expect you to bring yourself to the studio."
And that's where the miscommunication came in. That's where the confusion came in. Because, when I said, "I don't see value in paying," she took it as, "Oh, so you don't want to pay me for features? Well then, F you." When I came into the industry, the one thing that I always feared was hype. I don't believe in hype. I had a conversation with a guy yesterday and he was like, "How come you haven't made a song with Champagne69?" And I said, "No, there's no reason. We just haven't made a song, there's no reason."
I've always felt that Speedsta really loves melodies. There's a lot of R&B in your music. Where does that come from? And you are a skateboarder, I'd expect you to be obsessed with more left-field alternative rap.
I love my boom-bap, that's what I skate to. I guess it's from home. So, at home, my dad was a DJ in university, so he's always loved music. So, at home he would always play your Lionel Richie's, really loud. To a point were as a kid, you know every single word.
That stuff was always super soulful. And then growing up I would always have a really different sound. I always fell in love with hip-hop that sort of had an R&B and soul element to it, that had lots of musical elements to it. That had feeling. That's what I was always about. And also because of how I grew up, I never grew up in an environment where it was about like, "Yo, let's get girls and let's turn up."
I grew up in an environment that was really, really mellow and really, really chill, and everyone kept to themselves. And that's what I like. So, I always said that the day I make music, I would try and make this kind of stuff, stuff that I really, really like. So yeah, that's where the influence comes from. That's really what it's about.
The older generation of DJs and hip-hop heads feels that, because the new generation of DJs doesn't use turntables anymore, the art of DJing is dying. What is your take on that?
It definitely is. It's because of technology, it's so easy to be a DJ these days. So it was always going to happen. But, I think over time, that you start to understand that the special things count. So if you are a DJ that can scratch, that can do the turntablism, trust me, it's special to have it.
And then it goes back to the thing of, a lot of the DJs, and new DJs, don't know the business part of it. When we started, we had to learn everything. When I was coming up, it was myself, DJ Capital, Major League DJz, DJ Fanatic, PH, DJ Hudson. Those are my direct peers. And at the time your big names were the likes of DJ Milkshake, DJ Vigilante, DJ Dimplez.
Before them, there was Naked DJ, C-Live, DJ Jawz,Waxxy etc. So, there's been generations of this thing, and all people have done is learn and embrace and then try to improve, and then move it down. That's what's been happening the whole time, moving it down, moving it down, moving it down.
Now with these kids, it goes back to the internet. They're not learning from any of us. Which is cool, but you only know a certain part of it. So, that's why you pulling up into the club, and you're pushing people like, "Yo, I'm here to DJ." And asking them, "Yo, where's my bottle?" That's the part where you saw Speedsta do that so that's what you are doing. But what you forgetting is that, that's not what Speedsta was doing in the beginning. That's not how he got there. It didn't just happen overnight.
So, they're still going to struggle in terms of breaking for a while. And especially because they are not even friends. Like with us, we used to move together. All the names I mentioned are established brands now.
What would you say you like about the new wave? The current generation of hip-hop. The guys that you have on your project right now, what draws you to them?
I think just the fact that they're just super unlocked in terms of a lot of things. You find a three-year-old, four-year-old kid nowadays speaking fluent English. As opposed to when we were three, four it wasn't like that.
So, they come with a different energy completely. I think for me, more than anything, it's just the fresh energy and fresh ideas they come with. Because I think this generation of the 2000s, they are going to take over the world. They are really the ones that are really going to take over and take this world, or this life thing, to the next level. So, to me, it's exciting because I'm just sitting there like, "Wow, okay." Like, I work with a 17-year-old kid but he tells me something and I'm like, "Wow, that's dope." So, because I'm not an ignorant person, I'm always learning every single day, I really, really enjoy the new energy that they bring.
Stream DJ Speedsta's latest EP Palm Trees and Pretty Girls below: