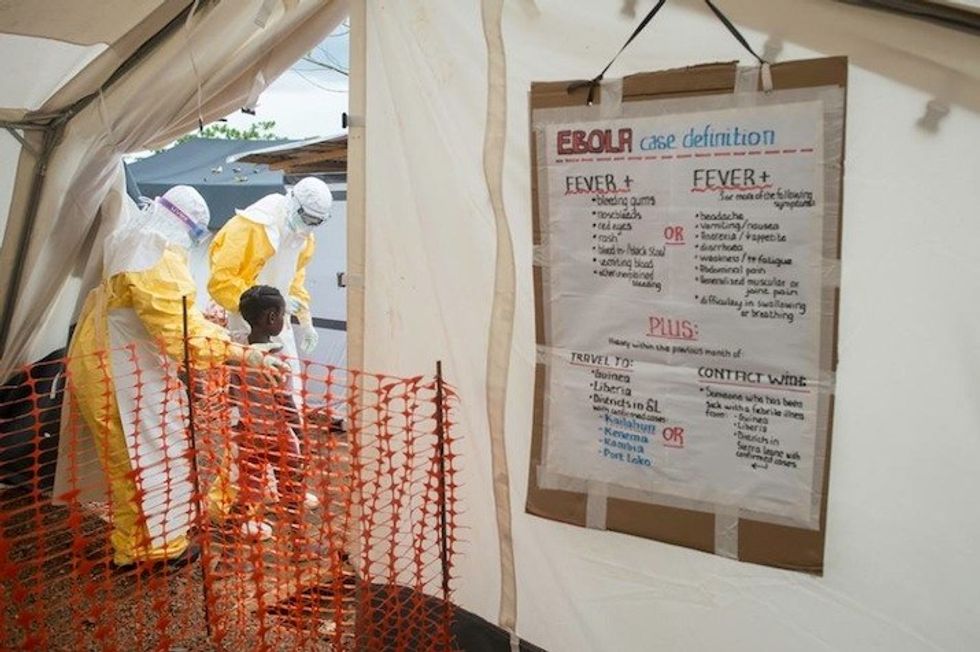 ---
Photo by Sylvain Cherkaoui via Doctors Without Borders/ Médecins Sans Frontières (MSF)
Almost immediately after it was hit by a devastating earthquake in 2010, Haiti became ground zero for scores of international organizations and NGOs trying to find some way to help. The contrast between the international response to that event and the current Ebola crisis in West Africa could not be more stark. MSF (Doctors Without Borders) has been one of the only organizations on the ground in Guinea, Sierra Leone, Liberia, Nigeria, and now Senegal, and they are well beyond capacity.
In a statement released September 2nd, they write:
Six months into the worst Ebola epidemic in history, the world is losing the battle to contain it. Leaders are failing to come to grips with this transnational threat. In West Africa, cases and deaths continue to surge. Riots are breaking out. Isolation centers are overwhelmed. Health workers on the front lines are becoming infected and are dying in shocking numbers. Others have fled in fear, leaving people without care for even the most common illnesses. Entire health systems have crumbled. Ebola treatment centers are reduced to places where people go to die alone, where little more than palliative care is offered. It is impossible to keep up with the sheer number of infected people pouring into facilities. In Sierra Leone, infectious bodies are rotting in the streets. Rather than building new Ebola care centers in Liberia, we are forced to build crematoria. Last week, the World Health Organisation (WHO) projected as many as 20,000 people infected over three months in Liberia, Sierra Leone, and Guinea.
Although they have been ringing this alarm for months, MSF has been met with a deafening silence from the international community and news coverage in the West has been almost entirely focused on the one or two cases of aid workers receiving medical care in their home countries. For the tens of thousands of people on the ground affected by the crisis "we" just don't care enough—or "our" basic human concern has been overwhelmed by fear. Neither response is one we can live with.
Okayafrica rarely takes up campaigns on behalf of NGOs, but based on the urgency of the crisis, the international failure in combatting it and MSF's clear distress, we feel the need to join the call for urgent action. The Ebola crisis is nothing short of a catastrophe and should be treated as such.
We are not an international aid organization and we don't intend to represent ourselves as one--but we do have a bullhorn.
This is a call out for our readers to weigh in. What should we be doing? Who should we support? Who should we place pressure on? We'll keep a running list of your suggestions below.
----------------------------------------------------------------------------------------------------------------------------------------------------