Montreal by way of Gabon producer Engone Endong shares the Côte d'Ivoire-shot video for "HYPIN," a track from 'Colored Dust (lite)' LP.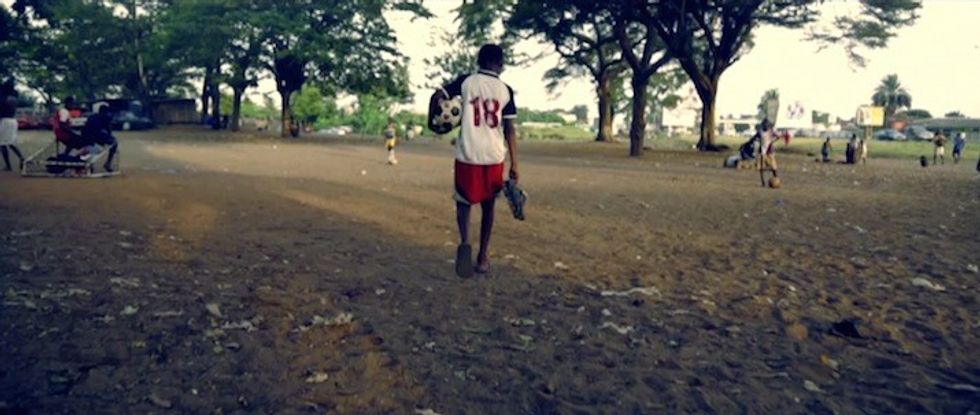 ---
Montreal by way of Gabon producer/beatmaker/remixer/selector Engone Endong shares the music video for "HYPIN," a track from his 2011 instrumental album Colored Dust(lite), which he released under the Atsie Sun Orchestra moniker. The visuals, which were filmed by Gabon-based visual artist/photographer Magssi in Côte d'Ivoire, show children playfully practicing their soccer skills under hovering trees to the tune of Edong's jubilant guitar samples and frenetic drums. The clip pans across waterside picnickers and walkers before a halt around the 2-minute mark, the celebratory sounds rendered gravely industrial with the emergence of dying whirs and failing engines. After fading to black, the video returns with the soccer players gracefully kicking the ball in silence, away from the world.
Endong's Colored Dust(lite) enabled him to play alongside DJ Rich Medina and perform at such French-Canadian festivals as Piknic Electronik and Pop Montreal. The producer also scored Yanick Letourneau's The United States of Africa documentary. In addition to being a monthly performer at the Montreal venue Club Balattou, Endong is currently working on a forthcoming EP that, as he tells us via e-mail, will be a "modern instrumental journey through African rites and tradition." In the meantime, watch the music video for "HYPIN" below and check out Endong's latest single "water," a reprise of Ghanaian highlife legend K. Frimpong's "Ensuo Ayari Me."