---
Zebi Williams is a name to remember. As a young creative, she wears many hats and knows how to use her diverse talents. A real leader and positive thinker, Williams is the initiator ofLil Raggamuffin Summer Camp, an international youth development organization. The association is commited to the youth, giving them the opportunity to turn their passions into profit. "The summer camp program seeks to revitalize a coffee farming village in Jamaica by nurturing a community of youth that see themselves as CREATORS." A beautiful cause, this summer camp is more than a distraction for children and teenagers, it's a creative experience that makes a positive change in the community. It doesn't end there, Williams is the founder and director of Born Jewelry. A stunning brand for the people who likes the one-of-a-kind pieces with a deep meaning. Every piece has been created for a reason and you'll be surprised to hear the designer talking about it. All pieces are hand made at her 'Entrepreneurship Incubator' in the Blue Mountains of Jamaica. They use a combination of metal chains, bone ornaments, healing stones, and wire wrapping techniques to make original pieces that accent the spirit of their customers.
"There is something beautiful about the creative process. The birth of an idea. The commitment to creation. I am a woman like you. Curious about the world. Balancing a complex life. Wishing to contribute. Making jewelry is a meditation. With each piece, I hope to give a gift that inspire others to explore their own creativity. From my hands to yours. We are all in the process together. We are all creators." - Zebi Williams
Introduce yourself.
Hi my name is Zebi. I'm the founder of Born Jewelry an artisan jewelry line for creative fashionistas.
What does fashion mean to you?
Fashion to me is expression. It's all about playing dress up and adorning the body in different colours, shapes and symbols. It's a form of communication; a language with historical and cultural references that identify who you are.
What is your brand's signature?
The signature for the brand Born Jewelry is cultures colliding. Necklaces and earrings made from bone, metal, leather and stone. Born Jewelry is fashion for a purpose utilizing 100% of proceeds to run an arts summer camp in Jamaica.
What was your inspiration for the pieces used in the editorial?
My inspiration this season was all about blended symbology. Right now as a person dwelling in NYC I find myself influenced by so many cultures in my day-to-day life . The cross and dagger piece is a reflection of that. Blended cultures and histories.
What makes a good look?
My answer will probably change every year depending on who I am at the moment [laughs]. But right now I feel like a good look is accomplished when your able to create balance. Especially when your able to create balance between masculine and feminine lines or symbols. There's something that feels right when you see this accomplished.
What do you think are the current and future trends in fashion?
Current trends in fashion right now are unisex clothing. Bold thematic patterns blended together. And I see alot of buttoned-up shirts and chains that remind me of 90s West Coast gangster rap. I haven't found my inspiration for future trends as of yet. Black & white graphics still turn me on [laughs]. I'm being drawn to more streamlined looks with interesting textures. Also intrigued by raffia as a material to work with.
We've seen an emergence of many 'African Fashion Weeks' in many countries. This evolution prooves the existence of 'African fashion,' should African designers be present in "regular" fashion weeks, is there any discrimination?
Of course we should be present in regular fashion weeks — as designers. It shouldn't only be European or white American fashion designers translating our style for the major runways. Be it our native fabrics, silhouettes or styling — African fashion has always been present. It's the designers of these looks whom have been missing. So yes I'm happy for this evolution of fashion weeks throughout the diaspora. As our community works to distinguish and value our African designers - they're will be more demand and opportunity created in the industry at large.
What do you think of the African fashion? and his evolution?
African fashion is so diverse and speaks to me in so many ways. The vibrancy of the designs, the detail, and the energy that comes through. It's great to see magazines and media outlets showing us the diversity of styles that are being created — I know that when I was a kid my only reference for African fashion was traditional west African head wraps and dresses. Now I can see the ways our travels and exchanges are manifesting a variety of ideas and the references of traditional garments are being translated into pieces I can wear in all facets of my life and I love it.
What are you hopes for African fashion?
My hopes for African fashion is that the artistry becomes more and more valuable. That we are able to have fashion houses throughout the world that help to build our economies.
How does it feel to be featured in Pret-A-Poundo?
I loved working on this project with Pret-A-Poundo. Everyone was so enjoyable and creative. The looks came together beautifully and it showcases a great aray of design talent from the diaspora.
What are your upcoming projects?
Well, Born Jewelry was created as an income generator for our non-profit arts and entrepreneurship summer camp in Jamaica. So we are doing a lot right now in the Caribbean. We are in the process of building an arts center in Jamaica where kids will learn how to make jewelry and gain skills in other art forms. I will also be styling the new Jamaican fashion police show called Style Watch — to air this summer prime time Jamaica. And last but not least I'm partnering with Art Saves Lives in St. Maarten to teach the youth on the island how to create jewelry and launch their own businesses.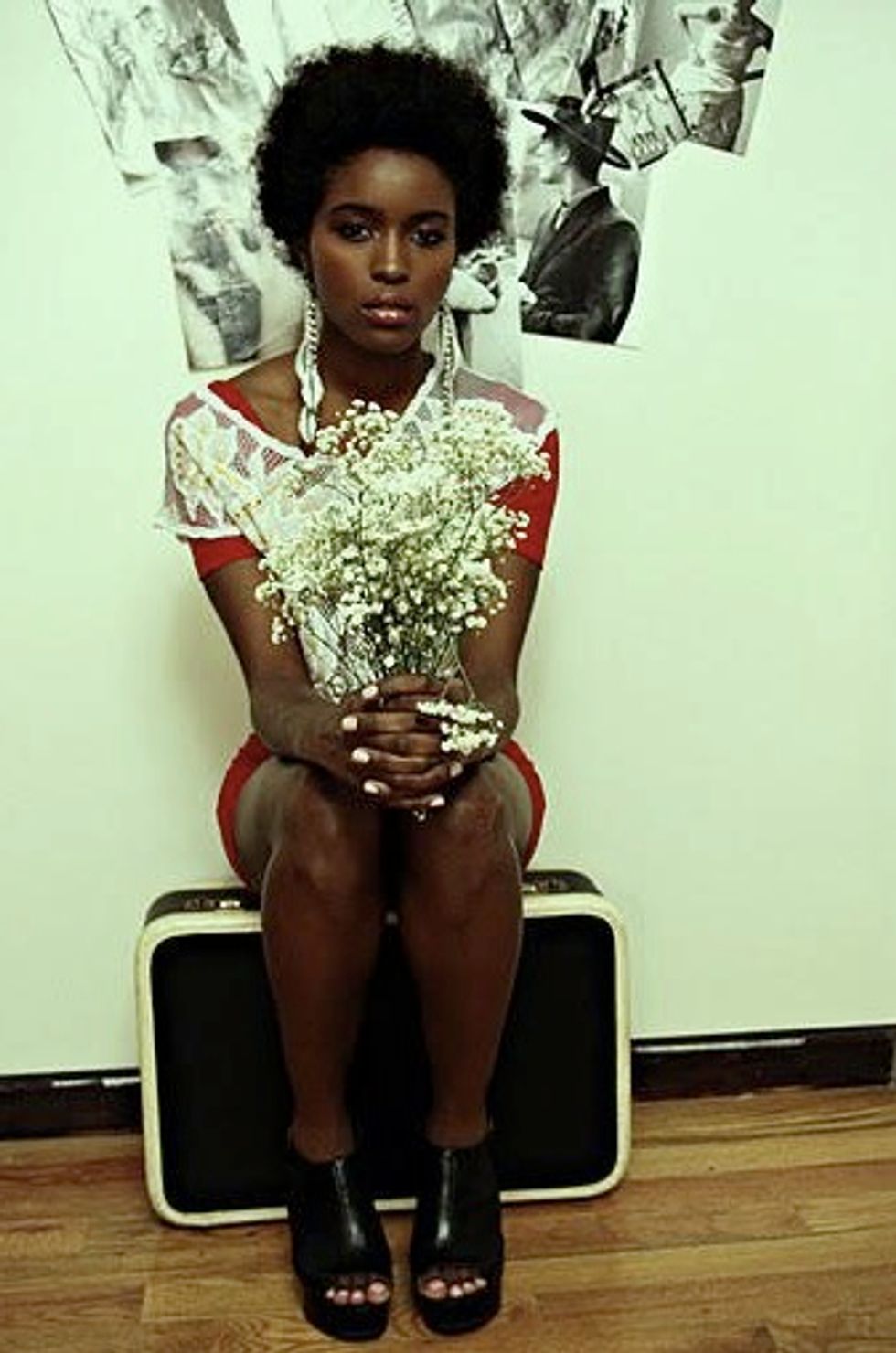 Describe Zebi Williams in one word.
A creator
A word about Okayafrica. Okayafrica is ...
Inspiring.