Fashion is and remains an international preoccupation today. Millions are invested every year: from manufacturing plants, wholesale, retail, stores, fabric industries, media, magazines, online website, blogs, to customers. If we stopped purchasing and stuck to the strict minimum, it'd be an industrial catastrophe and affect our society. Fashion seems to run completely contrary to democracy, where all the citizens supposedly have an equal say in the decisions that affect their lives; this is not because of the fashion industry itself, but due to mass media. The media has covered fashion as long as we can remember (not always as we'd like them to); but it's really easy to forget that mainstream media is not the only source for fashion. Due to a lack of funding and exposure, gifted designers are continually squeezed by established designers and big fashion houses. At Okayafrica , we strive to defend individuality and "fashion freedom" and encourage our readers to look beyond the end of their noses. Let's reverse the exposure, emerging designers vs. mainstream!
---
*Jennah Bell, Poundo Gomis and Maja Szymkiewicz
It was obvious to have an editorial dedicated to prints and patterns. The real challenge was to push it beyond by putting a bunch of different designers' work together. We're still working on creating a balance between emerging fashion and mainstream fashion with our Okayplayer/Okayafrica Tee collection. In this Style Guide , the list is beautifully long, full of talent and creativity; the designers involved are Blackbirdjeans, Sigal Demayo (Insiders1), Kojo Code, Selly Raby Kane(Seraka), Trash and Treasure, Mia Nisbet (Fashion By MIA), Converse, Reza NYC, Pro-Keds, Truckfit, Anthony Bryant (Bones), Ariel Schecter, Char-Ant, Bineta Sanor, Nakimuli, Younikness, Hadria, Pelle Moda, Busayo, Aisha Cousins, Fennimas, Ralph Lauren, Via Spiga, Lucia Eastman (Venus Over Water), Cole Haan, Brian Atwood, Reuben Reuel (Demestiks), Bezem Kassan, Hadria x Sunaj, Doughnation, Dolce Vita, Clover Canyon, Sunaj, Tambo Collection, Boutique 9 and Rachel Zoe.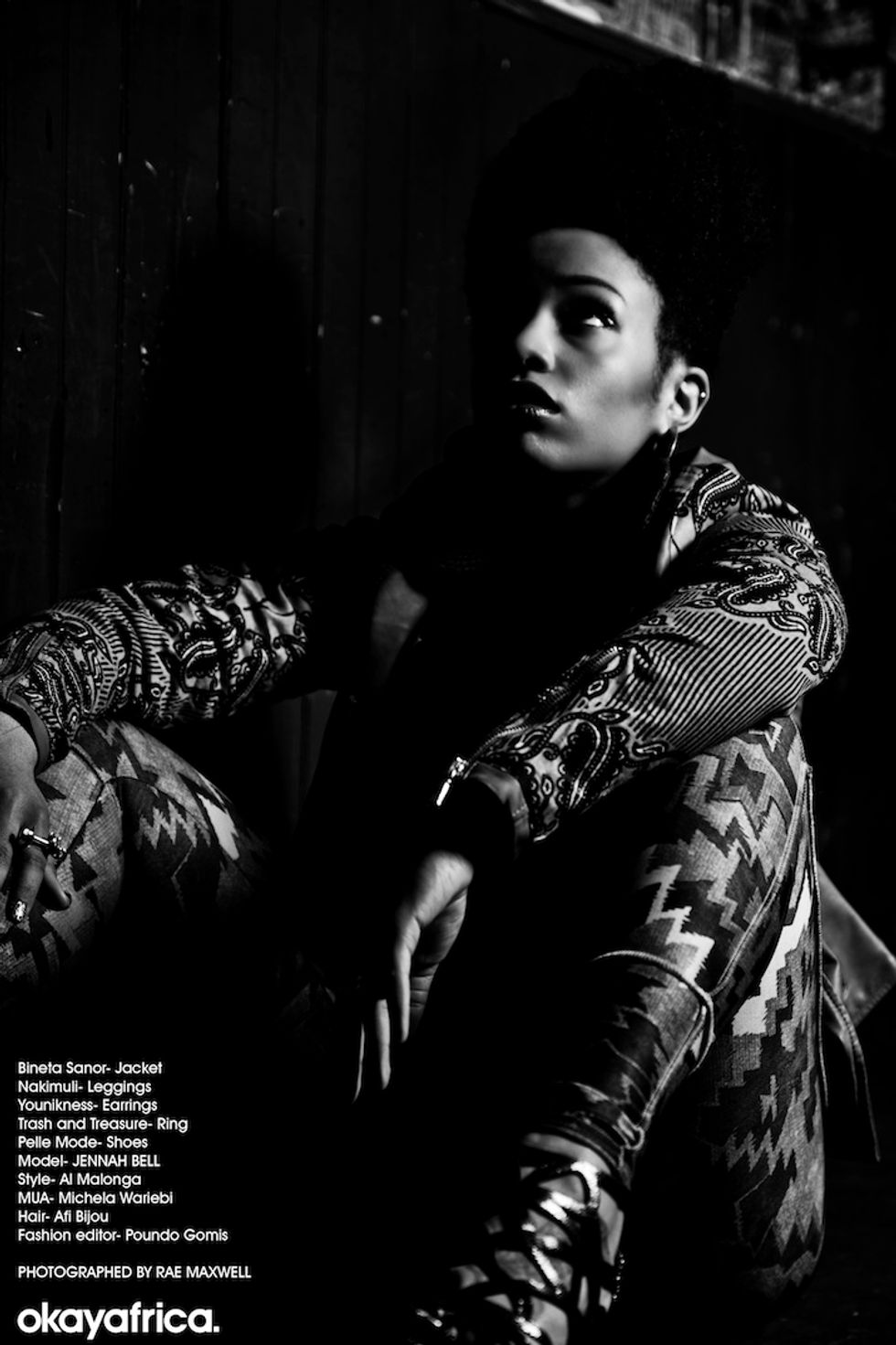 *Artist Jennah Bell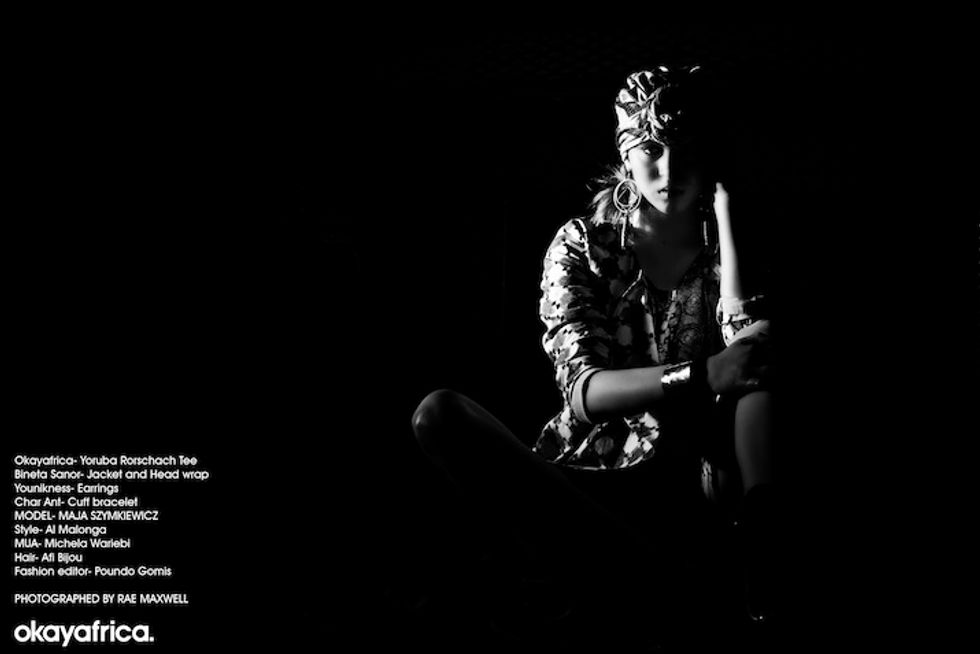 *Model Maja Szymkiewicz - Americana Models
My shooting vision came from Janet Jackson 's video "Got 'til It's Gone," shot by Mark Romanek in Los Angeles in 1997. Jackson portrayed a lounge singer during the apartheid in South Africa. This video is a beautiful blend and representation of the 60s and 70s African and African-American cultures. Another part of the inspiration was Malian Malick Sidibé 's photography work, focused on documenting Malian youth culture and studio portraits. We didn't follow the political context involved in this video but took it as an inspiration base and had the occasion to do it at the Knitting Factory in Brooklyn. Once more, photographer Rae Maxwell delivered incredible work creating a contrast between the dazzling colors, prints, patterns and a sombre/grim universe. With an ethnically diverse cast of 8 models including Jennah Bell and the band Meridian ( Bradley Valentin and Yohimbe Sampson ), our creative team ( Al Malonga, Afi Bijou and Michela Wariebi ) accomplished a stunning work.
*Meridian (Bradley Valentin and Yohimbe Sampson)
"With African origins and a well known personal taste for colors and prints in general, I naturally had to do a play around patterns. It was inspiring to see the work of those many emergent designers, from NYC, Paris, or Senegal, but also challenging to match their different samples and pieces together, and make them work with the Okayplayer T.shirts. I wanted the ladies to be sexy like  in a night club in Abidjan and to show that men can be either casual in printed shorts or dapper in a kente suit. All these outfits are accessible and I'd love to see men and women of all kinds easily and proudly wear these in the streets, what a beautiful painting!" - Stylist Al Malonga
Tweet #StyleGuide to talk about our fashion editorials.