---
She is the female answer to the booming, yet largely male-dominated West African Hip-Hop/Pop music scene. Her avant garde blend of electronic funk, soul and Naija hip-hop has got our ears all at attention, with lyrics that reminisce, celebrate, and demistify the emergence of the modern African woman; the journey, the let downs and the triumphs. On stage her visuals are equally exciting- colorful, feminine, fun with a whole lot of flair and a whole lot of drama. Her EP, SecondFirst is out in the summer, so without further ado, we present to you, Temi Dollface.
OKA: Where are you originally from? And how did Temitope Phil-Ebosie morph into TemiDollface?
I'm Nigerian. Well mostly...I'm a cocktail of Yoruba, Igbo, West Indian and a hint of Scottish. I have, in equal part, grown up in Lagos and the United Kingdom. I spent my formative years in Lagos, after which I went off to boarding school and University in the United Kingdom.
Becoming TemiDollFace was really just me introducing myself on a clean slate after having fled the strictures of an environment that did little to nurture my creativity. It isn't actually a name I gave myself. I'd had a couple of street style photographers say to me that I looked like a doll. I didn't see it but one of the members of a band that I was fronting at the time kind of just ran with it and introduced me as TemiDollFace at one of our shows. The name just stuck from then on.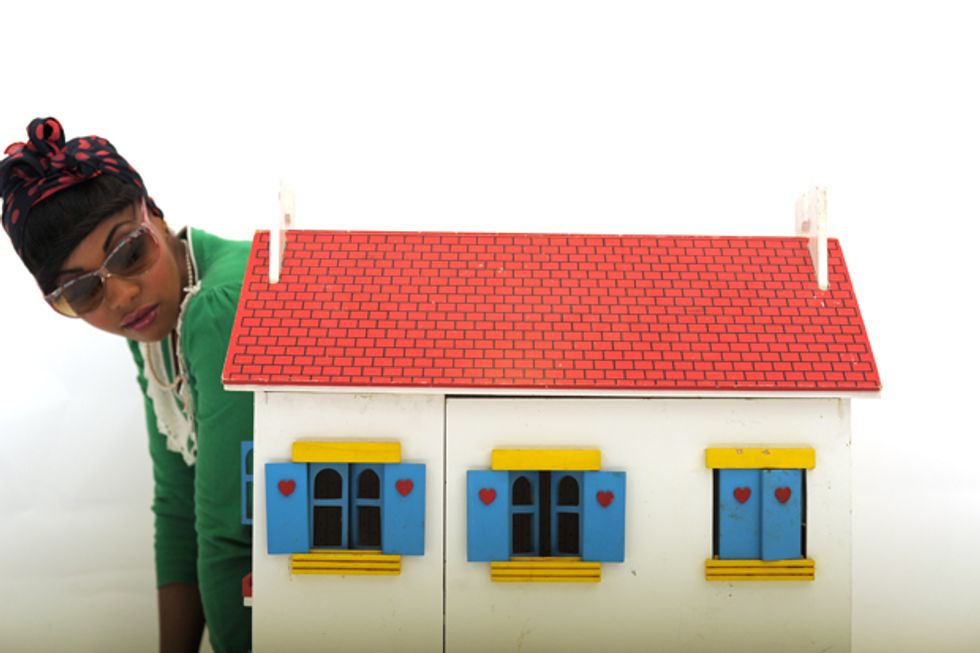 OKA: What are your musical influences?
My music has been shaped by a diverse array of influences. It invokes both past and modern luminaries from Fela Kuti, Stevie Wonder, Billy Holiday, Josephine Baker, James Brown, David Bowie to Prince, D'Angelo, Missy Elliot, Pharrell Williams, Outkast, to name but a few. My music is also informed by a love of flights of fancy and old movies, a keen interest in words and the cultures I've been exposed to.
[embed width="620"][/embed]
OKA: How did you arrive at the style of music you play now: "Drama Soul"?
For me, everything about the self must be considered when making music or any kind of art, and "Drama Soul" just sums me up. I like to play with contrasts and enjoy creating something new and unexpected by fusing together seemingly diparate genres, eras and cultures. I have always loved Soul, Pop, Afro-beat, R'n'B, Jazz and Hip Hop but wanted my own songs to take a more progressive angle, with theatrical influences and smart lyrics. The drama aspect comes through in the way I use my different vocal characteristics to colour a song, how I dig deep into the character I'm portraying, and in my style of performance. So in a nutshell, I arrived at "Drama Soul" by just fusing together all the things I am, I love and am influenced by.
OKA: What are you listening to right now?
Frank Ocean's Channel Orange, N.E.R.D's Seeing Sounds and Amy Winehouse's Frank Album
Temi Dollface in The White Room from ThisIsAfrica on Vimeo.
OKA: What should we expect from your EP SecondFirst?
Something fearless, honest and unexpected, that bridges continents, cultures and centuries; Something forward thinking but with a nod to the past; An album that proves Pop can still be alternative, experimental and exciting. I hope people find plenty that will inspire and surprise them, but also take them somewhere else form the moment they press play.
OKA: Who are the musicians and producers you worked with on the new album?
At the moment I am working with Nigerian producers Ikon, Chify and London-based production duo, Hator Bros on my current project. I've also had the priviledge of working with producer Alan Nglish, Femi Temowo, Keziah Jones, Re Olunuga, SDC and BlackMagic. I have a 10-piece band with some incredible musicians that I am blessed to have the opportunity to perform with.
OKA: The most stressful part about breaking into the Nigerian music industry is....
The fact that nobody likes change, to start with, and I stand for something different, outside of the box. I've encountered a few cynics along the way, so one has got be that much more proactive and inventive. It's about persevering and in time people's ears adjust to the new.
[audio:http://www.okayafrica.com/wp-content/uploads/Temi-DollFace-Pata-Pata.mp3|titles=Temi DollFace "Pata Pata"]
>>>Download: Temi DollFace "Pata Pata"
OKA: Your first single "Pata Pata", what is the song about?
I use the term "Pata Pata" in the Yoruba context, which means "completely".
The song is about prolonging the inevitable - the end of a relationship. One party has emotionally checked out but puts on a façade to spare the feelings of the other. But it doesn't last. Her true feelings inevitably come to the surface and she spits it out – "It's Over Pata Pata"
OKA: What is you musical background and what has your journey been like so far?
My first foray into music began at the age of 7, when I wrote my first song. Singing at church and a self-education in playing keys followed. I never had piano lessons as a child but somehow was able to find my way around the keys and consruct songs complete with verse, chorus and bridge. Fast-forward a few years, a Food Science and Nutrition degree, time at Performance School, a major record deal that didn't quite work out, the decision to go it alone for the sake of creative freedom, and –voila!- TemiDollFace was born.
The journey has been a bit like an obstacle course and there've been times when throwing in the towel seemed the most attractive option but I needed all the character-building that came with that and relish the creative freedom of where I am now.
OKA: You are working on setting up your own label in Nigeria, what does that involve and what kind of artists are you looking to sign
I realized there was space for a record label that represents a different sound and aesthetic, and in that spirit, set up a boutique record label called Awe-Dacious Records. At the moment, it's on a really small scale with me as the only artist on it's roster but the plan is to give artists that I do eventually sign scope for experimentation and artistic freedom. The kind of artists I will sign are original creative risk-takers that I'm excited about and feel need to be heard
OKA: Whats next for TemiDollface?
Well TemiDollFace makes quite a few different kinds of art so some other aspects of who she is will be coming to the fore in the very near future. The "Pata Pata" video will be out soon so watch this space @Temidollface.