---
Bongiwe Neema Nousé
Generation Soweto is a forthcoming documentary about millennials in South Africa. The brainchild of Los Angeles-based veteran producer and first-time documentarian Nisa Ahmed, the film looks at youth culture in South Africa through the eyes of four creatives and entrepreneurs in Cape Town and Johannesburg, including Neema Nousé, the 23-year-old Joburg-based blogger behind Nousé Lifestyle, Kearan Fourie, a 30-year-old tour guide and aspiring restaurateur in Soweto, and women's lifestyle blog Sleepless In Soweto's Twiggy Moli (Tshepang Modisane) and Sedi Ramone (Lesedi Ramonyane), also 23.
Today, the filmmakers bring us an exclusive clip from Generation Soweto. In it, the four young South Africans share their experiences with a number of social issues in their home country, most prominently the recent wave of xenophobic attacks.
"You're kind of shocked, because you're like, 'shit, that's down the road from my house,'" Twiggy Moli says about the attacks on foreign nationals that spread to Johannesburg in April. "I think with the attacks, what was bizarre, I think for our generation, because we're exposed to people from other countries and other cultures, we don't understand why you would hate someone else that is not South African," she adds later in the clip.
"Going to university where you're a part of the minority in a country where you're the majority, it's challenging," says Neema. "Going on to campus and walking around with my afro, there's a lot of side-eyes going on and a lot of questions. Even from black people, which I find so weird, because you would think something like an all natural hair texture is seen as revolutionary, which is so weird to me."
"We want to be somewhere where we're accepted," Twiggy Moli comments. "Where I can wear my Doc Martens and not have to wear like super high heels and have like the longest weaves to be accepted into the areas."
"We're trying to co-exist in a space where we can just be unapologetic about who we truly are," Neema says.
Watch the exclusive clip from Generation Soweto above. The film is currently campaigning on Ingiegogo to raise funds to complete production.
Keep up with 'Generation Soweto' on Facebook, Twitter, Instagram and the film's official site.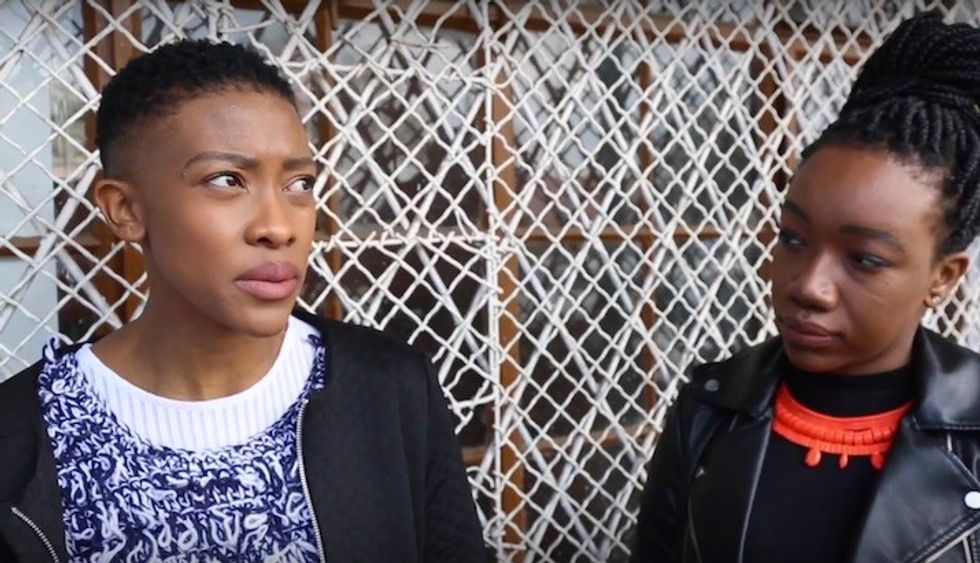 Tshepang Modisane and Lesedi Ramonyane
Kearan Fourie