Excerpts from the liner notes for 'Basa Basa – Homowo,' to be re-released on February 13 by Vintage Voudou.
Homowo, one of Ghana's most sought-after LPs, emerges from obscurity on a high-quality reissue. Also known as Together We Win by Basa Basa Experience, the album was first released in Nigeria in 1979. The LP is a unique collaboration with Themba 'T-fire' Matebese, who propelled Basa Basa's sound, inspired by Ghanaian traditional music, soul and afrobeat, into another dimension, adding disco elements, synthesizers and the production aesthetics of the next decade.
"Here are the twins from Ghana!" announced the guards, as they escorted Joe and John Nyaku, the 22-year-old founders of Basa Basa into Fela Kuti's living room. Fela was seated, surrounded by his entourage of female dancers, band members and followers. Upon seeing the brothers, Fela rose to his feet, bowed theatrically and exclaimed, "Dear twins! We are honoured to welcome you."
[It's a] humble gesture by a superstar whose shows attracted crowds of up to 60,000. But then, the twins possess a special status in the Yoruba religion, and to Fela Kuti the identical Nyakus signified good fortune. And so the Ghanaian brothers' friendship with Fela began, a relationship that would ultimately result in their relocation to Lagos.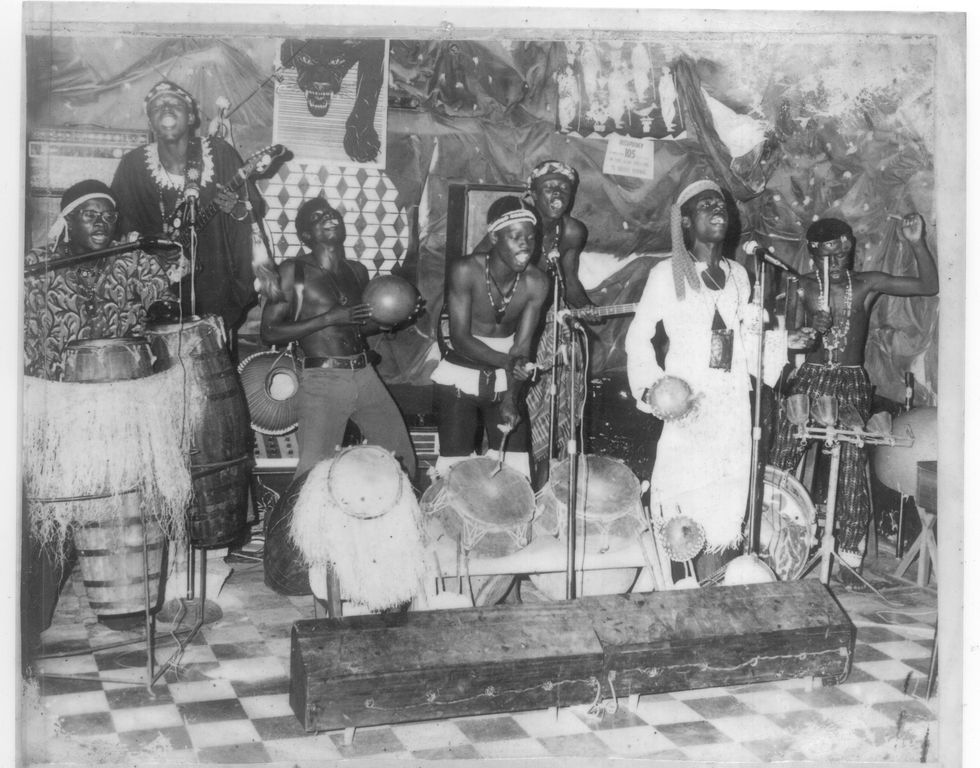 Basa Basa at the Napoleon

During that time Basa Basa claimed its spot at the Napoleon, Accra's most prestigious night club. They shared resident duties with Bunzu Soundz, which was led by Cliff Eck (with John Collins a member), and whose music leaned more towards highlife, owing to the fact that they had been Alhaji K. Frimpong's support band.
On a typical night at the club, the Bunzus would play from eleven o'clock, Basa Basa would pick up between one and three, and a DJ would play until closing time. The interludes would be filled by the Nigerian comedian Ajax Bukana and the dancer Kojo Tawia Brown, a man of diminutive stature who performed James Brown-moves in platform shoes and doubled as a mascot for the Napoleon club.
Basa Basa continued to develop its own unique sound, adding guitar, bass and flute to a bedrock of percussion performed by three drummers, each of whom specialised in different rhythms and drums. They looked the part: "ancient horned headdresses, multi-colored hand woven kente cloth attire and adornments of leather, beads, feathers and gold. Basa Basa Soundz is both visibly and audibly a unique addition to the contemporary music scene, and most definitely an enhancement to the new wave of progressive music," as a quote proudly proclaimed on the sleeve of their first album.
Core members included lead guitarist Wallace Tay, who remained with the group throughout its existence, singer and bass guitarist Nii Ayitey II (aka Edmund Ayitey Larmie or Eddie Watts), and Amoah Azangeo, a Frafra percussionist from northern Ghana who famously performed with Les McCann and Eddie Harris in the Soul to Soul movie. Joe played drums and John played both percussion and bass. They made a point of teaching every band member how to sing, to avoid ever being short of vocalists.
Unlike Fela, Basa Basa didn't include controversial messages in its music. Joe Nyaku: "In those days, I didn't know much about politics. But in music we learned that we have to do good. If you do good, good will come to you. So we always played music to inspire people. We didn't get it from the church but we were playing our spiritual, African rhythms."
Debut LP

Basa Basa signed a two-album record deal with their manager Faisal Helwani, and in November 1974 embarked on its first trip to Nigeria. Ghana didn't have a sufficiently equipped recording studio at the time, so the 8-track EMI studio in Lagos was booked. While in Lagos in 1974, the band, as well as their sister band the Bunzu Soundz, stayed at the Empire hotel, home to Fela Kuti's club, the Africa Shrine.
They were at the Shrine on their first night in town, after their gig at the Papingo nightclub, when riot police turned up and began raiding the premises. Fela was beaten up and arrested for allegedly housing a runaway teenage girl. He was released three days later. John Collins recalls: "He came back from the court to the Kalakuta with a cavalcade of vehicles and ten thousand supporters, causing a major traffic go-slow in Lagos that day. On top of a car outside the shrine he blasted the government to the huge crowd—and again blasted them at his show that night." That same evening Basa Basa and the Bunzu Soundz also performed. They spent the next days in the studio recording their albums, with Faisal and Fela on production duty.
The vinyl LP, which contains extensive liner notes and a 60 x 60 cm cover-art poster, can be ordered through Vintagevoudou.com and is available in select vinyl shops around the world. The album can also be downloaded from iTunes and Amazon.