"I think I'm a case study at this point," says Gigi Lamayne, "because I'm the girl who went from one indie to another to [being] independent, and now the majors are calling me. So, clearly there's a bit of an issue with how my ancestors work."
She chuckles, and the audience laughs at the last part of her statement. The young South African rapper is part of the panel at Music Unscripted, a series of events that aims to share inside information to aspiring artists. Musicians and industry experts normally form the panel, and one topic is discussed. This Saturday morning's theme at the J&B Hive in Braamfontein is the holy grail of the music industry—should an artist sign or remain independent? Joining Gigi Lamayne on the panel are fellow rapper Yanga Chief, entertainment lawyer Katlego Malatji, DJ and producer Sliqe, former publishing A&R at Universal Music Group Mzwandile "Mzwa" Sibanda and former label manager at Universal Music Gavin Guntu.
---
Gigi's inclusion on the panel makes perfect sense. The young rapper has been label-hopping her whole career. Coming up as a cypher rapper, she was discovered by the late rapper Pro, who recruited her to his MFE (Money First Entertainment) label in 2014. Then she joined Dream Team at the height of her hit single, 2015's "Ice Cream," which would go on to get a guest verse from Khuli Chana, who was at his peak.
"I joined Dream Team," she says, "I think I was about 16. And from there, Dream Team unfortunately closed down, and I got a call from some very nice politician named Governor Reggie Nkabinde. And he was starting Mabala Noise Entertainment, and he was looking for a female rapper. And I think that's when my actual talks, in terms of publishing, started being really thrown into the works."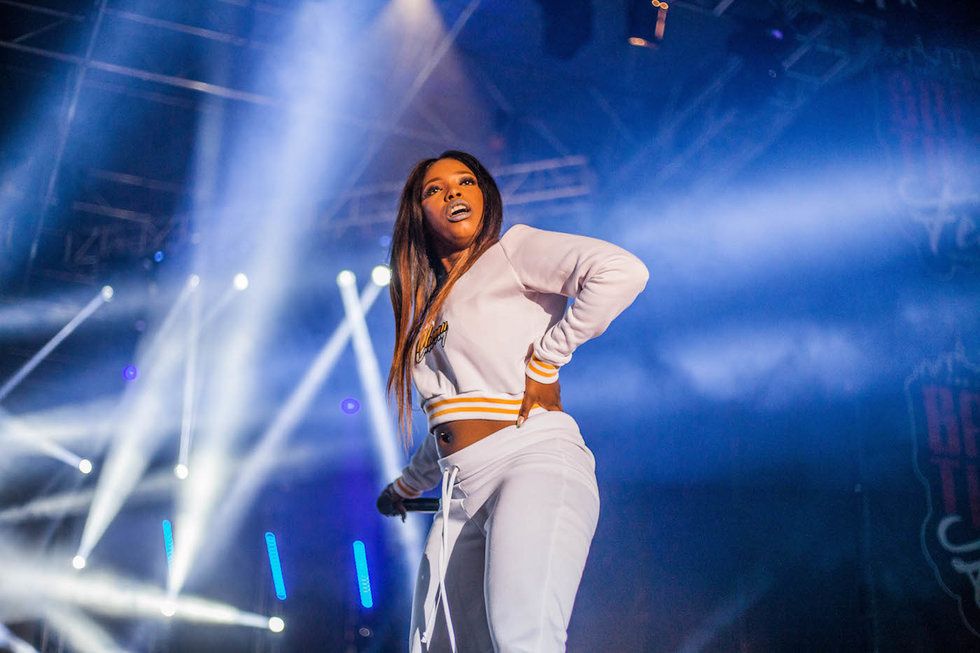 Photo by Sabelo Mkhabela.
Prior to that, while Gigi was an independent artist, she shares she didn't know much about the business side of music. "I didn't really know much about Needletime Rights, I didn't know much about how to do many things. Hip-hop talk is like, 'Hey, fam, just go to SAMRO. Just go to SAMRO, and you're going to get your money.' But there are just so many other avenues," she says, "in terms of even just like radio and TV play, your music being used on a Magnum ad and all these different things. And I think it would have been nice to have a proper leader to explain that to me, but I guess money got chowed in the process and I wasn't really part of it. But a few years down the line, I am getting my royalties, thank goodness."

In December of 2018, Gigi Lamayne left Ambitiouz Entertainment, one of the country's most successful independent labels at the moment that has brought to your radar, the likes of Emtee, A-Reece, Sjava, Saudi, Amanda Black, and several more. Gigi had signed to the label in January of 2018, and released three singles and the EP I.V.
Earlier this year, the rapper announced she was back to the indie hustle after leaving the label after just less than a year of joining. Ambitiouz, which was formed in 2015, has been operating on murky waters. From A-Reece's highly publicized departure in 2017 to Emtee's Twitter rant earlier this year about how held back he felt, Amanda Black filing a R1 million lawsuit against the label after her departure last year, among others stories, a lot of questions have been asked about the label's relationship with its artists. The details have been sketchy, and most artists have chosen to keep mum about the details. At least off the record.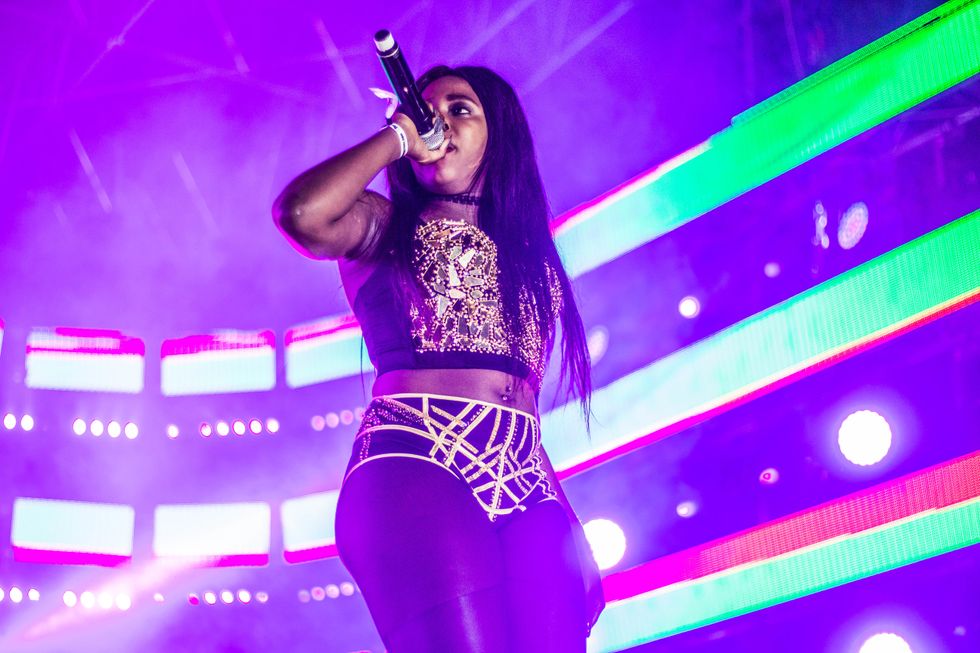 Photo by Sabelo Mkhabela.
The rapper Priddy Ugly joined the label in 2017, and left in 2018. He cited unfulfilled promises and neglect for his departure. "I just felt like they didn't push the music," he told the hosts of the podcast The Sobering in September last year. "I was doing everything by myself anyway. [I] shot the videos [for] 'Tshela' and '02Hero,' no one from Ambitiouz Entertainment was even on set. Even for support. They gave me the funding for the music video. They gave me the money for one music video, and with that money, I shot 'Tshela' and '02Hero.'"

"And they still didn't push the songs," Priddy continued. "'02Hero' is close to half a million views on YouTube now, never got played on radio till today. No push, I ain't got no tour for it, no marketing, nothing… nothing happened. So, April hit, and I was like, 'Actually you guys haven't done anything that you said you were gonna do.' I spoke about E.G.Y.P.T tour, merchandise… I did my own listening session, I was just doing everything on my own. I was like, 'I don't understand why you guys are keeping a percentage of what I'm making if I'm doing everything on my own.'"
"I don't wanna speak about the financial stuff, but it's real, dawg. It's mad tricky," said Priddy. "It was even trickier for me because I didn't sign the type of deal everyone else signed. I wasn't on a salary. For me, it was like you pay me based on my endorsements and shows. And I wasn't getting that at all. April hit, and I sent a few emails, few texts and I wasn't getting no response, and that let me know that I don't think I'm valued here. And when I asked to leave, they didn't fight me because I made it clear that, 'Y'all are in heavy breach, I just wanna leave, keep the money you owe me.'"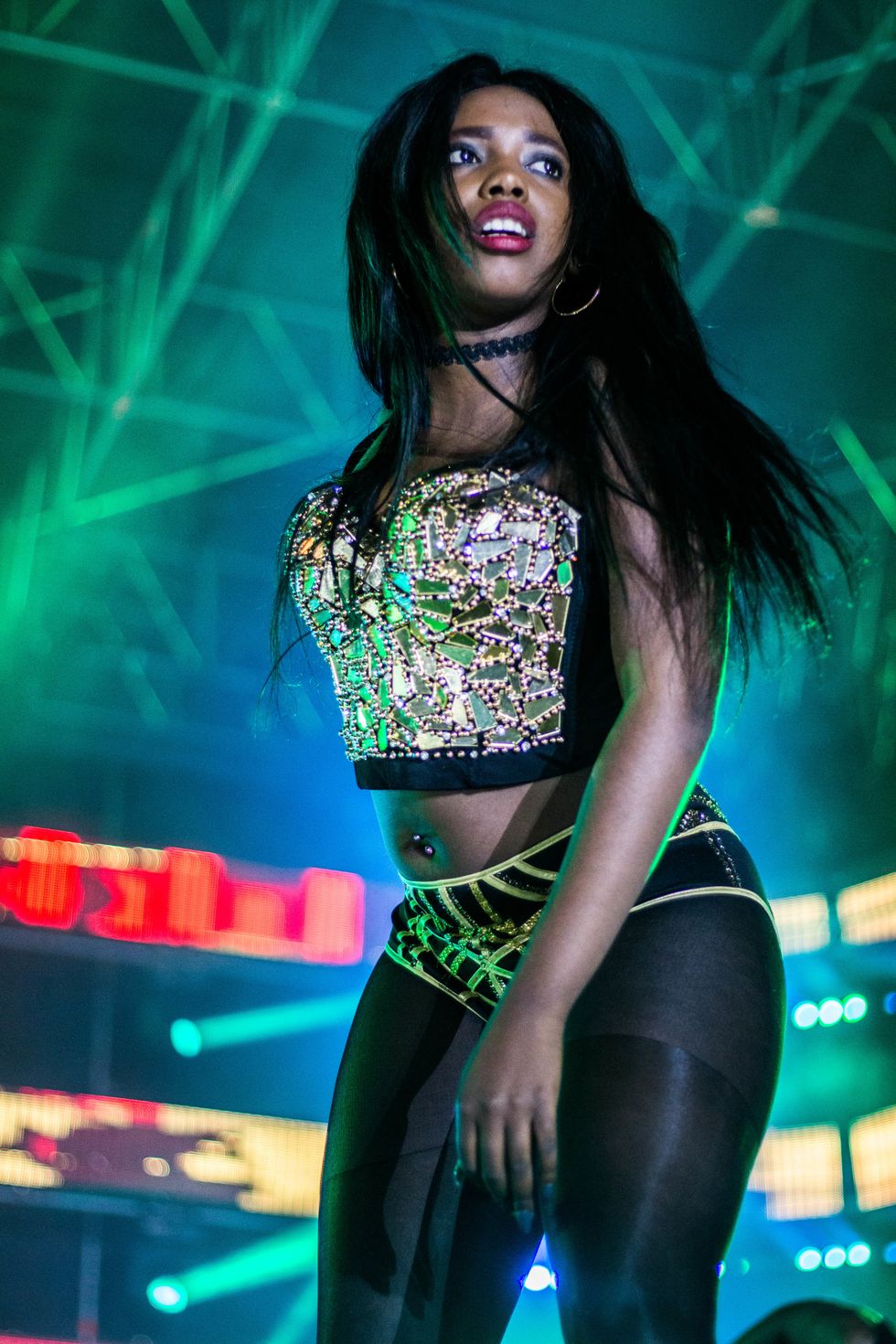 Photo by Sabelo Mkhabela.
In Gigi's case, it was more complex. "I left my label because I felt that, as a young, black woman in the industry, it's super difficult for anyone to take you seriously or to think that there's a certain amount of longevity on you," she says. "'She's either going to get pregnant or she's going to fall into drugs…' We're always just those Sunday newspaper people, when it comes to females and how we're just viewed. So, having anyone really believe in putting in the right financial injection into female hip-hop artists is just super difficult. So, I initially left the first label (Mabala Noise) because of that. I just felt like I wasn't being taken seriously. Everyone was kind of getting an international feature from [the likes of] Tyga. I'm [thinking], 'Yo, but I can out-rap that guy,' but I'm still outchea waiting for my international feature." The spice has the crowd in stitches.

Gigi's was a three-single and EP deal. Out of the three singles she released, she says she only loved "Bozza," which featured Kwesta. "People could feel it," she says. "But, with the other two songs… I know with independent labels, everything is just super controlled. Like when you going to studio, how much time you spend there... I got into discussions like, 'but, you can sing. Why don't you sing?' But I'm a rapper, you know what I'm saying? My contract ended on the 19th of December last year, and that's how I saw my way out."
Gigi LaMayne - Bozza ft. Kwestawww.youtube.com
She adds that details about payments were another issue she wasn't happy about. "So, 50% went to the label and 50% went to me," she says. "And I only found out that it wasn't even 50 afterwards when I was talking to promoters. It was like, 'Oh, you got paid [this much]?' 'How much did you get paid?' [and I'm like,] 'I got [that much].' That means they kind of chopped the rest. So, it wasn't really even a 50. But, you know, those are questions you can't even really ask now when you're in the record label and you're stuck."

When her contract ended, Gigi had no second thoughts about leaving. "I kinda felt like, 'Look, I'm tired, I'm drained. This is not really the person I am. I don't really like bikinis and weaves much. So, I think it's time for me to leave.' And so a lot of my work was super restricted. And, before then, there was a female rapper [Fifi Cooper] who was also signed to the company, and we were talking about everything that went on, and how she was literally told to come for me. So, like everything she did, she had to come for me and, you know, there were beefs and… just anything to sell records at that point."
She adds that it was tiring having to compete for attention with "20 or 30" other labelmates. One detail that shocks most of the audience, however, is the manner in which Gigi hopped from Mabala Noise to Ambitiouz Entertainment. "So, after that label (Mabala Noise), unfortunately, my boss was good friends with another guy who was also an independent record label owner. So, some things artist don't even know is that your contracts can be transferred from one company to another. And that's what happened with me. So I was with Mabala, then it got transferred to Ambitiouz, and that's where I served my time."
Gigi's now free. After a tough 2018, which saw her suffer a mental breakdown, she is already reaping the benefits of independence. She recently made history when she hosted a "one-woman show"—The Gigi Gang Show—at Soweto's Elkah Stadium on the 4th of May. She tweeted that a contract with one of the show's sponsors was renewed for the next three years.
"My whole mechanism now," she says, "I mean, I've had meetings with Mzwa, Africori, Sony that also called me in, I've had meetings with so many different people. And I feel like I'm a born free, and I have access to information." She now believes in outsourcing services she needs. "It didn't make sense that I would go and put my whole situation, whether it's licensing, distribution, PR… everything under one umbrella. I had talks with people in legal who were like, 'Well, sometimes, nowadays, the best mechanism is to outsource because then everybody's accountable.'"

Looking back at her label woes, Gigi's not bitter. "I think a lot of young people learned from that," she says, "learned from the fact that, when you sign, you're basically saying, 'I'm married to you, but you can give me to the next guy, and he will do whatever.' So, that's something artists need to pay attention to. I've had situations where I've spoken to people, and it's super scary, the industry we [work] in. We think everyone's winning, but, there's an artist sitting there with a five-year publishing deal. I don't know, that sounds really long for people who are not doing their jobs."
Independence has been great for the rapper so far. "Right now," she says, "it's a super busy time in my life. I mean, I went from being broke when I left the record label to being super booked until August this year. And it just goes to show that there's absolutely nothing wrong with learning from the next person and deciding that you're going to do things."