Video
Ibibio Sound Machine Release The Fantastically High Energy Video For 'Let's Dance (Yak Unek Inek)'
London's Ibibio Sound Machine release the fantastically high energy video for "Let's Dance (Yak Unek Inek)," off their self-titled debut.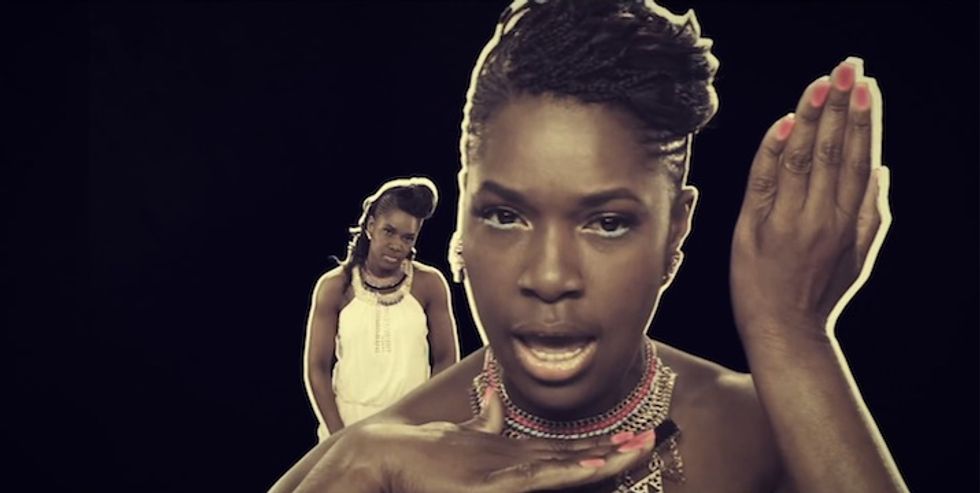 ---
Back in March London-based octet Ibibio Sound Machine released their self-titled debut album, a hodgepodge of disco, highlife, post-punk and psychedelic electro soul tendencies that included the jumpy singles "Let's Dance (Yak Unek Inek)" and "The Talking Fish (Asem Usem Iyak)." This month the group is back on our radar with a fantastically animated video  for the bouncy vintage sub-bass of "Let's Dance." Directed by Baff Akoto, the piece has Ibibio frontwoman, British/Nigerian vocalist Eno Williams, dancing to a parade of quick drums and fat horns as she changes into vibrant costumes with cartoon designs flying around her. The sheer energy of "Let's Dance (Yak Unek Inek)" may recall afrobeat king Fela Kuti's bursting 1971 LP Open & Close or tUnE-yArDs' chimeric album WhoKill. Watch it below. Ibibio Sound Machine is out now on Soundway Records.
>>>Listen: Ibibio Sound Machine's "The Talking Fish"