News
'I Felt It Was Only Right To Tell It Like It Is,' An Interview With Nigerian-American Rapper Ikey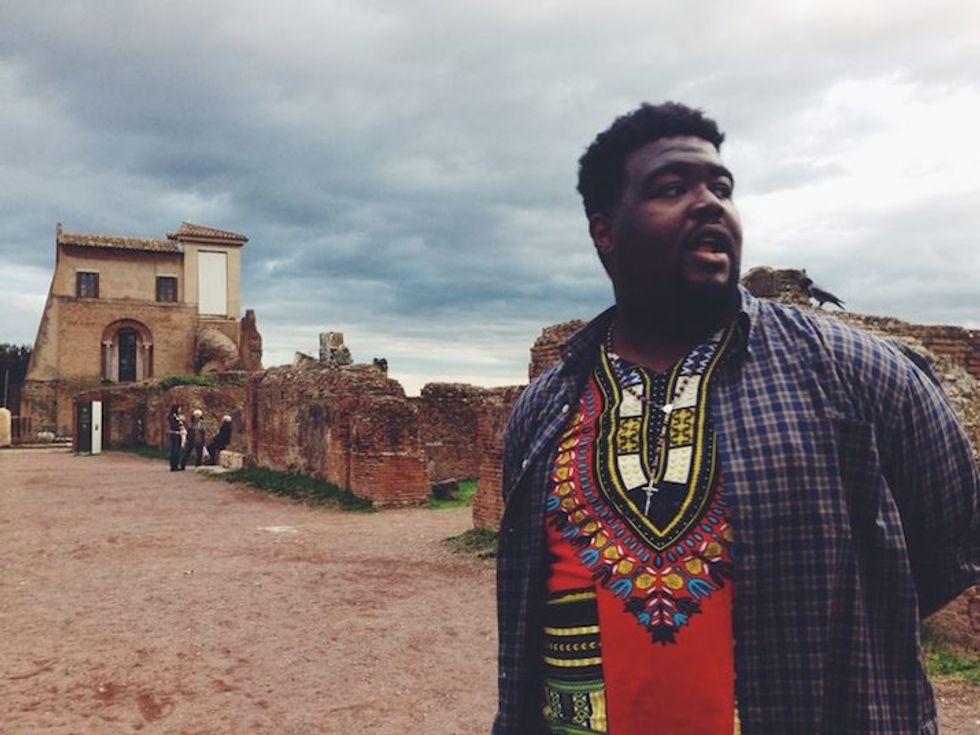 Nigerian-American rapper Ikey talks to Okayafrica about his background and debut album 'Green Card' ahead of its March 31 release date.
---
Nigerian-American rapper Ikey is a lover on his enthralling debut EP 'Green Card.' Through conveying his struggles for success and happiness, the New York/Lagos-rooted, Washington, D.C.-based musician speaks for the uncertainties and hardships of his fellow strivers. Coolly spitting lyrics that both reference such hip-hop royals as A Tribe Called Quest and Wu-Tang Clan and represent urgent crises like Boko Haram, Ikey shows a warrior-like honor and passion in 'Green Card.' Ahead of the EP's release date on March 31, the deeply gifted lyricist spoke to Okayafrica via e-mail about his Nigerian heritage, the making of the record, and the meaning of hustling.
Update 4/8: Hear Ikey's 'Green Card' EP in its entirety below.
Okayafrica: With roots in both America and Africa, how do you identify as a musician?
Ikey: To be honest, I identify as a 1st generation Nigerian-American living in DC. I know we live in a society where we always have to categorize stuff but I feel like I'm a complete representation of both cultures. To reduce either part of my background would be to get an incomplete picture of Ikey as an artist.
OKA: You've described your Green Card album as an immigrant story. Did you consciously try to represent the struggles that face all immigrants while telling your own story, or was this a by-product?
Ikey: It was definitely a conscious effort. America is a country of immigrants. Unless you're Native American, you can pretty much trace your history outside America. So on some level, we can all identify with each other's struggles. I feel the best way to represent that struggle is to use my story as a reference point to show that we are all the same.
OKA: The fight for survival, the need to hustle, seems to run through Green Card. What does this phenomenon mean to you exactly? As a rapper, do you feel responsible to essentially tell things as they are?
Ikey: The fight for survival is what drives each and every one of us everyday. I feel like I have been hustling for that American Dream throughout my life. That is the reason why there is a Green Card in the first place. To people living in the Third World, a Green Card can mean an opportunity to live a better life and get away from poor living conditions. As an artist that goes through that struggle everyday, I felt it was only right to tell it like it is.
OKA: How did your Nigerian roots influence Green Card? What are the Nigerian themes in the album?
Ikey: My Nigerian roots definitely influenced Green Card. I actually helped get my mom her Green Card a couple years ago so that's where I originally got the album idea from. Spending my childhood in Lagos during its military rule and the return to democracy definitely inspired a lot of the stories I tell. I was also strongly influenced by Nigerian legends like Lagbaja, Fela Kuti, Oliver de Coque and Osadebe since that was the music in rotation growing up.
OKA: The album includes several different genres such as hip-hop, of course, but also reggae and rock. How did you arrive at these influences? How do you shape them into your own sound?
Ikey: My dad was a music head before it was cool. He would have albums from different genres like reggae, afrobeat, highlife, makossa but also rock, R&B, pop, electronic etc. I would sneak into my parents room and listen to albums from Elton John, Journey, Guns and Roses, the Neville Brothers and countless other musicians. Being a student of rap though, I try to take all the sounds and bring them to a hip-hop level.
OKA: Do you come to the studio with lyrics, or are you spontaneous once you get there? In general, where do you draw inspiration from?
Ikey: I actually don't write my lyrics. I come up with the lyrics in my head so it's usually organic and spontaneous. I created music in two stages for this album. First, Black Rose and I would meet in his basement (Roslin Basement) and just play around with ideas, samples and instruments. Since I'm part of the creative process, once we are done with a song most of the lyrics are done. After that we take it to my engineer Kevin Lee who is just a genius scientist and we take it to the next level. I just draw experiences from life. Living in America as a first generation American, I feel like i have a story to tell.
OKA: Can you speak about the music collective you're a part of, Any Means Necessary (AMN)? Does it come from Malcolm X's phrase? What does the phrase itself mean to you?
Ikey: Definitely from the Malcolm X phrase. AMN is more so an idea. It's a collective of young dudes trying to change culture by any means necessary. I feel like I'm a living representation of that idea. It originally consisted of Ill Stafa, Philly Cake (who's in jail right now unfortunately), my brother from another Nelson but also includes many affiliates as well.
OKA: Probably the most moving part of Green Card, the theme that seems to run through it, is romance, in both the interpersonal sense and on the broader level of longing for success and happiness (for yourself and those around you). Did you intentionally evoke this, or is it more the natural result of putting your heart into this album?
Ikey: I'm glad you picked up on that. I feel like it was a combination of both. I made a conscious effort to be very honest on this album. And the truth is a lot of people did so much for me throughout the creation of this project. From Black Rose (Cameroonian American) and his basement to Prahdijay (Ghanaian American) who produced the intro and did the awesome guitar solo on the outro to my manager/brother from another Nelson (Nigerian American) who gave me thousands of dollars to get started on the project. Almost everyone that worked on this project was a first generation American. These people and many more contributed so much throughtout this project and it made me realize that Green Card is bigger than me. My job as an artist is to always show my appreciation, represent our story properly and do whatever it takes to make sure we all achieve that American Dream.