*All pictures by David Evan McDowell
---
One is not born a stylish man, one becomes a stylish man. Fashion is an entirely legitimate interest for men — don't get us wrong, it's not a question of dressing up over-the-top as a walking cliché, but looking good without working too hard. Menswear is constantly changing and has always been a delicate part of fashion. Many times, our dear fashion industry has crossed the line with bold statements and outrageous designs. You can be the type to never back down from a challenge or you can appreciate stylish garments with a nice touch. That latter introduces the touch of Nigerian designer Wale Oyejide for the Ikiré Jonesbrand/label. One of Esquire Magazine's"Best Dressed Real Men in America," his stylish creations from ready-to-wear & sport jackets to accessorizes are well-tailored and convey a unique artistic signature which one recognizes at the very first glance. Oyejide's thought of harmonizing jacket linings with wax-printed West African fabric he credits as a "a deliberate homage that pays tribute to my heritage." A little plus, we love the tightened-waist jacket signature/choice and the little story behind each piece on their website.
Who is Wale Oyejide? Where are you from? 
I was born and raised in Nigeria, and like many West Africans, traveled back and forth to the United States and other parts of the world while growing up. I'm an Afrobeat musician, an attorney and a menswear designer.
How did you start creating? When did you start considering fashion?
For me, it was a natural evolution. The same way I began my music career several years ago by diving-in, I began my career in the menswear industry. Creative people have a difficult time sitting on the side-lines. When we find something we are passionate about, we end up trying our hand at it, for better or worse.
Did you study fashion and if yes, where?
I do not have any formal fashion training, no. I'm sure it would help, but I wasn't going to let the lack of a formal education in the field stop me.
Where do you seek inspiration?
I'm generally inspired by images of people who look at ease and comfortable with who they are. It makes me want to translate the same sentiment with my clothing. Also, Kanye West lyrics.
How would you describe Ikiré Jones's signature in one line?
A marriage between Neapolitan tailoring and African aesthetics.
What makes it so special?
I am personally not aware of any brand that has combined high-end Italian construction and African elements, and presented them with the sort of inspired-narratives that I have. I don't think it is a stretch to say that a visit to my website is a wholly unique experience.
I think that you are a great example of the African inspired revolution in menswear, do you think that you are bringing something new?
Thank you. There is nothing new or novel under the sun. There are only different interpretations of the same language. I see my work as akin to what jazz musicians do with standards, or what hip-hop producers do with remixes. You may have heard the song before, but it has never been freaked quite like this.
Which materials are you using? and where do you get them?
I use a combination of British wools and African wax-printed fabrics. As far as where they are from? A magician never reveals his tricks.
Where have we seen your work? What's this collection's inspiration?
People may be familiar with my menswear blog: Less Gentlemen, but this is my first outing as a designer. This collection is basically a love-letter to my upbringing as a global citizen. I drew from various cultural touch-points in my life.
What is your masterpiece? The one that represents this collection.
I don't believe that there is one. As a whole, the collection communicate seeks to communicate a singular idea.
What makes a person stylish?
I think that's a question everyone has to answer for themselves. I do design clothes, but I don't consider myself an arbiter of what people should or should not wear. I just make clothes that I appreciate and hope that other people enjoy them.
Which African singer or band would you like to see wearing one of your piece?
Honestly, I'm not interested in seeking out celebrity endorsements for the sake of it. There are certainly artists that I am inspired by. Black Thought from The Roots is an obvious example. I named "the Trotter" jacket after him. For me, a collaboration has to make sense, and should come from an organic relationship and mutual admiration. Most of the African musicians I enjoy did hi-life and afrobeat in the 70s. It would be great to do something for Ebo Taylor (from Ghana).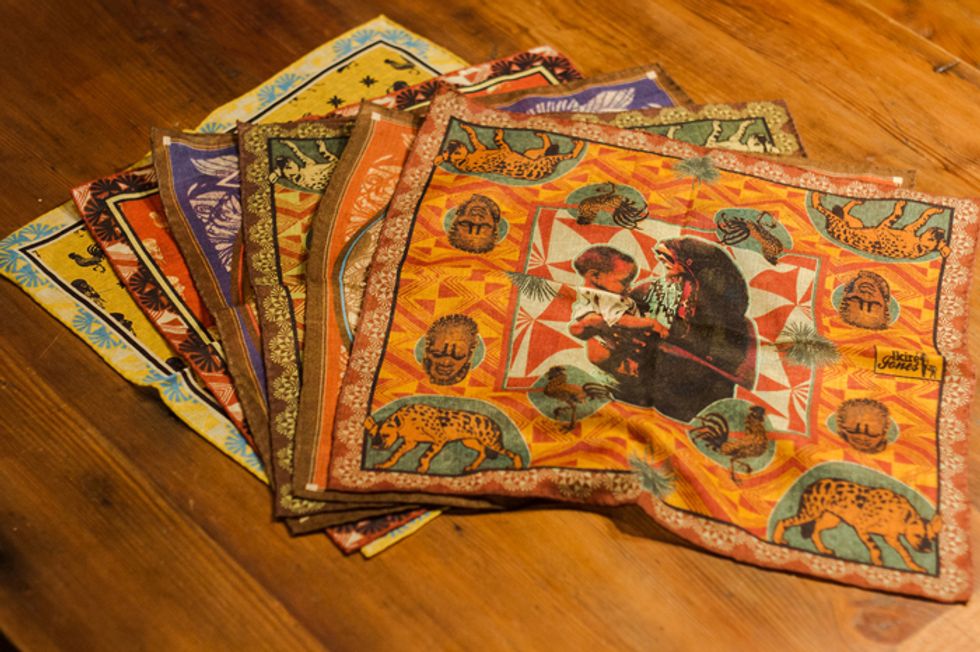 Stylistically, what's your favorite movie?
The television show Boardwalk Empire has a really great wardrobe.
What is the distinction between style and fashion?
Fashion is very much temporary and of the now. But that doesnt make it a bad thing. People want something they can be excited by and are unfamiliar with. Style is inherent; I'm not sure if it can be taught.
Which world leader has the most distinctive style?
Most world leaders look terrible to mediocre in my opinion. But of course, they have bigger things to worry about than the length of their trouser cuffs. You can't fault them for that.
Today, we have the emergence of many African fashion week in many countries. This evolution is the proof of the existence of African fashion, should African designers be present in regular fashion weeks, is there any discrimination?
I frankly don't have enough experience in the industry to speak about any sort of discrimination. I think people should concern themselves with making a good product. Quality goods will always find their way into the right hands eventually.
What are your hopes for the African fashion?
I hesitate to speak as an authority on "African fashion." I don't consider what I do exclusively African, or made exclusively for an African audience. Though my work is inspired by my African heritage, there is no doubt that my garments are of Western origins. For me, the label is much less important than the content and quality of the art being made.
Describe Ikiré Jones in one word.
Adventurous.
Okayafrica is ....
Refreshing.