Speedsta is a busy man. A day before the release of his latest single "Chosen One" which features Yanga Chief and up-and-coming rapper Teekay Mokoena, he is unveiling plaques for several songs and a project of hisgoing gold and multi-platinum. The location is his skate shop and creative space Skate Hub which opened its doors on the October 3 in the north side of Joburg.
According to the artist and Sony Music Africa signee, his 2019 EP, BottlebrushStr, is now platinum, "Mayo" is nine times platinum, "Combos Communicating" is gold and "I Don't Know" is five times platinum.
---
The hip-hop deejay and producer is currently working on his upcoming album due for release sometime in 2021.
Speedsta recently excused himself as one of the four hosts for the popular South African hip-hop and youth culture YouTube podcast Popcast, which he co-hosted alongside SA hip-hop stalwarts DJ Vigi, Ms Cosmo and Scoop Makhathini, who are still continuing with the show.
The DJ/producer is outspoken and always expresses himself honestly on Twitter and other platforms, including Popcast. A lot is changing in his life as an artist and business man, and, in the interview below, he shares his plans for Skate Hub, his ambitions to build more skate parks across South Africa, the success of his music and his upcoming releases.
This interview has been slightly edited for clarity and length.
How has the shop been since opening a month ago?
It's been so exciting. I've been saying to a lot of my friends that were like, 'oh, I'm sorry we couldn't make it to the launch,' and I say, 'guys, it's okay. I don't expect artists and celebrities to be here.' For me, I just want to see kids getting on a skateboard in this space. And that's exactly what we've been getting, so it's really, really been very life-changing, a dream come true. I mean, we did an interview about a year ago and the dream was to just have a skate park. So yeah, we finally have the space. It's still work-in-progress, still lots of work to be done, but this is what we're working with for now.
What more do you want to do with this space, apart from it being a skate shop?
So, this is the beginning of what the Skate Hub has planned. Our plan is to involve more indoor skate parks in South Africa, number one. Number two, to actually build more public skate parks in the country, especially in the townships and rural areas. There's a lot of really good skateboarders in those areas, we just don't have enough skate parks in South Africa. So it's not just the Skate Hub, we've also got the Skate Hub Foundation, which is basically where we're trying to run the skate boarding programs to teach kids how to skate and just build public skate parks all over South Africa.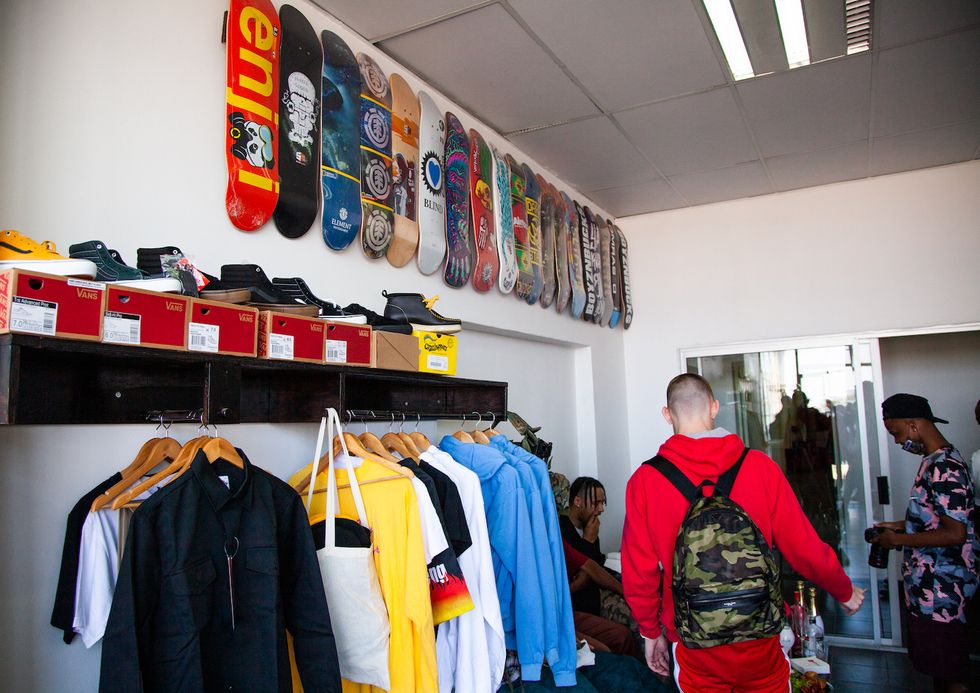 The shop in Speedsta's Skate Hub. Photo by Sabelo Mkhabela.
Why more indoor specifically?

I decided to go indoor because we have a multipurpose facility, not just a skate park. What I mean by that is it's not just a skate park. We're going to be doing a lot of events here when people are shooting music videos, movies, birthday parties, or sweet sixteens, that kind of a thing. We've got the space. We built a new music studio here as well. We're going to have a little basketball hoop in the other room, so it's not just a skate park, it's really just a creative space. Like I said, if photographers are doing photo shoots or whatever, we've got the space to accommodate them so that's why we went indoor. But also, because you find a day like this past Sunday where it's raining, and skateboarders, some of them work during the week and they skate on the weekends and maybe they plan to skate on Sunday, but it's raining the whole of Sunday, you finally have a place to go in Johannesburg where even if it's raining, it could be hailing for all we care, you can still come and skate here.
You just unveiled a lot of plaques for your singles and project. "Mayo," your biggest song so far, has gone nine times platinum. What does this moment mean to you?
I always say the nice thing about the music industry is you need one hit. You have one hit and literally, if it's a classic, it'll keep you going forever. So "Mayo" is definitely one of those, as well as "I Don't Know", which has now gone seven-times Platinum. I think those are eventually going to go diamond, if we are being honest. But what I'm really, really happy about is I've been wondering when "No stress" and "Combos are Communicating" are going to achieve these milestones. I feel like they're really big songs. "No Stress," we're not there yet. "Combos are Communicating" has officially gone gold, which I'm really, really happy about. And the debut album, BottlebrushStr, went gold last year. It's actually gone platinum now. So, those two I'm really, really stoked about. For me, I know people think I'm loud on the socials these days, it's only because I'm giving my respect, because this has never been seen before by a South African hip-hop deejay. I think I have a total of 10 plaques now, so it's quite a big deal.
On songs like "Mayo" and "I Don't Know," you featured Shane Eagle, Young Swiss, Zoocci Coke Dope, J Molley—artists who were emerging at the time, something you still continue to do. Can you explain your thinking behind these features?
There's nothing that makes me more happy than seeing an artist maybe sending me emails or sending me music for years or reaching out to me for years, and then us eventually working, and then I see them come from being an artist who's really talented just without a platform, to being an artist who is succeeding and making money. For me, that is the best feeling ever in the world. So you're always going to get a name you know and a name you don't know in my songs. I'm always going to introduce artists. That's standard. That's what I do.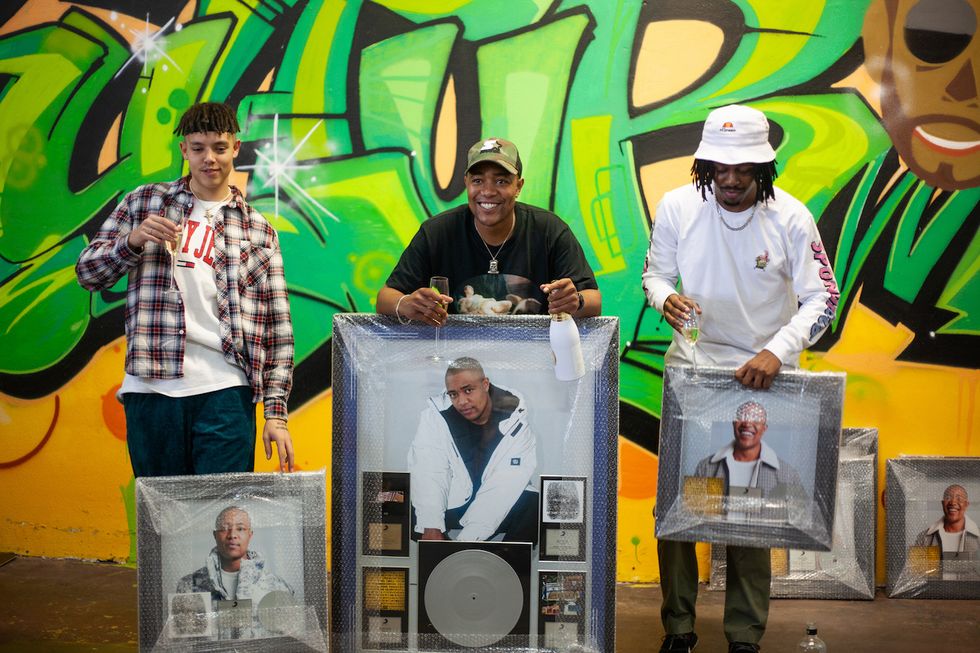 J Molley (left) appears on Speedsta's "You Don't Know", Yung Swiss appears on "Mayo".Photo by Sabelo Mkhabela.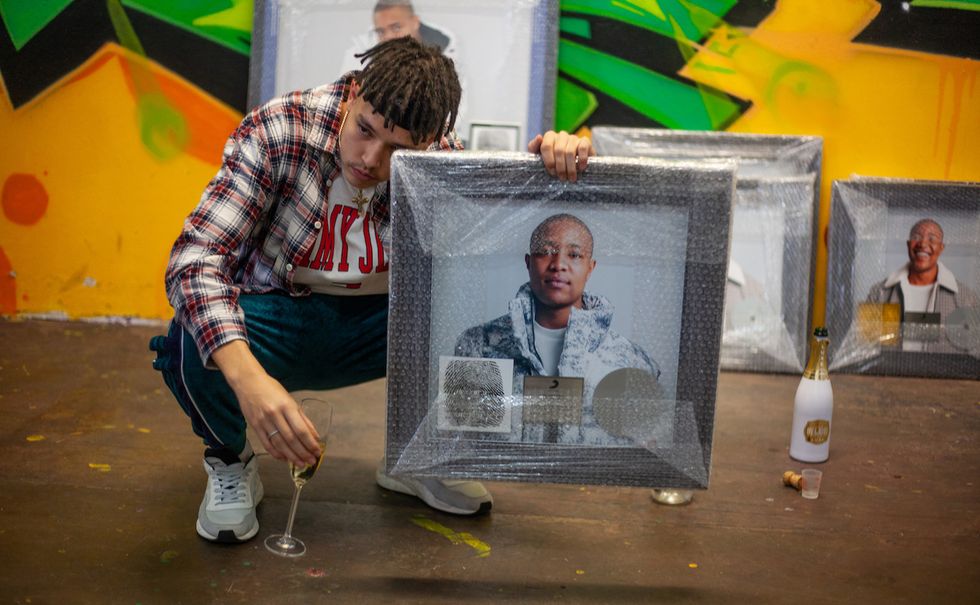 Photo by Sabelo Mkhabela.
Before it dropped, you said your song "Chosen One" will be bigger than "Mayo." What made you say that?

I don't know, sometimes I'm just hyping myself. But with "Chosen One", I think it's the first time I've done a song that has vernac that is relatable to South Africans. "Mayo" was an English song which happened to relate to South Africans. With "Chosen One," I'm literally speaking to the kid in the Eastern Cape who maybe has no hope, and I'm saying, 'Here's a song you should be listening to every day when you wake up, just to give you that confidence to let you know that yes, it is possible, black child. Get up there and chase your dreams. You are the chosen one.' So, I think because of the message of the song it's going to be a really, really big one. I feel like in a couple of years from now, we'll be celebrating the "Chosen One" plaques.
Why did you decide to leave The POPcast?
It became very difficult for me. I've always been a very friendly, chilled, outgoing person. I'm the kind of person that when I walk into a room I know everybody and smile at everybody. The podcast just created a vibe that I no longer like. It didn't make me feel good. For me, if something doesn't serve me, it doesn't have purpose for me, I gotta go. I got mad love for the Popcast guys. I've got my own things going on. I'm very, very big with my energy. My energy must be very, very clean, very clear.
When is your next project coming out?
"Chosen One" is the first single off of the album coming in 2021.
Stream Speedsta's latest single "Chosen One" on Apple Music and Spotify.
DJ Speedsta - Chosen One (Official Audio) ft. Teejay Mokoena, Yanga Chiefwww.youtube.com