This profile is part of OkayAfrica's ongoing series, THE WAV 2019, following the young artists shaping the future of the South Africa's music scene. You can read more profiles and interviews here.
J Molley summarized his journey to Grandmaster Ready D earlier this year in an interview on the South African hip-hop legend's show on Goodhope FM. "I started about three years ago, just dropping music on SoundCloud, and then it just took off quite rapidly after that. And I've just been doing it since then. I just realized it could work for me, and I started making good money off of it, and yeah, here I am."
Ready D's story, as a member of one of the first SA hip-hop crews (Prophets of da City), is the opposite of J Molley's. When Prophets of da City were releasing songs that the apartheid government banned on radio and TV in the late '80s and early '90s, there was no internet to broadcast their music directly to their listeners. They needed radio for that, and TV for their music videos. It was tough.
J Molley, who's only 18 years old and already a notable name in SA hip-hop, didn't have to wait for radio and TV to play his music or a distributor to press his songs on vinyl, cassette or CD (what are those?). Starting out as a photographer, J Molley amassed a following on Instagram that rode with him when he became a singer. "I had a bit of fame before I started doing music," J Molley says, seated on a couch at the OkayAfrica offices in Joburg. "So, I knew that I had a fan base, which is what helped me. If I didn't have that, I don't think it would've worked, really. So, I knew I was going to get a little bit of fame for it, but I didn't think it was going to be so quick 'cause I dropped the first song and I got, like, 10,000 plays in a month, which is crazy for me."
---
J Molley - Leader Of The Wave (Official Music Video)www.youtube.com
Towards the end of 2016, J Molley released a music video for his single "Hype." "And then DJ Capital hit me up on Twitter two weeks later, and that shocked me. I was like 'whoa!' It really made me feel like I could actually take this somewhere, I could start making money off of this. It's really what I needed at the time, because I didn't know where I was gonna go from there."

This resulted in J Molley appearing on the deejay's single "On Me," alongside Gigi Lamayne and Big Star, early in 2017. DJ Speedsta contacted him next for the anthemic single "I Don't Know," which also featured Zoocci Coke Dope and Frank Casino. On the third quarter of the same year, J Molley released his debut EP Dreams Money Can Buy, on which he worked with veteran producer PH, who he met through his manager.
Thematically, the melodic and sonically moody Dreams Money Can Buy was egomania drenched in melancholy. While he sang, "Both rock double Gs, difference is you, I heard you got 'em from the streets," on the song "200 on my Wrist," he also sang, "Lost my mind today/ I'm just sipping all this pain away/ I think I might shoot my face today/ It's not a phase, no, it won't go away," on the song "Suicidal Thoughts."
"I've never been shy to express myself," J Molley says, explaining the intensely personal nature of his lyrics. "I've never been a closed off person. Like, if anyone wants to ask my anything, I'm always open. I just speak about what I'm going through in my music, so I'm not going to lie about what I was going through, and that year just happened to be a dark time in my life. So, I just expressed that through my music." He adds that while many people would rather sit down with a psychologist, his therapy is sharing his experiences in his songs. "And that way, it gets out to people. They can maybe relate to it," he says.
J Molley - Seven Bottles (Official Music Video)www.youtube.com
J Molley grew up in Pretoria to a middle-class family. He started singing as a child, writing his first song at seven. This explains his adeptness with the pen and how in control he is of his voice. The young artist is able to document his feelings and journey cleverly and precisely, as demonstrated on Dreams Money Can Buy and his latest EP, Leader of the Wave, a Playlist by J Molley, which came out in 2018.

In his early teen ages when the hip-hop bug bit him, J Molley started out as a dancer. "That's when I started becoming obsessed with the whole culture and everything," he recalls. "Then, I quit that by the time I was, like, sixteen, seventeen. And then I met these three guys Lethabo, Wanda and Danny. And they just started this rap group called Tree House." J Molley became the crew's photographer. "And then, a month down the line, they suggested that I started rapping too," he says. "But I didn't feel like my voice suited it. I said that I could sing, because I grew up singing my whole life. And then I gave it a try, and it just worked out."
The ease with which he switched from one medium to the other so effortlessly is reflected in his music. Even though J Molley considers himself a singer, bars aren't a struggle for him. He recently got handpicked by Sway to be part of his Sway Cold Cypher at the Castle Light Unlocked festival. Alongside rappers Moozlie, The Big Hash and A-Reece, J Molley dropped a memorable freestyle. His fans demanded he released it as an audio clip, which he did. Titled "J's Like," the freestyle is done over Nas' "Nas is Like" instrumental, and it raked in more than 7,000 plays in just three days.
That's how the new wave rolls. The lines between genres and other confines are smudged by a boundless approach to making music and looking at life. J Molley and many hip-hop artists like him dabble as rappers, singers, producers, photographers and, well, whatever they feel like.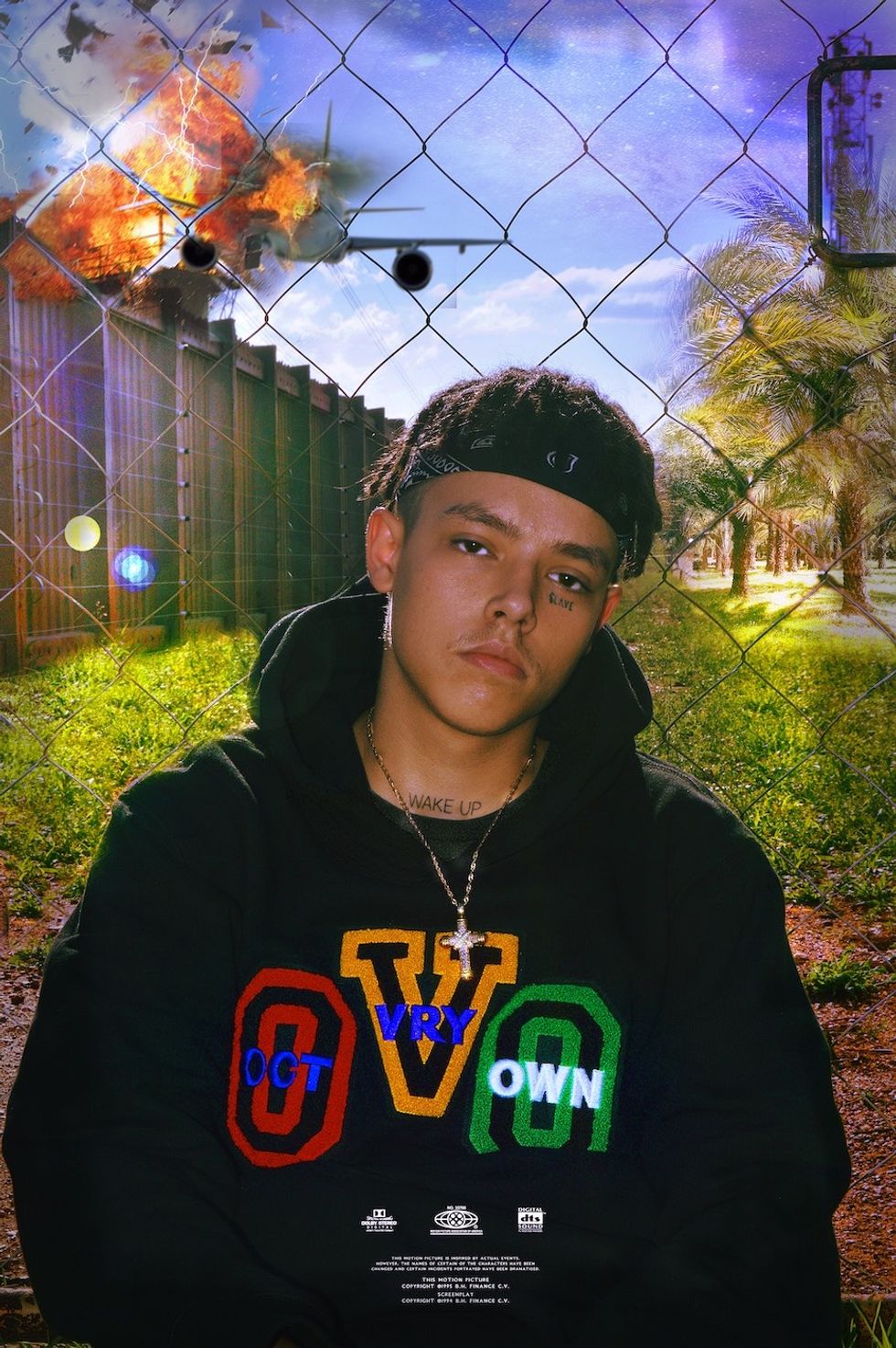 The new wave is slowly causing a dent in the South African music scene. The shows get packed and the streams are impressive. The new wave may not be on high rotation on the radio and TV (though a few artists get decent amounts of airplay), but it has the internet on lock. The mainstream, as usual, is taking forever to catch on. It's starting to be a concern.

I ask J Molley if he sees the new wave reaching Cassper Nyovest and AKA levels of success. He takes a moment to consider his words before answering. "I'm not sure, I think about it a lot," he says. "At first, it seemed like it would've been something that would've happened, but I'm not sure. It's such a hard thing to predict right now. The thing is, it's such a new genre, so, there's so many people we have to convince."
As a self-proclaimed leader of the wave, I ask him what the term "new wave" means to him. He starts by explaining why he calls himself Leader of the Wave (he will later acknowledge he's but one of many leaders of the new wave). "Treehouse was a start of this whole thing that we call the new wave," he says. "Which is just like a culture that surrounds young kids uploading their stuff on the internet and solely just being based around that culture because obviously in SA it's really hard to get played on TV and radio. So, it's just this whole movement that's very inspired by American culture, American SoundCloud culture. Like, the mumble rappers, that's how they've phrased it on that side; Lil Yachty, Playboi Carti... all those guys. It's very inspired by that. So, it's like a whole movement [involving] fashion, music, mosh pits… just that whole culture."
A lot of cultural purists aren't impressed by this heavy American influence on the new generation of South African hip-hop artists. Asked how he can defend himself from such critics, his response is: "Well, people have very conservative, old mindsets. I don't think much of it because I know they'll never understand the way I think. I've never believed in the separation of anything. I've never believed in separation of race, separation of countries. I don't believe there should be separate borders. I've never believed in any of that type of stuff. I don't stand for the 'never forget where you came from' rule. I've never related to that. That's not a real thing. We just live on Earth."
In a country like South Africa and the rest of the world, where race is an inevitable topic, I ask him what it's like being a white rapper in the country. He responds: "I've never felt it because I don't think people perceive me as a normal white person. I've always been very different just because I've always grown up around black people, so I never acted like I'm white or anything like that, so I've never noticed it first-hand.

He mentions that some people do bring it up. They have gone as far as saying him being white has hindered his growth in hip-hop. "So it could be something," he says, "but it's never come off to me. I've never acknowledged it."
He adds that the color of his skin has led to some people thinking "I come from money." This, he tells me, is far from the truth. He recalls his father, who was the family's sole breadwinner, losing his job, leading his family to despair. "And then luckily, that's when I started making money, meaning I was able to take over paying for the house and whatnot."
This spirit of independence extends to his career. South African hip-hop doesn't know where it stands when it comes to the question of being independent or signing to a label. Not J Molley. "I'm not necessarily opposed to signing overseas," he says. "Because overseas, trying to be independent is another ball game compared to here. But, nah, I don't think I would sign this side. Wouldn't really make sense to me."
J Molley is currently working on his debut album, which is due for release later this year. It currently has no title or release date.
Stream his EPs below:
Follow J Molley on Twitter, Instagram and Facebook.
This profile is part of OkayAfrica's ongoing series on South Africa's new wave of young artists shaping the future of the country's music scene. You can read more profiles and interviews here.