Executive produced by Jada Pinkett Smith, Netflix's new docudrama, African Queens: Njinga, explores historical lives of African queens. With a four episode focus on Angola's Queen Njinga for its first installment, Netflix presents a nuanced portrait of a 17th century warrior-ruler known for her diplomatic and military skills—as well as being the first female ruler in Angola.
Played by British-Nigerian actor Adesuwa Oni, the series tracks Queen Njinga's rise to power and how she fought to protect the people of Ndongo (which is now Angola.) For Pinkett Smith, it's important to tell stories around overlooked figures like Njinga. "We have so much historical literature around the queens of England, but that's not the case with Black African queens," Pinkett Smith told OkayAfrica during an interview. "So it was important for me to do a docudrama to be educated around the lives of these women."
While Pinkett Smith can be heard as a narrator in the docuseries, Oni is the star; and her path to playing the Queen started with her agent sending her a request for a self-tape. Starting with three excerpts from the script—with three different scenes at different points of the queen's life—she recorded and sent it in for consideration, hoping for the best.
"From what I understand, it was quite a wide search in terms of that first round, and I am very grateful that what I found in those scenes. [It] was a very potent understanding of Njinga," Oni said.
As an actor who isn't new to the screen—with short performances in shows such as The Witcher and Years and Years—Oni, who had never heard of Queen Njinga, researched the project and the writers, trying to get a glimpse of what she was working with. "A few weeks after submitting the tape, I had a recall and went in for a face-to-face meeting with the director and casting directors, and I had a great time working the scenes with them," she said. "And about a week later, I remembered they never tested a particular scene, and said to myself, 'I'd be amazed if they just offered it to someone without testing them because they must really trust them,' and literally, the next day, my agent said they wanted to see me again."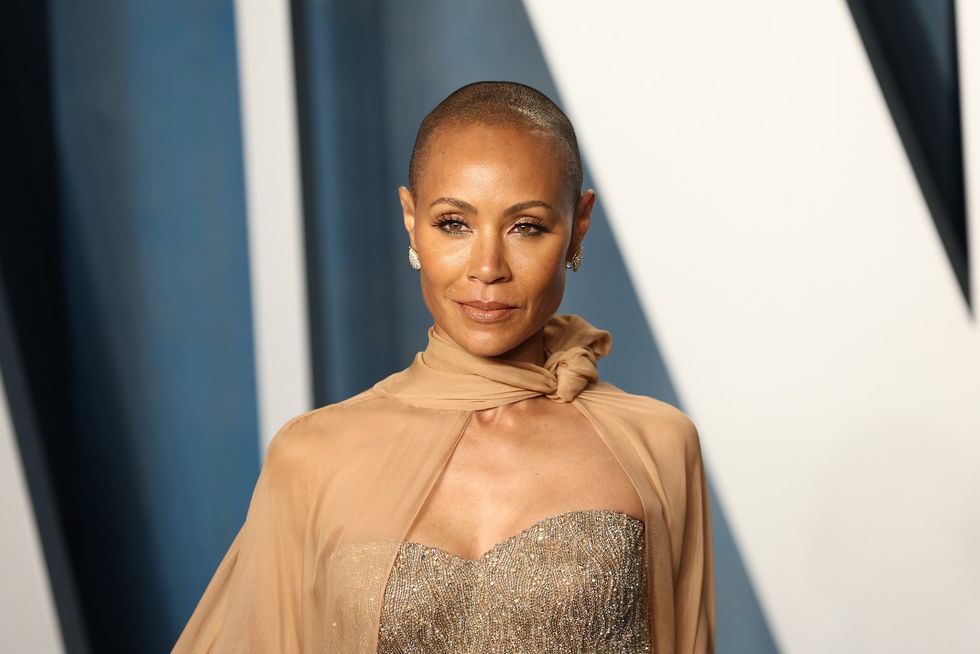 Jada Pinkett Smith saw Oni's tape for Njinga and knew she was the one. Photo by Arturo Holmes/FilmMagic
When Pinkett Smith, who was involved in the casting process, saw Oni's tape for Njinga, she knew she was the one. "She had such formidable strength but also a level of vulnerability that I loved as well," she said. "She's very nuanced, and I'm always looking for that as an actress because these characters are nuanced."
Alongside Chipo Kureya (Kambu) and Marilyin Nnadebe (Funji)—who both play Oni sisters in the docudrama—the show also elevates the idea of sisterhood, a dynamic Oni enjoyed while playing the role. "The family dynamic behind the scenes, on and off set, was a beautiful safety net," she said.
Stories like Queen Njinga's importance in society can not be overemphasized because they haven't yet been told in a reliable manner. The only way for younger generation to know more about these stories, according to Oni, is they are documented—and documented well.
With a
second season
that will follow Cleopatra's life coming to Netflix, Pinkett Smith hopes the show can pierce some of the stereotypes about Black Americans and Black Africans. "I want people to take pride in the essence of what we are all together, and what we've done to overcome everything we've faced," she said.