In our "10 Things I Love" series we ask our favorite musicians, artists & personalities to tell us what they like the most about their home country.
---
In this latest installment we talk to Janka Nabay, who became a star in '90s Sierra Leone during the civil war for his innovative, electronic new take on traditional bubu music. Janka's new album, 'Build Music,' is out today on Luaka Bop.
Below, the 'bubu king' tells us his favorite things about Sierra Leone.
Bubu Music
Bubu music is enjoyment music. The trend is Bubu and it's Bubu music, you know?
My village, Masimora
Masimora is the most superb village in Sierra Leone, it's where I was born and where Bubu music started. Masimora people are nice people!
Lumley Beach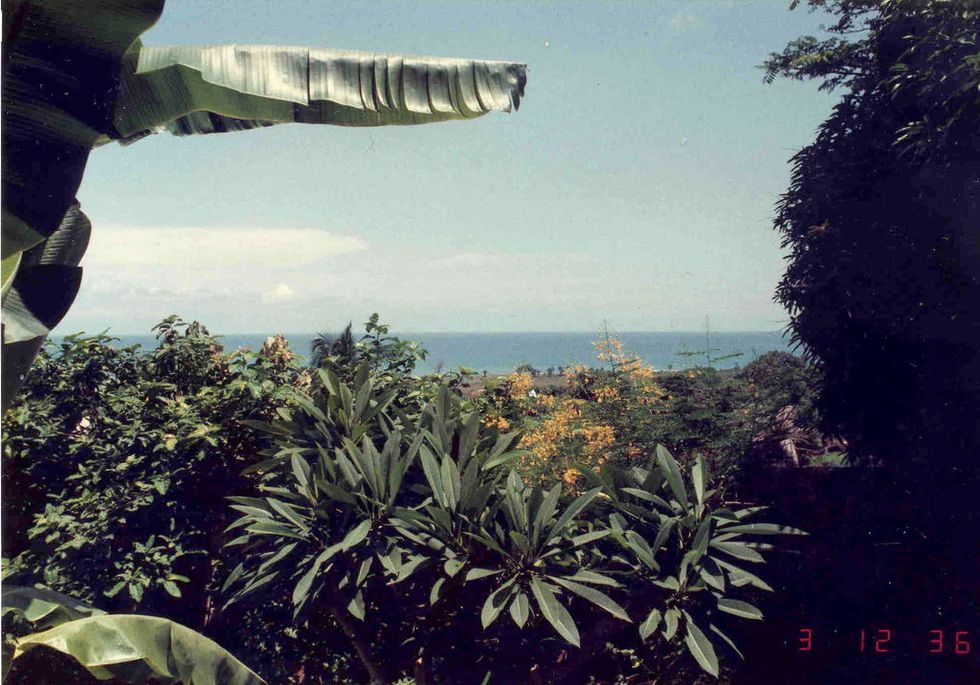 The heights above Lumley beach. Creative Commons photo by Brian Harrington Spier (via Flickr).
Lumley beach is the best beach in West Africa. It's ten miles of white sand, blue waters, no rocks, no mud, and coconut trees on the banks of the beach from end to end! When you're thirsty, you don't drink water, you drink coconut water. Whenever I have leisure time I go to Lumley Beach.
East End Lions, my favorite soccer team from Freetown
A past East End Lions team.
East End Lions is my only soccer team, my first soccer team. Their colors are red, white and black. That is why until now I wear red, white and black; I inherited these colors from the Eastern Lions. They're part of me.
Palm Wine
Palm wine is my favorite cultural beer. It's from the tree to the man. We call it God to man because when you tap the palm tree, you get the palm wine coming out of the tree in liquid form. It's the best beer in general, trust me.
Cassava leaves and rice
Cassava leaves and rice is the staple food of Sierra Leone. Everybody eats it.
People's friendliness
The people of Salone like to encourage strangers. The people smile and they are giving.
The Independence Day Festival
Bubu music takes over the Independence Day Festival. You'll hear someone blowing Bubu flutes, because Bubu is BLOWING [up]. I'm the first person who played Bubu music and all my people, they BLOW Bubu music [up]. Any April 27, when the festival takes place, you'll hear it!
Photo by Sydney Schleiff & Oliver Citrin.
The Ramadan Festival
First of all, I'm a Muslim, and the Ramadan Festival is the first thing that encroached with Bubu music, on the last day when the Ramadan finishes. Now they don't do that because Islam doesn't like it when Bubu music plays. They drink, they fornicate, Bubu is a club fornication thing! Bubu music is enjoyment shit! Now they play it on Independence Day.
Kadiatu Nabay
Kadiatu Nabay—my first love, like somebody you like for the first time ever, and you meet and you [go] crazy! I don't know how we disappeared from each other. We lost communication for a very long time, then we just came to meet again out of the blue! Then we caught fire, like nothing happened! She's over there. I'm over here.