News
Oct. 13, 2014 10:00AM EST
Jeffrey Wright Speaks On His #CrushEbolaNow Campaign
Jeffrey Wright speaks on the Ebola Survival Fund and his #CrushEbolaNow campaign in an interview with Okayafrica.
---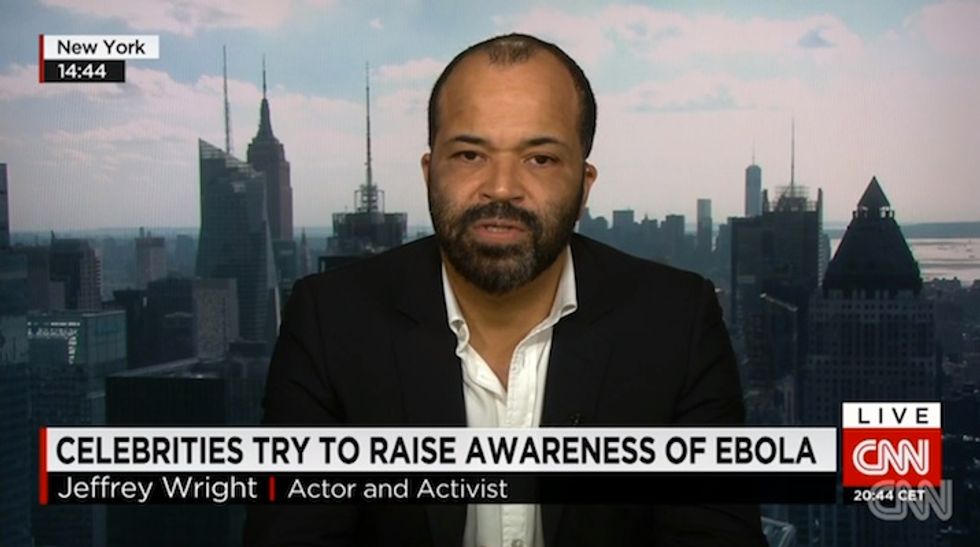 OKA: With that in mind, tell us who you reached out to be involved in this campaign and what defined the team that came together—I was a little surprised to see Tony Blair in there.
JW: Well I think you should be least surprised to see Tony Blair in there, frankly, and I'll tell you why. Tony Blair in Sierra Leone is seen as a hero. He was involved--from a political standpoint, anyway--very heavily during that war and is viewed in-country as one of those who worked to save that country from destruction…by sending in British troops and supporting the government in its efforts to defeat the rebels. Not only that, he has a personal connection to Sierra Leone that goes back over 40 years. His father was a professor or auditor at Fourah Bay college in Freetown in the '60s which was the first modern university in West Africa. So Tony Blair's relationship with Sierra Leone goes back farther than anyone else in that video—y'know? And he is passionate about the country, he is passionate about the people…and passionate about trying to assist them in this crisis.
OKA: Noted—tell us about the rest of the team you put together.
JW: So the idea came to me to shape this PSA in the way that we did and I used the week of the UN general assembly to gather people. The folks on the Clinton team, the Clinton Global Initiative, who are always incredibly supportive of my efforts in Sierra Leone, provided me a space in the hotel where the CGI meetings were taking place to set up my crew. So I just ran around the building and other parts of Manhattan and grabbed people by the arm to get them in front of the camera, basically!
Idris Elba was the first one that we filmed and I quickly cobbled together an edit of his version and passed it along to as many people as I could to get them to drop by and join in the PSA. Most of those who I asked, came. It was a bit of a circus trying to pull everyone together in a short amount of time but it was owing to the willingness of everyone involved that it came together in the way did.
OKA: Could you maybe speak to whether and how your relationship to Sierra Leone is defined by your identity as a Black artist or a Black American. You've mentioned the historical connection between many Americans and West Africa. Yet I balance that with interviews where you have said you don't see yourself as a black man in Hollywood. How do you view that connection?
JW: Well I don't see myself as a black man in Hollywood because I live in Brooklyn! (laughs)
OKA: So it's more a matter of geography than identity…
JW: Exactly. Even if I do describe myself in those terms I wouldn't suggest that there are limitations because of that, I try to be one who doesn't get caught up in self-victimization. Again, flip the paradigm on its head and what some would view as weakness I see as strengths, but that's another conversation…
What I was hoping for from an aesthetic, cultural point of view was that this message be led by those who have a current or ancestral connection to this part of Africa. It was critical to have Leymah Gbomee involved; Liberian Nobel peace laureate. That we had Ishmael Beah involved; Sierra Leonean author, former child soldier… that we had Dikembe Mutombo involved, as of course the virus first originated in the DRC or Zaire [an earlier outbreak in Sudan of the related 'Sudan virus' is now believed to be the first known outbreak – ed.] that we had Idris Elba involved, whose father is Sierra Leonean—and on down the line.
I did my DNA test as well, my father's father's father's family is Yoruba. So I wanted to make sure that we controlled the narrative, that we were driving the narrative…but that we were inclusive of anyone who was willing to help us on those terms. So you know Dr. Paul Farmer [founder of Partners In Health] appreciates what we're doing with the message and we appreciate the experiential, technical, medical strengths that he brings to the table. We would have to be pretty foolish not to include someone like Paul Farmer because he happens to be of European descent—you know? Likewise with Tony Blair, because of his political influence in the region we would be pretty foolish to undervalue what he could contribute to our efforts.
OKA: Which kind of begs the question: who this PSA aims to reach—often when that connection is highlighted; a Black American artist speaking to an issue on the African continent, there is this implicit expectation that you are bringing the message to a specific audience, that in a sense you're using your celebrity to reach an audience that might not otherwise receive it. Do you feel that way? --or is this PSA for everybody?
JW: I'm hoping that we can frame the message and that it will resonate for a global audience. We're all focused on this region now…and if we focus in the right way we can conquer this outbreak and we can do great things beyond.
OKA: You've actually said on CNN and other places that this crisis could ultimately be something that is good for Sierra Leone—which is pretty counter-intuitive, on the face of it. What do you mean by that?
JW: As I've said, the infection is caused by a virus but the outbreak is the result of the absence of viable health care delivery systems in that region. Now, as we speak, Dr. Paul Farmer is in Freetown. He's there to engage—and he's there to engage not just in the short term but in the long term. If he can achieve what he achieved in Rwanda…? I saw the results firsthand on a visit there a few years ago, at the invitation of President Clinton; a modern first-class hospital, inclusive of pediatric and a cancer care center in the middle of northeastern rural Rwanda.
That opened my eyes to the possible, because I realized the conditions there just 10 years before I visited in 2012, were identical to the conditions I had been seeing in Sierra Leone for 10 years. If it can be done in Rwanda it can be done in Sierra Leone. So as a result of this outbreak, which has been horrendous--and I'm not on the ground but I'm speaking with people about the depth of this challenge--but as a result of that, Paul Farmer and others like him are focused on this region and I think if they are properly supported and funded then some transformative systems can be built there that would preclude our having to circle back to another crisis like this in 10 years.
OKA: You obviously have a different kind of stake in the region than, say, another celebrity that lends their name to a cause—how has the outbreak affected your projects, has it been a major setback? Or to put it more starkly, if we don't see the kind of intervention and infrastructure going into place to combat this—are you in fear of losing what you've built in Sierra Leone?
JW: What this has actually done is energize me –I was getting pretty frustrated over the commercial challenges we were facing there but this has refocused me, reenergized me and I'm not really thinking about that now; I'm thinking how can we support our partners in overcoming the challenges they are facing right now.