JimmyWizchanneled his life story into his biographical debut record, Accordin' to Jim. At just nine songs, the album is a self-portrait of the artist as he shares the stories that contributed to how he makes sense of the world. Even the accompanying music reveals an aspect of Jimmy's childhood.
In his chat to OkayAfrica below, the MC from the East Rand of Joburg, explains that sonically, Accordin' To Jim was influenced by the music he grew up with. The project is built on smooth jazz samples and compositions by SP Dubb, a prominent producer in the East Rand and the rest of the country.
JimmyWiz is part of a huge network of South African lyricists who may not be on everyone's radar, but have built solid niche fanbases and are striving in their own way and own terms. JimmyWiz just happened to get a boost that a very few young up-and-coming rappers are afforded.
In 2015, the rapper appeared on the reality show The Hustle on TV channel Vuzu. His class included the likes of Bigstar Johnson and ShabZi Madallion, the latter who is still a close friend and frequent collaborator of Jimmy's. JimmyWiz has stuck to his path—instead of jumping on the trap bandwagon, he has always shown a liking for production that leans towards traditional East Coast hip-hop, multi-syllable rhyme schemes and rich lyricism.
In the interview below, JimmyWiz tells OkayAfrica about his take on popularity waves, witnessing gender-based abuse in his household as a child, his plans for the future and many other topics.
*This interview has been edited for length and clarity.
---
Break down the meaning of your album title Accordin' to Jim.
When I grew up, man, I used to love watching According to Jim, with Jim Belushi. It was just dope in the sense that its title is all about Jim and the life of Jim. So the whole thing behind it, the whole play was:I want to create an album where I'm allowed to tell my story. It's all about me and everything that I've been through.
Why did you feel like making such a personal album?
Firstly, man, I've always been one to go left and to stand on my own. I've always been a guy that's always believed in the whole thought of deciding who you are and sticking to who you are, as opposed to following the wave. The things about waves is that they crash, bro. You might get drowned out if it's not who you really are. I wanted the album to be authentically me—what I grew up listening to and my influences, hence the whole jazz influence. I think the other reason... is really just because when I think of all of the greatest artists you can ever imagine—'whether it's Jay-Z or Nas—you can tell me their backstories from just listening to their albums.
When going through such intimate details of your life, do you ever feel like you are oversharing?
I don't think I ever got to a point where I felt like that, specially because you have people you chill around the whole time, and they know my personal life beyond the music. I mean, [my producer] SP Dubb's been there for like over 18 years now, and for somebody like that, who knows that my brother was a junkie, who knows the stories of me seeing my aunt get abused....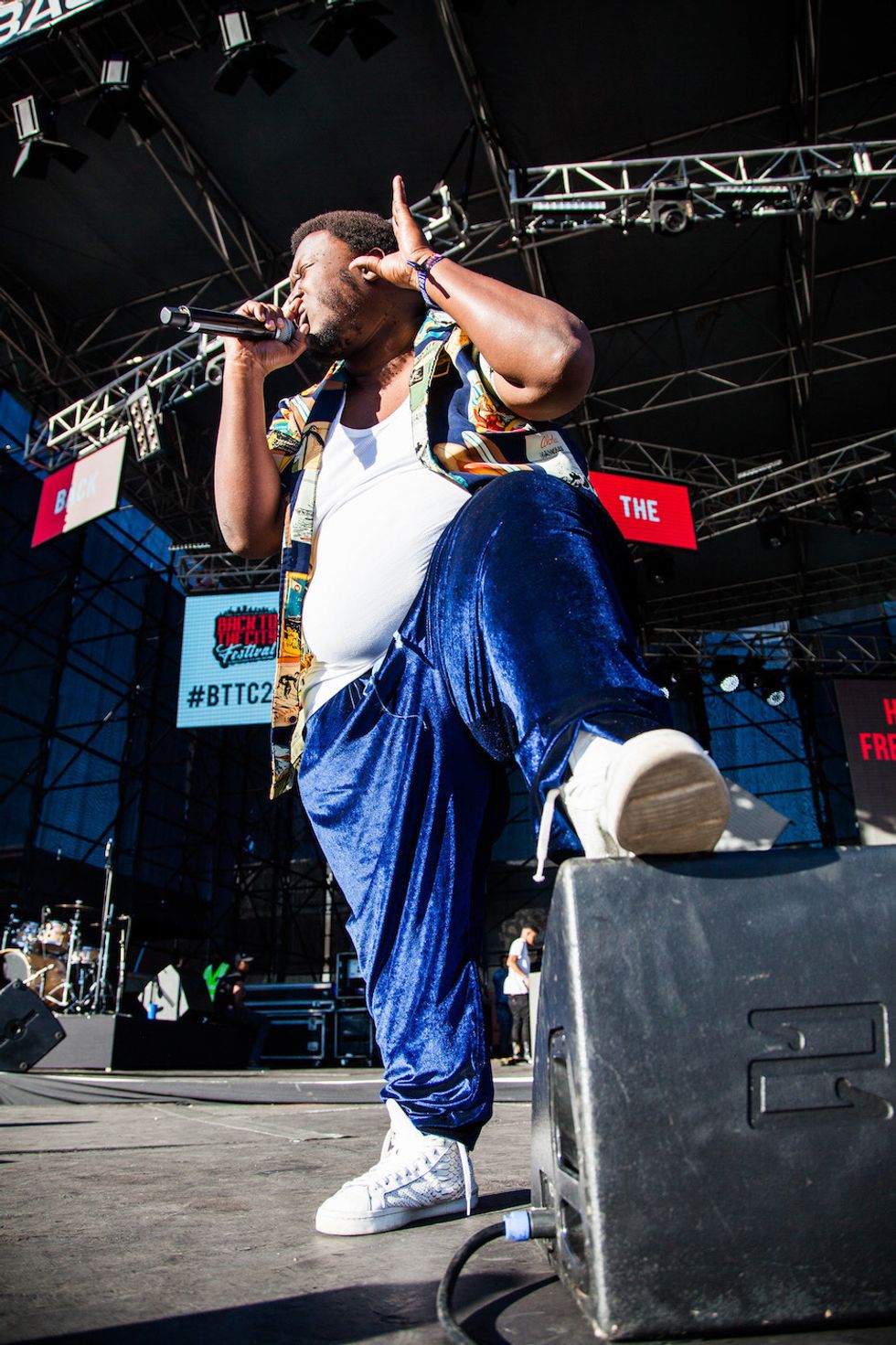 What draws you to the boom bap sound?

The funny thing is when I listened to ATJ, even after making it, it didn't feel so boom bap to me because, when I think of boom bap, I automatically think of something like [my song] "Wizmatic." When I did "Return of the New Old School," that was more boom bap. With this, I really took a more musical approach. The base of it, I could say is really just hip-hop, though. You can still hear the basic elements of hip-hop. But even with tracks like, "Getting Mines," there's still an 808 there, you know what I'm saying?
When I make music, bro, it's more of, when I finally put it out, can I maintain being me? I've never been one to say "I'm going to do skhanda," and then next year, there's a new wave of country trap. Now I've got to leave skhanda, travel and do country trap. What this is, is it's authentically me and I can do me forever and ever. There's no way that I'm going to die out because this is what I do. This is my true form.
What challenges have you faced, just being kind of an artist that you are?
I think the biggest challenge is really just breaking down the barriers of the gatekeepers. That, I think, is the biggest challenge. And I think I figured it out, man. I've really spent the past month just on radio runs. Every week is an interview and drive time slots, breakfast slots, which kind of means the album has gotten to a place where it's finally living on its own without me.
"This is authentically me and I can do me forever and ever. There's no way that I'm going to die out, because this is what I do. This is my true form."
The Kaygizm feature on "Sacrifices" surprised me. How did that come about?

Funny enough, man, I've got a lot of relationships in the game. When putting together this album, like I said, it was so personal that I couldn't find people who could tell the stories the way I wanted to tell my story. After all, it was my story. I then sat back and I remembered one time when I was performing, it was just after a performance at Kool Out. Khuli Chana and KG were there, and Khuli Chana, just as I was about to go, he's like, "Yo, yo, you're going to perform that 'Return of the New Old School'?" He's like, "Yeah, I love that joint." After the performance we were leaving and KG ran up to me, he's like, "Yo, bro, if you ever need anything, I don't care what it is, anything bro. You're super talented. You're that talented and I'm down for whatever." He gave me his numbers, and I think it was six months later, I hit him up like, "Yo bro, you remember what you said?" He's like, "Yeah." I'm like, "I'm going to send you something now. Tell me what you think." I sent it to him and he's like, "Dawg, this is beautiful." He took about two weeks, he sent me back the vocals. I mixed it and mastered it. After I mixed it and mastered it, I sent it back to him and he was like, "Nobody's mixed my vocals so perfectly."
Tell us about your relationship with Shabzi, how it started and what it's like.
What's funny is, man, I never knew Shabzi from a bar of soap up until The Hustle. And it happened that, just the week before I got the call, I was on social media and I ran into a video of him with a white bucket hat performing. He was performing for students and he was just going crazy and they were going wild. Luckily, a week later I got the call for The Hustle, I met him at the hotel. Then after that, he just came up to me and he's like, "Dawg, I don't know what it is about you, but your aura just says you are a dope cat, and you're a dope rapper." And we just kicked it from there, bro. We never looked back. We got to hang out.
After The Hustle, the first thing he did, I think the week I got kicked out, he gave me a call. He's like, "Yo bro, I actually got this joint that I'm doing on that 'Dreams Money Came Buy' by Drake. I want to call the song 'Real Life,'" I was like, "Listen, don't even say a lot, just send me that record and I got you." He sent it to me. The next day, I sent back the verse.
He was just like, "Yo, since you work as fast as I do, let's shoot this." And then two days later, we shot it. We shot the music video and we put it out. We put it out on the season finale.
JimmyWiz Feat. Gugu Zwane - A Woman Scorned (Official Music Video)youtu.be
What would you say you took from The Hustle?

I think I took away mostly, man, the ability to network and to meet people. And to realize that the music on its own is really just never enough. It's walking into a room, being comfortable with who you are, being confident with who you are, and telling somebody what you do, and expecting to get a yes or a no—being persistent enough to tell people like, "Look, I'm really amazing."
Most important, one of the other things that I took away was the reality of the industry; in its nature it's very cold. But there's times when it can be very beautiful. The biggest thing is to always stand your ground. I mean, there was a time I almost got lost in trying to do different type of music, because you can understand, I'm surrounded by all of these guys and they are doing this music and it's like, "Wow, am I feeling left out?" You know what I'm saying? Eventually, bro, it was like I learned who I was and I learned to be proud of who I am and stand my ground. That's one thing that I definitely learned.
How many of the stories you share on Accordin' To Jim are true?
Every single story—from track one to the last joint—is true. Everything I've ever experienced and everything I've ever observed around me.
The song "A Woman Scorned" is quite heavy.
That shit is deep, bro. I think what sparked it for me, I wrote "A Woman Scorned" about a year and a half to two years ago. And at the time, Karabo Mokoena had just passed away. So, I'm reading this whole story on my phone where the beat was playing. All you can just hear, "It's not right, the way you treat me." I thought about this situation where I was in high school and I was sitting watching TV, and by the window, car lights are flickering. I push the curtain to the side and there's my uncle. He walks out of the car to the passenger door. He opens the door and he starts beating my aunt. My mom was sleeping and there's no time to go wake her up. So I ran outside.
I open the gate, and then I hold him and I try to talk to him. She comes out of the car, she tries to smack him and everything. I let him go... and try take her to the house. He goes to the back of the car, opens the trunk and he pulls out a gun. In that moment, obviously it's, "Yo, man, am I dying or what's really good?" Then I started talking to him. Luckily my mom at that moment came out because she heard the commotion. She came up, she started talking to him and everything, and then he just got in the car and drove off.
That is hectic.
It makes you realize that this thing happens every day, bro, every day. And that's why I don't think anybody can ever really tell me they can't relate to a song like that, because we all see it at some point. Whether it's through a friend, whether it's through a family member, or whether it's you personally. This is something that really happens on the daily. For me, when making music, I reference the fact that every music genre I've ever listened to told stories, bro. They spoke stories that resonated with people.
What's next for you?
I've actually shot four music videos for the project already. I'm going to be shooting a music video for each and every song. So, there's five more left pretty much. I'm going to be shooting a short film. From then on, it's just really pushing the project. Me, personally, I want to at least push this project for the next year and a half. Max, two years, maybe. I really want to give it a life of its own.
Stream Accordin' To Jim below.