Julie Adenugasits at the intersection of two continents.

As an affable tastemaker who transforms banal interviews into engaging conversations with some of the most famous artists in the world, Julie is leading the global dialogue on new music from her daily radio show, which broadcasts to over 100 countries.
The North London native of Nigerian descent hails from a musical family, her brothers are artists Skepta and JME, and has risen from the underground as a self-taught presenter on former pirate radio station Rinse FM to being one of three lead DJ's with her Beats 1 show on Apple Music.
A champion of homegrown talent in the UK and across the African diaspora, Julie is a purveyor of the afro-fusion genre, as is evident in her recent Homecoming documentary, which captured the fresh innovators from the Lagos music scene, and her DON't @ ME club nights, which has featured Ghetts, Lady Leshurr and The Compozers as residents.
Chosen as one of OkayAfrica's 100 Women celebrating extraordinary women from Africa and the diaspora, we speak with the presenter and broadcaster on owning her Nigerian identity, the responsibility of spreading afrobeats and why London is a key location for the genre.
---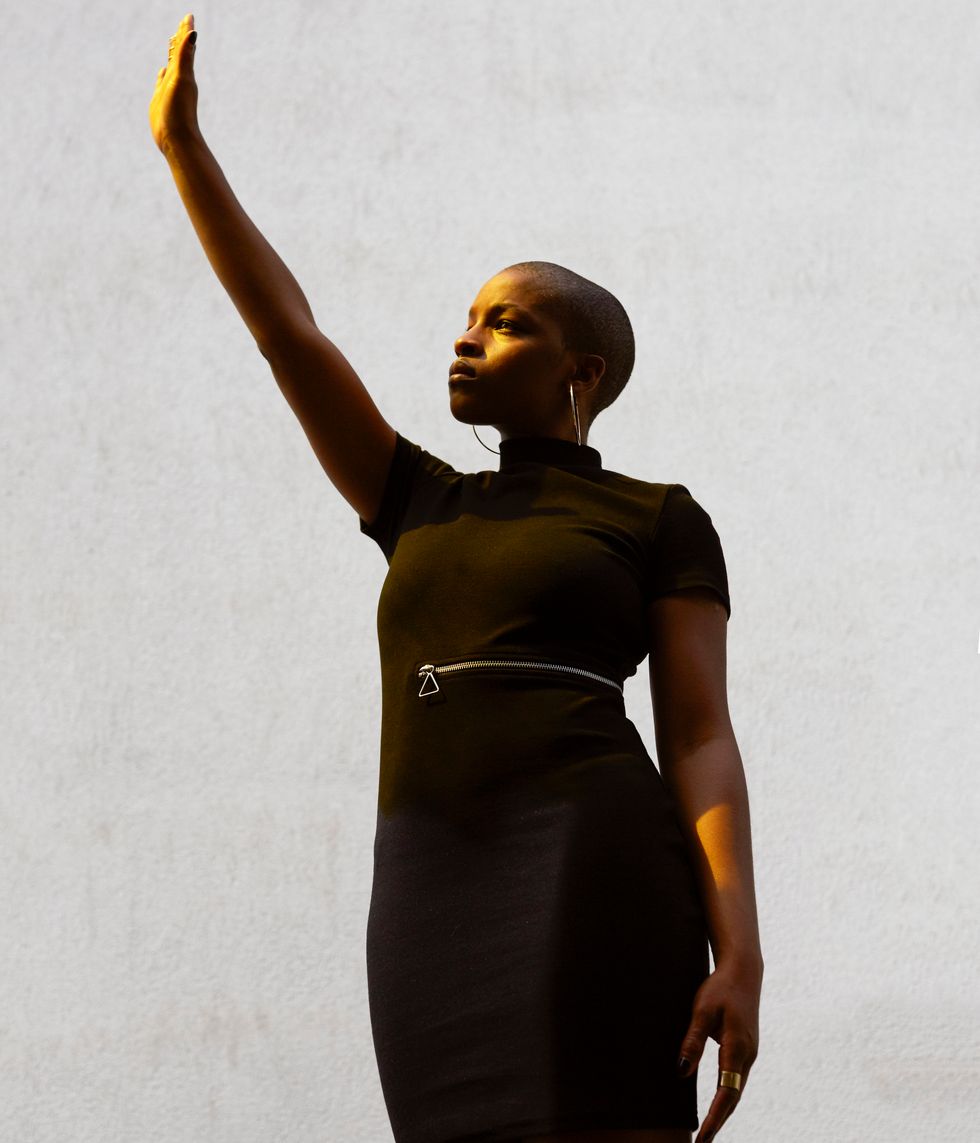 Julie Adenuga. Photo Credit: Tom Johnson.
Julie Oluwatoyin Chidozie Adenuga. The Adenuga surname means "royalty has a foundation." You're of Yoruba descent born and raised in North London. How did you maintain a connection with your heritage growing up whilst navigating society in London?

It's weird really. I think if there was something, it came at a weird stage of my life, because growing up I wasn't really trying to tell anyone I was Nigerian for a really long time. It's funny you mention my surname as that was like the biggest giveaway that I was Nigerian but being in London at the time I grew up it just wasn't cool. So I know a lot of my adolescence was not feeling Nigerian and not being West Indian, which was like the cool thing to be.
I don't think I ever broke out of that until I shaved my head in 2011. My hair was the biggest indication for me of where I was from because my hair just wasn't like my friends hair. That was when I was able to really celebrate myself being a Nigerian woman. That didn't mean I wasn't going out shouting I was a Nigerian woman, but just being proud of that and that being a fun part of my identity. I would hate going to Nigerian parties and stuff, so I was never really around what we call "cousins" but they were never really related to you (laughs). I think I wouldn't be the person I was today if it didn't happen that way but it's okay and I've made peace with it.
I heard your family hosted fun parties and your dad used to DJ in your household. What are your memories of that and any particular African songs which hold fond memories and why?
I think about it more than ever now. I live by myself and when my house is quiet it's so weird to me because my whole life growing up was just music in my house every single minute of everyday. Actually it's unsettling for me as my whole life was just people in the house non-stop and just music playing. Those are not memories for me. That's just my childhood. I always tell people about my mum studying film studies at university and hiring out the film equipment putting a camera on and filming our house. I don't know where it is now but I'd love to watch them. Just videos of people, auntie Susanna. Uncle Ema. Auntie Karen, God rest her soul. So much family just non-stop in our house all the time. It's weird my dad never used to DJ in the house but he had loads of records. It used to be like you'd play a tune and then when it finishes you'd play another tune.
More like a selector.
Yeah. That was my mum and my dad 100%. That's one thing we always get on to them about... hoarding stuff because I think that's just a generational thing that our parents love to keep every single thing they've ever owed in their lives but with their records I said to my mum and dad please never get rid of your records. That's a real thing. I still remember the Bob Marley and The Wailers album cover on vinyl. My dad's collection was nearly as big as Tim Westwood's, but then I saw Tim Westwood whole wall and thought... it wasn't that big but it was very close! (laughs)
Julie in Lagos: Homecoming in Nigeria Preview P.1 | Beats 1 | Apple Musicyoutu.be
You said music has come through subconsciously now. How have you found the journey from listener to a presenter from local pirate radio on Rinse FM and Channel AKA (a seminal underground TV station in the UK) to one of the biggest global platforms on Beats 1?

I'm interviewing some of the biggest artists and also some of the people I've been listening to for so long. I think being a presenter has in some ways let my love for being a listener take a backseat to get the interview right. There are some interviews where, if I walked into them how I really felt, they wouldn't be very good. For someone else who is a fan of Pusha T, Jorja Smith or Stormzy for them to really have a moment with their favourite artist I have to do my job right. So it's a gift and curse really as I love my job but miss just being able to hear music inside the venue rather than being backstage. At the same time I love presenting and it's been fun to hopefully get better at what I do. That's been a great challenge to go from Rinse FM and recording stuff with Soundcloud to being on Beats 1 talking to gazillions of people. It's been nice to actively feel like I'm getting better at my job and for people to watch my interviews and stuff.
You regularly play music from the diaspora hosting Mr Eazi as part of Up Next and support talent like The Compozers at your own event. What does it feel like to see this music grow and share it with people?
I try not to let it but it does feel like a responsibility to me. I think from the start of Beats 1, I've really started looking at what I do as an actual thing. It's huge. It's not a little thing and I think it's taken a while for me to really see it but for Dave to have a Number 1 song and for J Hus to be so big. For these artists to have the career they have, I've realised that my job is bigger than playing songs on radio and so it is sick when I'm playing Mr Eazi, Kida Kudz and Santion radio.
At the same time there are a generation of young people now who go to the gym and someone is listening to "Sparky" by Santi and I'm like, that's nuts to me, as that would have only been in my house years ago. That to me is sick but I realise the responsibility as well now to take this seriously and recognise that there are gonna be young kids who are not from Nigeria or from anywhere in Africa that are hearing this music and they like it. That's huge. Five years from now.... ten years from now. There is gonna be a young white kid from Newcastle who listens to Mr Eazi and Mr Eazi sings in his own language. That's important. For me that's sick but also I take it seriously. This has never been done before and we're singing "Ojuelegba" (even though a lot of people still can't say the title). It still means something to me when I'm in the club and that song comes on and everyone in the club likes it. That's still a massive deal to me.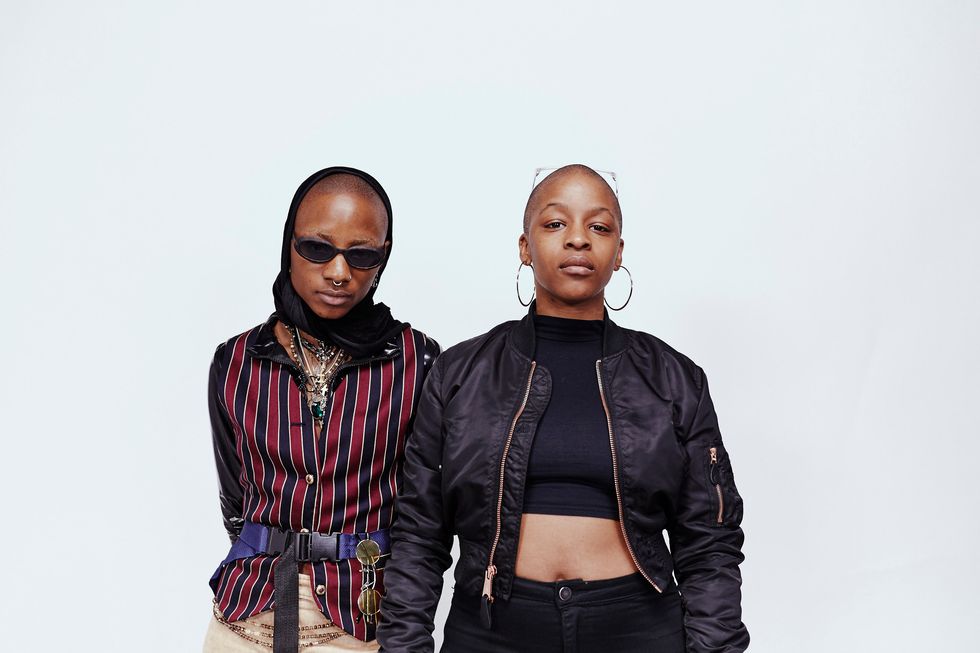 Wavy The Creator and Julie Adenuga. Photo: Beats 1.
You've documented Homecoming in Lagosand connecting established artists within the afro-fusion scene with a new alternative wave. What was the experience like to witness?

My favourite part about Homecoming by far was Wavy the Creator, Odunsi (The Engine)and Santi because it was sick to see exactly what I'd seen in London in Nigeria. The exact same love, drive and flippance to rules and regulations that we don't care about. I don't know what everyone is telling people about Nigeria but we don't care about that and we are really passionate about what we care about. That's exactly what grime is to me. We don't care about this whatever stuff. We don't care that our music doesn't sound like everybody else's.
We just really like this. We're gonna go radio every week, we're gonna MC, we're gonna buy vinyl, we're gonna spend money and cut dubs. Everything. That whole movement to me is exactly how I felt about Wavy, Odunsi and Santi. The whole three of them. Their attitude. Their drive. Their inspirations. What they actually create. Santi's music videos he directs are insane and so amazing. That for me topped everything and there was nothing better than that. That was like so sick to see that even if I close my eyes tomorrow and said I'm not doing music anymore, there are young artists in Nigeria who are changing the world. Changing the space of what people think should be is correct. Every single day they wake up. They want to do something different. For me that's 100%... and also the jollof rice! (laughs) That to me was sick. Sometimes you can sit and those movements come to you from overseas from wherever. You're like rah?! I am seeing these lot as they get started and years from now they are going to be massive and I am going to be like I saw that at the beginning.
You strike me as someone who wants creative talents to blossom through events like your DON'T @ ME club night and other ventures such as One True Calling with Sian Anderson. How important is it to give back and provide platform for a new generation coming through?
This has always felt like the natural thing for me to do because it's everything I thought I needed when I was coming up. It's been a weird journey though because everyone doesn't have the same drive. I've realised over the last few years, that I am who I am today because of all my struggles & lessons learned without that help that I thought I needed. So, some parts of me want to stand out of the way and let the new generation make their mistakes and learn to push through. That's what separates the leaders from the followers but at the same time as I watch things from afar I feel like I could be doing something to help. I guess my thing isn't necessarily about a helping hand - it's about building platforms for people to use for their own lessons & growth.
Julie in Lagos: Next Generation Nigeria P.2 | Beats 1 | Apple Musicyoutu.be
What are your go to tracks from the diaspora?

"On The Low" by Burna Boy is an underrated banger. I think "Ye" has gone so big that people keep forgetting about it but that song is sick. "Sparky" by Santi. I love that tune a lot. "Body Deep" by Wavy The Creator. I hope people realise how sick that tune is as that tune is so hard and I really love that tune. Anything that Teni's making at the minute. I really really like Teni and I hope to meet her someday. I'm crossing my fingers!
Who are your favourite producers and artists from Africa and the wider diaspora?
Juls, Jae5andLegendury Beatz.
London has a history of facilitating new subcultures such as jungle, dubstep, grime and now afrobeats. Why do you think it's such a key location for the latter genre and pushing new sounds?
I think because all the first generation Africans—Nigerian, Ghanaian, etc—we are all of a certain age now and... we're finally in a position to push our interests into this space. I think when we were 15 or 16 these were all hobbies to us. We made music, pushed music and liked certain things, but now we are the DJs, we are the producers and we are the artists. So we are singing about and talking about our family where we've grown up.

I think a lot of people didn't understand that before but I think now we have taken all of our experiences growing up from our childhood, our teenage years and early adult lifestyles and we've put that into the media and popular culture. We are also super excited seeing other people doing things that we can relate to. Even if I don't understand what J Hus is saying there is something about his vibe that feels very normal to me. I think London is the best place for that as a lot of our parents came and raised us here.
I feel like the same thing is going to happen in Brooklyn, as there are a lot of Nigerian people living there who are like us and Atlanta as well. I think America is so big and overpowering that it will take a longer time for a culture to come through. When you ask someone in London where they're from, they don't say England they, say Nigeria. Whereas in England, we still very much feel like we come from where our parents are from. I think that's why London has that vibe and it's weird as a lot of artists coming from outside of London, for example, Wavy who says she feels really comfortable here and she feels more accepted here than she does back home sometimes. I think that's because there is that thing of "oh we're used to being Nigerian but not being Nigerian Nigerian." I think she sits closer to us than her peers back home. I am excited to see what happens there over the next few years in Brooklyn and Atlanta I hope they will be able to see something similar to what we've seen.
Tune into Julie Adenuga's show on Beats 1 on Apple Music Monday-Friday at 9AM NYC/2PM London time here.