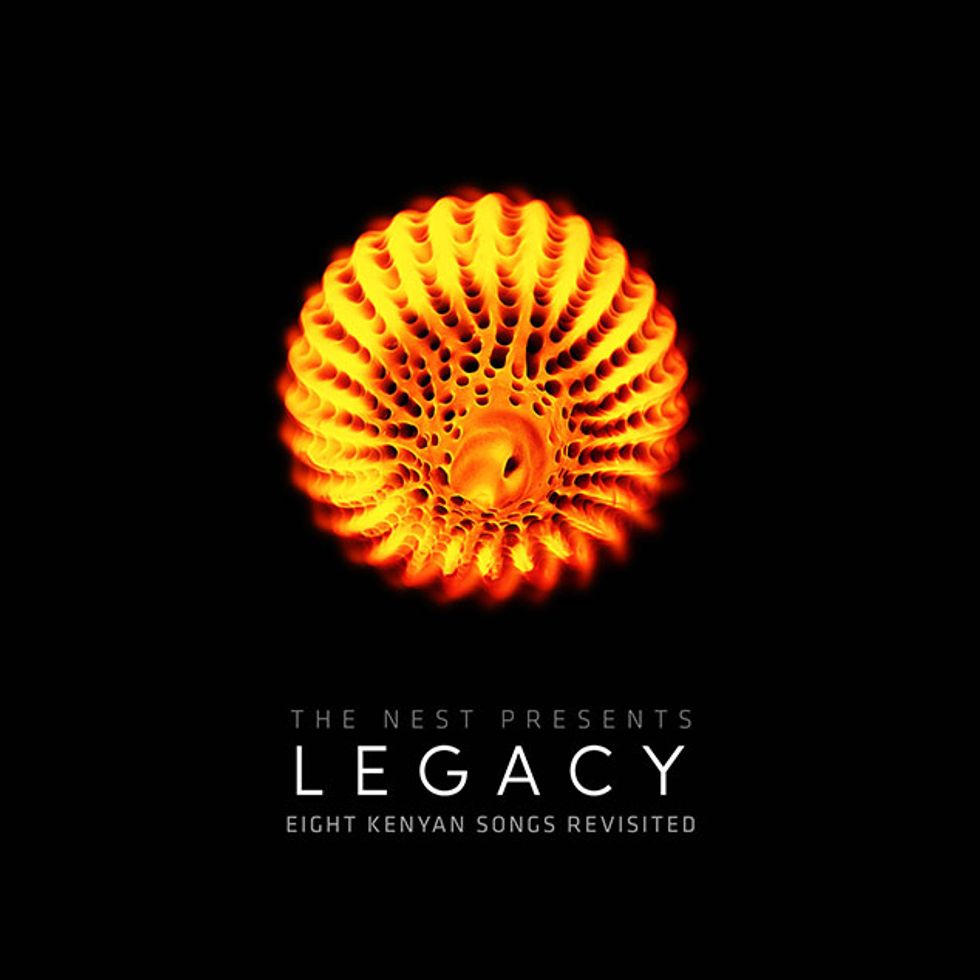 ---
The aptly titled Legacy compilation is the soulful outcome of Kenyan art hub The Nest's challenge to Kenya's young music community. Seven on-the-rise artists were enlisted to cover pre-2010 Kenyan pop songs. With the limitless talents of Nest founders Jim Chuchu and George Gachara, Kenyan songwriters including Lisa Oduor-Noah, Patricia Kihoro and Miami Silas were given the opportunity to pay homage to their influencers with a new edge. We chatted with a young crooner and soul-singer featured on the project, Jarel Nduba. Read Jarel's thoughts on Kenya's music scene and listen/download the eight revisited Kenyan pop songs below.
Shiba for OKA: Hi Jarel. Let's start by getting to know you a little better. Were you raised in a musical family? What did you listen to growing up?
Jarel: Not especially, I'm usually at pains explaining how exactly I went in that direction while everyone else was corporate bound. It would seem some things happen by strange chance, the melody called and I followed. What comes to mind most are the Chico, Yvonne Chaka Chaka, Brenda Fassie, Kool & The Gang, Bob Marley and Tom Jones records my mother endlessly played on her still functional record player, hopefully I get to inherit them all. Those sounds stuck in a sticky hazy endless tune.
OKA: What is the creative scene in Kenya like? Tell us a bit about some of the live performances you've done and your experiences thus far.
Jarel: The creative scene in Kenya is fluid and ever changing. Exciting arts and culture events are happening every other day and more and more platforms for artists to showcase their works are sprouting. The biggest gainers at this time are independent performers, unsigned and self-funded. We're getting creative and innovative with the way we showcase our work, not just to the Kenyan scene but beyond our borders. Artists are increasingly sourcing their own funds and means to develop and promote their works as opposed to being managed by big record labels and it's the biggest motivation and drive for self-reliance we give to each other. I have had the pleasure of sharing stages with several artists such as Sauti Sol, Bebe Cool, Fena and Antoneosoul and eventually will jam with Esperanza Spalding and Gary Clark Jr.
OKA: Can you tell us a bit about The Nest, The Legacy Project and your experience reinventing your song?
Jarel: Glad you like Legacy, it was quite an honour to be one of the artists given such a fine opportunity to pay homage to our industry forerunners. Immense gratitude on behalf of everyone involved. I'm actually quite recently affiliated to The Nest but I do know they're an artistic and intellectual collective of fairly young Kenyans spearheading a movement of new thought and ideas in modern contemporary Kenya through art, film, music, literature and public forum and debate. Just in case I left something out, Jim Chuchu and George Gachara, the patrons of the movement can help out. They're both on twitter. The Legacy project is a blast to the past, an ode to the artists in Kenya's recent pop culture history. Seven young artists, each creating a niche for themselves in the present day industry were selected to give a fresh take on former chart topping hits.
OKA: Fantastic! How did you happen to become one of those few artists?
Jarel: I recall tweeting my single "Clouds" to George, director at The Nest and he was kind enough to call me over and introduce me to the amazingly gifted Jim, who handled the production of the album. They explained the project to me and I was sold. It's a rare opportunity to be involved in such a ground-breaking project. A quick and huge thank you to them for letting me croak over a microphone!
OKA: So you got to choose your own song to tackle?
Jarel: I selected the song "Mwewe" by the pop group Sema and went about identifying the core feeling and intention of the song. The message of it resonated quite well so it wasn't as challenging to give it a mellow and emotive punch, and Jim took it to a whole other level with the exotic and enchanting sounds he created.
OKA: And what a beautiful collaboration it is. When did you know you wanted to perform? Why the guitar, and do you play any other instruments?
Jarel: Ahsante! That is relieving to hear, somehow think my kin are too chicken to tell me otherwise. I've somehow always known I wanted to verbalize the sounds and deepest thoughts within me through music but never had the guts to reveal that side of me up 'til high school when it all literally burst out. Later on I auditioned for and joined the Sauti Academy, an artist development program run by its director Natalie Lukkenaer of the Penya Africa stable. This stage in my journey proved to be most beneficial. It equipped me with a vast network of independent artists, music industry veterans and the general skills an artist needs to be self-reliant. Voice is my first love, my instrument of choice and the one I can easily play around with, its beauty is highly elevated by other instruments hence why I decided to pick up the guitar which helps even more when songwriting. I use the piano mainly when composing and band practice but haven't quite got the kahunas to play it live on stage. Sometimes when I'm feeling adventurous I play the congas.
OKA: Tell us a little bit about the Black Progression Band.
Jarel: Excitement! This is my crew, a diverse collection of innovative talents. John Du, mystic chanter and humble servant of the guitar. Abishai and Armstrong, multi-talented cousins from Burundi who can create sound from almost anything, voices included! Edmond, the cheeky pianist with a penchant for brass, saxophone his favorite. Richie, the beat, rhythm and pulse behind our music. We are working hard to create a sound we call World Fusion, a blend of universal World Music and contemporary genres around us such as Seben, Jazz, Blues, 'Indie', Rumba, Mugithi, Psychedelic, Funk among others. 7 track EP in the works.
OKA: What is the general message behind your music?
Jarel: Truth, love and freedom, the lack of which is the bane of our existence. Live, laugh, love and to tell you the truth, it's all really simple, look inside for the freedom we're constantly after. There's no other intangible medium that can set our senses free as music does.
The Nest Presents: Legacy album is available as a free download on soundcloud. Take a look at the tracklist below.
The Nest Presents: Legacy Tracklist
1) Lisa Oduor-Noah, "Ndai" (originally performed by K-South and Fundi Frank, 2004)
2) Pauline Ayuko, "Sweet Love" (originally performed by Wahu, 2008)
3) Winnie Chris, "Wachilia" (originally performed by VQee, 2010)
4) Silas Miami and Winnie Chris, "Ninanoki" (originally performed by Nameless and Amani, 2001)
5) Patricia Kihoro, "Hakuna Matata" (originally performed by Swahili Nation, 1996)
6) Diana Nduba, "Niwe Wako Milele" (originally performed by Nikki, 2008)
7) Jarel Nduba ,"Mwewe" (originally performed by Sema, 2005)
8) Miami Silas, "Prayer" (originally performed by Harry Kimani, 2005)