Having come of age in NYC during the formative years of hip-hop in the 80s, even attending the same alternative arts high school Jean-Michel Basquiat graduated from years prior, mixed media artist Kip Omolade's Diovadiova Chrome paintings and masks are truly something special to behold.
---
They appear to seamlessly blend traditional portraiture and sculpture with Afrofuturism's cultural aesthetic of combining science fiction, magical realism and African history.
And one of Omolade's paintings from the series, which took five arduous months to complete, is featured on the album cover of Fantasia's forthcoming release "Definition of...Fantasia." Other works prominently showcase the facial features of Brooklyn's DJ Kitty Cash.
New Fantasia Album featuring Kip Omolade Cover Art
Omolade's background as a graffiti artist and comic book cartoonist (he interned at Marvel at one point) finds its way into his hyper-realistic, vibrant oil paint renderings of luminous masks, although perhaps not immediately apparent on the surface. Omolade's use of metallic surfaces pay homage to the comic books that filled his youth, and his selection of bold, colorful backdrops serve as a nod to his graffiti-tagging heyday.
The NYC-based artist explains that his latest work connects to ancient African artisans of Ife, Nigeria, considered the cradle of Yoruba civilization, and aims to initiate "an ongoing discussion that uses women of color as models to examine contemporary culture." It's through investigating the masks we all wear as well as modern notions of immortality and beauty that Omolade fulfills his ultimate goal "to include more voices in the universal discussion about what it means to be human."
Okayafrica caught up with Omolade, who as an early-riser begins his day with meditation before diving into his multidisciplinary focuses of oil painting, sculpture and photography, over email to unpack the meaning behind his Diovadiova Chrome paintings.
"Diovadiova Chrome" of DJ Kitty Cash V, Courtesy of Kip Omolade
Erin C.J. Robertson for Okayafrica: What does Diovadiova mean, and how did you come with the name?
Kip Omolade: 'Diovadiova' is the name and concept I developed to describe the relationship between immortality and contemporary iconography. 'Dio' is the Italian word for 'god,' while the word 'diva,' in the historic sense, means 'goddess.' I wanted to use a European based name that ironically represented an African experience. There is also a commentary on how hip-hop culture co-opts luxury brands such as Dior, Louis Vuitton and Prada to produce a new un-intentioned hybrid aesthetic.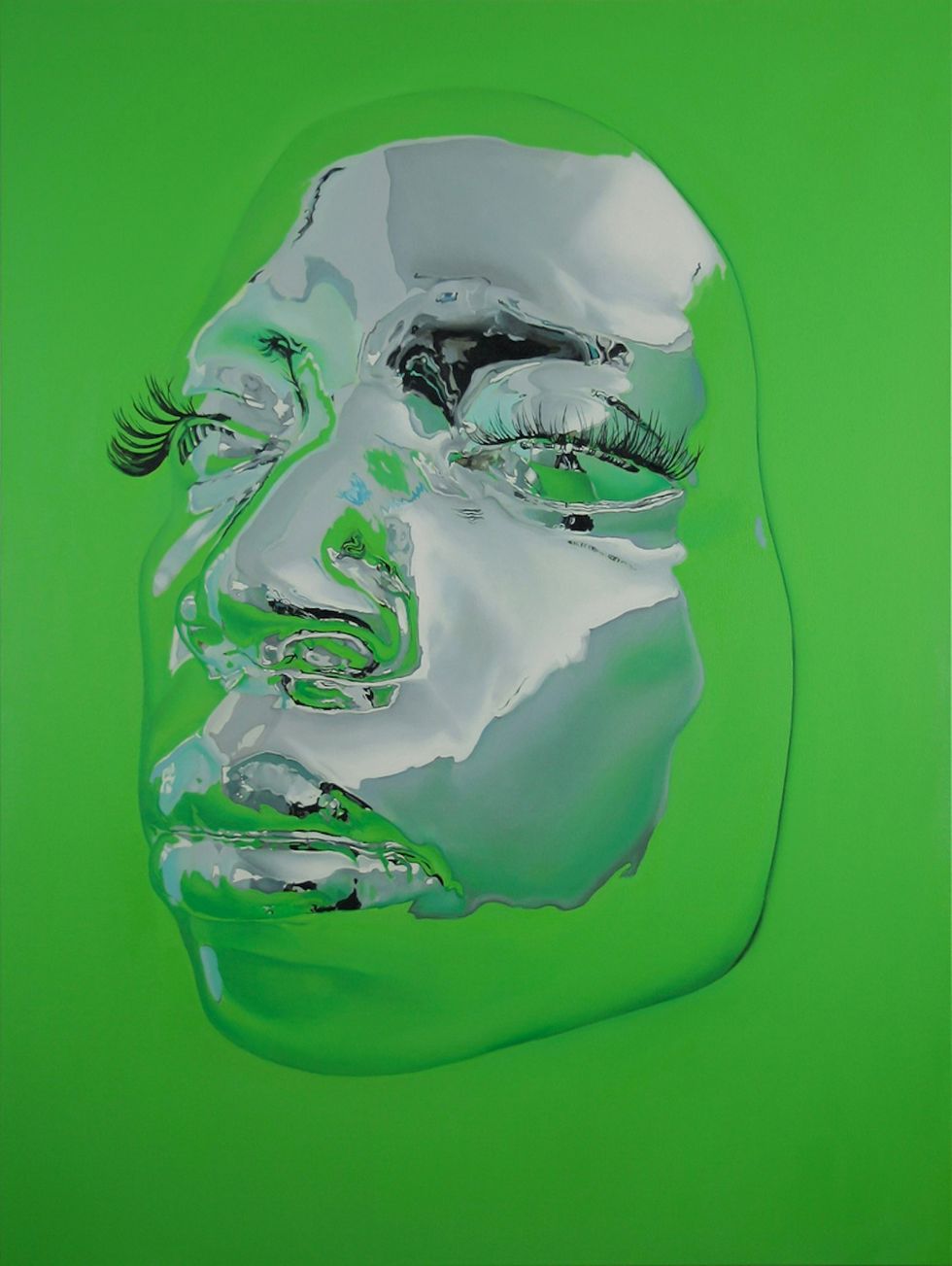 "Diovadiova Chrome" of Diana II, Courtesy of Kip Omolade
How do your portraits connect to Africa? What are some of the social or political themes you explore that those who engage with your art will come to understand?
In 1910, a German explorer Leo Frobenius 'discovered' Ife Bronze heads in West Africa. The artifacts were comparable with classical Greek sculpture, so Frobenius assumed he stumbled upon the lost Greek city of Atlantis. The heads were actually created by African artisans between the 12th and 15th centuries, but the craftsmanship and use of realism by so-called primitive Africans was beyond the scope of Europeans at the time. 'I was moved to silent melancholy at the thought that this assembly of degenerate and feeble-minded posterity should be the legitimate guardians of so much loveliness.' Frobenius commented.
"Diovadiova Chrome" of Kayrn II, Courtesy of Kip Omolade
I noticed your portraits depict black women's faces, could you explain why you chose to focus on their features exclusively?
From Nefertiti to the Statue of Liberty, black women's features have been revered in art. I thought it was only natural to depict them in a contemporary context.
"Diovadiova Chrome" of DJ Kitty Cash, Courtesy of Kip Omolade
What inspired your Diovadiova Chrome portraits? How did you come across the concept for the physical process of creating your portraits?
I was working on a portrait of the original Diovadiova model and I took a break and casually attached artificial eyelashes to her sculpture for fun. This sparked an idea that finally enabled me to produce the exact look I'd been looking to construct for years. Diovadiova Chrome fulfilled a life long pursuit of creating a motif that encompassed my love of color from my graffiti days, the use of metallic surfaces from comic books and my traditional oil painting training.
"Diovadiova Chrome" of DJ Kitty Cash III, Courtesy of Kip Omolade
How long does it take to make a single portrait?
The paintings start with a mold of the model's face. My wife usually assists in applying the mold and plaster strips. I make a cast plaster sculpture from the mold. Then I sculpt the eyes and parts of the nose based on several photographs of the model. I make another cast in resin that is later covered in chrome. Adding the artificial eyelashes helps convey a feeling of glamour and exaggerated emotion.
After positioning the sculpture against a color-saturated background, I photograph dozens of references for the oil painting. The painting process is the longest part of the procedure as I slowly add thin layers of oil until I achieve the desired details and color luminosity. In the beginning of the whole process, there is a sense of unpredictability as the mold captures every unexpected nuance and expression of the model. However, when I paint, the work becomes more deliberate as I control every mark on the canvas. The whole process takes about five months.
"Diovadiova Chrome" of Joyce II, Courtesy of Kip Omolade
What has been the overall reaction to your art?
Once most people understand that Diovadiova Chrome are not sculptures mounted to colorful backgrounds, but instead actual paintings, they are usually blown away.
"Diovadiova Chrome" of DJ Kitty Cash II, Courtesy of Kip OmoladeO
How did your art get selected for Fantasia's album cover? Could you describe your reaction when you found out she was going to feature your art?
I've been telling people for years that Fantasia's Summertime was one of the best performances on 'American Idol.' Therefore, I was really proud to be part of her project. I'm not sure about how my work was selected for Fantasia's album cover but as fellow artists, we both share a commitment to skillful artistry and soulful expression.