Popular
Kokoroko: "Jazz & Afrobeat Shouldn't Stay Within Our Parents' Generation"
Photo: Nina Manandhar.
We talk to the buzzing London afrobeat group's bandleader about their debut EP and much more.
Last February saw Brownswood Recordings release the fresh and exciting compilation We Out Here,assembled by Shabaka Hutchings, which celebrated the new generation of London jazz musicians who've been organically fine-tuning their craft for the last decade.

In an epoch where streaming numbers and views can often precede the foresight of quality and legacy, this grassroots family is welding their formal education at Trinity Laban and Guildhall alongside the energetic tutelage of Tomorrow's Warriors and Kinetika Bloco to create an essence for your ears that is unmistakably from the Big Smoke.
One band who feature triumphantly on We Out Here are the empress-led Kokoroko, an 8-piece afrobeat band hailing from the UK capital. Drawing influence from West African highlife and jazz, they sit at the intersection of past and present, well-marinated in enough polyrhythm seasoning to induce fires on the dance floors they play.
We spoke with the talented bandleader, trumpeter and visual artist Sheila Maurice-Grey about paying homage to highlife heroes, the burgeoning London jazz sound and their new self-titled EP, Kokoroko.
---
Where are your parents from?

My mum is from Sierra Leone and my dad is from Guinea-Bissau, but I grew up with my step-dad who is from South Africa and Zimbabwe.
Kokoroko's mission statement is "This is not idle music." What was your musical grounding early on?
I guess it was typical in the sense that I grew up in the church. I first started playing guitar and then keys before I started playing trumpet, which was in secondary school. It played a massive role in terms of what West African Pentecostal churches are like. It's very charismatic and it was really good music to be honest. It was my first encounter of my heritage in that sense. I started playing keys maybe when I was eight, and playing in church between the ages of 12 to 14. It wasn't something I took too seriously but it was something I enjoyed doing.
Which part of London was that in?
That was in South London actually around the Stockwell and Brixton area.
The band's name is of Nigerian Urhobo origin meaning "Be strong." How important was it to maintain a connection to Africa?
Very, very important. I guess that was the whole point of starting the band. I started the band with (percussionist) Onome Edgeworth. I remember us having a conversation in Kenya about afrobeat, and afrobeat bands in general in the UK. We said there aren't enough afrobeat bands that represent the diaspora and I was like 'we should start one.' The importance of it is that it's very powerful and we keep the legacy of the music. Jazz is important in terms of its legacy, so is afrobeat. It's not something which should stay within our parents' generation, especially now with the massive rise of afrobeats. It's great music but it's just as important to keep the roots of it alive because politically, socially and historically, it's important music.
Photo: Nina Manandhar.
Within that, you speak about empowering this new generation of young people that listen to the music and share the experience of having that dual heritage.

Yeah. I don't know where you're from?
Ghana.
I don't know if you have, but I think most of us have that experience being here in Britain. We'll never be English but of course we are British. Then when you go back home you're not really considered Ghanaian. I don't know if that happens for you, but in my case I'm always seen as the English girl that's come home. So I guess it's about keeping that connection and being like, although we haven't lived back home, it's a very important part of our identity and I think that's quite powerful in itself.
I liken it to walking across a plank, especially when people describe you as being British-Sierra Leonean or British-Ghanaian. That hyphen is a tightrope where you're essentially stuck.
Definitely, for sure.
You started out paying homage to highlife and afrobeat via covers of legends like Pat Thomas, Ebo Taylor and Tony Allen.
And Fela Kuti… It's important to say!
What rhythmic elements of their music have inspired your growth as a collective?

I guess it's trying to understand the music in terms of little things like how melodies are structured and, compositionally, how things work. It's just different from any type [of music]. Most of us have come from a jazz background, a few of us went to school to study jazz. I guess it's just very different, simple things like where the horn lines are placed, how the bass lines have been written... I think especially with that type of music…rhythmic nuances are the main thing that make the music what it is before you even get to the harmony or the melody. It's different from a lot of music, but I feel like it's the foundation to a lot.
I understand what you were saying earlier and how difficult it is to learn Ebo Taylor's work.
Yes. It sounds beautiful but it's not the easiest music to play! (laughs)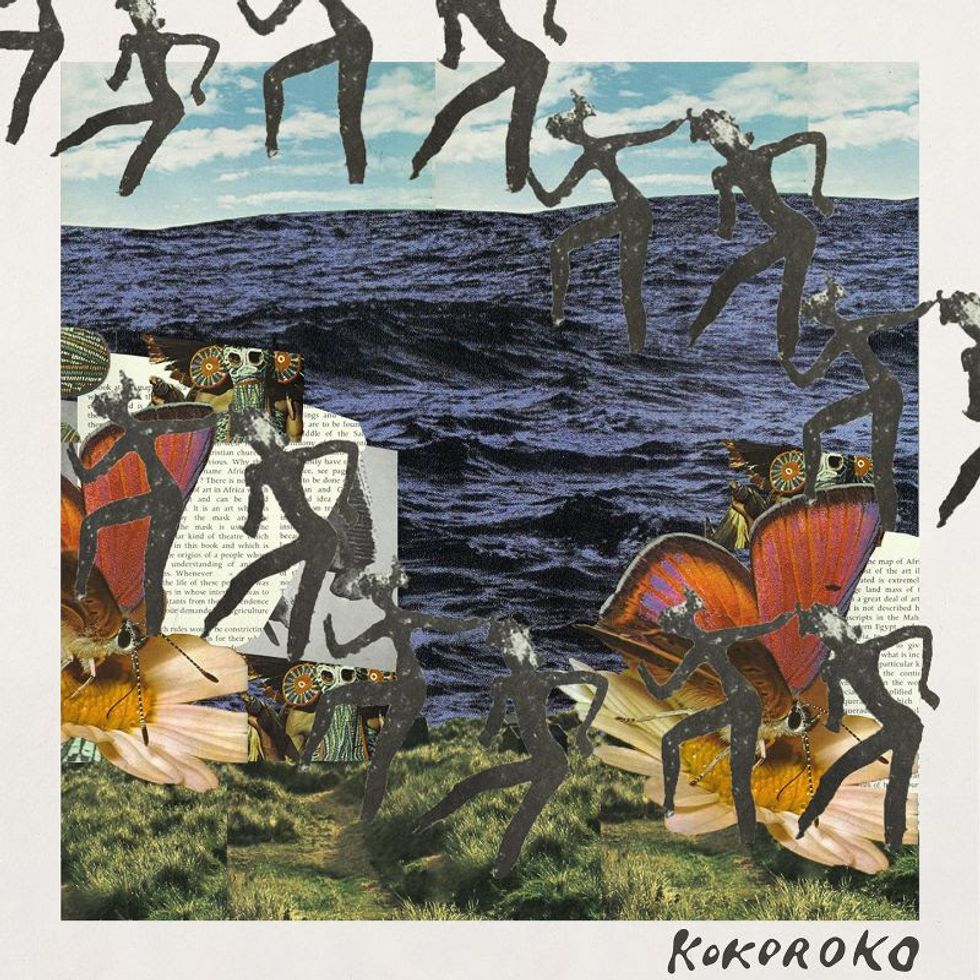 Fela also shares a closer connection to Kokoroko as he also attended Trinity Laban when he first arrived in 1950s London. To what extent has he resonated with your collective?

Before Fela Kuti created afrobeat he went to study jazz which I think people forget sometimes and, as I was saying, afrobeat is important in terms of what it's come through historically. It's something that I feel like people will see as music of the past. They should take the time to realise how relevant it is to now. I guess those are the connections I make with jazz and afrobeat, it's very important and it should be around for generations to come. As much as we give importance to jazz, it's the same kind of importance we should give to afrobeat as well.
I think at present everyone has their eyes on London as a city with Brexit happening. What you're a part of within the young jazz realm is really unapologetic and shows people that the experience of growing up in London is still unique and can't be sold off. As a Londoner, what are your thoughts on that?
I think we're living in strange times where as much as the UK is an island, it feels like London is an island within an island. In the sense that culturally what's going on is amazing and beautiful. You have so many cultures living side by side and you're hearing the music and art but a lot of things that come out of London are taken from a mixed match of diversity, which is really important. It's a weird time as soon as you leave London, you kind of realise the reality of where we're living. I think the beautiful thing about London is that you have so many things to draw [inspiration] from. The other day I was in Dalston Market and it was so beautiful to see many cultures side by side. You have the Turkish people selling the Turkish food then you have Nigerians, Ghanaians selling their traditional African food. That's very beautiful to see within itself.
"Abusey Junction" was your first release a year ago as part of the We Out Here compilation. Since then it's been streamed over 20 million times on YouTube and has gone on to win Track of The Year recently at the Worldwide Awards. How did that song come together and can you describe the personal impact it has playing live?

Oscar wrote it when him, Onome, and I went to Gambia a few years ago. He wrote it on the rooftop of a place where we were staying. I think it's more the energy and the vibe that was recreated at that moment. That's what makes it really special. It was very organic how it came together, especially how it was recorded. To be honest it's been hard to recreate that same vibe on a live stage as it's very different from everything else we've written… Not necessarily everything else but what we play in our set.
KOKOROKO - ABUSEY JUNCTION // WE OUT HEREyoutu.be
How was the process of composing and writing your self-titled EP Kokoroko?

We've been working on it for quite a while. Before "Abusey Junction" was recorded we had already recorded the EP but it wasn't quite ready, so we decided to continue playing and writing more music. Earlier last year we went to the studio with the mind-set of trying to record tunes for a potential EP and it sounded great. Now we're looking forward to writing the album.
What's your favourite track on the EP?
I think it has to be "Ti-de" as it's just a little similar to "Abusey Junction" but still quite different. I really like that tune but all the tunes are really different and they are tunes we've all written.
So how does the dynamic work in the group with eight of you? Is it led or does everyone have an input?
I'm the bandleader and I get things together to make sure things get done but in terms of writing music everyone contributes. I guess what makes a band a band, rather than the Shelia Maurice-Grey project, is that you have eight really strong and important characters that I can really value for their sound. When we write tunes, someone will bring a tune in we will play it and reshape it a little. Sometimes we don't even reshape it. Our set is comprised of tunes that everyone has written.
What's been your favourite gig so far?
Favourite destination to play with the band was Worldwide Festival earlier last year in Sete which was very beautiful.
Who designed the artwork for the EP?
Her name is Kasmir Jones (The Afrodigiac) who is from New York. I really like her stuff and I think it's great.
What is it about the energy and support that has made everyone in this London jazz "scene" grow?
From my perspective I think it's the fact that a lot of us came through different music programmes. The main ones were Tomorrow's Warriors and Kinetika Bloco. I guess the fact that I've known a lot of these people since I was 12 and I've been playing with a lot of people since. I'm 27 now so that's a long time to know a lot of people and I think that's a key thing. By the way not everyone is from South London! (laughs)
Just imagine if you played football with some guys since you were 10 and eventually all these guys ended up being footballers and you ended up being the best. I guess it's just natural. When you have a community of people you grew up with I think you're bound to create something which is quite unique and special to your group.
What would be your dream collaboration?
With Kokoroko I think it would be great to be in the same room with Seun Kuti. It would be a dream to play with and just gain more knowledge about the knowledge of the music. Seun Kuti or Femi Kuti would be a dream.
And then end up at the Shrine.
That would be amazing!
The new self-titled EP by KOKOROKO is out now.