Sitting at the intersection of art and design is the work of multidisciplinary company ANTI. Founded by Pablo & Jennifer, what started as a bond between partners blossomed into a full-blown creative outlet.
ANTI applies their idiosyncratic expression towards projects ranging from graphic design, art direction for ads, music videos, films, paintings and murals. The remarkable nature of their work has put them on a pedestal within the creative nucleus that is Lagos.
The dynamic duo of Jennifer and Pablo have worked on music videos for Wizkid, Davido, Tiwa Savage, Odunsi, Santi, and Sauti Sol. As well as designed sets for ads of organizations such as Absolut Vodka, Jameson, Nike, Coca-Cola, Nivea and UNICEF. Their approach to videos and art direction is injecting the Lagos creative scene with a much-needed breath of fresh air.
We spoke to Pablo & Jennifer about their early beginnings, problems they faced, inspirations and how the Lockdown has affected them.
---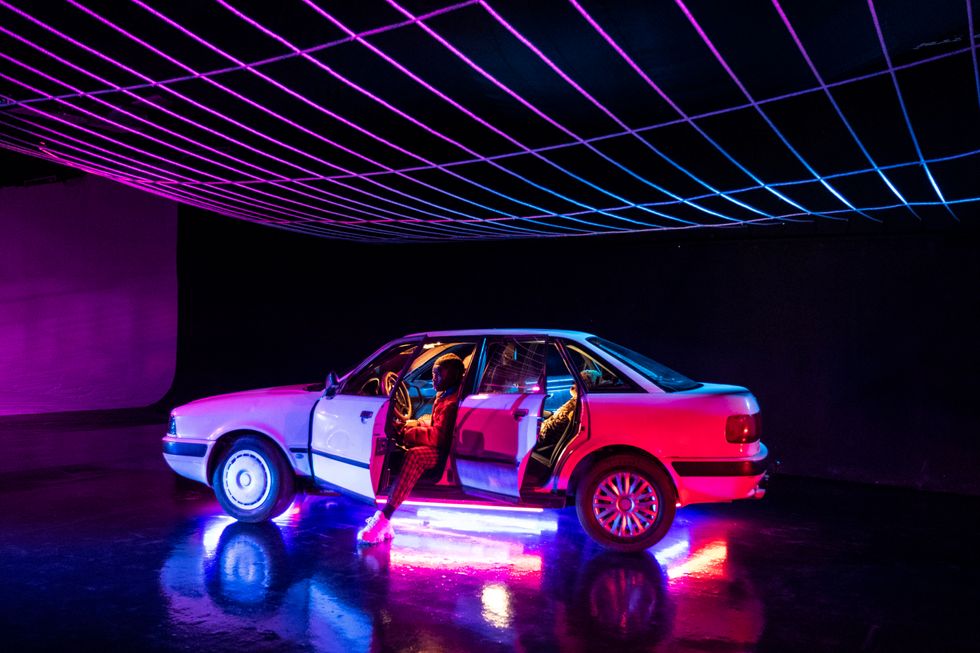 Rema Bad Commando video shoot.Photo courtesy of ANTI.
How did you two meet and what sparked the thought of becoming creative/business partners?

Pablo & Jennifer of ANTI: The famous question [laughs]. I guess you can say it was destiny, two people from different continents finding themselves in a foreign land. We were really young when we met (16), and business was the last thing on our minds until many years later. But we've always been creating together, be it painting or organizing mini-shoots with ourselves.
What inspires & drives you both to create?
Pablo: I've always been into graffiti and street culture so that's what really calls my attention aesthetically. But where I really draw inspiration from is life itself, I often find myself having "aha moments" from the most mundane things, making connections between different elements of life and trying to see things from different perspectives.
Jennifer: I would say inspiration comes to me in waves, I may be doing the most random thing and think "oh, that would be cool," I don't necessarily have a formula but it seems to work.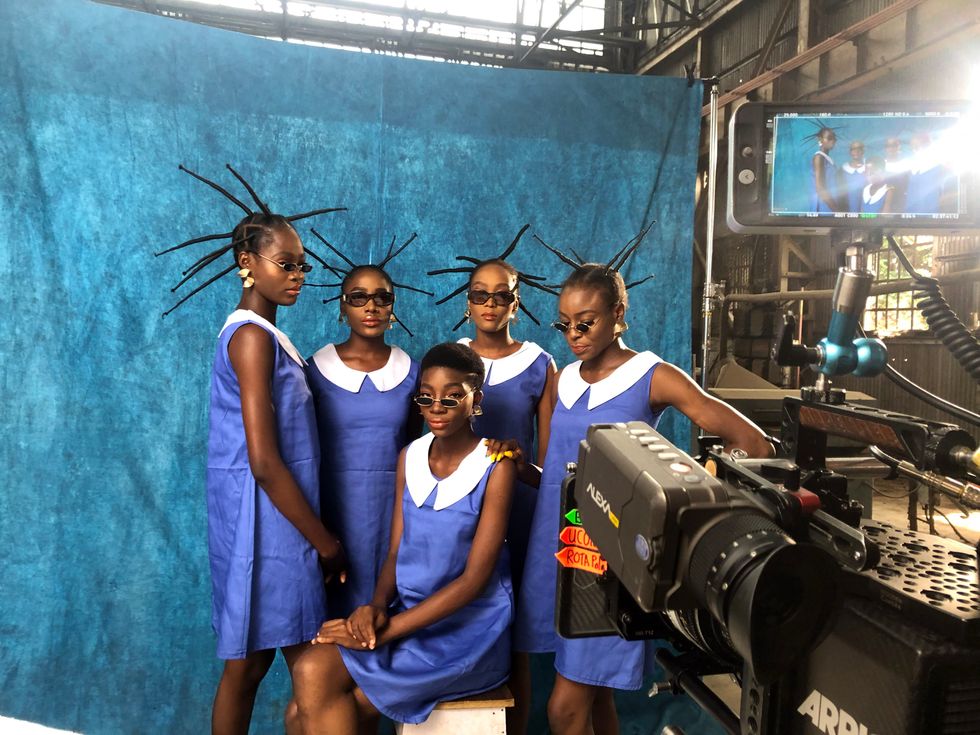 Behind the scenes of Tiwa Savage's "49-99" video.Photo courtesy of ANTI.
Would you describe yourselves as being art/creative directors?

Both: It depends on our role on the project. We are multidimensional artists. We don't really fuck with labels that much.
Talk to us about your creative agency ANTI, how it began, what it does and how it's grown to be such a big agency in Lagos.
Both: It is very hard to categorize ANTI, and this is something we often struggle with. ANTI started as a side-hustle and creative outlet. Teachers and parents always told us that creative skills were hobbies, and then there was "real work." Well... ANTI gradually became our main thing, and as it evolves, it keeps on opening doors to new opportunities in new fields. With regards to ANTI as a brand, we've always known the importance of brands and brand communication. Since uni we've worked on branding startups and small businesses.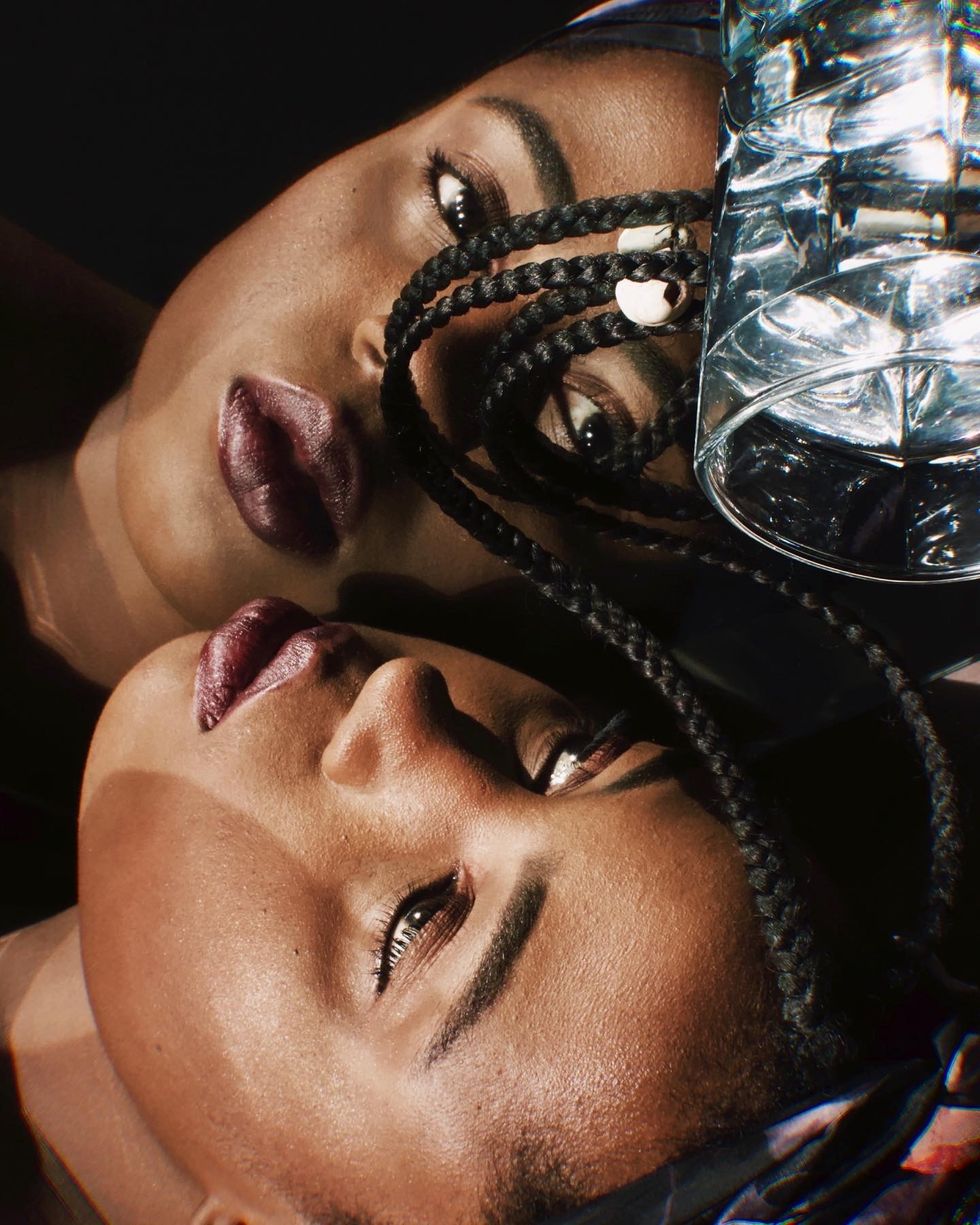 Lockdown ANTI shoot.Photo courtesy of ANTI.
What do you both bring to the ANTI team individually?

Pablo: Our creative roles are very interchangeable. Jennifer is definitely the driving force (I can be a bit too laidback at times), her work ethic and determination are amazing. And very few people know this, but she's also a gifted illustrator.
Jennifer: Pablo has ridiculously good digital design skills, he has a good eye and creates dope visuals.
What disadvantages have you experienced creating in Lagos?
Both: Lagos is an amazing city, the energy and creativity is a vibe but let's be honest, it is uniquely chaotic. You have to understand that chaos, find the beauty in it and learn how to navigate it. Things can be unpredictable so we always hope for the best and prepare for the worst. We have gotten quite good at contingency planning and improvising. Lagos has also shown us that anything is possible if you want it badly enough and look in the right places.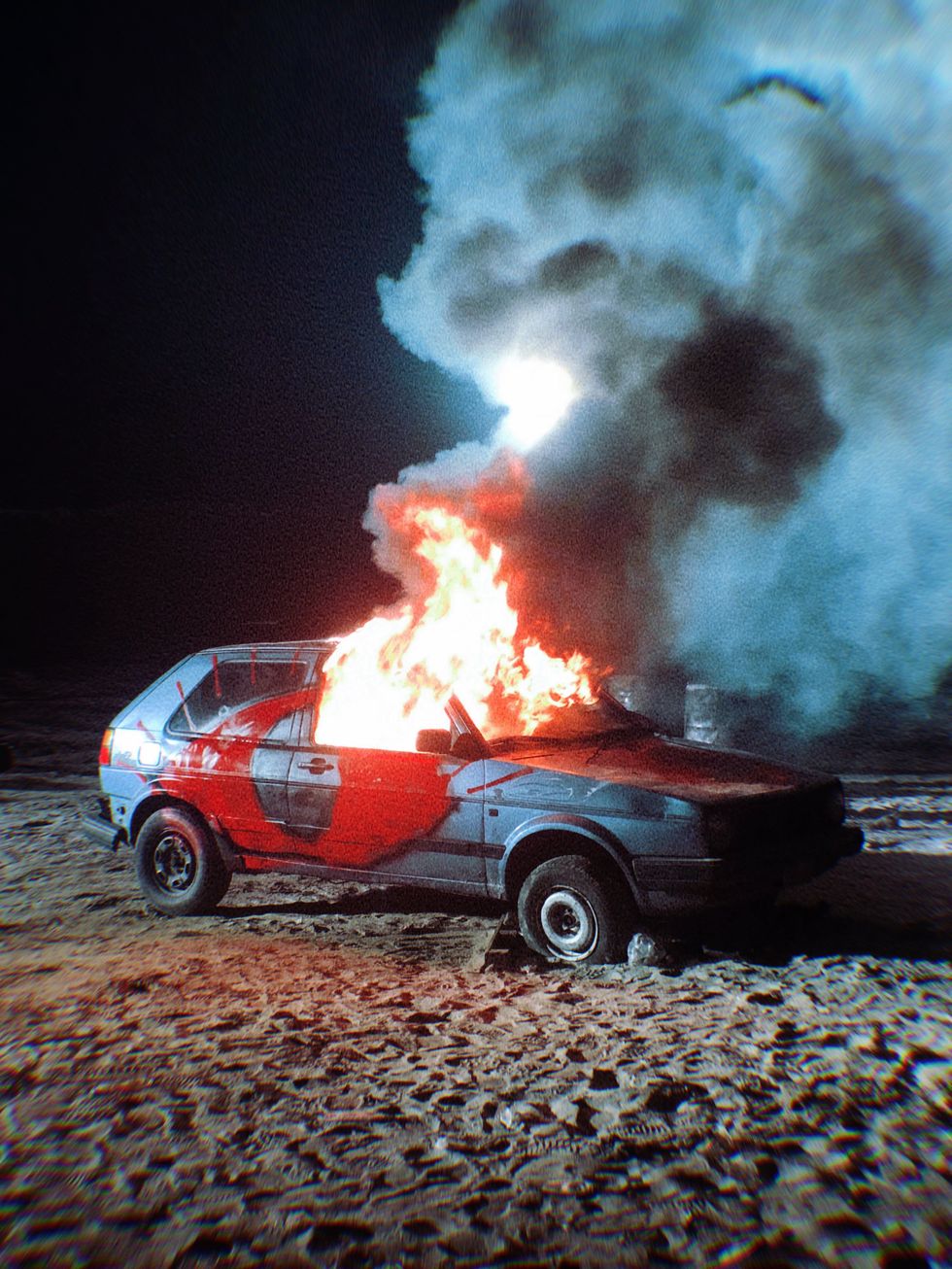 Davido's "Sweet In the Middle" BTS.Photo courtesy of ANTI.
How do you decide the idea you use to execute your projects, what's the creative process that guides your art and creative direction?

Both: Every project is so different from the previous one. For our personal projects, in which we have full creative control, we love to experiment with different mediums and try as many things as possible. In film, we work with the director to interpret his or her vision. We then create a plan to bring the vision to life. We have to be resourceful, using what's available to us to make these ideas happen. Some ideas can be wild and they all have to be aesthetically pleasing. It is such a team effort, magic happens when the right people come together. When it comes to design projects, we want to offer a very personal, niche service, so it is extremely important to vibe with the client, and truly understand what they want. Sometimes it just doesn't click and that's fine, too.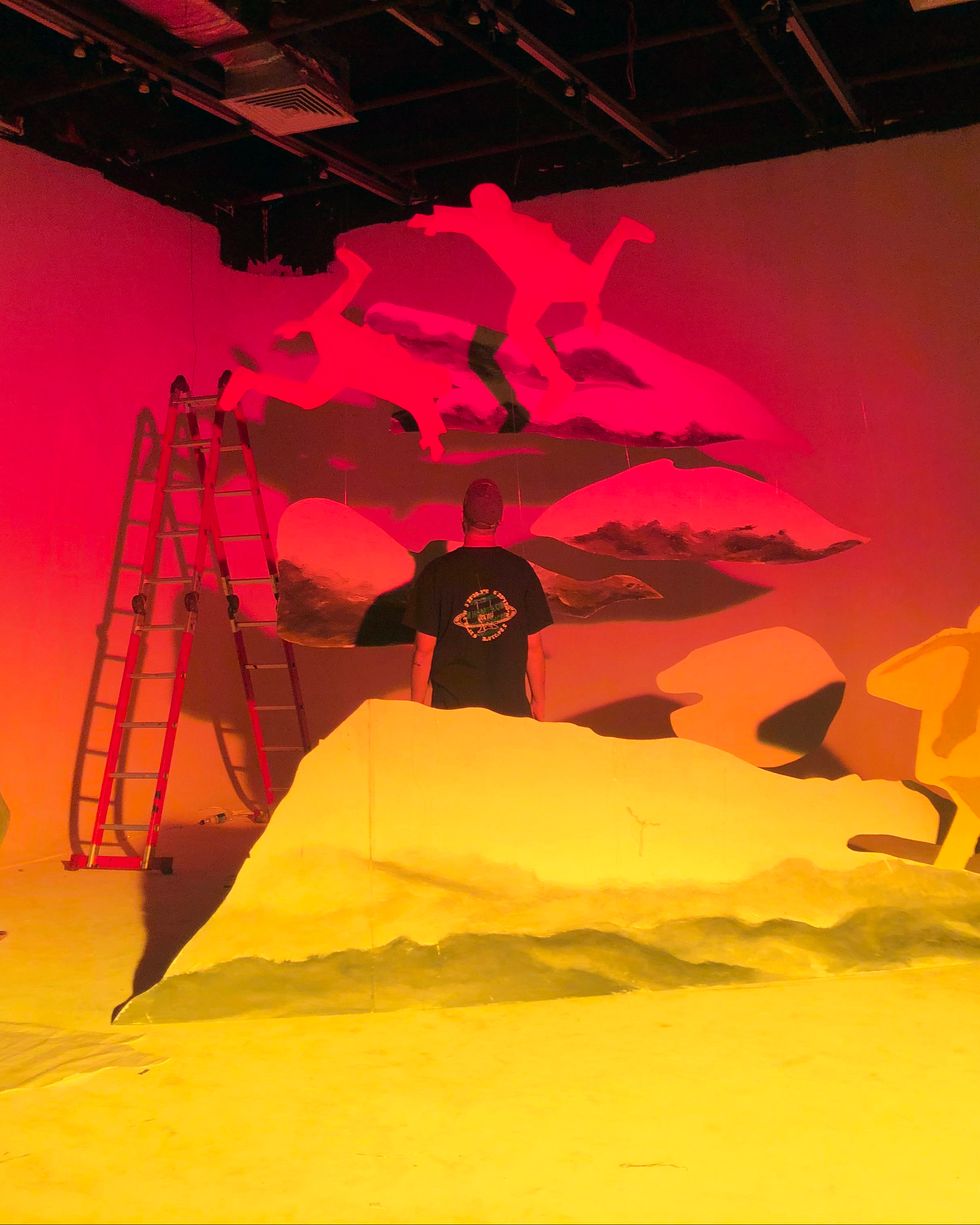 Rema "Bad Commando" BTS.Photo courtesy of ANTI.
What's your favorite part of working in Lagos and how has the Covid-19 lockdown affected you?

Both: Whoever said the sky's the limit has never lived in Lagos, people here have an energy like there's no limit to what can be achieved. It is a hotspot for creativity in Africa and the world is taking notice. The lockdown has actually given us time to take a pause, reevaluate and get back to exploring creativity authentically. We've been able to make art and finally got around to finishing designing our website.
What next for ANTI?
Both: We're focusing on creating meaningful connections, positive energy and continuing to push our boundaries creatively.