It was a powerful sight — the words "Black Lives Matter," inscribed above a large Black power fist, were projected against the side of Costa Rica's legislative assembly building Tuesday night.
It was one of many acts across Latin America over the past two weeks, not only in solidarity with Black lives in the U.S. but also with Black communities in their home countries, where Black people are also targets of state-sanctioned violence.
Hashtags in support—including #NoPodemosRespirar! #LasVidasNegrasImportan! #NoAlRacismo #SoyGeorgeFloyd (We Can't Breathe, Black Lives Matter, No to Racism, and I am George Floyd)—have been spreading through social media as Black Latin Americans have joined in marches and protests, virtual and in-person.
"The bullet that kills there is the same one that kills here," Brazilian group ColectivoJuntosposted on Instagram June 5, in a call for a global fight against racism.
---
From Panama, Colombia, Brazil, and El Salvador to Costa Rica, Nicaragua, and Puerto Rico, among others, Black and Afrodescendant people are denouncing the white supremacist systemic racism that continues to discard and kill Black people globally, and specifically in the Americas.

"I would like to express my solidarity with George Floyd's family," Costa Rica's first Black vice-president, Epsy Campbell, said. "The African American community has come together in a deep outcry beneath the motto, Black Lives Matter, because their lives have definitely not been treated with the same value."
From Costa Rica, more than 1,000 people joined a virtual protest on June 2 hosted by Costa Rica Afro. Campbell voiced her admiration of the people "marching and highlighting the ideals of justice, equality and love," insisting that by keeping silent one becomes "accomplices of injustice, brutality and pain."

In Panama, La Red de Jovenes AfroPanameños, an association of AfroPanamanian youth, said in a statement that it is past time to denounce and deconstruct the oppressive system that has denied human rights and emphasized the importance of youth to "stand up and fight against racial violence and anti-Black prejudice." This violence, the group said, "is not an exclusive feature of the United States... Afro-descendants... in the Latin American region have been persecuted for many years, and have been threatened to death for calling out social injustices."
Spotlight on police violence in Brazil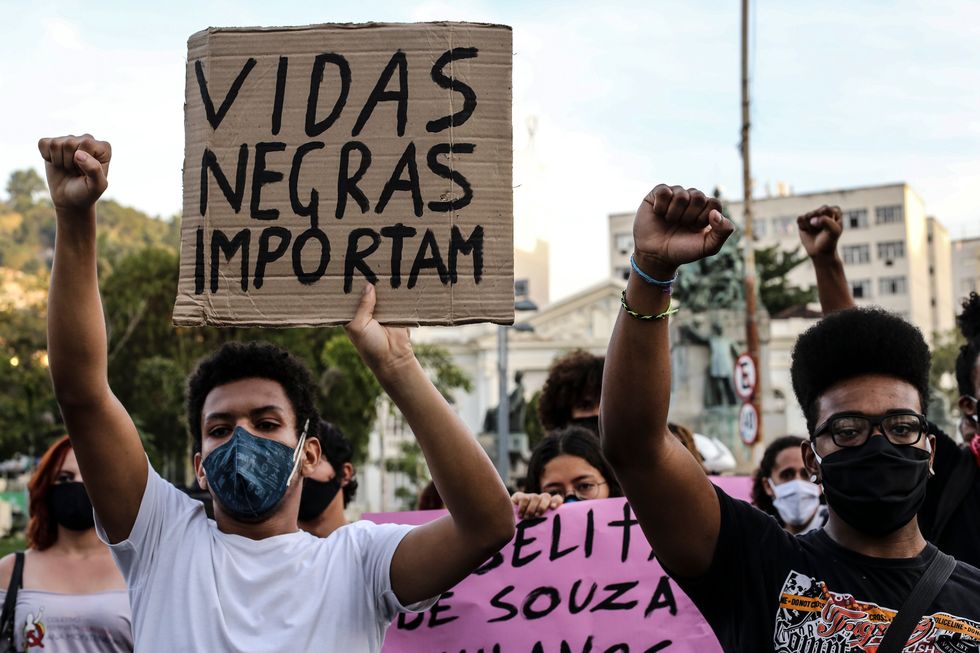 Protest Against Racism and Bolsonaro in Support of Democracy and the Black Lives Matter Movement in Niteroi Amidst the Coronavirus Pandemic
Photo by Luis Alvarenga/Getty Images
Brazilian activist Marry Ferreira, who works as the communications coordinator for AfroResistance, an organization focused on racial justice in the Americas, said the feeling is similar back in her home country as well. "There is no way to talk about democracy in Brazil and not mention the institutionalized racism and violence that kills Black people. The movement to end police brutality and other types of violence against our communities are global."
The statistics around police brutality in Brazil alone are staggering. The 2018 Brazil Violence Map, a study conducted by two think tanks in the country, estimates that a Black person is murdered in Brazil every 23 minutes. Between 2006 and 2016, police in Rio killed more than 8,000 people, 75 percent of them were Black men. State police killed 1,810 people in 2019, nearly five a day, in the name of Rio Governor Wilson Witzel's "war on drugs," which primarily targets Black favelados.
A month after 26-year-old medical technician Breonna Taylor was killed in her home by police in the U.S. in March., a 14-year-old boy in Brazil, João Pedro, was also killed in his own home—shot in his back by police, with the support of the country's openly white supremacist president, Jair Bolsonaro, who has said "a police officer who does not kill, is not a police officer."
"In Brazil, our communities are fighting to end state violence that is represented by police brutality and also by the negligence of the state to decide who lives and who dies amid a global pandemic," said Ferreira. "In the state of Sao Paulo, Black people have 62 percent more chance of dying from Coronavirus than white people." (A separate study in Brazil found that 55 percent of Black or mixed-race COVID patients died from the virus—compared to 38 percent of white patients.)
Ferreira mentioned the recent case of Miguel Otavio, the five-year-old son of Mirtes Renata de Souza, who was forced to bring her son to work with her as daycares are currently closed due to COVID-19. The mother left her son in the care of her employer, as she went out momentarily to walk her employer's dogs. Security camera video captured the employer placing the boy into the elevator and sending him off on his own. He died soon after, by falling from the ninth floor.
Brazilians have also invoked the names of Pedro Gonzaga, who died in 2019 after being choked by a supermarket security guard; Claudia Ferreira, dragged by a police car after being shot in 2014; and Marielle Franco, the only Black woman on Rio's city council, and Anderson Franco, who were both killed in 2018, in a rain of bullets aimed at their vehicle — their murderers still not been brought to justice.
Afro-Colombian voices silenced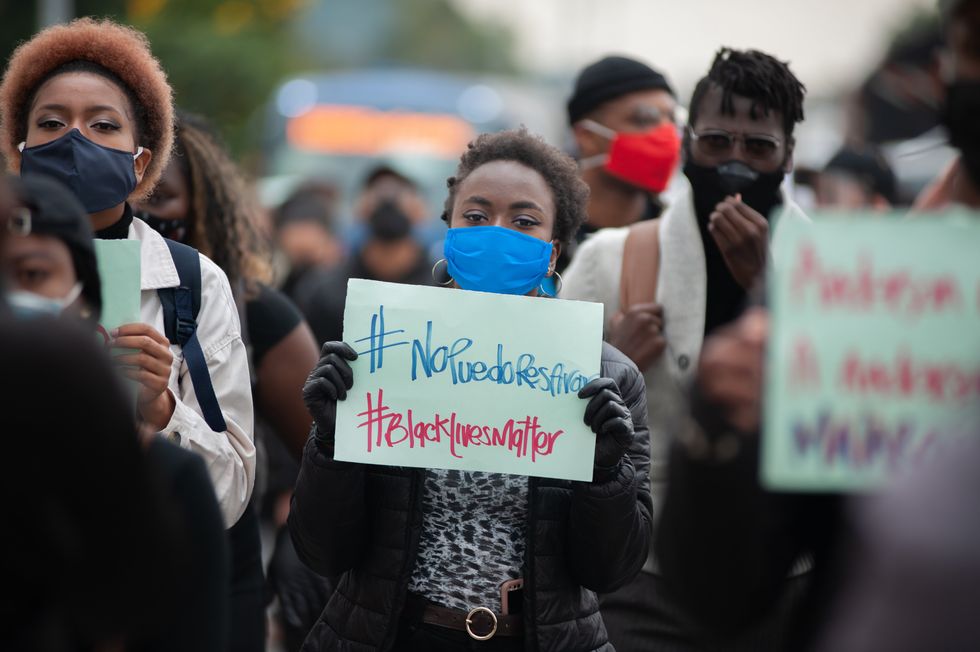 People take part in a demonstration in Bogota, Colombia, on June 3, 2020 in front of US Embassy to protest against the murder of George Floyd in the United States and for the murder by police of Anderson Arboleda in Cauca, Colombia.
(Photo by Sebastian Barros/NurPhoto via Getty Images)
Violence in Colombia is also claiming the lives of Black social leaders. In particular, Afro-Colombian and Indigenous activists have been assassinated for defending their ancestral lands on the Pacific Coast. Although a peace treaty was signed in 2016 between the Colombian government and the FARC, to end an armed conflict that had been ongoing since 1964, social leaders have continued to be targeted, mostly by criminal gangs.
Currently, with "stay-at-home" orders for COVID-19, leaders have been especially vulnerable to attacks. This is just part of the ongoing "genocide," said human-rights and environmental activist Francia Marquez, who survived an armed attack in May 2019. With Black women at the helm, Black Colombian organizations have been marching and striking for years, demanding collective human rights, basic services, ancestral land rights, and resistance to land and port privatization that forces Black residents into extreme poverty. They also demand an end to violence and corruption, and for health system reform.
One march in particular spanned over three weeks in 2019, while 2017 saw a nearly month-long strike and protest in port city Buenaventura, and, in 2014, Black women marched to Bogota, the country's capital, from the predominantly Afro-Colombian department of Cauca.
Cauca has once again made headlines after Anderson Arboleda, a 24-year-old Black man, was killed there in May, three days after being beaten by police on the doorstep of his home.
Solidarity with 'Black Lives Matter' in Central America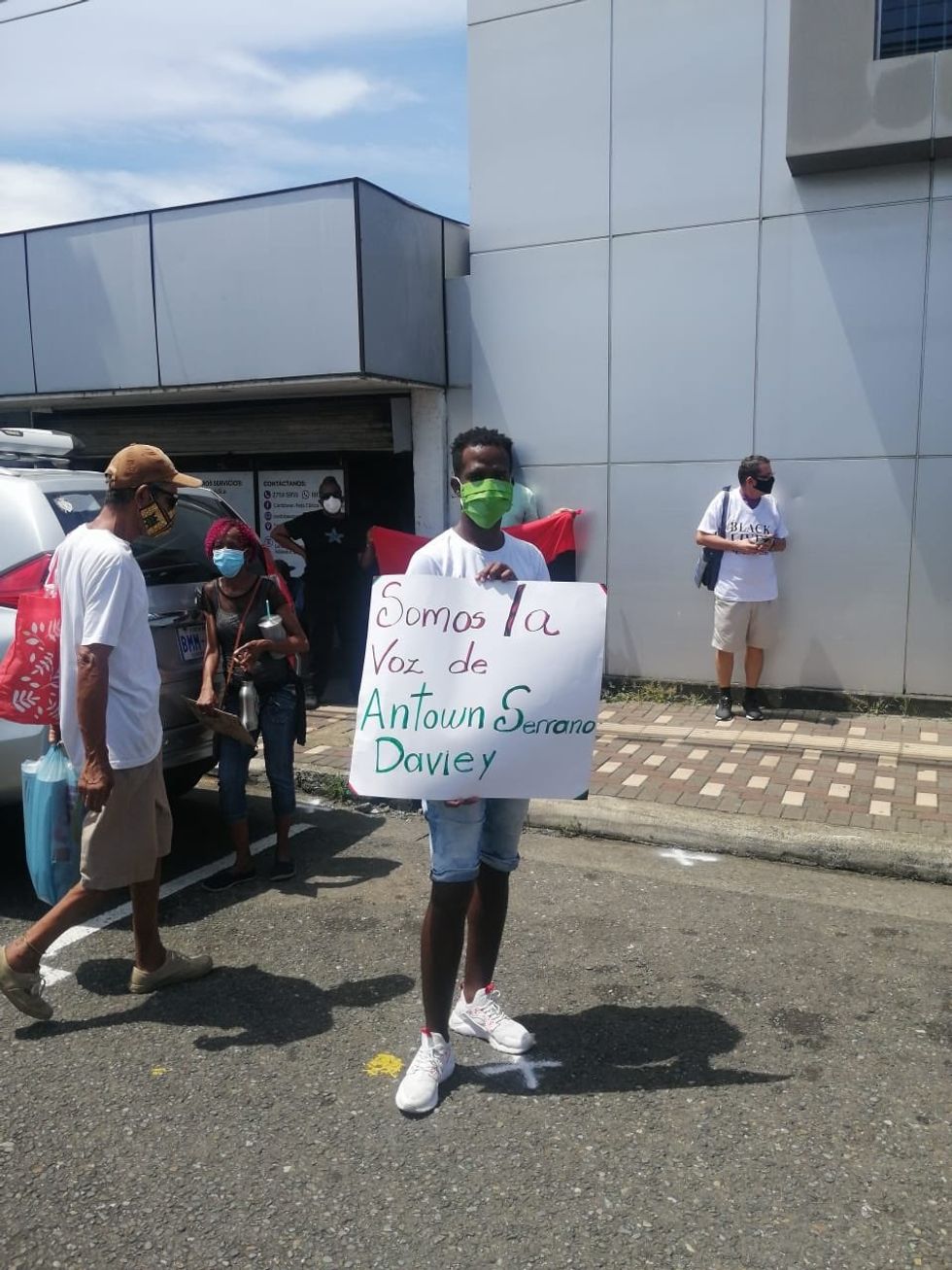 Many in Central America are also rallying this month, with a history of violence against Black communities there as well.

Protestors in Costa Rica have been declaring they are the voice of Antown Serrano Daviery, a 17-year-old killed in 2018 during protests against the Plan Fiscal, the government plan to privatize the docks in Puerto Limon.
"It is important not only because we are part of the same diasporic family but due to the fact that we are part of the same society and racist system, by fighting their fight we are strengthening our own," Pamela Cunningham-Chacón. co-founder and director of Costa Rica Afro, said in an interview. "Their liberation is ours in a similar way that the Haitian revolution changed our lives."
Most residents in Puerto Limon are Afro-Caribbean descendants, notably Jamaicans, who came to build in Costa Rica's infrastructure projects. Limon locals were not recognized as Costa Rican citizens and were restricted from even traveling outside of the province until 1948. The city is significant for regional movements—it served as the Central American headquarters of Jamaican political activist Marcus Garvey's Universal Negro Improvement Association, which promoted Black nationalism. (Liberty Hall, the building of Garvey's shipping company Black Star Line, was destroyed in a fire in 2016, taking with it a relic of one of the largest organized mass movement in Black History.)
In Puerto Rico, protesters have recently invoked Adolfina Villanueva, a Black woman killed in 1980 in Loiza by policemen—a "memory that is very much alive," Gloriann Sacha Antonetty Lebron, founder and editor of Revista Etnica, said in an interview. Alongside Colectivo Iwe and Colectivo El Ancón, Antonetty organized a gathering on June 1 which drew hundreds in Loiza.
"It was crucial for us in Puerto Rico to unite in solidarity with the Black Lives Matter movement," she said, using "Black [music and culture] such as bomba puertorriqueña and plena to raise our vices and heal all the pain, racism and violence that we have received for centuries." The group gathered where the historically Black town built a ferry in the 1700s to cross the Rio Grande in the northeast end of the island — a symbol of ingenuity and of a commitment to survive in the face of the marginalization Black communities face globally.
It's that ongoing marginalization and violence that Black Honduran Garifuna activist Miriam Mirandasaid is barbaric.
Miranda is the leader of the Black Fraternal Organization of Honduras, advocating for the human, environmental, and land rights of the Garífuna people, a group descended from African and Indigenous people who resisted and fought enslavement and developed their own culture in St. Vincent and Central America.
Commenting on the murders of Black people in the U.S., Miranda criticized the way the country has been held as a desirable example. "In order to fight against racism and discrimination…there is also an urgent need to change this model and system of life that makes us consume everything for white people. Of what value is it to rant against whites, when in the end we buy everything. Let's build autonomy," she said.
Dash Harris is a multi-media journalist, doula, and entrepreneur based in Panama. She is the co-founder of AfroLatinx Travel and co-producer of podcast Radio Caña Negra, dissecting themes of Black history, life, anti-blackness, social access, justice, love and joy throughout the Americas.