Unlike a majority of South African emcees from the mid-2000s era, Lex LaFoy refuses to stagnate. Back then, while still known as Lexikon, Lex LaFoy was a notable battle rapper and poet in Durban.
In 2019, many of her peers are either still making the same music as they did in 2006 or vanished into obscurity. Lex LaFoy, however, is creating art that references current times while still maintaining her essence as a lyricist, as can be heard on her latest EP, 22.
"I got into the scene where freestyle battle performance was a prerequisite," says Lex LaFoy. "I got into it in at a time when one was not considered an emcee unless they did all the elements, you know. And so, at the time in 2004, when I was new on the scene, I kind of had to prove I could do everything."
---
It was in 2012 when she relocated to Joburg that the shift happened. Apart from feeling a disconnect, and thinking her poetry didn't connect with ordinary people, she says she had to leave behind her family and let go of societal expectations of herself. "With that shift," she says, "came my desire for newness creatively, and then came the birth of Lex LaFoy. And then came me wanting to return to that fun, enjoyment, light side of music again, because for the eight years that I was Lexikon, I was in an academic space. I was a student. So, there were all these bombastic words around me. There were all these intellectual ideas around me."
Lex LaFoy. Photo by Sabelo Mkhabela.
She explains that her music was just a reflection of her reality and where she was mentally. "But when I left, in search of my true path and my journey, I also found it a time for creative newness."

In 2011, Lex LaFoy discovered bass rap. "The first time I heard trap was through Niskerone, the German bass DJ, in Cape Town," she says. She recalls hearing trap remixes of old school hip-hop and R&B songs at drum and bass parties that she was attending. "Listening to the whole influx of bass sound," she says, "there was dubstep, there was moombahton, there was reggaeton, there was trap, there was drum and bass."
The artist fell in love with the sound, but took time to study it before incorporating it in her own music. "Because I'm a lover of learning and a lover of things," she says, "I don't just like to touch on the surface. I like to identify with something first before I take part in it. That's just the way I am. At that time, although trap was exciting for me, it was exciting for me on a party level at that time."
Lex LaFoy. Photo by Sabelo Mkhabela.
While taking time to study the sound and going through a metamorphosis as an artist, Lex LaFoy chose to become a booking agent for a bass rap duo called The Blind Folders for about a year.

Between 2014 and 2016, she signed to the rapper iFani's label disGuiz. She released "Sushi Dip" and "Flex," songs that showcased her forays into the new sound. In 2017, she released her debut album Honey Bass. The title was also the name of a sub-genre with which she described her music. The bass lines were larger, the synthesizers sexy and flashy. Her energetic delivery and the lyrics pointed towards a woman who was free from any confines and cared less about the box created for her by society.
But then it was time to move on again. While dabbling as a deejay, Lex LaFoy was always on the hunt for new music to play and listen to. She scoured SoundCloud for music, and kept on bumping into a sound that she was quickly falling in love with. "I was just like, 'oh my god, what is this? This is what I want to create next,'" she recalls. While doing her customary scouring, she bumped into a producer whose sound she loved. After discovering she liked her music, too, they spoke about working together. But after spending all her money on Honey Bass, she decided to let the opportunity go. "I'm like, 'you know what, God I want the sound. Give me someone in my immediate space that can create the sound that will be more affordable just for me right now,'" she says.
The universe listened. While doing some NGO work, she was staying at a hotel in Braamfontein. She bumped into a young producer who had shown interest in working her many times prior. After a few failed attempts, she finally availed herself and was in studio with him. "So, I went in the studio, and you'll never believe this," she says, "as I go in the studio, the exact sound I asked the universe for, they were playing it. I couldn't believe it."
The producer whose name is Marco Benz produced all four songs on Lex LaFoy's new EP 22. Dave Audinary, a veteran producer from Durban who Lex has known for years, handles the project's two remixes.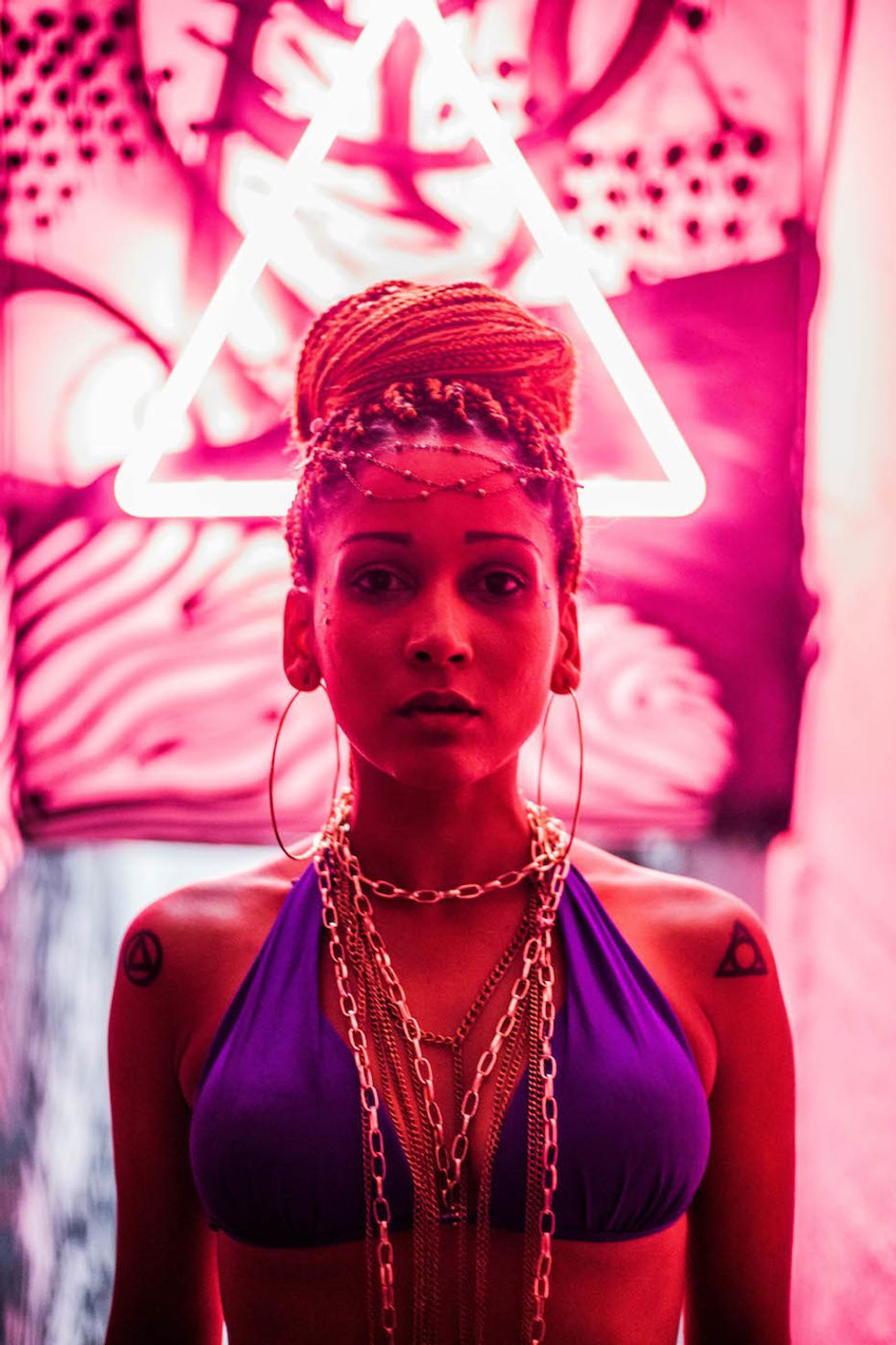 Lex LaFoy. Photo by Sabelo Mkhabela.
The production on 22 is primarily trap, and Lex LaFoy rides those beats with the sensibilities of a veteran rapper whose main base is lyricism, while her flair and flows indicate an MC who hasn't stopped studying rap and is excited by new techniques. She raps hard enough to keep the listener engaged, but not too much that the project isn't listener-friendly. Melodies give the listener space to breathe and the beats ensure for a smooth listening experience.

When the rapper was going through her transition in the early 2010s, she reached out to a rapper friend Cosmo MC to teach her how to approach modern hip-hop beats.
"My mindset coming from boom bap was that, okay, here's a beat, I must say everything. And then being schooled listening to more bass rap, I taught myself and I learned that with bass, it's minimalistic. It's not how much I can say in the given time."
But she was always sure to never over compromise. "In that transition," she says, "the guidance I was given was 'simplify but don't dilute.' I had to what that meant for me. Because we come from that era, a lot of fundamentalists are like, 'Oh, you change to commercial, you this, you that."
As much as most of the 22 is light-hearted and carefree in nature, the songs still come from a deep place. For instance, "Dolphins," a standout song from the EP, which features fellow Durban rapper OtarelWorld, was inspired by revered healer and author Credo Mutwa. A portion of the author's speech starts the song.
While back in Durban, Lex LaFoy was watching some of Mutwa's videos. "One of the videos I played was on the knowledge of dolphins," she recalls. "But I just asked for that small part that says 'the knowledge comes from the sea.' Because it means a lot for me being home, being at home on the coast, letting that be my focus time, my grounding time."
"Dolphins" is the song she's looking to push as a single for the EP. And she has plans for an all-women tour slated for later this year.
Stream 22 below: