Seventeen years ago, when Ellen Johnson Sirleaf won Liberia's presidential election and became the first female president of the country, and on the continent itself, there were great hopes about what her feat would mean. In Liberia, people paraded the streets celebrating, while internationally, her victory was reported as a major shift for women's political representation on the continent. However, over the years, Liberia has not built on this win, and the country continues to see a low number of women elected to public office. Since Johnson Sirleaf stepped down, only three women have run for president.
This year, on October 24th, Liberia announced the final result of its 2023 general elections. However, despite the fact that women account for almost half of the country's population and that the vice president of the country is a woman (Jewel Taylor), only nine women won legislative seats – out of the 88 seats that were available this election cycle. These nine women, in addition to the two female senators whose positions were not up for election, make a total of 11 women in Liberia's legislature, which consists of 103 seats. All in all, that's just over 10 percent of the country's legislature.
The history of women's struggle for political rights in Liberia is a long one. Women didn't have the right to vote until 1946, almost 100 years after Liberia's independence. According to the United Nations, Liberia's percentage of women in national parliament is also lower than the continental average of 26 percent. State institutions are largely run by men.
It's a matter of concern, says Yah Parwon, the Country Director of Medica Liberia, a non-governmental women's rights organization. "The percentage of women in elected positions has remained static; this lack of progress in increasing female representation remains a pressing issue."
Low numbers and lack of progress
State institutions are largely run by men, and globally, Liberia is ranked at 156th out of 162 countries on the Gender Inequality Index. The low percentage of women in elective office is largely due to reasons that include traditional practices, socio-economical norms and financial reasons. Over the years, women have faced intimidation, stereotyping and targeted acts of violence during all stages of the electoral process.
Prescilla Cooper won a legislative seat in the recent election and told OkayAfrica of her experience: "The top two challenges we faced is financial support and gender-based violence. In Liberia, a lot of women find it hard to attain political office because, like in my case, women face bullying, slut shaming and harassment by their opponents in a bid to knock them out of the race."
Additionally, in many cases, traditional practices have been used to intimidate or stifle women's political participation. During the 2022 senatorial elections in Gbarpolu County, there were reports of women being intimidated by a traditional masquerade – known locally as country devil, which, in Liberian traditional culture, is an entity women are usually forbidden from seeing. Similarly, during the recent elections, a masquerade was released in Maryland County.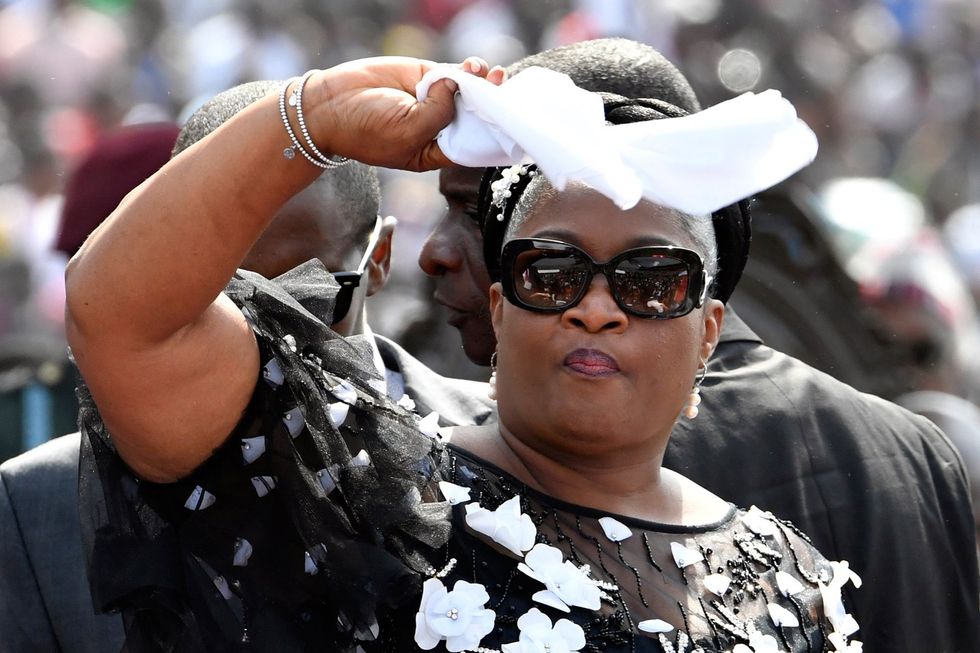 Liberia's Vice President Jewel Taylor waves during the swearing-in ceremony of Liberia's president-elect on January 22, 2018 in Monrovia's stadium.Photo by ISSOUF SANOGO/AFP via Getty Images.
Women have also had less access to political party platforms because men are usually the ones who run on party tickets, and this has had a considerable impact on women's ascension to elective office. Speaking to OkayAfrica, Joshua Kulah, a lawyer and lecturer of political science at the University of Liberia says, political party platforms are a core part of electoral success. "This is because political parties provide structure, funding and in some instances a voter base and electoral goodwill to candidates," he says. "To run as an independent candidate and succeed takes significantly more financial backing and grassroots influence."

According to the UN, as the percentage of women running on party tickets dropped over the years, so, too, has the percentage of women in the legislature, from 16 percent in 2006 to 11 percent currently.
Legislating a gender quota
To increase women's representation in elective office, civil society has supported various efforts to implement a gender quota for political parties and the legislature over the years. A 30 percent quota for women on candidate listings was first introduced in the electoral guidelines of Liberia's 2005 special elections. Only one party this year met the quota but it wasn't a major party and didn't win any seats.
Even when, in 2014, amendments were made to the election law providing that political parties "endeavor to ensure a minimum 30 percent women quota in its candidates," that didn't help the situation. The amendments did not define "endeavor to ensure," and provided no punishment for failure to do so.
In the lead-up to its 2023 elections, both houses of Liberia's legislature passed a bill amending several portions of its election law. The bill required political parties' candidate listings for elections to have at least 30 percent of each gender. It also allocated for funds each year — especially in an election year — that would be used to invest in programs, projects and activities to get more women involved in politics.
Despite passing the legislature, President George Weah, who has expressed public support for the gender quota, sent the bill back to the legislature as he vetoed other amendments in the bill. The bill hasn't passed since then.
A Way Forward
For Madam Victoria Torlo Koiquah, a senatorial candidate in the recent elections, a gender quota is only one step, and more needs to be done. "It's not just about getting the quota. We had 159 women going in the race, but only eight won. We need to not only support women but we also need to support them financially and give them all other support they need to achieve success," she says.
Cooper, who won a seat, agrees that it goes beyond implementing quotas. "We need to open the political atmosphere to give women a level playing field," she says. This, she believes, requires giving women more access to funding to run their campaigns. "We can do all the gender training, but it will not be as effective without funding to push your campaign out there," she says. "If more women candidates had money, more women would have won."
Additionally, some political parties including the CDC, and opposition party, Unity Party, also provided discounts, or waived the registration fees for women who applied to run on the party's ticket. "Affirmative actions including strong laws and policies need to be taken as it has a proven track record worldwide in increasing the percentage of women in elective offices," says Parwon.
For Parwon and for other women in politics, it's vital that society as a whole plays its part in improving the number of women in elective office – from civil society organizations who can conduct community engagement programs, to political parties that can actively confront and challenge patriarchal structures and norms within their organizations. As Pawon says, "Without these affirmative actions, women will continue to face barriers in their efforts to get elected into the legislature."