In 2015, I interviewed Tumi Molekane, the rapper now known as Stogie T, about his second solo album, the stellar Return of the King.

I asked him about songs from the album such as "In Defense of my Art," "Visa" and "Broke People," in which he chose "radio-friendly" production, with 808s and all. I asked if he was making a concession to appeal to younger fans.
---
His response was erudite as usual. He spoke about how much rap has changed. He made a comparison between '90s rap and modern day rap. He quoted a long-winded Ghostface Killah line that I neither recognized nor understood. "You're like 'what the hell did this guy just say?'" he said referring to the line by the Wu-Tang member. He continued: "But when you listen to a guy like Lil Wayne, you are like, 'I understand everything this guy is saying.'" He imitated Weezy's rapping style, drawing out his syllables with the New Orleans legend's drawl.
Proceeding to answer my original question about his ever-evolving music, T said, "There's a certain economy to both the lyrics and the music. And not just because I feel people won't get it, it's just where music is. The sound has changed. Again, man, I'm a student of the craft; I'm not going to completely abandon where people are. I have to meet them where they are."
I didn't know this, but Return of the King was the last album by Tumi as we knew him—a wordy lyricist, with an idyll outlook on life and music. In 2016, he would morph into Stogie T and release a self-titled album that alienated some of his old fans and earned him a legion of new ones, a lot of them young.
T applied the science he broke down to me in 2015 on the album. As much as he was still lyrically potent, his bars were more accessible than those in his earlier work.
T did not study Lil Wayne per se. However, modern rap as we know it, is hugely influenced by Lil Wayne.
2008, Weezy Guest Features and Tha Carter III
The year 2008 belonged to Weezy. He released his album Tha Carter III, which turns 10 on the 10th of June. The album moved more than a million copies in its first week. Its lead single "Lollipop" was, how do I put this…
EVERY. FUCKING. WHERE!
Weezy, who wasn't a new artist, after his stint with The Hot Boys and as a solo artist, had managed to build a major buzz in the mainstream through hundreds of guest features on both rap and R&B songs in the previous years. What was an R&B single without a Lil Wayne verse to close it off in that era?
"I control hip-hop and Imma keep it on my channel," rapped Lil Wayne on The Carter III's opening song "3 Peat," a line he lived up to. His reign lasted until around 2012, and still has a definitive impact on hip-hop to this day.

I was first introduced to Lil Wayne through his guest appearances, which I heard on the radio and saw on TV. And when I met the Internet during my first year of university, I discovered a trove of mixtapes, EPs and albums of his that blew me away.
I discovered Lil Wayne at a time when hip-hop was disappointing me—in the crunk era. Between 2006 and 2009, mainstream hip-hop was a mess, leading to most older hip-hop heads calling out the new generation for killing hip-hop—a great example was the album Hip-Hop Is Dead by Nas.
But here was a rapper who was neither making mundane Soulja Boy-esque music nor trying to "take it back" or preaching to "keep it real." Lil Wayne was devouring those candy coated crunk instrumentals with a venom not many rappers of his generation could match (example: Tha Drought 3mixtape).
Even Nas, who had just released Hip Hop Is Dead, gave Wayne a cosign. Lil Wayne would appear on Distant Relatives, Nas' collaborative album with Damian Marley. Another unlikely collaboration Weezy did was with Little Brother on their Get Back album in 2007. As much as he had his fair share of critics, Lil Wayne was getting respect from both mainstream and some "underground" rap circles.
Weezy had brought punchlines, metaphors, similes and double entendres back to mainstream rap. Tha Carter III is replete with those. He had clever lines and song concepts that impressed hip-hop heads, but still weren't so esoteric to a point they would alienate non-hip-hop fans. He was lyrical, but his music was still an omnipresent fixture on the charts.

Tha Carter III was in no way flawless. It had its dull moments. Lines like "Yeah, I'm a bear, like black and white hair, so I'm polar" and "I'm a venereal diseases like a menstrual," were misses (Polar bears are white and menstruation isn't a venereal disease). But songs like "Dr. Carter," "A Milli," "Tie My Hands," "Nothing On Me," "Shoot Me Down," are lyrical masterpieces.
Lil Wayne has influenced a legion of rappers worldwide—Drake, Future, Lil Uzi Vert, Migos are all students of Lil Wayne. The sing-songy raps that are passed through the auto-tune filter were popularized by him. Of course, a major shout to T-Pain for cranking auto-tune all the way up and making himself sound like a robot of some sort, changing the sound of popular music forever. But T-Pain stopped rapping altogether when he discovered auto-tune—his album was aptly titled Rappa Ternt Sanga. Lil Wayne would, however, carry on rapping, applying the software on his vocals.

His Influence on South African Hip-Hop
In South Africa, the most notable Lil Wayne influence in 2008 was through the rapper Maggz. Maggz, who used to mostly rap over production that leans towards boom bap like most South African rappers of his generation, teamed up with the producer Bongani Fassie for his debut album, The Breakout. The Breakout, alongside other albums that came out around that time such as Muthaland Crunk (2007) by Jozi, Fresh 2 Def (2008) by Da L.E.S and All Or Nothing (2011) by L-Tido, was one of the earliest signs of where South African hip-hop was headed. The Breakout's lead single was "Girls," in which Maggz and Bongz crooned with the aid of auto-tune throughout. That song was obviously inspired by "Lollipop."
On The Breakout, as much as Maggz still sounded like himself, songs like "Money Good," "We In The Building," "Haters," and the aforementioned "Girls," had a Lil Wayne influence written all over them with the auto-tuned vocals on the hooks. On the song "We In The Building," Da L.E.S, who is featured, sounded just like Weezy. His verse combined singing and rapping, with auto-tune applied sporadically. L.E.S' vocal projection sounded crude, nonchalant and lethargic, the way Weezy's did. Maggz's verse was the same.
"I grew up on Wayne"
Melodies were not a new thing in hip-hop—legends like Yasiin Bey, Pharoah Monch, Phonte and Lauryn Hill,had all been hitting high notes for the past decade. But Lil Wayne brought it to the 2010s with the auto-tune. He's not a good singer, he acknowledged in Tha Carter Documentary. So he combined it with rapping, giving birth to a style that is now so prevalent in new school rap that it's the standard.
For instance, earlier this year, AKA, prior to the release of his single "StarSigns," in which he applies auto-tune to his melodic raps, he told us he was releasing the song to prove he can still rap.
South African hip-hop in 2018 sounds nothing like it did in 2008. Wordy rappers are few and far between. Just like their US counterparts, South African rappers sing their own hooks and spit a lot of melodic raps in between their conventional bars, from AKA, to Priddy Ugly, Rouge, Shane Eagle, A-Reece, Nasty C, Zoocci Coke Dope, Flame and a lot more.

In my career as a writer who converses with a lot of rappers, I can tell you that almost every rapper who's under the age of 30 that I have interviewed, cites Lil Wayne as their main muse. And most rappers who are active now fall within that age range. They didn't grow up on Wu-Tang, but Weezy.
Zoocci Coke Dope, who I interviewed last year, for instance, told me if he had never stumbled upon Lil Wayne's The Drought 3 mixtape (a masterpiece of note by the way), he wouldn't be a rapper, but just a producer.
"I remember his raps were so crazy," Zoocci said. "I'd play my favorite song, pause it every 15 seconds, or four bars, and write down his lyrics, until I was finished with the song. I would then play it back and try to rap along. Because the process of learning the song overtime would take long, but I wanted to rap along and rap like him. If I didn't have that mixtape, I probably would just be making beats."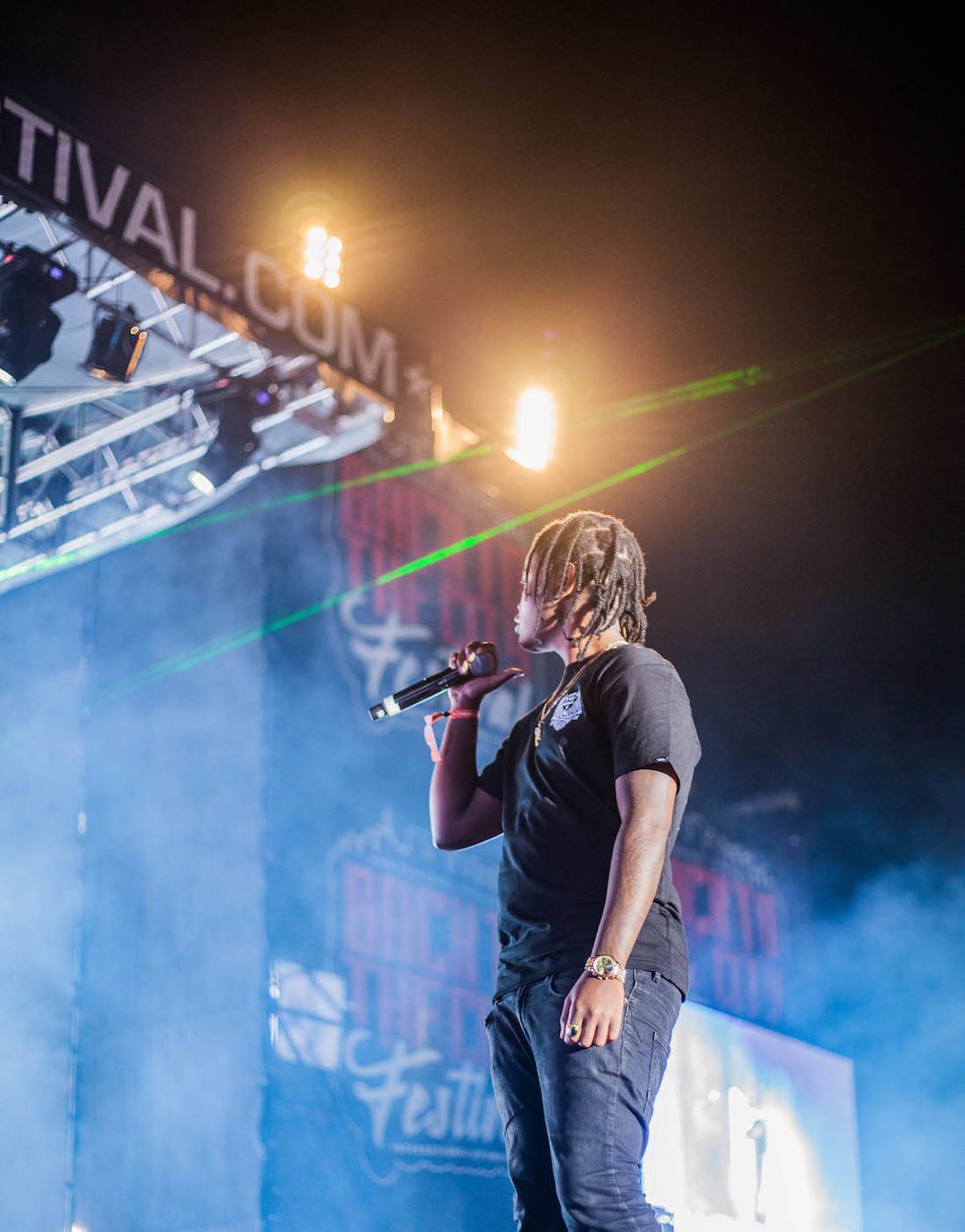 Zoocci Coke Dope. Photo by Sabelo Mkhabela.
On Weezy's overall influence on hip-hop, Zoocci said, "When it comes to hip-hop, pushing its boundaries and the sounds you can make, there will never be an artist like Lil Wayne. Because I think even 80% of what we hear today—the delivery, the auto-tune, even the mumble rap, the hard raps with the auto-tune—I feel like it was influenced by him."

Priddy Ugly, Shane Eagle, ByLwansta and a whole lot more, told me the same.
"At age 13, 14, when I was getting into high school," said Shane Eagle, one of the few new school rappers in South Africa who is considered "conscious." "I remember writing down Lil Wayne lyrics. It started with just me wanting to hear what he was saying. There was no Genius at the time, so I had to listen very closely and write it down. The more I wrote, the more I started understanding patterns subconsciously—how to place this, how this will work. From that, those lyrics started changing into my lyrics. So now, I had a reference. With every craft, whether you are a painter, when you are starting out, you always need a reference. I was obsessed with Lil Wayne, still am, I'm a big Lil Wayne fan."
Nasty C also used Lil Wayne as a point of reference, starting out. "I was inspired by T.I. and Lil Wayne," he said in a 2016 interview on the online radio station Cliff Central. "So I used to rap about a whole lot of stuff that I didn't even know about at the time—very vulgar. So [my brother's friend] used to tease me and be like, 'You a nasty cat. At nine, why are you rapping about this?' Back then, "Lollipop"... all those songs, that (pussy) was all Wayne rapped about. So I used to take his lyrics and edit them; put 'Nasty' where he said 'Wayne' and whatever. That's where I got my tongue flexibility."

Emtee rapped "I grew up on Wayne/ Watch me bling bling," on "Bietjie," a song in which he's featured by his Ambitiouz Entertainment labelmate Priddy Ugly. Emtee recentlytweeted that Weezy was the G.O.A.T. Listening to Emtee's music, even though he's a unique artist, you can pick up Weezy's influence—the melodic raps, the surefootedness, and even the sizzurp.
U don't put NOBODY above lil Wayne anywhere in the world at any given time or day.
— THANKYOU (@EmteeSA) 18 March 2018
Even an artist like YoungstaCPT who may not necessarily sound much like Lil Wayne aesthetically, still has the work ethic of the New Orleans legend. The Cape Town lyricist just released his 30th mixtape. That's the work ethic of Lil Wayne in his prime. I'm a staunch Lil Wayne fan, but I can't claim to have listened to every Lil Wayne mixtape. The same goes with YoungstaCPT. It's just as hard to keep up.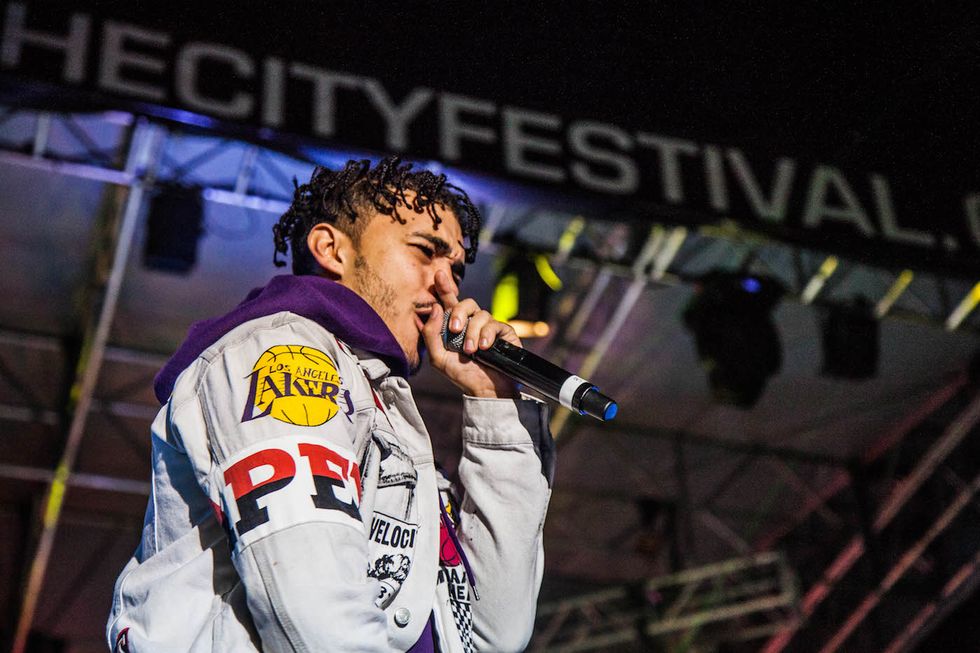 Shane Eagle. Photo by Sabelo Mkhabela.
ByLwansta recalls he started wearing skinny jeans after Weezy did. "I don't think he gets enough credit as someone who contributed to the culture," he says. "A lot of people were focusing on him rapping with auto-tune—that can be attributed to him and T-Pain. But culturally, I feel like he contributed more to the culture than Kanye West. He wasn't even intentional, as opposed to Kanye West, who I feel, as a visual artist, there was a lot of intentionality about it."

Weezy's influence even reached Cape Town, a city which has one of the most conservative hip-hop scenes in South Africa. The rapper Kideo, a member of one of the most forward-thinking crews of The Mother City in the mid-2000s, Backyared Crew,took some flack for the overt Lil Wayne influence in his solo music. Apart from rapping over a few of Lil Wayne's instrumentals, Kideo admitted to be influenced by Lil Wayne. He was scoffingly referred to as "uLil Wayne Wasekasi"—the township Lil Wayne by some purists.
At the time, the subgenre of hip-hop called spaza, which Kideo's music is classified under, was strictly boom bap sonically, and was centered around social consciousness lyrically. Kideo went against the grain. He proved he could do more. Just like Lil Wayne, he never ran out of metaphors. He even attempted a rock song, after Lil Wayne released the rock-influenced Rebirth, one of his worst albums to date. Kideo's music may not be as popular as it was when he was with his crew, but Kideo is one of the few spaza rappers who make music that shows he's in touch with current rap trends.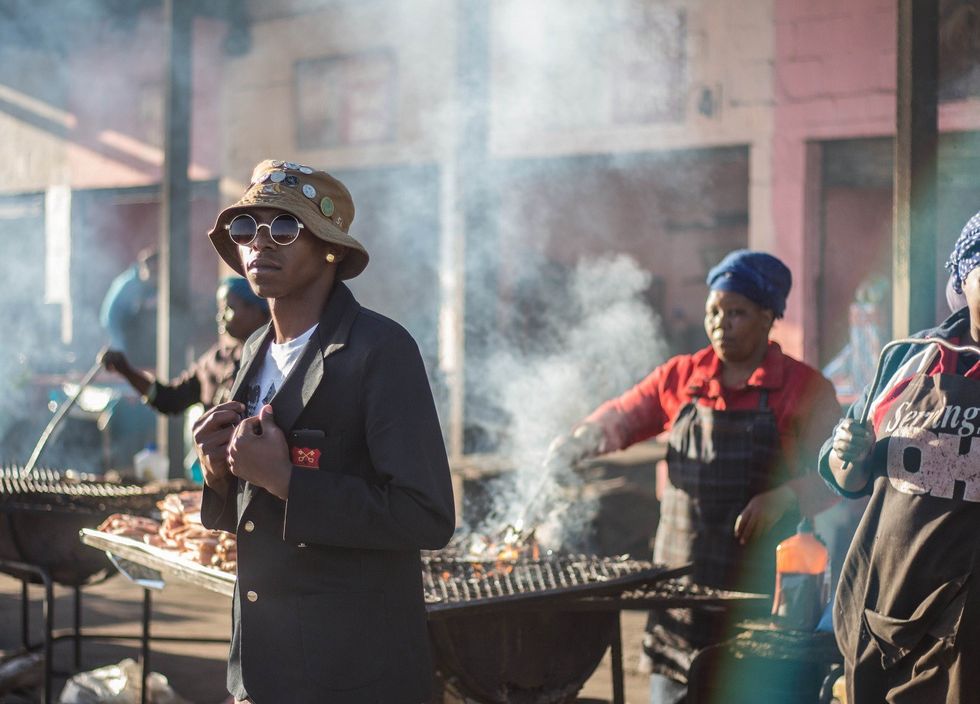 Kideo. Photo by Sabelo Mkhabela.
Lil Wayne may not be as prolific or as exciting a lyricist as he used to be until the early 2010s, but one thing you can't take away from him is how he shaped modern rap.

Even one of the most revered lyricists of our generation admitted he was influenced by Weezy. Kendrick Lamar, who by the way, once made a mixtape rapping over Tha Carter III instrumentals, once said about Weezy, "He influenced a lot of styles and a lot of sounds. I would say I was influenced by a certain sound and flow and cadence that he brung to the game."
If you disagree, chances are, you are either old or a nostalgic rap purist. Long live The Best Rapper Alive!
This piece is part of Sabelo Mkhabela's South African hip-hop column. He's happy to debate you on Twitter: @sabzamk