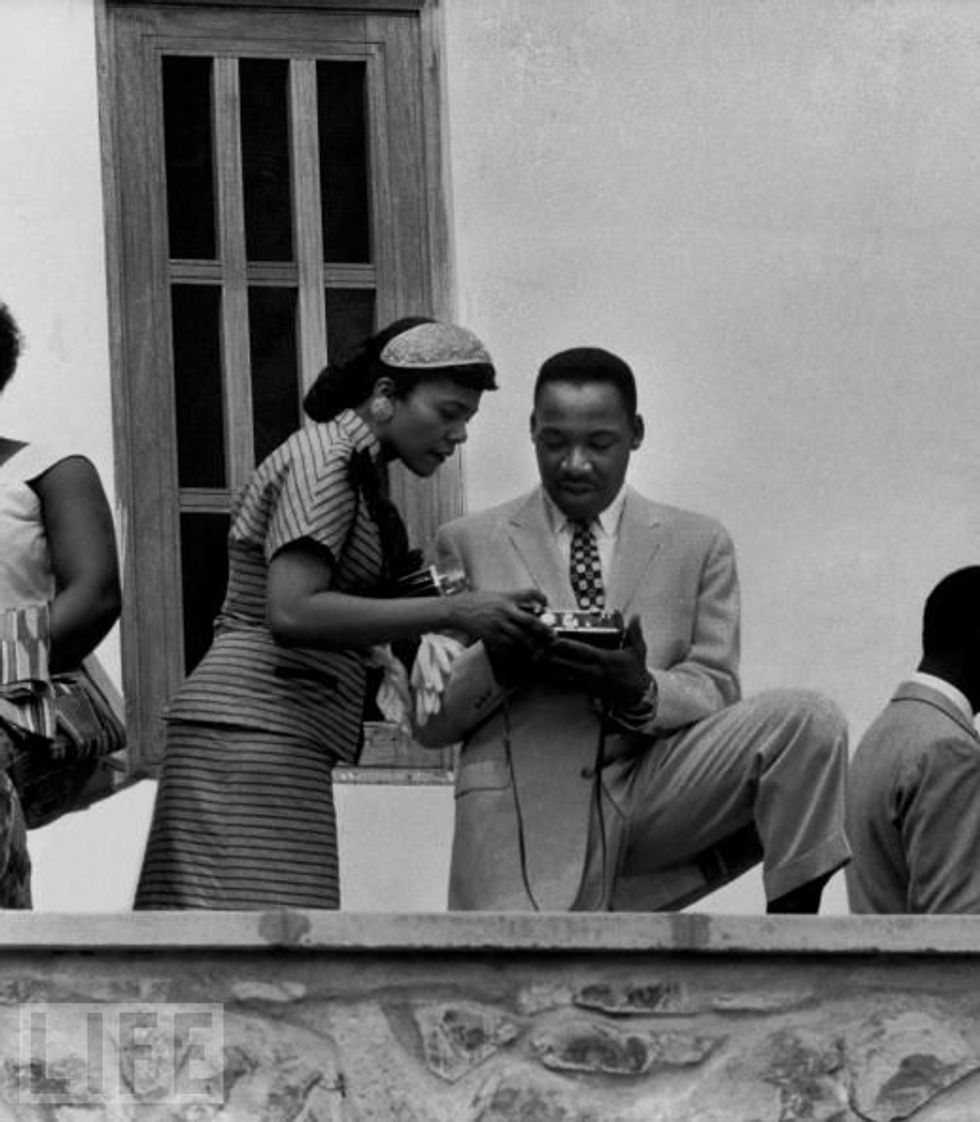 ---
Today the United States honors Martin Luther King Jr. with a national holiday. This time last year we shared the above photo of King with wife Coretta Scott at Ghana's Independence day celebrations in March 1957, and recalled King's 1963 words on unified black struggles. A year after making that speech, King was in London, where he denounced the apartheid regime and called for sanctions against the white South African government.
It's worth noting that while MLK acknowledges the shared fight against racism across continents, he's also clear about the differences between the struggle against the South African apartheid regime and the African-American struggle in the U.S.
"I understand that there are South Africans here tonight - some of whom have been involved in the long struggle for freedom there. In our struggle for freedom and justice in the United States, which has also been so long and arduous, we feel a powerful sense of identification with those in the far more deadly struggle for freedom in South Africa. We know how Africans there, and their friends of other races, strove for half a century to win their freedom by non-violent methods. We have honoured Chief Lutuli for his leadership, and we know how this non-violence was only met by increasing violence from the state, increasing repression, culminating in the shootings of Sharpeville and all that has happened since.

Clearly there is much in Mississippi and Alabama to remind South Africans of their own country, yet even in Mississippi we can organise to register Negro voters, we can speak to the press, we can in short organise the people in non-violent action. But in South Africa even the mildest form of non-violent resistance meets with years of imprisonment, and leaders over many years have been restricted and silenced and imprisoned. We can understand how in that situation people felt so desperate that they turned to other methods, such as sabotage.

Today great leaders - Nelson Mandela and Robert Sobukwe - are among many hundreds wasting away in Robben Island prison. Against the massively armed and ruthless state, which uses torture and sadistic forms of interrogation to crush human beings - even driving some to suicide - the militant opposition inside South Africa seems for the moment to be silenced: the mass of the people seems to be contained, seems for the moment unable to break from oppression. I emphasise the word "seems" because we can imagine what emotions and plans must be seething below the calm surface of that prosperous police state. We know what emotions are seething in the rest of Africa.
We like to draw parallels between forms of oppression to neatly summarize the experiences, but in the 1960s black Americans were recognized as human by their constitution, whereas black South Africans were not. African Americans could reference their constitutional rights; black South Africans had no rights and little room to fight for them. It's for these reasons that King, typically viewed as a staunch proponent of non-violent protest, justifies the use of sabotage by the armed wing of the ANC, Umkhonto we Sizwe. (Read the full speech here)
The speech reminds us to stay woke to the different contexts that inform political strategies and ideologies. And it's a welcome reminder of MLK's radical politics, often brushed under the carpet in favour of a less challenging version of his life and thought. Read the full speech here and check out this recently published collection of MLK's final works, "Where do we go from here: Chaos or Community?"